If you are looking for unique ways to earn extra cash, there's a platform that offers a way for you to earn extra cash by becoming a pet sitter or dog walker. This platform is called Rover.
And if you think this sounds interesting, I would recommend you read this Rover review first so you'll know exactly what to expect.
The biggest question on your mind right now might be, is this platform even legit or is it a scam?
This is a very important question to ask, so let me answer this right away. Yes, Rover.com is really a legit platform because it will really pay you for being a pet sitter or a dog walker. Now, the question is, is this for you or not?
That's what this review will help you figure out. It will explain everything the platform has to offer so you can decide if you should register as a member or not.
What is Rover and what does it offer?
As explained above, Rover specializes in providing pet sitting or dog walking services to its members. It's pretty similar to Wag, which is another platform where you can earn by taking care of pets.
Now, let's take a closer look at how you will be able to earn from this platform so you'll understand how the platform works. That way, you can also properly gauge if this is something you really want to get into or not. So, here's how to earn from Rover.com.
Option 1 – Pet care services
The primary method of earning from this platform is to provide pet care services. Once you become a pet a sitter, you will be asked what kind of services you want to provide (refer to photo below).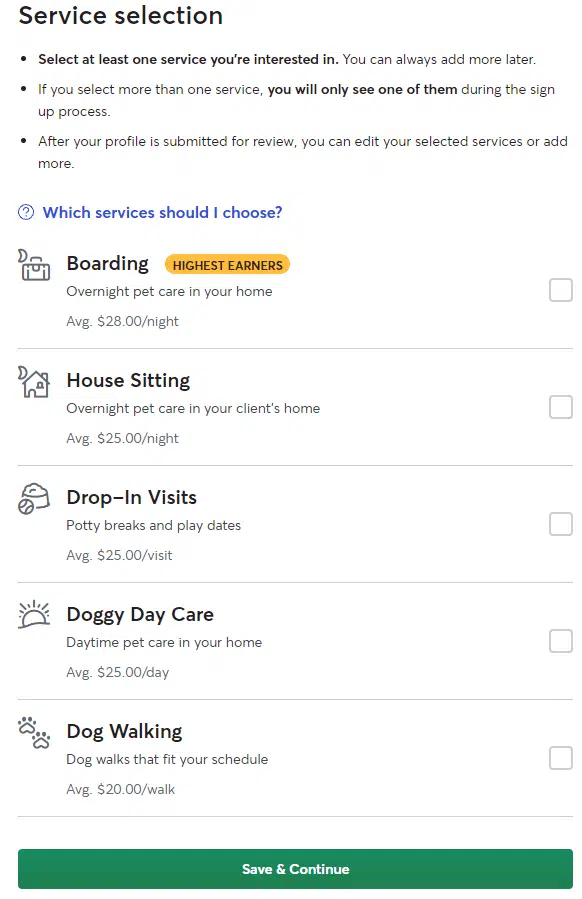 As you can see in the photo, there are 5 types of services you can offer to members of Rover.
You can offer boarding services where you will have to provide overnight pet care services. This, by far, is the highest-paying service. So, you'll earn more from it, but it also involves a lot of effort.
Another service you can offer is house sitting. This is the opposite of boarding service since you will have to stay at the client's house instead of your own home.
If you prefer not to spend the night taking care of pets, you can choose to go for drop-in visits. This is where you can just drop by a client's house and do the potty breaks or play dates with their pets.
Another daytime service you can offer is dog walking. This service is self-explanatory. You take the client's pets out for a walk and you get paid for it.
And lastly, you can offer daycare services for clients. You can take care of the client's pet/s for the day and they just pick them up after the agreed time.
As for the booking process, this is how it usually goes. When you've selected the services you want to offer, you will then show up in the search result of the member looking for pet care services (as long as they are near your location).
If they are interested in hiring you, they will book you for the service you offer. You will then receive a notification from Rover saying your services have been booked. It's up to you to accept or decline it. When you accept the booking, you can now get in touch with the client.
You can even call the client using their mobile app (I will talk about their app later). The important thing to remember aside from showing up at the agreed time is to keep open communication with the client to avoid any misunderstandings.
That's all you really need to remember when you become a Rover sitter. If for some reason, you want to cancel the booking, you have to let the client know as soon as possible so they can change their plans accordingly.
Once you've rendered the service, you will receive the appropriate payment and it will be reflected in your Rover account balance. Later on, I will discuss how you can withdraw your earnings from Rover.
Also, you can ask your client to leave a review of the service you provided. This is very important because favorable reviews can help you land more bookings. Just make sure you provide good service to your clients and you are golden.
Option 2 – Referral program
The other way to earn from Rover is by inviting other people to join their platform. This is called a referral program and if you have joined survey and Get-Paid-To sites, this will be very familiar. But if it is your first time hearing this term, let me explain how it works.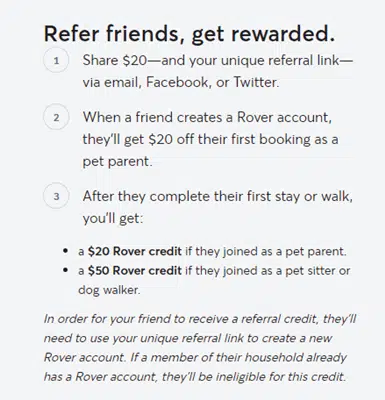 You see, the way Rover's referral program works is, it doesn't care if you are able to invite a client or a sitter. They will reward you either way. The only difference will be in the conditions your referral has to meet before you will receive the referral reward.
If you are able to get a sitter referral, you will earn $50 Rover credits once they complete their first booking. If you are able to get a client (pet owners) referral, you will receive $20 Rover credits. Plus, the pet parent will get $20 off for their first booking.
So, it's actually a win-win situation for both parties, and for a referral program, that's actually a pretty good deal, in my opinion.
Recommended: Check Out the Top GPT Sites
How do you get paid?
The good thing about Rover is, you don't actually have a threshold you need to reach before you can withdraw your earnings. You can withdraw them anytime. There are two ways you can withdraw your earnings.
You can withdraw them via PayPal or if you live in the US, you can also get paid via check. If you choose the latter, Rover will send a check via postal mail. This takes a bit longer (approximately 20 days), so it's not the preferred option by many. If you live in Canada, your only option to get paid is via PayPal.
The video above shows how you can withdraw your earnings using the web version of their platform. A thing to note is, if you choose to get paid via check, there will be a $2 processing fee which will be deducted from your earnings. So, don't expect to receive the full amount of your earnings.
Overall, I would say their payment system is pretty straightforward. And I like the fact that they offer a convenient payment method like PayPal. If you are interested in more sites that pay via PayPal, I would recommend you check out the top sites that pay via PayPal.
How much money can you make?
The amount you can earn from Rover will mostly depend on how often you get bookings from clients and your location. As for the amount you can earn for each booking, it will be around $20 to $28 depending on the service you provide.
For boarding services, you will earn $28. For house sitting, drop-in visits, and doggy daycare, you will earn $25. And for dog walking, you will only earn $20.
For getting bookings, there are a couple of factors that will affect how many you will get. One is the reviews you get from previous clients. Think of this as your trust rating. If you get a lot of positive reviews from clients, then chances are, people will trust you more with their pets. Therefore, you'll receive more bookings.
That's why it is important to always make sure you maintain a good reputation as a sitter if you really want to maximize your earnings from Rover.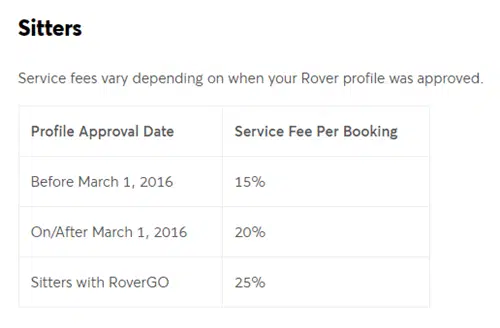 However, Rover does charge a service fee for each booking. Think of this as Rover's cut for giving you the gig. There will be a 20% service fee for each booking (refer to photo above). For example, if you accept a booking for dog walking, you will get paid $20 once you complete it.
But, the amount you will receive will only be $16 because 20% actually goes to Rover. In my opinion, this is actually quite a sizeable percentage, which is the major downside of the platform. If the service was like 10% perhaps, then the earning potential of this platform would be quite a bit better.
Nevertheless, it's still decent money, in my opinion. And the people who can best maximize Rover's earning potential are those that live in big cities because based on my experience, there will be more opportunities for them to earn.
Can you use it on mobile?
As mentioned earlier, Rover has a mobile app you can download so you can potentially accept bookings on the go.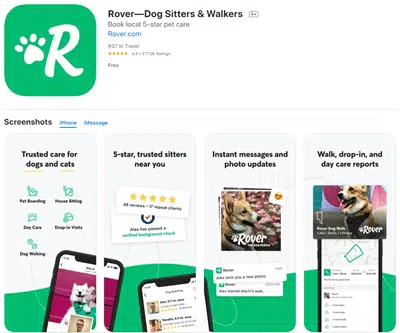 Their app is available for Android and iOS devices, so compatibility won't be a problem. As for their app, it is very user-friendly, so you will easily get used to how it works.
This is a huge plus, in my opinion, since most people these days rely on their mobile devices for almost any transaction. And as I've mentioned, it will allow you to easily accept bookings anytime and anywhere.
Who can join Rover?
Rover is available in several countries namely Canada, France, Germany, Italy, Netherlands, Norway, Spain, Sweden, the United Kingdom, and the US. But if you don't live in any of the countries mentioned above, then Rover is not for you.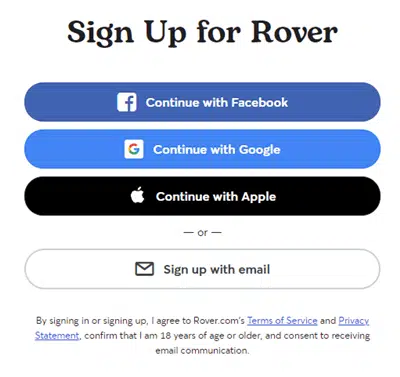 To register as a sitter, you will have to be at least 18 years of age. Then, if you are eligible, you can sign up using your own login details, or you can use your Facebook, Google, or Apple account.
After you've completed the sign-up process, you have to complete your profile. This is very important because if your profile lacks information, you won't be able to accept any bookings. Once you've completed your profile, you will then have to answer their safety quiz to prove you are capable of taking care of pets.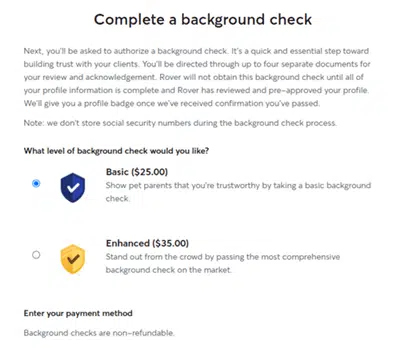 When you've finished their safety quiz, you will have to undergo a background check from Rover. As shown in the photo above, there are two types of background checks you can go for. You can opt to go for the basic background check which costs only $25 or you can go for the enhanced option which will cost $35.
This is done to show potential clients that you are indeed trustworthy and if you go for the latter, more clients will choose you because they will know immediately that you've undergone a more extensive background check.
That would mean that you can really be trusted with their pets (provided you pass the background check, of course). The fee for the background check is non-refundable. So, keep that in mind, before you decide which option to go for.
Once you've finished all the requirements, you will now be able to start accepting bookings.
Can you get support?
If you have any questions about their platform, you can check out their Help page first. It can be accessed by clicking the Help link on their website or inside the app. You will then be taken to their FAQ page, which, in my opinion, is quite comprehensive since it discusses most of the important things you need to know.
But if you can't find the answers you are looking for, then you can contact their support team by clicking the message icon on the lower right-hand corner of their Help page.
Overall, I would say Rover offers decent support to its members since they provide a way for you to conveniently get in touch with their support team. Plus, their Help page is actually quite useful, in my opinion.
Final Verdict
Rover.com is a legit pet care services platform that will allow you to earn by providing pet care services to clients. It has a couple of good features to offer, but it also has some limitations you need to consider.
Let me finish this review by summarizing its pros and cons to give you an overview of what the site has to offer. Then, you can decide if you should go for it or not.

Pros:
Offers decent pay
Offers PayPal as a payment method
Their app is user-friendly
Their referral program is beneficial for both parties
No payout threshold

Cons:
tment and a lot of time to earn
It takes a bit of time before you can start earning
Has a high service fee
You will have to spend some money for a background check before you can start accepting bookings
In my opinion, Rover.com isn't for everyone. Sure, the pay you will get for every completed booking is pretty decent. But you really have to commit to being a pet care provider and you will have to invest time and effort into it.
So, it's not something you can do if you don't have a lot of spare time. The one main downside I found about Rover is their high service fee. 20% off of your earnings per booking is actually quite a significant amount.
Aside from that, it also takes quite some time before you can start accepting bookings. So, you can't expect to earn immediately. You also have to spend some money on the background check which is required before you can accept bookings.
So, I would only recommend you join Rover if you really love taking care of pets and if you have plenty of spare time.
Otherwise, your better option is to go for less time-consuming ways to earn extra cash. And for that, I would recommend you check out the top survey and GPT sites in your country instead. The sites on this list all have good earning potential and you can start earning immediately.
Plus, you will definitely find a site you can join regardless of where you live.
If you have any comments, questions, or have any experiences with Rover yourself, I would love to hear from you in a comment below.