If you love to shop or if you are in charge of grocery shopping for your household, there's a platform you might consider joining and it is called Shopmium. This platform claims you can enjoy great cashback offers and exclusive deals if you become a member.
But how good is Shopmium? And is it even legit or a scam you need to stay away from? These are some of the questions this Shopmium review will tackle.
This review will reveal the full details so you will know exactly what the platform has to offer so you can properly gauge if it is worth joining or not. So, let's go ahead and start cracking.
What is Shopmium and what does it offer?
Shopmium is a cashback platform that will allow you to earn back a percentage of the amount you spent when shopping online or in-store. It is indeed a legit cashback platform since it really will pay you once you've earned enough cashback rewards.
Now, to truly understand how this platform works, we have to examine the earning opportunities it offers. This will also give you a snapshot of the earning potential of the platform so you can find out if it will be worth it.
So, here's how to earn from Shopmium.
Option 1 – Online cashback offers
One way to earn cashback rewards from Shopmium is to avail of their cashback offers. When you log in to their site or app (yes, they do have an app and I will talk more about it later), you will be able to view all the available cashback offers by setting the dashboard to display "Online Offers".
You will then see something similar to the photo below.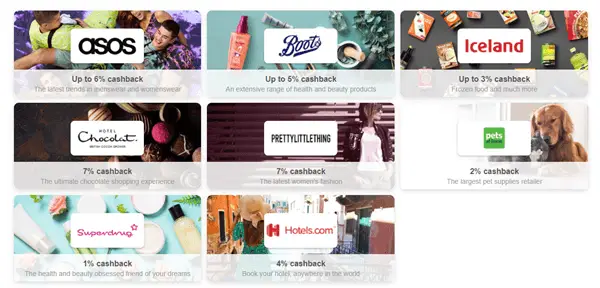 To avail of a certain offer, all you have to do is click it. It will then open a new tab displaying the full details of what the offer is all about. On this page, you will see the products that have cashback offers.
Take note that only products (or type of products) listed in the details page have cashback offers.
So, if you bought something from that online store and you didn't receive any cashback reward, then the main reason is, it's not among the products or type of products that offer cashback rewards. That's why it is important to always take note of the cashback details listed on this page.
When you are ready to avail of the offer, just click the button "See Retailer" to get to the actual online store. This is an important step you need to take note of. Clicking this button will make sure Shopmium will be able to track your cashback reward.
If you just go directly to the online store without going through the Shopmium online cashback offer, you will not receive a cashback reward. However, there's a way to actually bypass that step and I will discuss it next.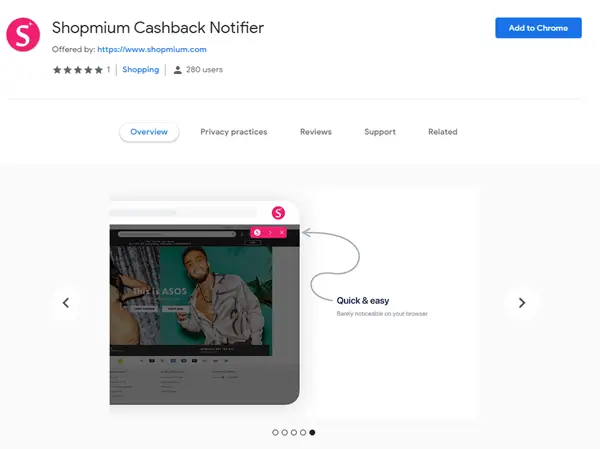 You can actually install their Google Chrome extension so you won't have to keep going through Shopmium's dashboard just to get to the site you want to shop from. You see, by installing their extension, you can just go to any partner online stores directly and shop.
The extension will be able to recognize if the store has Shopmium cashback offers and will immediately notify you. All you have to do is click the activate cashback and the extension will do all the work for you.
That eliminates the need to constantly log in to the site to check for cashback offers, which is definitely a nice touch, in my opinion.
As for availing of cashback offers from their app, it's pretty much the same process. Just open the app, choose an online cashback offer, read the details, and go to the site to shop. Once you complete the purchase, you will be eligible to receive the cashback.
Just take note that you won't receive the reward immediately.
In my experience, it usually takes more than a month before you receive any cashback reward. In Shopmium's case, you will actually see the estimated time for the cashback reward (as well as the cashback rates) to be credited to your account when you go to the cashback offer details page.
Option 2 – In-store offers
Shopmium also has in-store offers you can avail of using their mobile app. You can use the app's geolocation tool to check the availability of the offers in your area. Or you can just check out the in-store offers from their website before you go out shopping.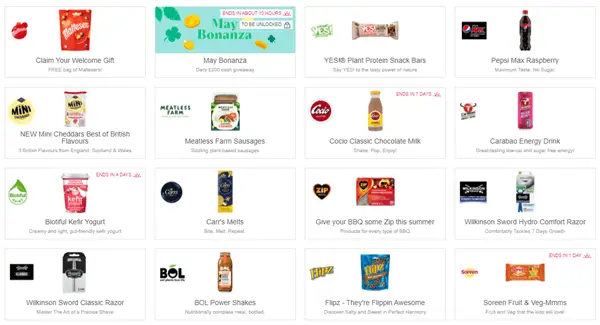 While doing your shopping, simply take a picture of your receipt and scan the barcodes of the products you bought. Then, you have to submit your cashback claim by sending the photos of the receipt and barcodes to Shopmium. You also have to leave a review of the product you bought on the in-store offer page to claim the cashback reward.
Shopmium will then verify your claim and if everything is in order, you will receive the cashback reward and it will be credited directly to your chosen payment method (which I will discuss later).
The thing with in-store offers is, the turn-around for receiving the reward will be a lot quicker than the online offers.
You just need to make sure the photos of the receipt and barcodes you took are very clear. Otherwise, they will reject your claim and you won't receive any reward.
Option 3 – Referral program
Lastly, you can receive bonus rewards by inviting other people to join the platform. All you have to do is share your referral code with the person you want to invite.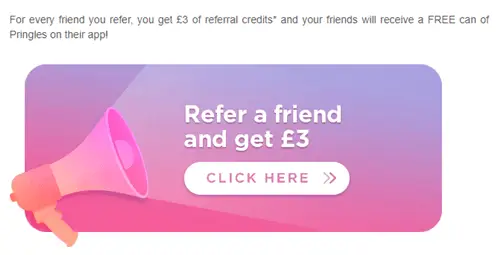 When the person registers to Shopmium and inputs your code during registration, they will become your referral. However, they have to first complete an offer before you will be awarded with the referral reward (£3).
So, make sure to only invite people that are really interested in using Shopmium. Otherwise, you will just be wasting your time since you won't earn anything if they don't complete any offer.
As for the reward you will get, it will be credited to your referral balance. This is different from your account balance from your cashback offers. Let me elaborate.
Say you have £3 of referral credits (earned from one referral). You avail of an offer from Shopmium that costs £2 and has a cashback rate of 50%. Your entitled cashback will be £1. But Shopmium will add an extra £1 from your referral credits so that you will essentially get 100% of your money back for this purchase.
So, your total cashback for this offer will be £2 and your referral balance will then be £2. That's how their referral rewards work. It's actually not something you can withdraw like what you earned from their online and in-store offers.
Recommended: Check Out the Top Cashback Sites
How do you get paid?
And speaking of withdrawing your earnings, Shopmium offers two ways for you to withdraw your earnings.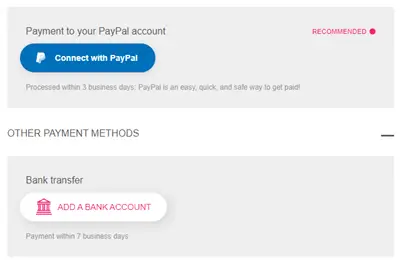 You can withdraw what you've earned via PayPal or direct bank transfer. This applies to both your in-store and online cashback rewards.
The only difference is, as mentioned earlier, your in-store cashback rewards will be credited directly to your payment method of choice while for online cashback rewards, you will have to earn at least £10 before you can withdraw it.
So, their payment system is a bit complicated because payments will be made differently for online and in-store offers. But I do like the fact that you can withdraw your earnings via direct bank transfer. That's one of the most convenient payment options available, in my opinion.
If you are interested in more sites that offer this kind of payment method, you can check out the top sites that pay via direct bank transfer.
How much money can you make?
The amount you can earn from Shopmium will mostly depend on how often you avail of their offers. In case it is not clear, you will have to spend money to earn money from this site.
So, I would say if you frequently shop online or if you are in-charge of grocery shopping, then the earning potential is pretty decent. The cashback rates will be around 3 to 10% which isn't bad, but it's not that good either.
The bottom line is, this site will only be beneficial if you shop frequently. That's simply the nature of cashback sites and apps. I would say one thing though, they do have a decent number of partner stores. So, there's a good chance you will find an offer you like, which is really all you can ask from a cashback platform, in my opinion.
The premise of this logic is, if there are more offers to choose from, then there's a higher chance you can avail of cashback offers that you actually need. You can't just avail of offers for the sake of earning cashback rewards. That's counterproductive because in the end, you will lose money if you take that approach.
Because at the end of the day, cashback sites are simply there to help you save a bit of money when shopping. It's not something you can earn from like survey and Get-Paid-To sites.
Can you use it on mobile?
As I've mentioned earlier, Shopmium has a mobile app you can use so you can avail of cashback offers using your mobile device. In fact, I highly encourage you to install their app as well if you are planning to become a member.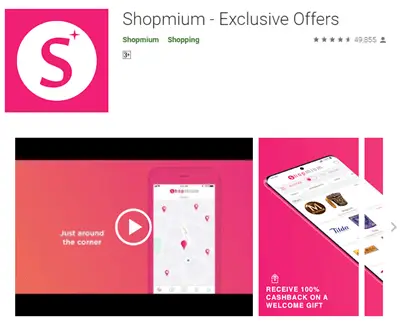 The main reason why I recommend you do so is, there are exclusive offers that are only available in their app. So, if you want to maximize your earnings from Shopmium, you really have to use their app.
And speaking of their app, it is available for both Android and iOS devices. So, compatibility won't be an issue. Their app is also user-friendly. You won't have a hard time getting used to how it works.
Who can join Shopmium?
Shopmium is only available in certain countries, specifically, the UK, France, and Belgium. So, if you don't live in any of the countries mentioned above, then Shopmium isn't for you.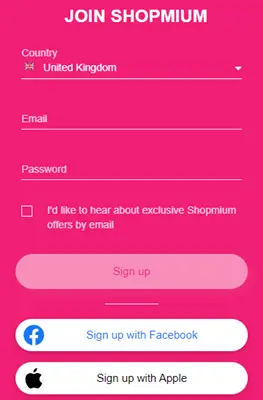 To sign up, you can use your Facebook or Apple account. You can also just provide your own login details.
Plus, you have to be at least 18 years old to sign up.
Once you are done with the sign-up form, you can log in to the platform right away and you can start availing of their offers. Just make sure to complete your profile first before doing so.
Can you get support?
If you have any questions about your account, you can check out their FAQ page first. It discusses most of the basic topics you need to know. But if you want to contest your claim or you want to verify something, you have to get in touch with their support team.
To communicate with their support team, you have to log in to Shopmium and go to their Help Centre, then just click on any question and you will find the "Submit a Request" link.
This will lead you to their Request form. Just fill out their form with the necessary details and hit submit once you are done.
The one thing I can say about this is, they should make this link more accessible. If you are not attentive to details, you will have a hard time finding this link.
But overall, I would still say they offer decent support for their members since they offer a way for you to get in touch with their support team.
Final Verdict
Shopmium is a legit cashback platform that will reward you for availing of their cashback offers. It has some interesting features but it also has some limitations you need to keep in mind.
Now, let me summarize its pros and cons to wrap up this review. This summary will give you an overview of what Shopmium has to offer so you can decide if it is the right fit for you or not.

Pros:
Offers convenient payment methods
Has a relatively low payout threshold

Cons:
Limited earning opportunities offered
Reward system is a bit complicated especially for their referral program
Their contact form is hard to access
If you love to shop and you are eligible to join Shopmium, I would suggest you join it. It has some pretty decent offers you can avail of and it offers convenient payment methods.
But if you are simply looking to earn extra cash online, there are simply better ways to do it than joining a cashback site/app. I would only recommend this site for frequent shoppers or to those who are in charge of grocery shopping.
But for everyone else, I would recommend you to check out the top survey and GPT sites in your country instead. The sites on this list all have good earning potential and you won't have to spend anything to earn rewards.
Plus, you will definitely find a site you can join regardless of where you live.
If you have any comments, questions, or have any experiences with Shopmium yourself, I would love to hear from you in a comment below.