If you are looking for an app that will allow you to earn passive income, you might want to consider SimCash.
This app claims you will be able to earn using your unused SMS messages. I admit, that does sound like quite an interesting way to earn.
But is SimCash legit or is it just another scam you need to stay away from?
This SimCash review will not only address that concern but will also give you a detailed inside look so you'll know exactly what to expect before you even download the app.
That way, you can figure out if it is really worth using or not. So, let's go ahead and take a closer look at what this app has to offer.
What is SimCash and what does it offer?
SimCash, at its core, is a Get-Paid-To app that will essentially pay you for selling your unused SMS messages. It is indeed a legit app, which means it will really pay you for all the SMS messages you are able to sell.
Now, to fully understand how this app works and how well you can earn from it, we have to examine the earning opportunities it offers.
I have, therefore, made a short video that explains everything and shows exactly how you can earn from SimCash. You can also read all the details below the video:
Option 1 – Selling unused SMS
The main earning opportunity SimCash offers is, as mentioned above, selling your unused SMS. As mentioned earlier, this app offers a passive way of earning. So, all you really have to do is install this app and set it up. Once it is ready, you can just let it run in the background.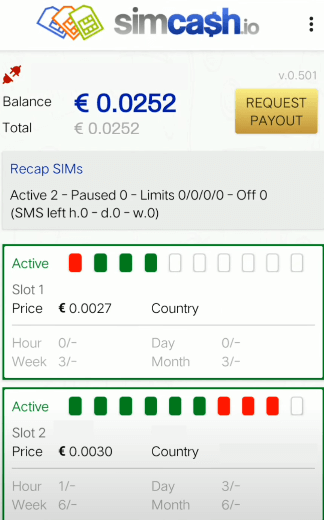 When you've installed the app (I will discuss later how to do this) and you have completed the registration, you can log in to the dashboard to configure how you will be able to earn from it. As you can see in the photo above, this app will also work with a dual-sim mobile phone.
If you are using two sim cards, it's up to you if you want to activate both SIM cards. The app will detect your SIM cards automatically. To activate a SIM card, you just have to click the "Edit" button (an Edit button will appear if your SIM card isn't active yet).
When you click the "Edit" button, you just have to set it to "Active". The app will now be able to start selling unused SMS messages. But you have to set the conditions first on how the app will sell SMS messages.
You can set which countries the SMS messages will be sent to. I would suggest you only set this to your country because it will be counterproductive to allow the app to send messages to other countries because it will cost more.
Once you've set the country, you will then have to set the limit to how many SMS messages you can sell on this SIM card. If you have unlimited SMS messages as a part of your phone subscription, it would be best to set it to "No Limit" to maximize your earnings. You can set your hourly, daily, weekly, and monthly limits according to your preference.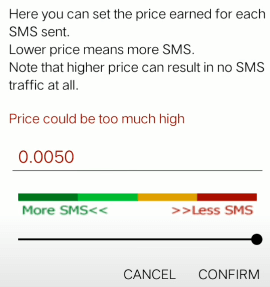 Once you have set the limits, you now have to set up how much each SMS message will be worth. As you can see in the photo above, you can set the price of the SMS message by adjusting the slider.
The idea here is to find the right balance. If you set your SMS messages to a higher price, it won't be sold that often. If you set it to the lowest, you might be selling a lot of SMS messages, but you won't be earning much.
So, this can take a bit of experimenting to find the right balance. I would suggest you start with a fair price which will be right around the edge of the green section. That would be around €0.0029 per SMS message sent.
As shown in the photo above, the maximum amount you can earn per SMS message will be €0.005, which isn't much. Once you've set the price, you are now ready to earn from this app.
Now, I would understand if you are a bit hesitant about using this app because their site doesn't really explain what they use these SMS messages for. So, you might be worried that they will abuse it since they have access to your mobile number.
So, I did a bit of digging and it does look like they use your unused SMS messages to send OTPs (one-time-password). So, they are providing a service for other apps where they will get paid to send OTPs to other sim cards in the country you set it to. That's how they are able to pay you for your unused SMS messages.
If your network carrier doesn't allow this kind of use on your sim card, then this app is not for you. So, make sure to check the terms and conditions of your network carrier before you use this app.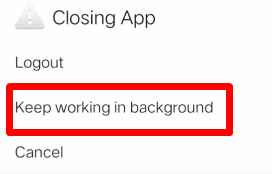 As for how to use it, all you have to do is let the app run in the background. Just click the "Back" button of your mobile phone and it will display something similar to the photo above. Just select the "Keep working background".
However, the app will require an internet connection for it to work because it's the only way the app will be able to keep track of all the messages that were sold.
Also, if you clear your mobile phone of RAM (the apps running in the background), the app will close and you won't be able to earn. So, make sure to keep those things in mind when using this app.
Option 2 – Referral program
The app has a referral program where you will be able to earn additional rewards by inviting other people to use the app. All you have to do is share your referral code with the people you want to invite.
Then, remind them to provide your referral code during sign-up. Otherwise, they won't count as your referral.
Their referral program consists of two tiers. Level 1 referrals are the people you invited with your code. Level 2 referrals are the people your level 1 referrals invited with their code. You will earn from both levels.
For level 1 referrals, you will receive a 10% commission for every SMS message they sell. For level 2 referrals, you will receive a 5% commission instead.
While the rewards you will earn won't really be a lot, I do like the fact that you don't have to meet a certain condition before you can start earning from your referrals. All you really need to make sure is you invite people that are really interested in using the app.
Recommended: Check Out the Best Passive Income Apps
How do you get paid?
As explained above, for every SMS message the app sells, you will earn a certain amount (according to what you set it to). You will immediately see your total earnings when you open the app.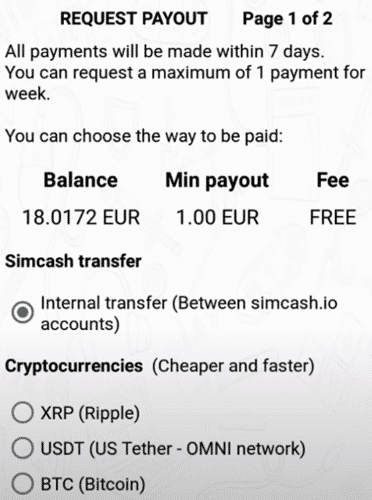 You can then withdraw your earnings in several ways.
As shown in the photo above, you can transfer your earnings to a different SimCash account. But that would really be a bit useless in my opinion. You would want to convert your earnings into cash and to do that, you can either convert your earnings to cryptocurrency or you can withdraw it directly to your bank account via wire transfer or via your PayPal account.
The minimum amount you can withdraw will depend on the payment option you will use. For XRP withdrawals, you will need to earn €6 to withdraw. There won't be any withdrawal fees.
However, if you choose to withdraw your earnings via PayPal, the threshold will also be €6, but there will be a €1.50 transaction fee. So, don't expect to receive the full amount.
For direct bank transfers, the threshold will be much higher (€50) as well as the transaction fee (€10 or $15, yes you have the option to set the currency to Euro or US dollars).
If you choose to convert your earnings to Bitcoin, the threshold will be €15 and the transaction fee will be €6.80. So the latter options aren't really the most ideal options. In my opinion, your best bet will be to either withdraw it via PayPal or XRP.
However, I must say the withdrawal fees are very high, and I have not seen such high withdrawal fees on a Get-Paid-To site before.
Considering how low rewards you get, I think it is a very poor service of SimCash to charge this high withdrawal fees.
But I do like the fact that they offer payment via direct bank transfer because that is the most convenient payment option, in my opinion. If you are interested in sites that use a very convenient payment method, I suggest you check out the top sites that pay via direct bank transfer.
How much money can you make?
You won't exactly be earning hundreds of dollars/euro from this app. As explained earlier, the maximum amount you can earn per SMS is €0.0050, which is pretty low. And if you do choose that price, you won't exactly be selling a lot of unused SMS.
So, the more realistic amount you can earn per SMS is around €0.0020 to €0.0029. That's why I would say the earning potential of this app isn't really that high. But what I do like about this app is it can turn your unused SMS into money. Not a lot of apps offer that kind of opportunity.
Think of it as turning trash into treasure. It can be especially beneficial if you have an unlimited number of SMS messages from your network provider. If that's the case, you can stand to earn a bit more from this app.
However, compared to Money SMS app that offers more or less the same way of earning but will pay you $0.02 per SMS you receive, SimCash really does not have a high earning potential.
Can you use it on a desktop?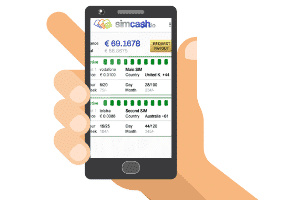 As you might have guessed, this is a mobile-only app. It will require a SIM card. So, using it on a desktop is out of the question.
As for their app, it will only work on Android devices. So, if you are an iOS user, then this app is not for you. The app is also not available in the Android app store. You will have to download the APK file from their site and install it manually.
I would suggest you check out this guide on how to install APK files if you are not familiar with how to install apps that are not available in the Android app store.
Their app is relatively user-friendly. It's fairly easy to set up since the user interface is quite intuitive, which is a good thing.
Who can join SimCash?
They don't exactly say on their website which countries the app is available in. But based on feedback I have received from other members, it seems the app is available more or less worldwide.
The best way to find out if it is available in your exact country is to install the app and try to sign up.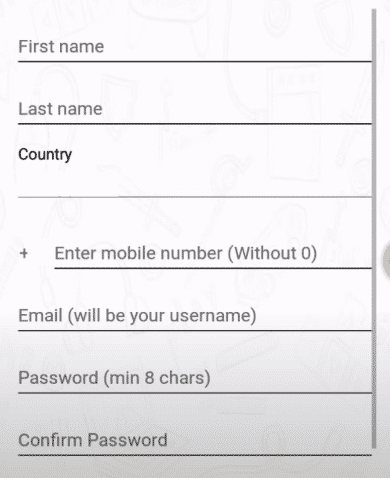 If your country is listed among the choices, then it is available in your country. If it isn't, then this app is not for you.
To become a member, simply fill out the sign-up form and if you were referred by someone, don't forget to provide their referral code.
Once you are done with the registration process, you can now set up the app and start earning.
Can you get support?
If you have questions about the app or your account, you can check out their FAQ page first. It discusses most of the common topics you need to know. If you can't find the answers, you can then contact their support team.
You can do that in several ways. First, you can use the contact form provided on their website. You can also email them at support@SimCash.io. You can also send them a message on their Telegram account. Their Telegram username is @SimCash Support.
Overall, I would say they provide decent support for their members because they provide multiple ways for you to get in touch with their support team. And it seems they do reply rather quickly, which is good.
Final Verdict
SimCash is a legit passive income app that will allow you to earn from your unused SMS messages. It has a couple of interesting features but it also has a few drawbacks you need to take into account.
Now, let me finish this review with a summary of its pros and cons to give you an overview of what the app has to offer so you can decide if you should use this app or not.

Pros:
Offers a passive way of earning
Offers payment via PayPal
Their app is user-friendly

Cons:
Low rewards
The app is only compatible with Android devices
High transaction fee for some of the payment methods
You have to allow the app to send messages from your phone
If you don't mind letting the app send SMS messages, then SimCash can be a decent app to use if you are using an Android device. I like the fact that you can essentially turn your unused SMS messages into cash. Not a lot of apps offer that kind of opportunity.
This can be especially beneficially if you are unable to use up all your free SMS messages from your network carrier every month. Just don't expect to earn a lot from it.
Now, if you are looking for sites and apps that offer more earning potential, I would recommend you check out the top survey and GPT sites in your country instead. The sites and apps on this list all offer earning opportunities that will pay you more.
Plus, you will definitely find a site or app you can join/use regardless of where you live.
If you have any comments, questions, or have any experiences with SimCash yourself, I would love to hear from you in a comment below.