Are you looking for work or side hustle? If so, there's a site called SimplyHired that claims you can find millions of jobs you can apply for on their site and earn extra cash.
But the question is, is this site legit or is it a scam?
I have tested the site to find out what it offers and compare it with other sites that offer the same opportunity. In this SimplyHired review, I will share everything I have learned about it so you can get a clear picture of whether this site is worth joining or not.
So, without further ado, let's get this review started, shall we?
What is SimplyHired and what does it offer?
Technically speaking, SimplyHired is an employment website where you can find various job offers. It is indeed a legit site because you can really find jobs in various industries.
Now, to fully understand how this site works, we have to take a closer look at the earning opportunity it offers. That way, you can get a clear idea of what you need to do to earn.
So, here's how to earn from this site.
The earning opportunity – Jobs
To clarify, what SimplyHired does is post jobs you can apply for. SimplyHired technically will not be the one who will pay you. Instead, it will be the company that offered the job. But nevertheless, SimplyHired will be the reason you will be able to earn, in the first place. So, I would still consider it to be the one that provides the earning opportunity.
Anyway, when you become a member of SimplyHired, all you have to do is log in to the site and look for a job you are interested in. But first, after you register, you will be asked to complete your profile. This is a very important step because this is what will determine which jobs you will see when you log in to the site.
During the profile creation, you will be asked to indicate three types of jobs you are interested in. Then, you'll be asked which location you want to work from. If you prefer to work at home, just type in "Remote" in the location field.
Once you've completed these steps, you'll have to indicate the preferred salary for the jobs you are willing to do. After all these steps are done, you will be taken to the member dashboard, and you will immediately see all the jobs you can apply for.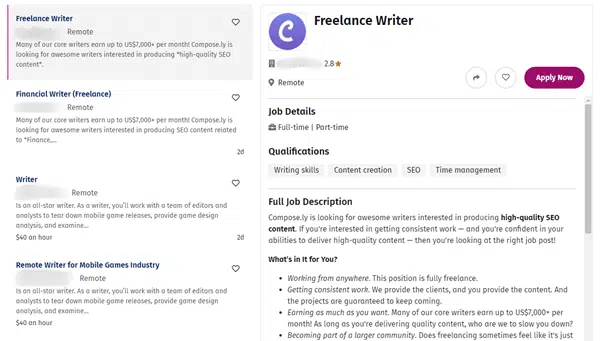 However, before you apply for a job, I recommend you upload your resume or create one using SimplyHired's resume builder. That will make the application process go smoother.
Now, if you want to find jobs that aren't included in the three job titles provided on your profile, you can just run a search for the job you are looking for and it will display all the available job offers that fit your other preferences (location and salary).
As you can see in the photo above, every job offer will show you the full details.
Now, there are two types of application processes you can go through on SimplyHired. If you see a job offer that has an "Apply" button (like the photo posted above), it means you will have to go to the website of the company offering the job and apply from there.
But if you see a "One Touch Apply" button instead, that means you will apply via Indeed which is another employment website where you can find various jobs.
Most of the time though, you will have to apply through the company's website. Usually, with these companies, you will have to provide your resume, a cover letter, and a sample of your work.
When you apply for a job this way, SimplyHired will not be involved in the process. The only time SimplyHired will be involved is if you apply via Indeed because if you go through that process, the site will provide the resume (the one you uploaded during profile creation).
After the application stage, you will be notified via email (or whatever communication method the company uses) to let you know if your application was accepted or not. There's no specific timeframe for how long it will take before you hear back from the company, so you just have to be patient.
If you get accepted, further instructions will be provided. Based on my experience, you will have to go through an interview (in-person or online, depending on the job you applied for). If you applied for a remote job, the interview will be conducted online or over the phone. But if you find a job offered locally, you might have to go to their office for the interview.
Once you get accepted, all that's left to be done is to do the job you were hired for. As for how you will get paid, I will discuss that in the next section.
What I like about SimplyHired is that there are a lot of job offers you can find depending on your preferences, especially for remote jobs. So, there's a good chance you will be able to land a job.
Recommended: Check Out the Best Freelance Sites You Can Join
How do you get paid?
As explained above, SimplyHired will not be the one to pay you for the jobs you accept.
Instead, it will be the company that offered the job that will pay your salary. As for the payment method, that will also depend on the company you work for.
Normally, these companies use bank transfers or PayPal as their mode of payment. Some companies also use other payment methods. It really is up to the company.
With regard to when they will pay, that will also depend on the type of job you take on. If it is a part-time or full-time job, you can expect to get paid monthly. But if it is a contractual job, you can expect to get paid after the completion of the contract.
But the good thing about the jobs being offered on SimplyHired is that you don't need to earn a specific amount before you receive your earnings. The company will pay you immediately on the agreed date.
If you are interested in more sites that will allow you to receive your earnings quickly, I would recommend you check out the fastest paying sites as well.
How much money can you make?
The amount you can earn will depend on the job you take on. While I was doing my testing, most part-time jobs offered around $10 to $50 per hour, depending on the complexity of the job. Of course, other job offers pay more but expect these jobs to be harder and more time intensive.
For full-time job positions, the pay is usually within the competitive rate of the market, which is a good thing. One thing I can say about the jobs found on SimplyHired is that the pay is quite good.
That's why I would say the earning potential of the jobs offered on SimplyHired is pretty good. Of course, you have to land the job first and that is easier said than done.
It will still all boil down to your skills and experience, whether or not you can earn decent money from the jobs you take on.
Can you use it on mobile?
SimplyHired has a mobile app you can download. The app is available for both Android and iOS devices.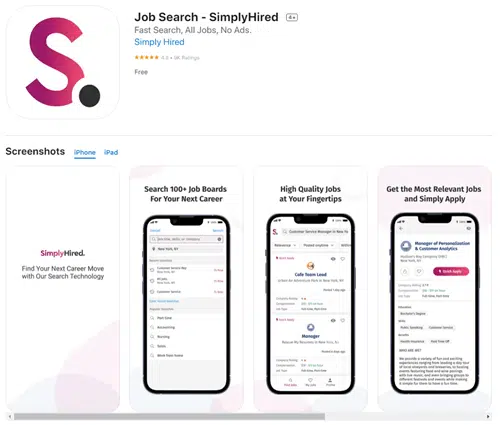 The app is very easy to use, so you will be able to browse for jobs you can apply for with relative ease. You also won't encounter any annoying pop-up ads while using it.
Overall, it would be beneficial to use this app because you can conveniently look for jobs even when you are not in front of your computer.
Who can join SimplyHired?
SimplyHired is available more or less worldwide. Just bear in mind that the availability of jobs will still depend on the company that posted the job offer.
So, not all countries provide equal opportunities. If you live in the US, then naturally, there will be more opportunities available for you because SimplyHired is a US-based company.
But as I've mentioned earlier, there are a decent number of remote job positions you can apply for, so you can still find jobs you can earn from regardless of where you are in the world.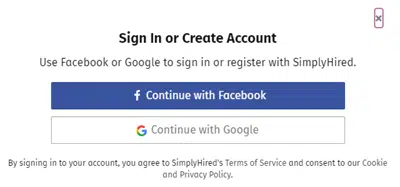 To sign up, you will have to use either your Google or Facebook account. And after you register, you will be asked to complete your profile. As explained earlier, this is a very important step, so you shouldn't skip it.
This is what will determine which jobs will be offered to you. So, make sure to complete it after you sign up.
Can you get support?
If you have any questions about the site or your account, you can check out the FAQ section for job seekers. It discusses some of the basic topics you need to know about the site.
But as explained earlier, the site really only acts as a middleman that will connect you to your employer, so there's really not much you need to know about it, in my opinion. If your inquiry is about work, you will have to contact your employer to resolve it.
Overall, I would say the site does offer the minimum required support for the role it offers.
Final Verdict
SimplyHired is a legit site that will help you find work to earn money. It offers a couple of advantages, but it also has some limitations you need to consider.
Let me summarize its pros and cons to conclude this review so you can get a clear overview of what the site offers. Then, you can decide if you should register or not.

Pros:
Available worldwide
The app is user-friendly
Jobs found on the site offer decent pay

Cons:
Doesn't offer guaranteed earnings
The application process for jobs is quite long
In my opinion, SimplyHired is a decent site to join if you are looking for a job. It's free to join. Just don't expect to earn immediately once you join because the application process for the jobs found there can be quite long.
The downside is that once you join, there's still no guarantee you will be able to earn. You have to land a job first, and there are many factors that come into play to land a job.
Now, if you are just looking for a way to earn extra cash, I would recommend you check out the top survey and GPT sites in your country instead. The sites on this list all have good earning potential, and you will be able to earn a decent amount immediately after you sign up.
If you have any comments, questions, or have any experience with SimplyHired yourself, I would love to hear from you in a comment below.