Skedadle is an app that claims you can earn easy money simply by playing mobile games.
Over the years, I have tested numerous apps that make the same claim, so I know that not all these apps are worth it or even legit.
Now, the question is, is Skedadle a scam, or is it legit? And if it is legit, is it worth it?
In this Skedadle review, I will show you all you need to know about the app so you will know what to expect from it before you even join.
Then you can make an informed decision on whether or not this app is truly worth using. So let's go ahead and take a closer look at Skedadle, shall we?
What is Skedadle, and what does it offer?
Skedadle, as mentioned above, is a mobile app that will allow you to earn by playing games. It is indeed a legit app since you will really get paid to play the games it features. However, this doesn't mean the app is worth using.
To find out if you should use this app or not, you must first understand how it works. And the best way to find that out is to examine the earning opportunities it offers. That way, you'll have a clear idea of how much time and effort is required to earn from it.
For that, I have made a video explaining how the app works. You can also read the full details below the video.
Recommended: Check Out the Best Ways to Earn by Playing Games Online
Option 1 – Playing Featured Games
The main way to earn from this app is to play the featured games. When you log in to the app, you will immediately see all the games you can play.
These games are very simple and easy to play, so if you are not a gamer, you don't have to worry because you can easily play these games too.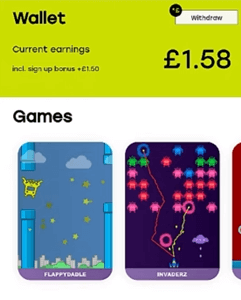 There are a few things you need to know about how to earn from this opportunity, though.
First, to earn while playing the featured games, you have to be on the move. You see, Skedadle will track your location, and if it sees you are moving while you are playing a featured game, you will earn rewards.
But if you stay in one place, you will not earn while playing. So this is actually only a viable option if you commute or do ride-sharing regularly. Otherwise, there's really no point in using it to earn. It is their way of promoting public transportation and ride-sharing. It's a nice idea, in my opinion, but it's not for everybody.
When you first open the app, you will be asked to allow the app to determine your location. Just allow it to do that before you start playing. Once you've done that, just choose a game you want to play and play it when you are riding on a public transportation or ride-sharing vehicle.
Your performance when playing the game will not affect your earnings. You will earn the same rewards regardless of how well or poorly you play the game.
Secondly, you will earn a maximum of £2 per day from playing games. So once you've earned the maximum amount, there's no point playing. Just wait until the next day to play the games.
Lastly, the games are actually not that interesting, in my opinion. If you are a gamer, you'll quickly get bored from playing. So if you are the type who wants to play fun and interesting games, then this is not for you.
Option 2 – Referral Program
Another way to earn from Skedadle is through its referral program. In case you are not familiar with a referral program, it is an opportunity to earn by inviting other people to join the app.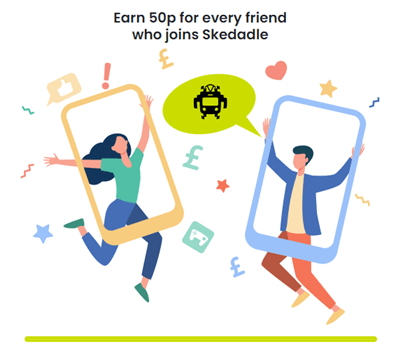 All you have to do is share your referral code with the person you want to invite and remind them to input the code during sign-up. Once they've done that, they will become your referral.
But as the photo shows, you will only receive the reward (which is 50 points) when your referral starts earning from Skedadle. It's a decent way to earn passively, but the rewards are a bit low, in my opinion. Later, I will discuss how their payment system works.
Option 3 – Vouchers
Technically speaking, this is not an earning opportunity, but I decided to include it anyway. Skedadle offers vouchers you can use to get discounts.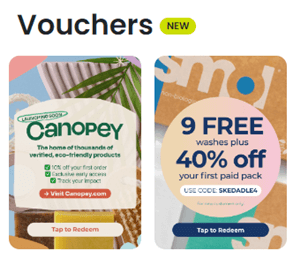 It's a fairly simple process. You use the voucher code provided to get discounts from certain online stores. However, during my testing, I never found any voucher that was really worth it. Plus, there aren't a lot available, so you might never be able to take advantage of this opportunity.
Recommended: Check Out the Best Ways to Earn Money by Playing Games Online
How do you get paid?
As explained earlier, every time you play while you are on the move, you will earn a certain amount. It will show up in your Skedadle account balance immediately after playing.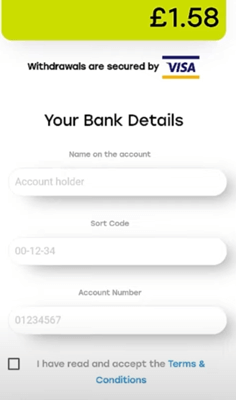 Then once you've earned at least £5, you can withdraw your earnings to your bank account (refer to the photo above). You can only withdraw once a month, and you are given until midnight on the last day of the month to make a withdrawal.
The payment will be processed on the first business day of the following month. You can check the withdrawal section for the payment schedule because it will be indicated there.
As for the points you will earn from their referral program, from what I can tell, they will be converted to cash. 50 points should be equivalent to £0.50, which as I've mentioned earlier, is quite low.
Overall, the payment system of Skedadle is relatively straightforward, and it offers a convenient payment method. However, I don't like the fact that you can only make one withdrawal per month.
Now if you are interested in more sites that offer direct bank transfer as a payment method, I recommend you also check out the top sites that pay via direct bank transfer.
How much money can you make?
The amount you can earn will depend on how often you play while using public transportation or ride-sharing.
It pays a decent amount for playing games, but as explained earlier, there's a cap to how much you can earn per day, so it will significantly limit the earning potential of the app, in my opinion.
Plus, the referral program isn't very profitable, as explained earlier, so you can't expect to earn a lot from it. Consider yourself lucky if you are able to hit the threshold once a month.
That's why I would say the earning potential of Skedadle isn't that great. And as I've also mentioned earlier, the games are not that interesting, so you might not find the motivation to keep playing them.
Can you use it on a desktop?
As you have to be on the move to earn from Skedadle, the answer to the question above is NO. You will definitely need to use a mobile device to earn from it.
That being said, the app is only available for Android devices. If you are an iOS user, you can still earn from it, but you have to use the mobile version of Safari to access the games since Skedadle does have a web version of it for Safari. It's less convenient compared to the mobile app, but it still works.
Who can join Skedadle?
Skedadle is only available in the UK, so if you live somewhere else, then this app is not for you.
You might be able to earn rewards if you live in another country, but when it comes to withdrawing your earnings, the app will look for a UK bank account, so you still won't be able to withdraw your earnings which is pretty much the same thing as not being available in other countries.
It is a bit strange they actually allow people to sign up and start playing from other countries when they cannot get paid. They should be more clear and transparent about this, in my opinion.
And even if you live in the UK, there are many more effective ways to earn some extra free cash in the UK, in my experience.

To sign up, you just have to fill out the registration form if you are using an iOS device. But if you are an Android user, you just have to follow the instructions when you first open the mobile app. Once you've done that, you can log in to the app and start earning.
Can you get support?
If you have any questions about Skedadle or your account, you can check out the FAQ page first. It discusses most of the basic topics you need to know.
But if you can't find the answers you are looking for, you can use the contact form provided by the website, or you can email the support team directly at [email protected]. Overall, I would say the app does provide the minimum support required for its members.
Final Verdict
Skedadle is a legit app that will allow you to earn by playing games while you are on the move. It has a couple of interesting features, but it also has a few limitations that you need to know.
Let me summarize its pros and cons to conclude this review so you can get a clear overview of what it has to offer. Then you can decide if it is really worth it or not.

Pros:
Offers a simple way to earn

Cons:
You can only earn a maximum of £2 per day from playing
You need to be on the move while playing to earn
Doesn't offer payment via PayPal
Only offers one withdrawal per month
If you want to earn by playing games online, then Skedadle can be a decent option, provided you meet the requirements of how to earn.
If you don't commute or ride-share, then this app is not for you. But if you do, then you can use this app. Just keep in mind that the games are not that fun and challenging.
This is why I would suggest you check out the best ways to earn by playing games online instead if you want to earn by playing games. This list offers better and more fun ways to earn, in my opinion.
Now if you are just looking for ways to earn extra cash, I highly recommend you check out the top survey and GPT sites in your country instead. The sites on this list all have good earning potential, so you will be able to earn a decent amount in no time.
Plus, you will definitely find a site you can join regardless of where you live.
If you have any comments, questions, or have any experience with Skedadle yourself, I would love to hear from you in a comment below.