Slice is a browser extension that claims all you have to do to earn money is to browse websites.
It's certainly an appealing claim, so I understand if you are interested in using it. However, I recommend you read this Slice review first before you install the extension.
It will give you an honest inside look, so you will know exactly what to expect from it. That way, you can properly gauge if Slice is worth using or not.
So without further ado, let's get this review started, shall we?
What is Slice, and what does it offer?
As mentioned above, Slice is a Google Chrome extension that allows you to earn just by browsing the internet.
It is indeed a legit extension since you will really be able to earn when you use it. However, this doesn't automatically mean it is truly worth using.
To find out if you should use it or not, you must first understand how it works. And the best way to do that is to examine the earning opportunities it offers. The video below shows exactly how Slice works. You can also read the full details below the video.
Recommended: Check Out the Top Passive Income Apps
Option 1 – Browsing the web
As mentioned above, to earn from Slice, all you have to do is to browse the web like you normally would.
However, to earn, you must first install the Chrome extension and set it up. This process is relatively simple.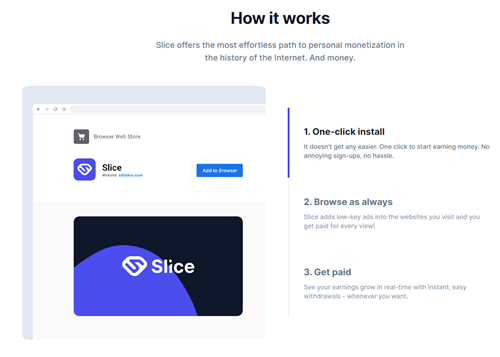 After you've registered as a member of Slice (more on this later), you just have to install the browser extension. The good thing about Slice is that it will also work with Mozilla Firefox, so if you are a Firefox user, you can still use Slice.
Once the extension is installed and you've completed the setup, all you have to do is to enable it and browse websites like you normally would. What will then happen is that Slice will display ads when you are browsing a site.
After a few seconds, you will earn the reward. Just make sure not to close the ad immediately when it appears.
A thing to note though is that when you first set up the Slice extension, it will ask for certain permissions like allowing it to edit all information on all websites.
It might sound like something concerning, but Slice does guarantee that it will not touch any of the sensitive information you provide to a website.
However, based on my experience, this kind of extension messes up some websites like banking sites. I've experienced the same thing before when I was trying out something similar, so if this happens when you are using Slice, then it's more or less a normal experience.
All you have to do is disable Slice while you are on that site since it does have the option to turn it on and off, and it should then work properly. One good thing about Slice is that ad blockers will not interfere with its function, so you can still use your ad blocker while browsing websites.
The ad blocker will just block the ads the websites you are visiting are displaying and not the ads that Slice will display. When ads are displayed, and the extension is enabled, you will earn a certain number of Slices, which is the currency the platform is using.
Later, I will discuss what you can do with the Slices you've earned.
One issue I noticed when I was testing the extension was that it seems to be detrimental to the income of content creators because the extension can take away some of their earnings from the ads shown on their site if they don't partner up with Slice.
The way I see it, if more and more people start using Slice, there will be a steady decline in content creators because their earnings will definitely be affected if they don't partner up with Slice.
This means you can end up hurting your favorite content creators by using something like this. And it takes a lot of time and money to create quality content, and if creators can not earn from ads, they will stop producing content, and you will no longer be able to get access to all the amazing free content you have today.
It's just something to think about when deciding if you should use this extension.
Option 2 – Referral Program
Another way to earn rewards from Slice is through its referral program. You just have to share your invite link with the person you want to invite to earn.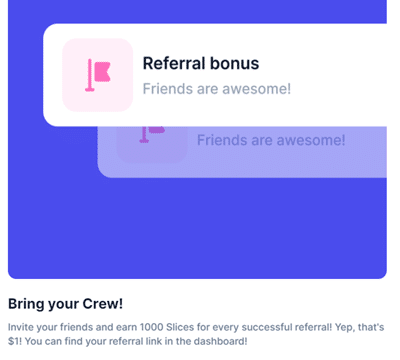 Once they click the link and install the extension, they will become your referral if they sign up as a member of Slice. When they do, you will receive 1,000 Slices as a reward, which is equivalent to $1.
It's a very straightforward way to earn but quite limited compared to many other referral programs.
But it can be a way to earn a bit extra. You just need to make sure you invite people that are interested in using Slice.
Recommended: Check Out the Top Passive Income Apps
How do you get paid?
As explained above, you will earn Slices every time Slice displays ads while you are browsing the web.
The Slices you earn will have a monetary value, and you will immediately see it if you check the extension icon (refer to the photo below).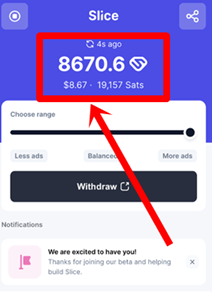 You then have the option to withdraw your earnings via PayPal or convert your Slices to crypto via Bitcoin Lightning. You don't need to reach a threshold to do so, but for every withdrawal you make, there will be transaction fees involved, so I would only recommend you withdraw your earnings when you've earned a significant amount.
Overall, I would say the payment system of Slice is relatively simple, and I like the fact that it offers convenient payment methods like PayPal and crypto.
They do say that they are working on providing more payment options in the future, so you might find additional options by the time you join Slice.
Now if you are looking for more sites or apps that offer a convenient payment method, I recommend you also check out the top sites that pay via PayPal instead.
How much money can you make?
I will say right now that you will not be able to earn a lot from Slice. Their site even says the same thing.
The most you can expect to earn would be around $3 to $5 per month, which is quite low, but also not surprising.
Based on my experience testing other platforms that offer the same opportunity, this type of earning method doesn't have a high earning potential. The only advantage it offers, in my opinion, is that you are earning passively. You don't have to do anything special to earn.
That's why I would say it will only be a decent site to join if you adjust your expectations accordingly.
Can you use it on mobile?
As of the writing of this review, Slice is not available on mobile. You will need to use a computer to earn from it.
Slice says that not enough mobile browsers support extensions, so they decided not to push it for mobile use.
As for the extension, as mentioned earlier, it will work with both Chrome and Firefox. If you are an iOS user, then you must use either of the two browsers to earn instead of Safari.
And as I've explained earlier, the extension can cause some issues on certain sites. When this happens, you just have to disable the extension, and the site should work normally.
Who can join Slice?
The site doesn't tell you exactly which countries it is available in, but as far as I can tell, it is available more or less worldwide. It's not surprising since the earning opportunities Slice offers don't really require you to live somewhere specifically.
To sign up, just go to Slice's website and click the sign-up button. Then you just have to fill out the sign-up form.
Slice will then email you the confirmation code you need to use when you log in to the extension during setup.
After you've done that, you can start using Slice to earn rewards. It's a fairly straightforward process, so you shouldn't encounter any trouble registering.
Can you get support?
If you have any questions about Slice, you can check out the FAQ page first. It discusses most of the basic topics you need to know about Slice.
If you can't find the answers you are looking for, or if you encounter any issues while using the extension, you can contact the support department using the contact form on the website. Just fill it out and hit "Send Message".
Overall, I would say Slice does provide the minimum required support to its members, but you should be able to request assistance easily if you have any questions or encounter any issues while using the extension.
This can be quite helpful since Slice is still in its beta stage (at the time of writing this review), so there's a chance you might encounter bugs or errors.
Final Verdict
Slice is a legit browser extension that will allow you to earn while surfing the web. It has a couple of decent features, but it also has a few limitations you need to be aware of.
Let me end this review by summarizing its pros and cons to give you an overview of what Slice offers. Then you can decide if it is worth using or not.

Pros:
Offers a passive way of earning
Offers payment via PayPal
Available more or less worldwide

Cons:
Low rewards
The extension can cause issues with certain sites
In my opinion, Slice can be a decent site to earn extra cash from, provided you set your expectations properly in terms of how much you can earn. This opportunity will not earn you a lot, but if that's okay with you, then you can go ahead and install this extension because it practically offers an effortless way to earn.
Personally, though, this kind of extension is not my cup of tea. I don't like extensions that will edit the data of all websites you use. I'm not a developer, so I can't say if this extension is safe or not, but I just don't feel safe with an intrusive extension like this.
But again, as I've said, this is just my personal preference. I do understand the appeal this extension offers, so if you are comfortable with Slice, you can use it. Just keep in mind that Slice doesn't offer great earning potential.
Now if you are looking for ways to earn passively, I recommend you check out the best passive income apps instead.
If you prefer to be more proactive when earning, you can also check out the top survey and GPT sites in your country instead.
The sites on this list all have good earning potential, so you will be able to earn a decent amount in no time.
If you have any comments, questions, or have any experiences with Slice yourself, I would love to hear from you in a comment below.