Are you looking for a fun and interesting way of earning extra cash?
The SmartSpotter app claims you will be able to earn by completing small tasks in different locations. So, it's pretty understandable if you want to go ahead and register.
But before you go to the app store and download this app, there are a few things you have to figure out. Like, is this app legit or is it a scam? This is a very critical question that needs to be answered right away before you sign up.
So, let me address it now and say that, yes, SmartSpotter is indeed a legit app where you can earn extra cash by performing short tasks. Now, the real question is, is it worth using? To answer this, there are a few factors we have to consider.
This SmartSpotter app review will give the full details of what the app has to offer and show what the platform is all about so you can decide if you should use it or not.
What is SmartSpotter and what does it offer?
SmartSpotter is a mystery shopping app that will pay you for completing tasks where you will have to gather data and provide feedback.
It offers a fun and relatively easy way to earn extra cash.
But to truly understand how the app works and how well you can earn from it, we have to take a closer look at the earning opportunities it offers.
Below, you can watch a video I made where I explain exactly how you can earn from SmartSpotter. You can also read all the details below the video:
Option 1 – Spots
The bulk of your earnings from this app will come from completing assignments or "Spots" as the app likes to call it.
When you log in to the app, you will quickly be able to see all the assignments or spots available by going to the "Spots" section of the app.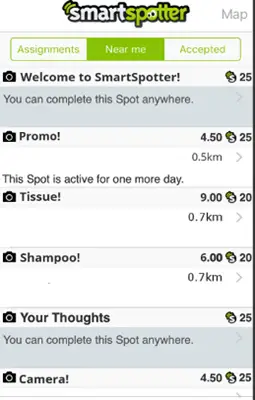 You can set the app to view the spots on list mode or map mode. I personally prefer the map mode because I can easily identify which spots are near my location.
When you see a spot you are interested in doing, simply press it and you will see the full details (including the reward you will earn for completing it).
Read the instructions carefully and make sure you understand what the spot is asking you to do. When you are ready to take on the assignment/spot, just click the "Accept this spot" (refer to photo below) button in the details page.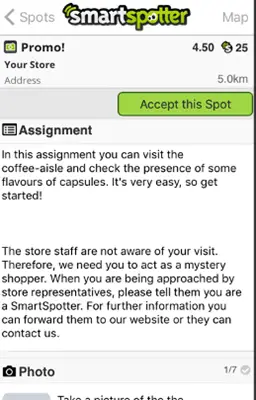 As a new member, you will be ranked a "Junior Spotter". So, you will only have one hour to complete the assignment/spot.
Also, you can only accept two spots at the same time. But as you progress and keep completing spots, your rank will increase and you will receive more benefits (I will talk about this later).
The spots will usually ask you to take photos of products and answer a few questions. Once you finish what the spot is asking you to do, you have to submit all the requirements in the corresponding spot page.
SmartSpotter will then verify your work and once they see that everything meets their requirements, you will be awarded the promised reward, as well as "Smart Points", which will be used to rank up your account level.
One thing you need to keep in mind when doing assignments/spots is, it has to be done anonymously. So, shop owners do not know you are a Spotter in their shop. While it is not illegal to take photos, this sometimes raises questions with shop employees.
You have to remember that you are the face of SmartSpotter. So, it is important you leave a good impression. So when a shop personnel is questioning what you are doing, calmly explain that you carry out assignments on SmartSpotter's behalf and that they can contact SmartSpotter.
If the shop owner requests you to leave the shop, do so without objection and make sure to remain courteous.
You will still have to submit your assignment, but you will not be paid. But make sure to explain why you were unable to complete the assignment under the heading Remarks at the bottom of the page.
Option 2 – Referral program
SmartSpotter has a referral program you can participate in so you can earn additional rewards. However, their referral program isn't really explained that well on their site.
If you are new to referral programs, this is basically a type of earning opportunity where you can earn by inviting other people to use the app or site.
In SmartSpotter's case, you can invite people by providing their email address (refer to photo below).

Then, all you have to do is press the "Send the invitation" button. SmartSpotter will then send an auto-generated invite email. When they sign up as a member using the link in the invite email, they will become your referral.
You will then usually receive a reward. The problem is, SmartSpotter doesn't really tell you exactly what you will get for this.
So you do not know if you will actually get something and what you then might get. This definitely makes it less appealing compared to other referral programs where you are usually told very clearly what to expect.
Recommended: Check Out the Top Micro Job Sites
How do you get paid?
For every spot you complete, you will earn a certain amount (as well as "Smart Points), which will be credited to your SmartSpotter account balance. Technically speaking, the app doesn't have a payout threshold.
This is because you can withdraw your earnings anytime. But, you can choose to receive payout automatically once you have earned £20. If that is what you prefer, SmartSpotter will pay you via direct bank transfer.

To do that, you have add your IBAN (International Bank Account Number) as well as your BIC (Bank Identification Code) on your profile page. When you've done that, you will get paid automatically every time you've earned £20. You will usually receive it the following week after you've earned the amount.
If you have earned less than £20 in your account and you want to be paid, the app will charge a £0.50 transaction fee. So, if you want to maximize the amount you can earn, I would highly recommend you take advantage of their auto-payment system so there won't be any transaction fees involved.
In my opinion, their payment system is pretty simple. I like the fact that the payment method they offer is very convenient. If you are interested in more sites that pay via direct bank transfer, I suggest you also check out the top sites that pay via direct bank transfer.
How much money can you make?
For mystery shopping platforms, the amount of money you can earn will usually depend on your location. This is because the availability of tasks will depend on where you live. SmartSpotter is no different.
If you live in a major city, then chances are, there will be plenty of available spots for you to do. If you live in a less populated area, then there's a low chance of getting spots.
So, in this case, the earning potential of the app drastically drops. As for the amount you can earn, you will typically earn around £4 to £10 per task, which is actually a decent amount, in my opinion.
That's why in terms of time-to-money ratio, SmartSpotter is pretty good.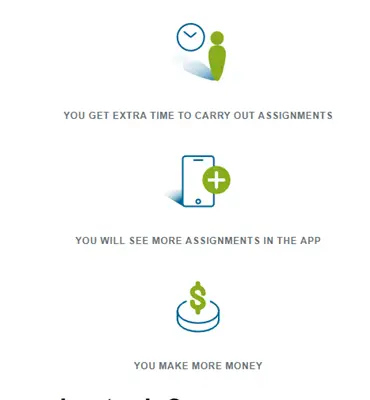 Now, as mentioned earlier, your account will rank up when you keep completing spots. SmartSpotter actually has four ranks: Junior Spotter, Spotter, Senior Spotter, and PRO Spotter.
You start out as a Junior Spotter and at this level, you can only accept a maximum of two spots at a time. You are also only given an hour to complete each spot. But when you become a Spotter, you can accept three spots at a time and the time to complete a spot will be increased to two hours.
When you become a senior Spotter, you can accept four spots simultaneously and have two hours to complete them. The highest rank is their PRO Spotter. When you reach this rank, you can then accept five spots simultaneously and each spot will stay open for three hours.
So, all these ranks will help you earn more. So it pays to be dedicated and keep being active..
For the first three ranks, you can reach them automatically when you keep completing spots because you will earn "Smart Points".
As for becoming a "PRO Spotter", you will have to run the "Become PRO Spotter Now! ✔"assignment in the app. It will only become available once you've reached the Senior Spotter rank. When you complete the assignment, you will then become a PRO Spotter.
Overall, I would say the earning potential of the app is pretty good, but only if you live in a major city that has plenty of available spots you can do. But if you don't, don't expect to earn a lot from this app.
Can you use it on a desktop?
While you will be able to log in to their site on your desktop or laptop, you will have to use a mobile app to complete the actual assignments/spots.
So, you could say this is a mobile-only platform. Their web dashboard can really only be used for registration purposes or for checking the status of your spots and your earnings.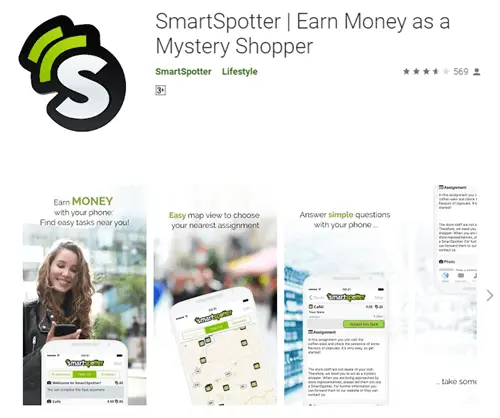 As for their app, it is quite user-friendly, so you will get used to how it works pretty easily. It is available for download on both Android and iOS app stores. So, compatibility won't really be an issue.
Who can join SmartSpotter?
Unfortunately, SmartSpotter is only available in a few countries. You can only register as a spotter if you live in either of the countries listed below:
Australia
Belgium
Colombia
Croatia
Czechia
Netherlands
Portugal
Slovena
United Kingdom
You also have to be at least 18 years of age or older to join.
Now, if you live in a country where there are already a lot of spotters registered, you won't be able to register as a member right away. Instead, you will be added to their waiting list.
If there is a slot available and you are next on the list, you will receive an email invitation from SmartSpotter. So, when this happens, make sure to check your email regularly.
When registering as a member, simply complete their registration form. Once you've done that, you have to click on the activation link on the email they will send to you.
As soon as you've activated your account, I would suggest you log in to the app or their site and complete your profile so you can start taking on spots.
Can you get support?
If you have any questions about their app or your account, you can check out the FAQ page inside the app or their website. It discusses several of the basic topics you need to know.
But, if you can't find the answers you are looking for, you have to get in touch with their support team. Fortunately, SmartSpotter offers a couple of ways for you to do so. You can either use the contact form provided inside the SmartSpotter app or you can email them at info@smartspotter.com.
Overall, I would say they offer a decent support system for their members since they provide a couple of ways for you to get in touch with their support team.
Final Verdict
SmartSpotter is a legit mystery shopping app that will allow you to complete assignments to earn extra money. It has several good features to offer but it also has a few drawbacks you need to consider.
Now, let's finish this review by summarizing its pros and cons to give you an overview of what the app has to offer so you can decide if it is worth using or not.

Pros:
Has a user-friendly app
Offers a convenient payment method (direct bank transfer)
Pays well for every assignment you complete

Cons:
Limited earning opportunities offered
Availability of assignments will depend on your location
Their site doesn't tell you the reward you will get for participating in their referral program
All in all, if you are eligible to become a member of SmartSpotter and you like doing mystery shopping tasks, this app is a good app to use, but only if you live in a major city where there are lots of opportunities.
The app pays quite well for every assignment you complete and you will be able to quickly reach their payout threshold. But if you live in a less populated area, then don't expect to earn a lot from it because there won't be a lot of assignments (if any) available.
If that is the case, I would recommend you instead check out the top sites survey and GPT sites in your country. All the sites on this list have good earning potential and you will be able to find sites where you can earn on a regular basis.
If you have any comments, questions, or have any experiences with the SmartSpotter app yourself, I would love to hear from you in a comment below.