Joining a Get-Paid-To (GPT) site is a good way to earn extra cash – especially if the GPT site pays wells.
One GPT site you may have already encountered is called Snagoo. This site claims to pay you more than most other GPT sites. But before you believe them, you have to see it for yourself.
The first thing we need to verify is, is Snagoo legit? Let's answer this question right away so that we can proceed with other important details. Yes, Snagoo is a legit GPT site that does pay you for completing their offers.
However, before we can agree to their claim that you will be able to earn more from their site, we have to examine everything it has to offer.
This Snagoo.com review will show you all you need to know so you can decide if you should sign up for this site or not.
What is Snagoo.com and what does it offer?
Snagoo.com, as explained above, will allow you to earn by completing paid offers. It will reward you with gift cards as well as cash (more about the rewards later).
But in order to get a clear picture of how good the earning potential of this GPT site is, we have to examine the earning opportunities it offers in detail. So, here's how you can earn from Snagoo.com.
Option 1 – Paid offers
Paid offers are what separates a GPT site from other types of online rewards site. This is what basically defines a GPT site.
With paid offers, you get paid to download apps, register to certain websites, answer surveys and quizzes, and a lot more.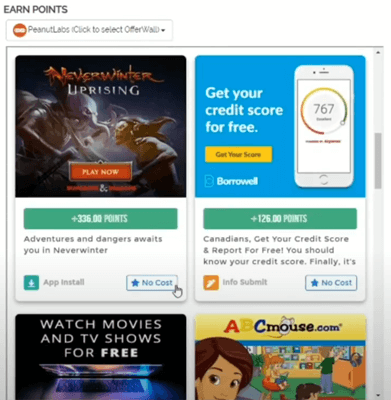 Snagoo presents its paid offers via offerwalls (which are really just a listing of paid offers you can do).
The offerwalls are from Wannads, PeanutLabs, and Persona.ly. To complete an offer, all you have to do is click the one you want to complete.
Every offer will display the number of points you will earn upon completion and the instructions you need to follow. This is the most important thing when doing paid offers. You need to make sure you follow the instructions carefully.
If you miss one step, you will wind up not completing the offer. So, read the instructions carefully before you begin working on the offer.
Now, once you've completed the offer, you will receive the reward promised and it will be reflected in your Snagoo balance.
Option 2 – Paid surveys
The other way you can earn is by answering surveys. Snagoo.com has one offerwall (PeanutLabs) that lists all the surveys you can answer.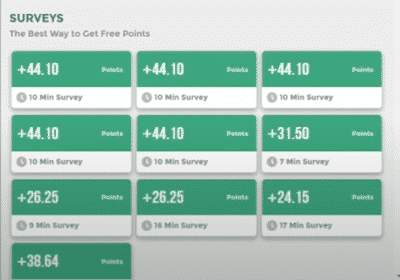 As shown in the photo above, every survey available will indicate the number of points you will receive when completed. You will also know the rough estimate of the time it takes to complete the survey.
This is valuable information to know beforehand because you can use it to determine which surveys to prioritize if you are in a hurry.
When you click on a survey, it will open a new browser tab that will display a set of qualifying questions you need to answer. It's not unusual that you won't qualify for a survey after answering the qualifying questions. This just means that you don't belong to the demographic the survey is intended for.
When this happens, all you can do is proceed to the next survey. Conversely, if you qualify, you will get to answer the actual survey. When you complete that, you will receive the points promised.
It can take a bit of patience to qualify for a survey on Snagoo so you just need to be aware of that.
Also, because it mostly offers surveys through PeanutLabs, it will not offer as many and as high paid surveys as a site like, for example, Swagbucks or PrizeRebel.
Option 3 – Referral program
If you invite a person to join the Snagoo, they will become your referral when they finish signing up. Then, you stand to earn a commission from whatever they will earn on the site.

Of course, the commission will be shouldered by Snagoo.com. The percentage of the commission you will get will depend on your reputation on the site (I will talk about this later). The maximum percentage you will get will be 20%. That is if you have a stellar reputation on the site.
One thing to remember when inviting people to join, when you share your invite link with them, make sure to remind them that they should sign up to the site by clicking on the link and not by going directly to the site.
How do you get paid?
As already explained, Snagoo.com uses a points system for their rewards. The points you earn can then be used to exchange for certain rewards. I mentioned at the beginning of this review that you can receive gift cards or cash from this GPT site.
Every reward on Snagoo.com will cost a certain number of points. The minimum amount you can redeem is $2, which is worth 200 points (every 100 points is worth $1).
This low threshold is only valid for gift cards but they do have a decent number of gift cards to choose from like Amazon and eBay (You can see a list of other Amazon gift card sites here).
If you wish to convert your points to cash, you can do so via PayPal. However, every PayPal withdrawal you make from Snagoo will cost 25 points. So, for example, if you decide to redeem $10, the amount you will receive on your PayPal account will only be $9.75.
It's actually a reasonable transaction fee, in my opinion. I also like the fact that you can withdraw your earnings via PayPal since it's the most convenient payment method around.
If you are interested in more sites that pay via PayPal, I would suggest you also check out the top sites that pay via PayPal.
How much money can you make?
The amount of money you can earn from a GPT site will mostly depend on how much time you will spend on it.
The other factor that contributes to your earnings will be how well the site pays and as for Snagoo's case, they do pay decently.
Their rewards are not that high but they aren't that low either for a GPT site. So, you stand to earn a decent amount from this site by investing a decent amount of time.
But they claim you will get 50%-100% more than on many other GPT sites – this is not really always the case though, in my experience.
And especially not for the surveys which you can actually earn more by taking on many other sites.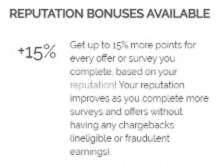 As mentioned earlier, as a member of this site, you have a reputation to maintain and this can be a way to boost your earnings. If you have a good reputation, you will receive a 15% bonus for every offer you complete.
Your reputation will increase the longer you are active on the site. So, the more offers you complete in the long run, the higher rewards you will receive.
This, in my opinion, is a good way to incentivize people to keep completing offers and surveys. Not a lot of GPT sites offer this kind of bonus to help improve your earnings. I believe this is what Snagoo pertains to when they say you will earn more from them.
Overall, I would say that Snagoo.com has a decent earning potential as a GPT site.
Can you use it on mobile?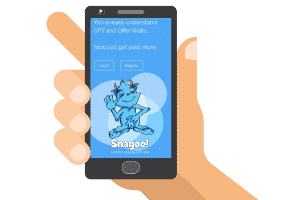 Snagoo.com doesn't have an app you can download on your mobile device. But you will be able to access their site on a mobile device with the use of a web browser.
Fortunately, their site is optimized for mobile use so you won't have any problems navigating through the site and reading the content. This makes it easier for you to earn even if you are not sitting in front of the computer.
I believe they made sure the site is mobile-friendly because most of their paid offers will ask you to download mobile apps. It would have been a bit bothersome if their site wasn't mobile-friendly.
Aside from their site being mobile-friendly, the user interface is also very intuitive. It adds to the overall usability of the site.
Who can join Snagoo.com?
Everything points to Snagoo being a good site to join. But all of that will be pretty useless if the site is not available in your region and unfortunately, Snagoo.com is only available in select areas.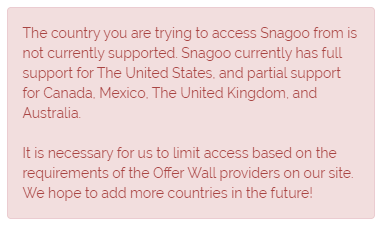 Snagoo.com is only available in the US and certain parts of Mexico, Canada, Australia, and the UK. You won't be able to bypass their restriction by using a VPN because they will detect it right away.
And if somehow you manage to get away with it, your account will be suspended sooner or later when they find out you are using a VPN.
If you are 18 years old or older and you live in any of the countries mentioned above, you are eligible to become a member.
All you have to do is fill out their sign-up form and confirm your account. Once you've done that, you can start earning rewards.
Can you get support?
The one drawback I noticed about their site is, it doesn't have a FAQ page you can check out if you have any questions about the site or even your account.
Their site would have been more user-friendly if they had some sort of page that talks about the basics of the site.
So, if you have any inquiries, you are left with no choice but to contact their support team. You can do that by emailing them at support@snagoo.com.
Final Verdict
Snagoo.com is a legit GPT site that does pay you for completing offers and answering surveys. It has a couple of interesting features and some drawbacks as well.
Let's finish this review with a summary of its pros and cons to help you decide if you should sign up for this GPT site or not.

Pros:
Low payout threshold
Payment via PayPal is available
Decent rewards for the offers

Cons:
Surveys pay less than on many other sites
The site could use a page that discusses more how the site works
There is a transaction fee for PayPal withdrawals
Overall, I would say that Snagoo.com is a pretty decent site. It has the makings of a good GPT site. It has a low payout threshold and there are more or less always earning opportunities available.
I also like the fact that they pay via PayPal, which makes it more convenient to convert your rewards to cash. Their reputation system also ensures you will earn more the longer you are a member of their site.
The only downside of this site is, it only supports a few countries and if you like taking surveys there are sites with a lot better options for this.
If you are eligible to be a member though, I would suggest you include this site in your list of sites to earn from. Just make sure to set your expectations properly.
If you can't join this site, I suggest you check out the top GPT sites instead. The sites on this list also have good earning potential. Plus, you will definitely find a site you can join regardless of where you live.
If you have any comments, questions, or have any experiences with Snagoo.com yourself, I would love to hear from you in a comment below.