I'm always searching for new ways to earn extra cash or crypto and one thing caught my eye.
There is an app called StepN that claims you can earn crypto just by walking, jogging, or running outdoors.
Now, the question is, is this app legit, or is it a scam? If you keep reading this StepN app review, you'll know the answer to that question and more.
I have personally tested the app for several months to see how it works and to see if it is a good way to earn crypto. In this review, I'll share everything I have learned about it, so you'll get an insider's look.
That way, you'll know exactly what to expect from it so you can make an informed decision on whether this app is worth using or not.
What is StepN and what does it offer?
StepN is a Get-Paid-To (GPT) app that will reward you for walking, jogging, or running outdoors. It is indeed a legit app because you will really earn when you use this app if you go out for a walk, jog, or run.
But, the question is, is it worth it?
To answer this question, you must first understand how it works, and the best way to do that is to examine the earning opportunities it offers. I have made a video that gives you an inside look and shows exactly how StepN works. You can also read all the details below the video.
Recommended: Check Out the Best Ways to Earn Money by Playing Games Online
Option 1 – Playing StepN
To earn from this app, you need to fund it first with Solana or BNB. So, you'll need to spend a bit of money to earn.
When you first use the app, you'll be asked which network you'll be using. If you are planning to fund the app using SOL (the crypto of Solana), then you need to select the Solana network.
If you want to fund it using BNB (Binance's crypto), you'll have to use the Bep20 network, which is the smart chain network of Binance. I personally prefer Solana because the fees are cheaper. Once you've selected your network and you have sufficient crypto, you will have to buy a pair of NFT sneakers.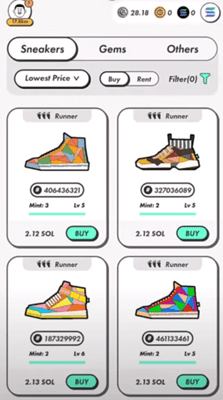 Think of it as buying a digital pair of shoes. Once you've bought your NFT sneakers, you can now use the app when you go out for a run, walk, or jog.
The idea is that when you go for a walk or jog (or even run), you need to open the app and press the start button. Then, just proceed with your walk, jog, or run, and you will earn a certain number of GST (the currency that StepN is using).
The amount you can earn will depend on the NFT sneakers you bought, so it's actually important to buy the right pair of NFT sneakers. The good thing is that you will immediately see the attributes of the NFT sneakers you want to buy, so you can easily choose which one to go for.
The rarity of the NFT sneakers will also affect your earnings, but of course, the rarer the pair of sneakers is, the more expensive it will be.
From time to time, you will also be able to collect loot boxes containing special prizes. The chances of getting a loot box depend on your NFT sneakers.
However, you have to pay a small amount of GST to open the boxes, and often you might earn less from it than you have paid. At least that has been the case for me – so far, I have opened around 20 of these boxes and have not actually made a profit from any of them yet.
Take note that you will only earn when you have in-game energy. This energy will replenish every six hours, and the maximum energy you can have will also depend on the NFT sneakers you will use.
Plus, just like most games, you can also level up your NFT sneakers using the in-game currency to improve their attributes and therefore earn more. This is also one part of the game you have to consider. So, you have to plan how you want to spend your earnings. You can either withdraw it or use it to improve your NFT sneakers and earn more.
So, as you can see, the biggest factor affecting your earnings from this app is the type of NFT sneakers you will use when you go out for a walk, run, or jog. That's why before you buy a pair of NFT sneakers, you need to understand all their attributes.
The ideal strategy for playing this game is to have multiple NFT sneakers. Of course, this means you will have to spend more. The best tip I can give you is to formulate a strategy with the NFT sneakers you will buy. That way, you can maximize your earnings, and you'll be able to earn back the money you've spent.
Option 2 – Renting out your sneakers
Another way you can earn is by renting out your NFT sneakers to other app members. It's a relatively straightforward method of earning. You can set your NFT sneakers to be available for rent for a certain amount of GST.
Then, the member who rented out your NFT sneakers can use it to earn by playing the app. Just keep in mind that renting out sneakers will cause degradation (just like when you are using them yourself).
And it will cost GST to repair the NFT sneakers back to their maximum durability. So, just like with any game, there are some small details you need to factor in.
However, this feature has not been fully launched at the time of writing this review.
Recommended: Check Out the Best Ways to Earn Money by Playing Games Online
How do you get paid?
As explained above, you will earn GST while playing the game. Then, you can convert the GST you've earned to various cryptocurrencies. You don't need to reach a threshold to do this.
You can convert your GST to any crypto anytime you want. Then, if you want to cash out, you can transfer the converted earnings to your crypto wallet (Solana or Binance).
The payment system of StepN is relatively straightforward if you are used to dealing with cryptocurrencies already. But if you are new to crypto, then it can get a bit overwhelming at first. But once you get used to it, it becomes a bit easier.
So, to be clear, StepN is an app that will allow you to earn crypto. If you prefer to earn cash, I would recommend you check out the top sites that pay via PayPal instead.
How much money can you make?
To be honest, it's difficult to give an exact amount of how much money you can earn from this app. That's because your earnings will really depend on the NFT sneakers you have. As explained earlier, every pair of NFT sneakers have different attributes, so the earnings will be varied.
Plus, you also have to factor in the amount of money you are willing to spend to buy these NFT sneakers. Aside from that, there's the wear and tear factor where you'll have to spend a portion of your earnings on repairing your NFT sneakers.
So, you have to achieve the right balance if you want to profit from this app. You have to formulate a strategy to get back the money you spent to buy the NFT sneakers so you won't end up losing money.
It's a tough balance to find, but what I really like about this app is that it essentially rewards you for living an active lifestyle. And that, in my opinion, is a reward on its own. You can just think of the crypto you've earned as a bonus.
Personally, I have not been able to even get close to earning back what I spent on the sneakers yet, even after using the app for a few months.
Again, how fast you will earn will depend on how much you invest, how active you are, etc., but you should, in general, not expect to earn fast money with it.
Can you use it on a desktop?
StepN is a mobile-only platform. So, you'll need to use a mobile device to play this game. And based on the earning opportunities it offers, you will never find the need to use it on a desktop or laptop.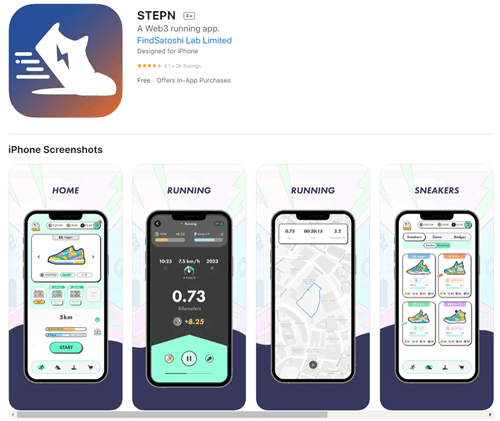 As for the app, it can be downloaded from both the Android and iOS app stores. It's also very easy to use, so you won't have a hard time getting used to navigating it.
You also won't encounter any annoying pop-up ads while using the app, so the overall user experience it offers is generally pleasant, in my opinion.
Who can join StepN?
Joining StepN requires an invitation code, and it's quite hard to get.
That's because they have limited the number of users who can sign up because they want to ensure they keep the app's quality and not flood it with users.
There are several ways to get the invitation code, and you can learn more about them in the video below.
But just to give you an idea, you can get the code by joining their official Telegram and Discord channel, or you can go to Twitter and search for StepN activation codes. Once you have the code, you can install the app and proceed with registering.
During the sign-up process, just enter the code to complete the sign-up. Once you've done this step, you can log in to the app and start the setup process. As explained earlier, you must choose which network you want to use. You can go for the Solana network or the Binance network.
This will depend on your preference, but personally, I use Solana because, as mentioned, the gas fees for this network are cheaper than Binance. After you've chosen your network, you can now buy the NFT sneakers you like to start earning.
Can you get support?
If you have any questions about the app or your account, you can check out the whitepaper found on the website. Most of the relevant information you need to know is discussed here. You can also check out the Help Center, but it doesn't contain a lot of useful information, in my opinion.
If you still need to talk to a representative, you can join their Discord or Telegram channel. You'll be able to talk to a representative through these platforms.
Overall, I would say the app has a decent support system in place for its members, and I like that they have a Discord and Telegram channel you can join because you can communicate with their support team in real-time.
Final Verdict
StepN is a legit GPT app that will reward you for playing the game. It has a couple of good features, but it also has a few limitations you need to consider.
Let me conclude this review with a summary of its pros and cons to give you an overview of what the app has to offer. Then, you can decide if you should use it or not.

Pros:
Offers an interesting way to earn
No payout threshold

Cons:
You have to spend money to start earning
Doesn't offer cash rewards
Takes a lot of patience to earn
In my opinion, StepN is an interesting app. You can earn crypto in a fun and healthy way. However, you have to be prepared to spend money to start earning from this app. If you are not prepared to do that, this app is not for you.
You also have to formulate a strategy to earn back the money you spend. But, in my opinion, the best value this app offers is it can motivate you to live an active lifestyle.
Now, if you are mainly just looking to earn extra cash, then there are better options out there. I would suggest you check out the top survey and GPT sites in your country instead. The sites on this list all have good earning potential, so you'll be able to earn a decent amount of cash or even crypto.
If you have any comments, questions, or have any experience with StepN yourself, I would love to hear from you in a comment below.