Storewards is an app that claims you can earn rewards from your grocery receipts. So, if you are the one who does the grocery shopping for your household, then you might be considering using this app.
However, I would say you hold your horses for a bit. You need to make sure if this app is really legit or if it is just a scam. That's why I would recommend you read this Storewards app review first so you will learn more about the app you are planning to use.
It will show you the truth about the app and exactly what it offers so you can decide if you should use it or not. So, let's not waste any more time and get on with this review, shall we?
What is Storewards and what does it offer?
Storewards is essentially a Get-Paid-To (GPT) app that will reward you for submitting photos of your grocery receipts. And yes, it is indeed a legit app since you will really earn rewards for doing so.
Now, how will you be able to determine if this app is worth using or not? The best way to do that is to explain how their earning opportunities work so you can understand how to earn from this app. So, here are Storewards' earning opportunities.
Option 1 – Snap photos of receipts
It's really easy to earn from Storewards. When you become a member of the app, you will immediately know which stores you can shop from. The stores will depend on the country you live in.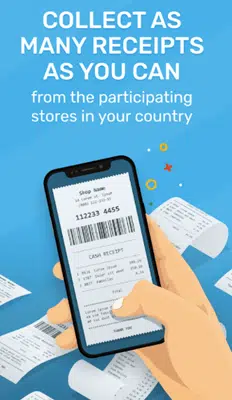 Once you know which stores are accepted, all you have to do is to do your normal grocery shopping routine. Then, you just have to take a photo of the receipt. Keep in mind that Storewards only accepts physical receipts. So, you can't submit any digital receipts.
During your first time snapping a photo of a receipt using the app, it will guide you on how to take a photo. Make sure to take note of the instructions. But the gist of it is to ensure that all the important details like store name, purchase date and time, the total price of purchase, barcodes (if there are any), and prices of the products you bought are included in the photo.
There are other guidelines you need to know about how to take a photo of a receipt and you can read all about it on their FAQ, which I recommend you do before you start taking any pictures.
Once you've taken a photo of the receipt, just submit it. Then, Storewards will verify your submission. When everything meets their requirements, you will earn a certain number of coins. The coins you can earn per receipt submitted will depend on your account level (later on, I will discuss what this is).
Aside from the coins you've earned, you will also receive experience points. And I will discuss what happens with your experience points in a later section.
Just take note that you can submit a maximum of 200 receipts per week. So, realistically speaking, you can submit as many receipts as you can per week. Also, receipts will only be considered valid up to 30 days after the date of purchase. So, make sure to take a photo of your receipt and submit it as soon as possible.
Option 2 – Referral program
Another way to earn rewards from Storewards is to invite people to use the app through their referral program. The idea is, you share your referral code with the person you want to invite. When they register as a member, they will be asked to input an invite code.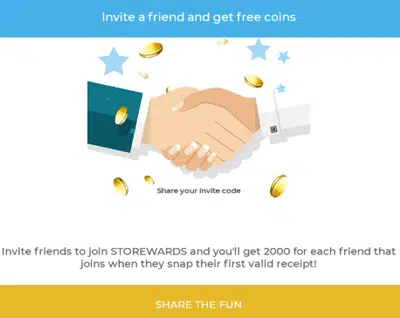 Just remind them to input your code during registration and it's all done. They will now become your referral. When they submit their first receipt and it gets accepted, you will receive a one-time reward of 2,000 coins. Your referral will also receive a reward which will be 1,200 coins.
It's a fairly simple way to earn coins. But of course, you need to make sure the people you invite are really interested in using the app. Otherwise, you won't earn anything.
Option 3 – Daily bonus
Lastly, you can claim a daily bonus for the first time you log in to the app in a day. The bonus will keep increasing until you reach the 7th day. After the 7th day, the daily bonus will reset back to 1 and you'll have to start all over again.
It's a fairly simple way to earn, but just keep in mind that the coins you will earn from this will usually only be around 10 to 50 coins. But still, it's a nice way to earn free rewards, in my opinion.
Recommended: Check Out the Top Survey Apps
How do you get paid?
As explained above, you will earn a certain number of coins every time you submit a receipt and it gets approved. You will also earn coins for every referral you get.
But what can you do with the coins you've earned?
Well, that would depend on the country you live in. But usually, the most common reward options you can redeem are gift cards or PayPal withdrawals. The payout threshold will also vary depending on the country you live in.
On average, you will need to earn at least $2 to withdraw your earnings via PayPal. For gift cards, the minimum amount will usually be $10.
Overall, their payment system is relatively easy to understand. I like the fact that they have a low payout threshold because you can withdraw your earnings quickly.
If you are looking for more platforms that have a low payout threshold, I recommend you also check out the fastest paying sites.
How much money can you make?
With an app like Storewards, the amount you can earn will mostly depend on your grocery shopping habits. If you do the grocery shopping once or twice a week, then you will benefit a lot from this app.
But if you or your household only does grocery shopping once a month, it will take you several months before you will be able to withdraw your earnings. As mentioned earlier, they don't really have a breakdown of how many coins you can earn per receipt.
However, in my experience, a receipt with around 5 items or less will usually earn you around 50 to 100 coins. It's not a bad rate, but it's also not that good. The only problem is, the availability of stores you can shop from will mostly depend on which country you live in.
In countries like the US or UK, you can find plenty of partner stores. But for other countries, the partner stores will be limited. So, if that is the case in your country, then you won't earn a lot because there are fewer options to shop from.
Earlier, I mentioned that you also will earn experience points for submitting receipts. This is where it comes in handy. You see, Storewards has designed a system where you can earn more when you keep receiving experience points because your account will level up.
For every level it increases, you will earn more coins per receipt you submit and your daily bonus coins will also increase. It's a way to incentivize people who are very active users of the app. It won't drastically increase your earnings, but it's a nice incentive to have, in my opinion.
But overall, I would say the earning potential of this app is still quite low because of the limited earning opportunities it offers. That being said, I do like the fact though that it offers an effortless way of earning. You can turn your receipts which you usually just throw in the bin into cash.
Can you use it on a desktop?
Storewards is a mobile-only platform. That means you will really need to use a mobile device. And if you consider the way you can earn from this app, you won't really find a need to use a desktop or even a laptop.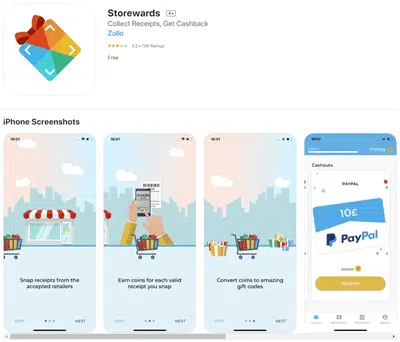 As for their app, it is available for download from both the iOS and Android app stores. Their app is also very user-friendly and you won't encounter any pop-up ads.
So, the overall user experience it provides is actually quite good. For a mobile app, that's all you can really ask for.
Who can join Storewards?
Storewards are only available in a few countries. The photo below shows which countries it is available in.
If your country is not listed in the photo, then you aren't eligible to join. If it is, then you have to provide your mobile number to join. Then, the app will send you a code to start the registration process. Just input the code and then fill out their registration form.

After you've submitted the registration form, they will send a confirmation email. Click the link in the email to complete your registration. You will then receive 1,000 coins as a bonus for signing up. It's not much, but at least you get something right from the get-go.
Can you get support?
If you have any questions about the app or your account, you can first check out their FAQ page. Just go to your account options and press the FAQ link. There are a lot of basic topics discussed on their FAQ page.
In case you can't find what you are looking for on their FAQ page, you can just submit your inquiry through their Contact Us link. When you press that link, it will open your mobile device's email client and their email address (support@storewards.co) will automatically be provided.
Just explain your question or the issue you are facing and hit send. Overall, I would say the app has a decent support system for its members since you can easily get in touch with their support team.
Final Verdict
Storewards is a legit GPT app that will reward you for taking photos of your grocery receipts. It has a couple of good features to offer, but it also has some limitations you need to consider.
Let me wrap up this review with a summary of its pros and cons to give you an overview of what the app has to offer. Then, you can decide if it's a good fit for you or not.

Pros:
Offers an easy way to earn rewards
Offers payment via PayPal
Their app is user-friendly

Cons:
Partner stores are quite limited
Offers low rewards if your account level is still low
In my opinion, if you or your household does grocery shopping frequently (minimum once or twice a week), then this app can be a favorable app to use. You can earn a decent amount from it. But if you only do it once or twice a month, it will take quite a long time before you can withdraw your earnings.
But it's a good way to turn your trash (since grocery receipts are usually just thrown in the bin) into treasure, so to speak. So, if it is available in your country, it can be worth considering using since earning from this app is quite effortless, in my opinion.
Just don't expect to earn a lot from it. Just consider it as a bonus for your grocery shopping.
Now, if you are looking for primary sites to earn extra cash from, I would recommend you check out the top survey and GPT sites in your country instead. The sites on this list all have good earning potential and you won't have to spend any money to earn rewards.
Plus, you will definitely find a site you can join regardless of where you live.
If you have any comments, questions, or have any experiences with Storewards yourself, I would love to hear from you in a comment below.