There are a lot of sites offering free stuff in exchange for your opinion. One such site is called The Insiders. This site claims you can try products at home and get them for free.
If this is something you are interested in, then I suggest you continue reading The Insiders review. It will show you all you need to know about the site so you will know exactly what to expect from it.
That way, you can properly evaluate if this site is worth joining or not. So let's get this review rolling, shall we?
What is The Insiders, and what does it offer?
The Insiders is essentially a product testing site that will allow you to try out new products and get them for free. It is indeed a legit site since you really receive products if you get selected for the opportunity to try out a new product.
However, this doesn't necessarily mean the site is worth joining. To figure out if you should join this site, you must first understand how it works. And the best way to do that is to examine the earning opportunity it offers. That way, you'll have a clear idea of how much time and effort is required of you.
I have therefore made a video that gives you an inside look and shows exactly how you can earn from The Insiders. You can also read all the details below the video.
Recommended: Check Out the Best Ways to Get Free Products Online
The earning opportunity – Campaigns
Technically speaking, you will not earn from this website. All you get to do is to try out new products for free through the campaigns The Insiders offer.
Depending on the campaign, you get to keep the product you tested. Later, I will explain more about this.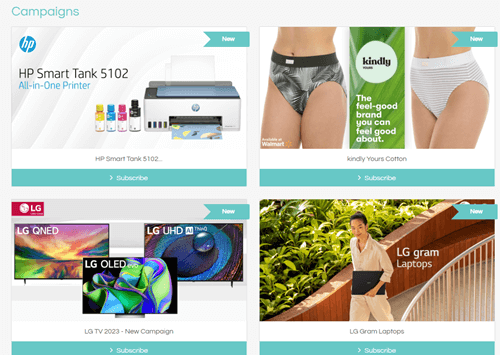 To start the process, you just have to log in to the member dashboard. Once you've completed your profile and answered all the surveys, you will see all the campaigns available (refer to the photo above).
You can click each campaign to see the full details. I recommend you read and understand what the campaign is all about and what they are asking you to do. If you are interested in a campaign, you just have to click the "Subscribe Now" button (refer to the photo below).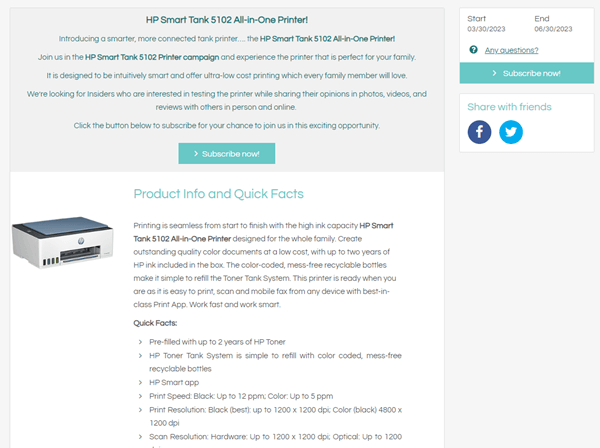 This will let The Insiders know that you are interested in joining the campaign.
Within two weeks, you will receive an email from the site telling you if you got accepted into the campaign or not. So make sure to check your inbox regularly until you receive the email.
If you get accepted, the product will be shipped to your preferred address (the one you provided during registration). It will usually take around two weeks before the product reaches your doorstep.
Now, there are some campaigns that will ask you to purchase the product.
For these campaigns, the product will be available to you for purchase at an exclusive The Insiders discounted rate, so you get to own the product at a much lower price. Along with the product, you will also receive full instructions on what you need to do to complete the campaign.
This will be sent to you via email. Usually, you'll be asked to share your thoughts about the product online. You will also be asked to spread the word about the product. For this, you can post on social media platforms about the product. You can also upload photos of the product on your social media pages.
The whole point of letting you participate in these campaigns, aside from getting your honest opinion about it, is to generate a buzz around the product you are trying out.
During the campaign, you will also be asked to submit reports. Make sure to submit your reports on time because it will show your reliability as a member of The Insiders.
If you fail to submit your reports regularly, The Insiders will not accept you in any campaign you apply for in the future. So if you want to keep trying new products, you have to submit your reports on time.
Sometimes, campaigns will also hold contests where participants can potentially win a prize. These contests can vary from photo contests, most active members, and best social media posts to best reviews.
It will all be communicated to you via email because when you participate in a campaign, you will also be automatically included in the newsletter for it. So make sure to also check your email regularly when you are participating in a campaign.
Winners of the contests will be announced in the final newsletter for the campaign. Prizes will usually be in the form of products, and they will be shipped by the campaign manager. You can expect to receive it in a few weeks, depending on your location.
Earlier, I mentioned that some campaigns will ask you to purchase a product. In this instance, if you happen to not like the product you purchase, you can send back the product to The Insiders free of charge. You will receive a refund of the payment you made.
Just don't expect to receive the refund immediately because it can take a few weeks to process. The products you can expect to try out are various appliances like printers, flat-screen TVs, and even laptops. There are also campaigns for various other products like food, clothes, and more.
And most of the brands are very popular, so you will likely find them interesting, in my opinion.
There are also a decent number of campaigns available, so you will always have a chance to participate in a campaign.
Most campaigns run for more than a month or two, so you have to be committed if you decide to participate in a campaign.
The activities don't take up a lot of time, but you have to do several of them, so make sure you have enough time to do that before you decide to participate in a campaign.
Recommended: Check Out the Best Ways to Get Free Products Online
How do you get paid?
Just to be clear, you will not get paid to try out these products. The best thing you can hope for in terms of incentives is possible prizes you can win from the contests of the campaigns.
But as mentioned earlier, not all campaigns hold contests. Most of the campaigns will allow you to keep the product as well, especially those that you had to purchase, so these serve as rewards as well, in my opinion.
From what I observed while testing the site, there are lots of campaigns that will ask you to purchase a product to try it out. Of course, as mentioned earlier, these products will be available to you at a discounted rate.
The Insiders can't afford to hand out these products for free because they are expensive. For example, there are campaigns that will ask you to try out a flat-screen TV, gas range, and even refrigerators, so you can't really expect to get them for free.
But if you are on the hunt for these products, then this is a good way to get one at a much lower rate, which, in my opinion, is akin to earning money.
To recap, you will not get paid to try out the products from The Insiders. If you are looking to earn money, you can check out the top sites that pay via PayPal instead.
How much money can you make?
As explained above, you won't earn anything from this site. The closest you can get to earning money is through the discounts The Insiders offers, plus the products you get to keep for participating campaigns.
However, they don't really tell you their discount rates. And I personally didn't get to the point where I had to buy the product for the campaign, so I can't really say much about it.
In my opinion, the value this site provides is not monetary. Instead, it will allow you to test out unreleased products and help shape how to improve them. In other words, you can impact how brands design their products through the feedback you provide during campaigns.
That is not something you can do on regular websites. So if that is something you value, then I would say this site is worth joining. But if all you are after is earning extra cash, then The Insiders is not for you.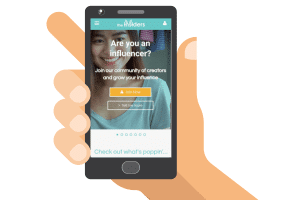 Can you use it on mobile?
The Insiders doesn't have a mobile app you can download, but the site is mobile-friendly, so you can still log in to the member dashboard easily using your mobile device.
This can be useful if you want to browse new campaigns and you are not in front of the computer. Plus, as explained earlier, campaigns will usually ask you to post on social media platforms. This is something you can easily do on your mobile device since most (if not all) social media platforms have mobile apps.
So to answer the question above, yes, you can. In fact, you will most likely have to use your mobile device at least once during the span of the campaign you are involved in.
Who can join The Insiders?
The site is available in several countries. If you take a look at its website, you will find a logo for the countries it is available in at the top of the site. Just click it to see the countries listed.
If you see your country on that list, then it is available in your country. If you don't, then you are not eligible to join this site.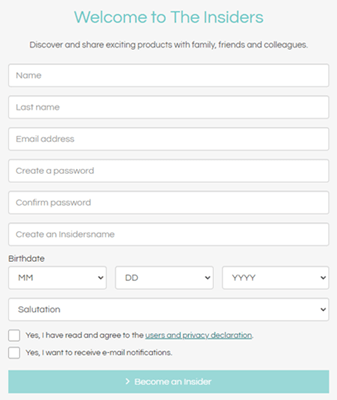 To register as a member, you just have to fill out the registration form. Then, The Insiders will send you a confirmation email. Just click the link in the email to verify your registration. After you've done that, you can log in to the member dashboard.
The first time you log in to the site, you will be asked to complete your profile. Make sure to do this so you can unlock the campaigns. You also have to answer the surveys to unlock more campaigns. These surveys won't take long to complete, so make sure to do them during your first login.
After you are finished with your profile, you can start applying for campaigns you are interested in.
Can you get support?
If you have any questions about the site or your account, you can check out the FAQ page first. It discusses most of the basic topics you need to know about The Insiders. It's actually fairly comprehensive, in my opinion, so you will find a lot of useful information.
But if you still require assistance, you can contact their support team using the contact form provided by the website. Just go to the Help Page and click the "Contact Us" button. Then fill out the form and hit submit.
Overall, I would say the site does provide decent support to its members since it offers a convenient way for you to request assistance. Plus, the Help page is actually helpful, in my opinion.
Final Verdict
The Insiders is a legit product testing site that will allow you to try out new products at home. It has a few good features, but it also has some glaring limitations you need to consider.
Let me wrap up this review by summarizing its pros and cons so you can get an overview of what the site has to offer. Then you can decide if it is a good fit for you or not.

Pros:
Has a decent number of opportunities to try out new products
You can get various discounts for home appliances

Cons:
Doesn't offer any monetary rewards
If your goal is to get rewarded for trying out products, then this site is not for you. The Insiders doesn't offer any compensation for testing products.
But if you just want your opinion regarding the products of your favorite brands to be heard, then this can be a suitable avenue to do so, in my opinion. This site, in my opinion, is best for people looking to buy home appliances at a lower price because it offers campaigns where you get to buy appliances and electronic gadgets at a discount.
Now if you are just looking for a way to earn extra cash, I suggest you check out the top survey and GPT sites in your country instead. The sites on this list all have good earning potential, so you will be able to earn a decent amount in no time.
Plus, all of these sites will really pay you in cash or other forms of rewards.
If you have any comments, questions, or have any experience with The Insiders yourself, I would love to hear from you in a comment below.