Cashback sites can really be advantageous if you like to shop. That's because you'll get a rebate of your purchase. So, in the long run, you can save a decent amount of money.
One such popular cashback site is called TopCashback. If you've encountered this site and are thinking if it is legit, then let me just tell you right away, yes, it is a legit cashback site.
However, this doesn't necessarily mean TopCashback is a good site to join. To figure out if this site is worth your time, there are a few things we need to consider.
This TopCashback review will take a closer look at what it really offers. That way, you can get a clear picture of its earning potential before deciding if you should join or not.
What is TopCashback and what does it offer?
The way TopCashback works is, it receives a referral commission rate for driving traffic and sales to a store's website. They then give this entire commission rate back to their members as a cashback rebate.
They don't keep a cut like other cashback sites. Instead, they earn through separate advertising banners and deals with their listed stores. I will explain later why this matters.
Now, in order to fully understand how well you can earn from this site, we have to examine the earning opportunities it offers.
So, here are the earning opportunities that TopCashback has to offer.
Option 1 – Cashback offers
As the name suggests, the main way you can earn rewards from this site is through cashback offers. When you log in to the site, you will immediately see all the cashback offers available.
The good thing about their offers is, it is presented in an organized way. When you log in to the site, you will see different categories of cashback offers.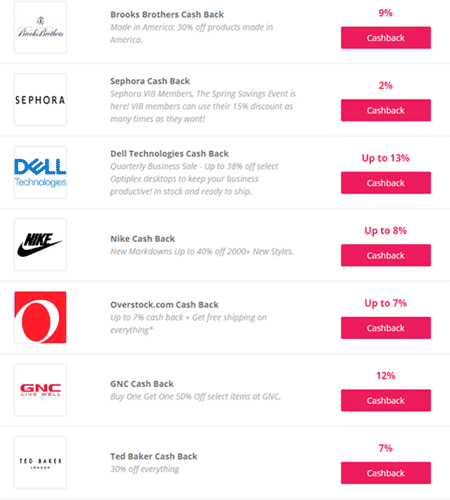 You can also see the hottest offers available at the moment (refer to the photo above). Now, to avail of a cashback offer, you simply have to click it. It will then open a new window with the conditions you need to meet to get the cashback reward.
Then, just click the Get Cashback Now button and it will take you to the site that hosts the offer. All you have to do is follow the instructions provided in the offer and complete the purchase on the site it will redirect you to.
Once you've completed the offer, you will be eligible to receive the cashback reward. It will take some time before the reward will be credited to your TopCashback account. It usually takes a week or two before the merchants can report to TopCashback about the purchases.
So, you will have to be a bit patient. But in case you still haven't received the reward after two weeks, you can always clarify it with their support team (which I will discuss later on how to do it).
As for the reward you will get, you will usually receive a percentage of the amount you paid for the purchase.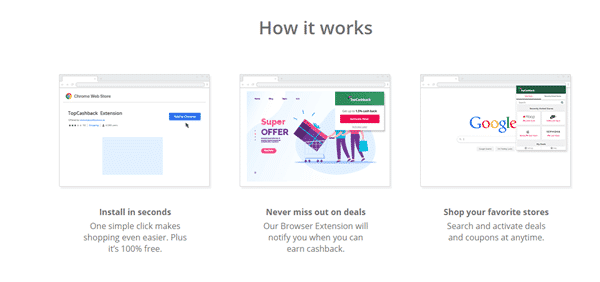 TopCashback also makes it easier for you to avail of cashback offers with the help of their Google Chrome extension. All you have to do is install the extension to Google Chrome.
Then, you can shop directly from the sites they have partnered without having to go through their website.
The extension will do the work for you and show you all the cashback offers available on a certain online store. So if you decide to join, it can definitely be worth getting the extension as well.
Option 2 – Referral program
You can also earn by inviting people to join the site. You just need to share your invite link with them and once they sign up to the site using your link, they will become your referral.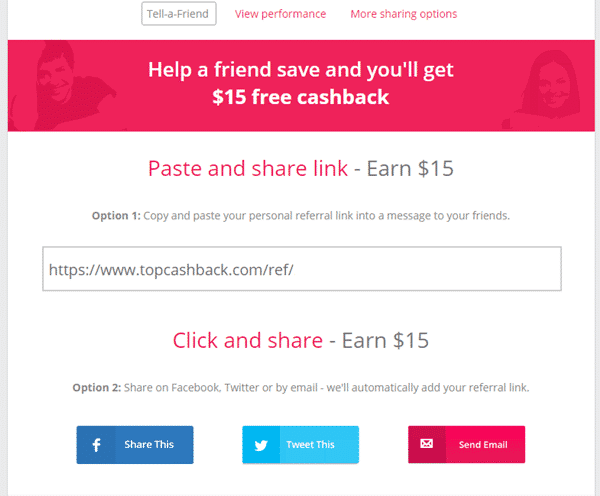 In order to receive the $15 referral bonus though, the person you have referred must sign up to TopCashback from your link and earn $10 payable cashback or more.
So, you need to make sure the people you invite are those who are really interested in cashback offers.
Otherwise, there won't be any real value to just inviting random people.
You can share your invite link through Facebook, Twitter, or send it via email. You can also embed your invite banner to your website if you have one.
How do you get paid?
You will be awarded a certain amount in $ (or the currency of your country – but more about the countries it is available in later) for every cashback offer you complete. This will be credited to your TopCashback account balance.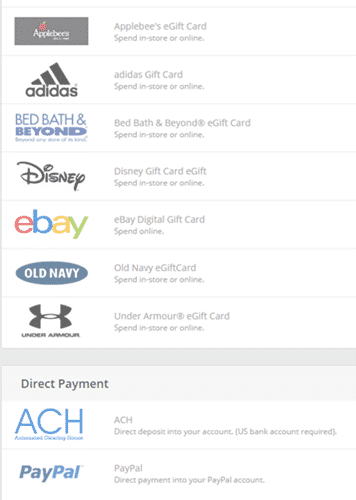 You can then convert your TopCashback balance into certain rewards like gift cards, prepaid Visa, or Amex cards. You can also withdraw your earnings directly through direct bank transfer or via PayPal.
Every reward has a different threshold you need to reach. For example, if you want a prepaid Visa card, you will need to earn at least $5 to claim it. If you prefer to withdraw your earnings via PayPal, you will just need to earn $0.01.
But ideally, you will want to earn a bit more if you plan to withdraw it via PayPal because there will be a transaction fee you need to pay to do so. However, I do like the fact that they have a very low payout threshold for direct payment.
This makes it easier for you to start withdrawing your earnings. If you are interested in more sites with a low payout threshold, you can also check out the fastest paying sites.
How much money can you make?
On a cashback site, the amount you can earn will mostly depend on how often you shop. If you frequently shop online, you can then earn more.
But, in my opinion, there's really no point in availing of cashback offers for the sake of earning rewards.
It will be counterproductive. Instead, the best way to gauge the true earning potential of a cashback site is through the number of cashback offers it has available and the cashback percentage it offers.
And in this regard, I would say that TopCashback does offer good earning potential because it has a lot of offers available from popular online stores. So, there's a high chance you will find an offer that will be very beneficial for you.
The cashback percentage you will earn is usually around 2 to 10%, which isn't high but it isn't really that low either. From time to time, you will see offers with a higher cashback rate.
But overall, I would say that TopCashback is a decent cashback site with plenty of interesting offers.
Can you use it on mobile?
TopCashback has a mobile app you can download so you can avail of cashback offers on your mobile device. This makes it more convenient to earn rewards.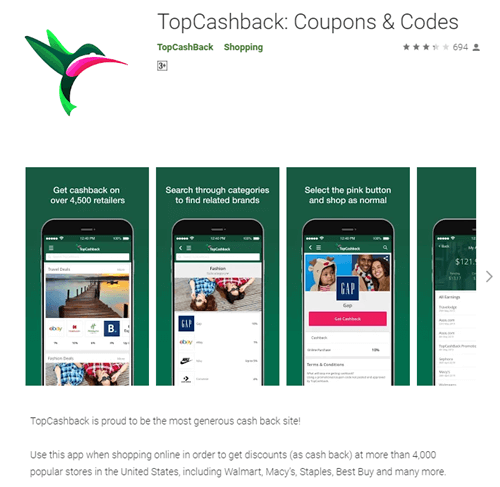 The app is available for download in both iOS and Android app stores. I do have to warn you that the app is not available in all countries.
If you find that you can't download the app, you can still use it on a mobile device by accessing the site on a mobile web browser.
The good thing is, their site is mobile-friendly. So, you won't have any problems navigating through it and reading the content properly.
Who can join TopCashback?
Technically speaking, TopCashback is available worldwide. You can register as a member regardless of where you live.
But it is only really worth joining if you live in the US, UK, Canada, China, India, Japan, and Germany. In these countries, you can find a specific TopCashback website just for your country.
If you end up on the website of the wrong country, you can just scroll all the way to the bottom of the website, and there find links to the different country platforms.
The exact reward/payout options will vary from country to country.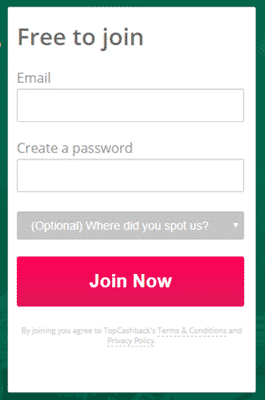 You also have to be at least 18 years old to join the site. Now, their registration process is very simple. All you have to do is fill out their registration form. Then, you will receive a confirmation email to verify your account.
Simply click the verification link and you are good to go. When you log in to the site for the first time, you have the option to go through their tutorial to familiarize yourself with how the site works.
Can you get support?
Aside from their tutorial, you can also check out their FAQ page if you want to know more about the site. Their FAQ page covers most of the basic topics you need to know and they explain the topics thoroughly.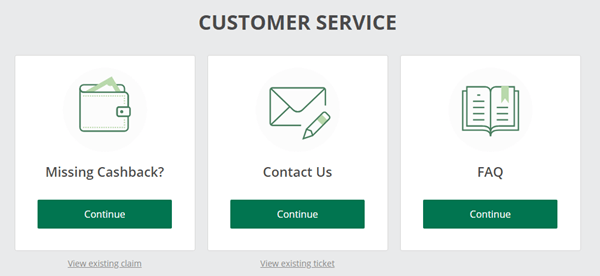 But if you need to get in touch with their support team because you want to ask them something or if you want to check on your missing cashback rewards, you can go to their support page.
You can use their contact form to submit your inquiry. For missing cashback rewards, you can lodge a claim by click the Missing Cashback button.
I do like the fact that they have a specific support option for missing cashback rewards. This makes it a lot easier for you to file a claim for your missing cashback reward if it should happen to you.
So, overall, I would say that they have a well-planned way of providing support for their members.
Final Verdict
TopCashback is a legit cashback site that does reward you for shopping online using their offers. It has a number of good features to offer but it also has certain limitations.
So let's end this review with a summary of its pros and cons to help you decide if you should become a member of this cashback site or not.

Pros:
Plenty of cashback offers available
Payment via PayPal and direct bank transfer is available
Low payout threshold

Cons:
Limited earning opportunities offered
Their app is only available in certain countries
Overall, I would say that TopCashback is a good cashback site to join mainly because it has plenty of offers to choose from. So, there's a high chance you will find useful offers regularly.
They also provide convenient payment methods and there are plenty of gift cards to choose from. Their cashback rate isn't that high but you will still be able to save a decent amount of money, which, in my opinion, is all you can really hope for in a cashback site.
It does have a couple of drawbacks. One is, it has a limited number of ways to earn. The other is their app is only available in certain countries.
Now, if you prefer to earn without having to spend money, I recommend you check out the top survey sites in your country instead. The sites on this list all have good earning potential.
And, you will be able to earn without having to buy anything. Plus, you will definitely find a site you can join regardless of where you live.
If you have any comments, questions, or have any experiences with TopCashback yourself, I would love to hear from you in a comment below.