Becoming a freelancer can be a good way to earn extra money mainly because of the rise of freelance sites. Nowadays, there are many freelance sites you can join to find jobs. One such site is called Toptal.
This site claims you can find high-end freelance jobs. Now, the question is, is it legit or is it just a scam? I've decided to see for myself so I examined the site.
That way, I can show you exactly what to expect when you become a Toptal freelancer. Then, you can decide if this site is a good fit for you or not.
So, let's go ahead and take a closer look at what Toptal offers, shall we?
What is Toptal and what does it offer?
As mentioned above, Toptal is a freelance site that specializes in providing freelance work for software developers, web designers, product and project managers, and finance experts.
It is indeed a legit freelance site since you will really be able to earn top dollar from the jobs offered on this site.
But the question is, is it worth it?
Well, the best way to find out is to understand how it works, and the only way to do that is to examine the earning opportunity it offers. So, here's how to earn from Toptal.
The earning opportunity – Projects
The only way to earn from Toptal is to work on the projects offered by their clients. And let me tell you right now, landing a project on this site is not that easy compared to other freelance sites.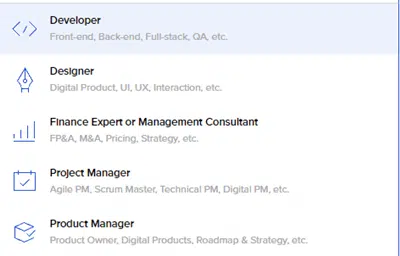 The projects you can expect to find in Toptal, as shown in the photo above, will mostly be in the software development industry. There are projects for finance experts, as well as project managers, but mostly, the jobs will cater to developers and designers.
These are by far the most common types of projects found on Toptal. Once you become a certified Toptal freelancer, Toptal will match you with the appropriate project. You'll be offered projects that will match the skills and interests you provided during registration.
Once you see a project you think you are suitable for, you just have to apply for it. After you apply for it, Toptal will reach out and schedule an interview via Skype. The application process is more or less similar to applying for a full-time job.
Toptal is very particular about providing the best talent to their clients, so you can expect that the application process is quite rigorous. The purpose of the interview is to test your English speaking skills. Toptal does this to ensure the freelancers they provide can communicate effectively with the client.
If you pass the interview, you'll have to take a test that is designed to evaluate your skills. The test you will take will vary depending on the project you applied for. Sometimes, you'll have to go through live testing so that the client will be able to gauge if you are able to adequately respond to the challenges of the job.
If you pass all the tests, then you are ready to start the job. Some projects are full-time opportunities, while some are part-time. But what you need to know when you start a Toptal job is that you will have to first complete a trial period that will last for two weeks (unless it is waived by the client).
You'll still get paid during this period, which is a good thing because you won't be wasting your time. As for the payment, I will discuss that in the next section. If everything goes well during the trial period, then you can proceed on working full-time on the project.
This is how the earning process of Toptal works. It's quite a long process and the work that needs to be done will require a lot of time and effort, so if you are not prepared to do that, then, I would suggest you find another way to earn extra cash.
Recommended: Check Out the Best Way to Create a Full-time Income Online
How do you get paid?
You will get paid a certain amount for taking on a project. The amount will be agreed upon by you and the employer. Normally, you'll be paid by the hour. The payment process is fully automated, and Toptal will not ask you to manage it yourself.
They work directly with clients on billing and invoicing so you can focus on the engagement and get paid on time, every time. When you work on a project, you will have to set your own hourly rate and are paid based on the type of engagement – full-time (40 hours per week), part-time (20 hours per week), or hourly (hours are tracked manually).
Toptal does not take a cut from what you've earned, so you can expect to receive the full amount when you get paid. The site supports payment via bank transfer or PayPal.
Overall, I would say the payment system of this site is quite easy to understand, and I like the fact that they process payments automatically. That way, you can just focus on doing the best job you can. I also like the fact that they offer convenient payment methods.
If you are interested in more sites that offer a convenient payment method, I would recommend you check out the top sites that pay via direct bank transfer.
How much money can you make?
The amount you can earn from Toptal will actually be quite significant, as long as you get hired, of course. As you can see, the jobs you have to do are actually quite high-paying jobs, so you can demand to get paid the appropriate amount. You can potentially earn hundreds of dollars from every project you get hired for.
But, the one thing you need to remember when you become a Toptal freelancer is that there's no guarantee you'll be able to earn at any given time. As explained earlier, you'll be matched with possible projects. Then, you'll have to go through a rigorous screening process.
This alone can take quite some time, and if you don't really have what it takes to get hired (in other words, you don't have the skills required), then you won't really earn anything from this site. As they say on their homepage, they only hire the top 3% of the freelance talent.
So, there's a slim chance you get hired unless you are among the best in your field. Overall, I would say the earning potential of the site is pretty good, but it is not for everyone.
Can you use it on mobile?
The nature of the work that needs to be done on Toptal will require you to use a computer (a laptop at the very least). That is why there's really no point in using a mobile device for this site.
That being said, the site is mobile-friendly, so you can still access it from a mobile device using a mobile web browser. This can come in quite handy if you want to check on the status of your application.
But other than that, I don't really see any need for you to use a mobile device while working on Toptal.
Who can join Toptal?
Toptal is available more or less worldwide, so you can apply for a freelancer position regardless of where you live. It is also free to join.
You won't have to spend a dime to register, unlike some freelance sites. The registration process is quite long, so it's not a suitable site for people who are looking to earn quickly.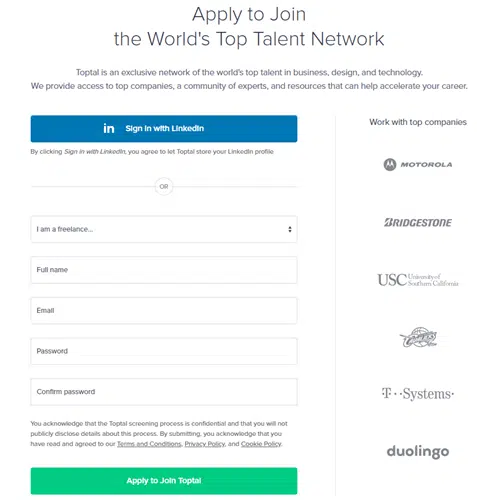 The first step in their application process is to fill out the registration form (refer to the photo above). You can also use your LinkedIn account to sign up. Then, you'll have to complete your profile.
This will involve submitting your profile photo as well as your resume, which should be in PDF form. After you've provided all the necessary information, you'll have to submit a two-minute recording of you talking about your skills, experience, career highlights, and anything you want them to know about you.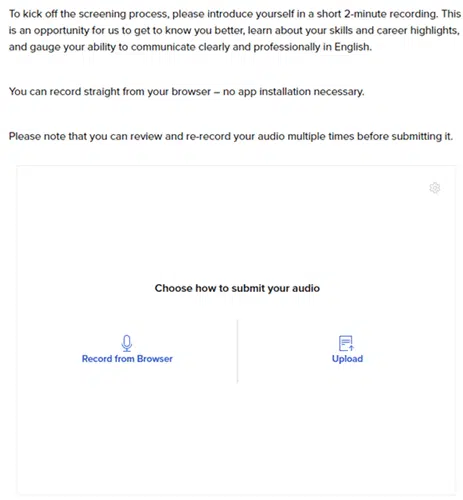 After you've submitted the recording, all you have to do is wait for them to approve your application. As I've explained earlier, Toptal is really very meticulous when accepting freelancers.
What they usually look for is the experience. You must have at least 2 to 3 years of experience working in the field you indicated in your application. Then, they'll look at your skills and career highlights.
You can compare this process to applying for a full-time job in a company. The level of meticulousness will be quite high because they need to make sure you can really deliver if they match you with projects from clients.
So, if you are not confident with your skills or you are just starting out as a freelancer, then this is not a great option for you. You'd be better off joining other freelance sites where you'll have a higher chance of getting hired.
They also don't really give you a timetable on how long you need to wait to hear back from them. But, in my experience, it shouldn't take more than a week to find out the status of your application. If you get accepted, they will contact you via email, so make sure to check your inbox regularly.
Can you get support?
If you have any questions about the site, you can check out the FAQ page provided. It discusses most of the basic topics you need to know about Toptal.
But if you need to get in touch with their support team, you'll have to use the contact form provided on their website. You can also email them at support@toptal.com.
Overall, I would say the site offers a decent support system for its freelancers since they provide convenient ways for you to communicate with their support team. They are also willing to assist you in payment matters, so if you encounter any issues regarding your payment, you can just get in touch with their support team.
Final Verdict
Toptal is a legit freelance site for software developers, programmers, designers, and the like. It has a few advantages, but it also has some drawbacks you need to consider.
Let me finish this review by providing you with the pros and cons of the site so you can get an overview of what the site has to offer. Then, you can decide if this is a good fit for you or not.

Pros:
Offers high-paying jobs
Processes payments automatically

Cons:
The application process is quite long
There's no guarantee you'll be matched with projects on a regular basis
In my opinion, Toptal is a freelance site that is not for everyone. As the site says, they only hire the top 3% of the freelance talent, so it's quite hard to actually earn from this site. You have to be great at what you do in order to earn from this site, and you have to have the experience to back your skills.
But if you fall in that category, you stand to earn a significant amount from this site because most of the jobs offered will pay you a good amount. You just really need to be very patient with this site because the application process is quite rigorous, and they are quite meticulous with who they hire.
Now, if you are looking for ways to earn that won't take up a lot of your time, I would suggest you check out the top survey and GPT sites in your country instead. The sites on this list all have good earning potential and you will be able to earn a bit of extra cash just by answering surveys and completing offers.
And if you are looking to earn a full-time income on your own terms, I would recommend you also check out the best way to create a full-time income online.
If you have any comments, questions, or have any experience with the Toptal yourself, I would love to hear from you in a comment below.