If you are good at spotting errors on websites and in apps, there's a site called UserHappy you might be interested in. It claims you can earn real money by making users happy (hence the name).
Now the question is, is UserHappy a scam or is it legit?
Well, you'll find out if you read this UserHappy review. It will show you all the details, so you will know exactly what to expect from it before you even sign up.
Then you can make an educated decision about whether it is in your best interest to join this site or not. So let's go ahead and take a closer look at UserHappy, shall we?
What is UserHappy, and what does it offer?
UserHappy, as the name suggests, is a usability testing site that will let you earn money by spotting mistakes or bugs on websites and apps.
It is indeed a legit site since you can really earn money from it. But the question now is, is it worth your time?
Well, the only way to find out is to understand how it works, so you will get a clear picture of how much effort and time is required to earn from it. And the best way to do that is to examine the earning opportunity it offers, so here's how to earn from it.
The earning opportunity – Testing projects
To earn from UserHappy, all you have to do is participate in testing projects. Once you become a member, you just have to log in to the member dashboard to see if there are any projects available.
You will also receive an email if there are projects you can participate in if you enable it during sign-up, so you can also just check your email to see if there are opportunities to earn.
If there are projects displayed when you log in to the dashboard, just click one to see the full details.
You will see the complete instructions of what you need to do, as well as the deadline and the amount you will earn. When you are ready to work on the project, just accept it to start the process.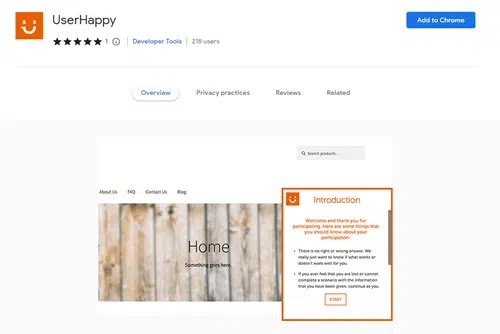 However, before you participate in any project, you have to install the UserHappy Google Chrome extension. UserHappy states that you can't work on testing projects in another browser. It has to be Google Chrome.
Installing the extension will allow you to see the questions you have to answer when testing a website. It will also record your screen as well as what you are saying. This means you'll have to use a microphone while testing.
You see, you will have to speak your mind when participating in a testing project, so if you are not comfortable doing that, UserHappy is not for you.
It also means you have to work in a quiet room so that everything you say will be heard clearly. The important thing to remember when testing is that you have to address the questions directly. Aside from explaining your answer, you also need to show what you are doing. Keep in mind that your job is to help improve what you are testing so that end users will get a positive experience when using it.
After you finish the testing project, you will have to submit your recording so UserHappy can review it. They don't say how long you have to wait to find out if your submission was accepted or rejected. Based on my experience, it usually takes a couple of days before you can find out if your submission was accepted or rejected.
If it is accepted, you will receive the reward promised. Later, I will discuss how you will get paid. The earning opportunity is relatively simple, but you have to have enough confidence to speak your mind if you want to earn from it, in my opinion. The good thing, though, is that most testing projects will only take you 20 to 30 minutes to complete, so it won't take up a lot of your time.
Recommended: Check Out the Top User Testing Sites
How do you get paid?
Every time you finish a testing project, you will be paid a certain amount. UserHappy will pay you according to your payment preference (refer to the photo below).

You can either get paid via PayPal or convert your earnings to a Target or Starbucks gift card. If you choose the PayPal option, there will be a 2.9% transaction fee involved, so don't expect to receive the full amount if you choose this option.
Personally, I would go for the PayPal option since it is the most convenient payment method, in my opinion. You don't need to earn a specific amount to receive your earnings. UserHappy will pay you immediately, provided your submission is accepted, of course.
Overall, I would say the payment system of UserHappy is relatively straightforward. I like the fact that you don't have to reach a threshold to withdraw your earnings. If you are interested in more sites that have no or low payout threshold, I recommend you check out the fastest paying sites as well.
How much money can you make?
The amount you can earn from UserHappy will depend on how many testing projects you can finish.
Unfortunately, you don't have any control over how many projects will be offered to you. And from what I have observed, there aren't a lot of projects available, so it is not likely that you will earn regularly from this site, in my opinion.
The good thing, though, is that you will usually earn $10 for projects you finish. These projects will only take around 20 to 30 minutes to finish. If it takes longer than that, or if the project is more complicated than usual, the reward will be significantly higher.
Overall, I would say the earning potential of UserHappy is relatively decent, but, as mentioned, you should not expect to earn from it regularly since there aren't a lot of projects available.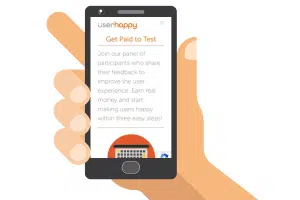 Can you use it on mobile?
Even though the site says you can test mobile apps using Android or iOS devices, UserHappy doesn't have a mobile app you can download. And as far as I can tell, the mobile version of Google Chrome doesn't support any browser extensions. And since you need to use the extension to proceed with the testing, I don't see any way for you to test mobile apps.
This is why the answer to the question above, in my experience, is a NO. You'll definitely have to use a computer if you want to earn from UserHappy. The only thing you can do on the dashboard using a mobile device is to check the status of the projects you've participated in or to see if there are available projects to work on.
Who can join UserHappy?
The UserHappy website doesn't tell you exactly which countries it is available in, but from what I can tell, it is available more or less worldwide. However, based on my experience, the availability of projects will depend on the country you live in. Usually, there will be more projects available for people who live in the US, Canada, or the UK.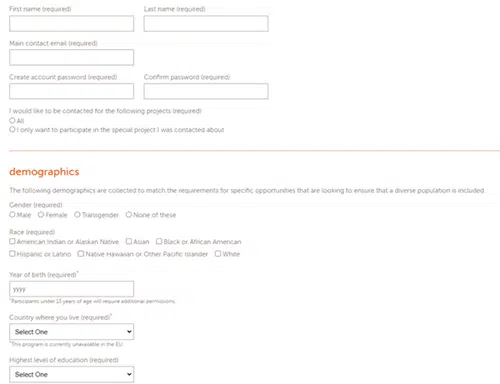 To sign up as a member, you just have to fill out the registration form. During this step, you will also have to provide the mode of payment you prefer, so make sure to indicate your PayPal email address during this step.
If you prefer to receive gift cards instead of money through PayPal, you can change it later when you log in to the member dashboard. After you submit the sign-up form, the registration process will be completed. You can log in to the member dashboard and start earning.
But as I've explained earlier, you have to install the Chrome extension before you can participate in projects, so I suggest you do this immediately after sign-up. It will only take a few seconds to install the extension.
Can you get support?
If you have any questions about the site or your account, check out the member dashboard's Support section. The problem is that the FAQ section doesn't really provide any useful information, in my opinion, so there's a high chance that the Support page won't answer your question.
The good thing, though, is that you can just send your inquiry to the UserHappy support team. You can use the contact form provided by the support page to submit your question.
Overall, I would say UserHappy provides decent support to its members since it offers an easy way to contact support. But I wish the FAQ page would provide more useful information to reduce the times you have to contact support.
Final Verdict
UserHappy is a legit user testing site that will let you earn for participating in testing projects. It has a couple of decent features, but it also has a few drawbacks as well.
Let me wrap up this review by summarizing its pros and cons to give you an overview of what UserHappy has to offer. Then you can decide if you should push through with signing up or not.

Pros:
Offers payment via PayPal
No payout threshold

Cons:
Limited earning opportunities offered
The FAQ page doesn't provide any useful information
Overall, I would say UserHappy is not a bad user-testing site. However, it's not that good, either. I do like that it pays a decent amount per testing project you finish, but there aren't a lot of projects available, so you can't really depend on earning from it regularly.
It can serve as a decent secondary user-testing site to join, provided you adjust your expectations accordingly. If you are looking for user-testing sites that have better earning potential, I recommend you also check out the top user testing sites.
But if you are just looking for a good way to earn extra cash online, I recommend you check out the top survey and GPT sites in your country instead. The sites and apps on this list all have good earning potential, so you can earn a decent amount quickly.
If you have any comments, questions, or have any experiences with UserHappy yourself, I would love to hear from you in a comment below.