Vidcash is an app that claims you will be able to earn cash daily. It's a promising claim, but with so many apps that offer this kind of opportunity these days, you have to be wary as many of them are not worth it.
So, before you download this app, I would recommend you check out this Vidcash app review.
I have tested the app and compared it to the hundreds of other free earning methods I have tested, and this review will not only verify if the app is truly legit or if it is just a scam, but it will also show you what you need to know about the app so you can decide if you should go ahead and download it or not.
I will give my recommendation as well as rating at the end of this review so you know exactly what to expect. So, let's go ahead and get the ball rolling.
What is Vidcash and what does it offer?
Vidcash is essentially a GPT (Get-Paid-To) app that will reward you for watching videos and completing other earning opportunities it offers. And let me tell you right away, it will really reward you for watching videos.
However, there's more to this app than meets the eye. But for now, let's first discuss the earning opportunities it offers so you can understand how this app works and you can get an idea of how well you can earn from it.
So, here's how to earn rewards from Vidcash:
Option 1 – Watching videos
The main earning opportunity this app offers is the videos you can watch. The process is really simple. Just log in to the app and go to the watch videos section. Then press any video available.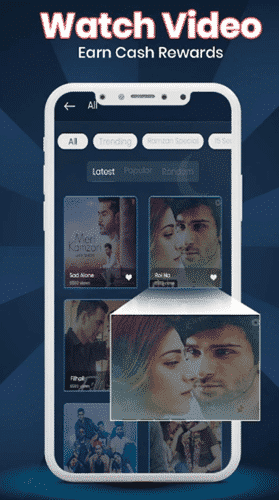 These videos are actually just short video ads that usually last for 15 to 30 seconds. So, when the video is done playing, you will receive a message at the end saying you've earned a certain number of coins.
That's all there is to it. You just have to keep watching videos until there are no more videos left to watch.
Just don't expect to earn too much from these, and you need to be aware that it will take some patience to earn by watching these video ads. But more about the full earning potential later.
Option 2 – Spin the wheel
Another way to earn rewards is to play their spin the wheel game. If you've been a member of other GPT apps and sites before, then this will be very familiar.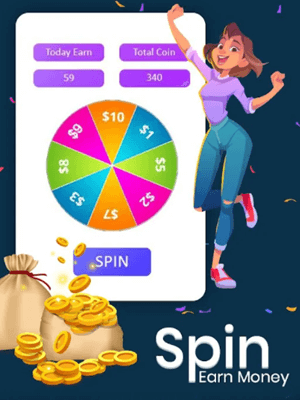 Playing is very easy. Every day, you will be given 10 chances to spin the wheel. For every spin, you can win a prize. Usually, the prize will be a certain number of coins. But there will always be some sort of jackpot prize for every spin.
Usually, what you would consider the jackpot prize is the prize that says $5 or $10. These prizes will appear from time to time, so if you win them, consider yourself very lucky.
I do have to say that during my testing, I never managed to win any cash prize. All I ever won was coins.
Option 3 – Referral program
You can also earn additional rewards from their referral program. Again, if you've been a member of other GPT sites or apps, then this will be very familiar.
All you have to do to earn is to invite other people to join the app. When you invite a person, you just have to share your invite code and remind them to input it during registration. When they do that, they will become your referral.
But in order for you to receive the referral reward of 5,000 coins, your referral must become an active member of the app first. That means they have to watch a couple of videos first. When they've done that, you will receive the reward.
And speaking of the reward, while 5,000 coins may sound like a lot, it actually isn't and I will explain later why.
You also have to make sure the people you invite are really interested in earning from this app. But personally, I think it would be hard to convince people to join this app and you will understand why in the next section.
Recommended: Check Out the Top Survey Apps
How do you get paid?
As explained above, for every video you watch, you will receive a certain number of coins. Then, in order to earn cash, you have to convert these coins to actual money by withdrawing it to your Paytm account.
The minimum required number of coins to withdraw to your Paytm account is 60,000 coins.
That will be worth ₹60 (Indian Rupee). So, the actual threshold might sound like it is very high, but it is only around $0.8 if you convert it to US dollars. So, categorically speaking, the app has a low payout threshold.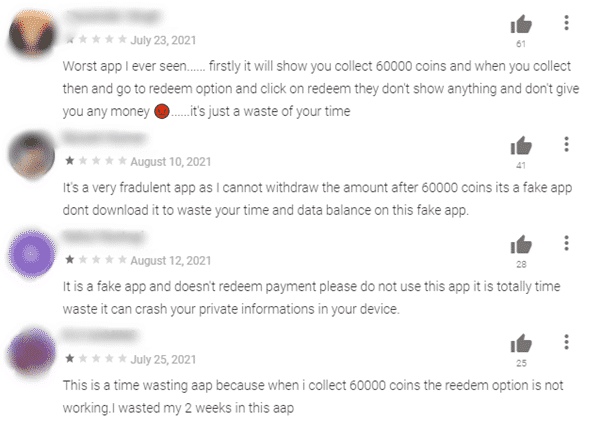 Now, here's the problem. While it may sound like you will be able to withdraw your earnings quickly from this app, the reality is, you will have a hard time withdrawing them. There's an alarming number of feedback from members on their Google Play page.
As shown in the photo above, most of the members say that while you will be rewarded with coins, you won't actually be able to convert those coins to cash because the app will not allow you to redeem your rewards.
And with most members talking about the same exact thing, then there's probable cause that this general complaint is really true. That is why I would highly recommend you stay away from this app. It's a huge red flag, in my opinion.
And even if you might be able to get paid, it will just take too much effort and time to reach the threshold compared to many other earning apps.
There are just better apps that offer more convenient and reliable payment methods. I would suggest you check out the fastest paying sites instead.
These sites will really allow you to withdraw your earnings quickly because they all have a low payout threshold and they will really pay you.
Can you use it on a desktop?
Vidcash is a mobile-only platform. So, you will really need to use a mobile device to start earning from this app.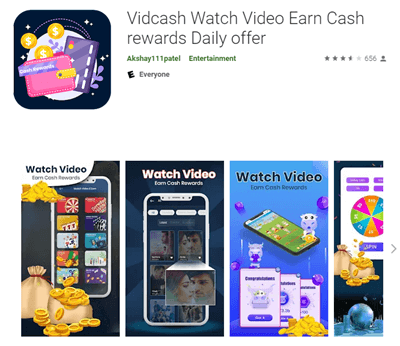 As for their app, it is only available for download through the Android app store. If you are an iOS user, then this app is not for you. But again, as I've mentioned above, while it is really easy to earn rewards from this app, I would still not recommend you join it due to its payment issues.
Who can join Vidcash?
Aside from the payment issues of this app, it also has another limitation that it failed to mention. This app is actually only available in India. If you try searching for it on Google Play and you don't live in India, it will not appear.
But again, I don't really recommend you join this site, so I won't be discussing how you can sign up.
Instead, I would suggest you check out the top sites in India. You will find plenty of better options in this list if you are looking for specific sites available in India.
And if you do not live in India, you can check out the best sites in your country here.
Can you get support?
The app doesn't have a website you can refer to if you have any questions about it. Their app page also does a poor job explaining what the app is all about. This is actually a pretty common issue with the app. It doesn't do a good job of explaining its features.
So, if you don't have any prior experience, you will really get confused. They do have a support section, but it is pretty much useless. The app's developer doesn't even respond to the comments on their app page, so sending a message through their app will be all but useless.
That's why I would say the app has a pretty bad support system in place for its members. Don't expect to get anything from their support team.
Final Verdict
Vidcash is a GPT app that claims to reward you for watching videos. I can't really find any good features of this app. All I can see are clear red flags.
Let me finish this review with a summary of its pros and cons so you can get a better overview of what the app has to offer. Then, you can decide if you should use it or not.

Pros:

Cons:
Limited earning opportunities offered
Many complaints that it doesn't allow you to withdraw your earnings
Doesn't have a good support system
In my opinion, Vidcash is a great example of an app you should avoid. When there's plenty of feedback saying that it won't allow you to withdraw your earnings, then there's almost a 100% possibility that it is true. That's why I would suggest you don't waste your time installing this app. Because that's all you will really get if you do use it.
There are simply better apps out there that offer better earning potential and that will really pay you. For a list of these apps and sites, I would recommend you check out the top survey and GPT sites in your country.
The apps and sites on this list all have good earning potential. Plus, you will definitely find a site/app you can join regardless of where you live.
If you have any comments, questions, or have any experiences with Vidcash yourself, I would love to hear from you in a comment below.