Winagain is an app that claims you can earn easy money.
But is Winagain app legit or is it a scam? Does it really do what it claims it does?
I decided to try it out to find out myself what it really does and if it will be worth it.
In this Winagain review, you will learn all the details – and let me just reveal right away that there are some very important details you need to be aware of before joining.
So, let's go ahead and get this review started, shall we?
What is Winagain and what does it offer?
Winagain is a lottery app that offers you a chance to win cash prizes if you play their game. Their game is pretty easy to play, but that doesn't really mean this app is worth using.
Before you can tell if an app is worth it or not, you must first understand how it works. So, here's how you can earn from Winagain.
The earning opportunity – Lottery
The only way you can supposedly earn from Winagain is by participating in their lottery draws.
If you log in to the app, you will immediately see the time left before the next lottery draw (refer to photo below).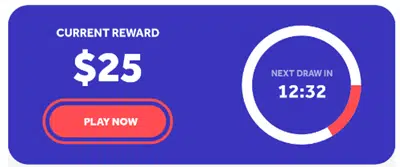 The idea is that you need to win tickets to join the lottery draw. For every lottery draw, you can potentially win a maximum of $25.
So, how can you get tickets for a lottery draw?
Well, that is actually also quite simple. All you have to do is play their spin the wheel game to win a random number of tickets.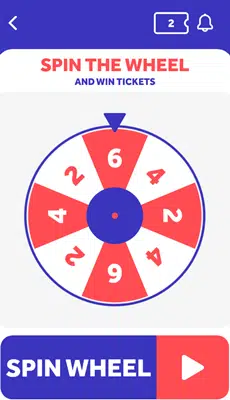 As you can see, the most number of tickets you can win from the spin the wheel game will be 9.
Here's the important part you need to keep in mind. When you spin the wheel, you don't actually get the result immediately.
You have to watch a video ad first. When the ad has finished, you will see how many tickets you've won. This is how Winagain is supposedly able to afford to hand out prizes. But later on, I will discuss the implications of their earning opportunity. For now, we'll just stick to how you can possibly win cash.
After you've won a certain number of tickets, you can then use them to join the upcoming lottery draw. Typically, lottery draws are held every 15 minutes. For every ticket you have, you get to choose three random numbers as your entry. If your numbers get chosen, you will win the jackpot prize offered by the lottery.
You can play the spin the wheel game every two minutes to earn as many tickets as you can before the lottery draw starts. Take note though that you can only use a maximum of 20 tickets per lottery draw.
So, as you can imagine, if you want to get the most tickets, you have to keep spinning the wheel every two minutes, which will take up a lot of your time. You will actually have to keep staring at the app while waiting for an opportunity to spin the wheel and win tickets.
In my opinion, this isn't really a good way to spend your time because after all, there's still no guarantee you will win the lottery draw. That was my first observation when I was testing the app.
Also, the ads you are forced to watch are quite spammy and in many cases even for scam apps – and you have to watch a lot of these ads.
As for the lottery, the jackpot prize will usually be $25, but sometimes, you can also win a small amount even if your numbers weren't chosen. You can win a few cents and it will show up in your Winagain account balance.
There is no limit to how many lotteries you can join every day. The same goes for their spin-the-wheel game. But take note, you have to watch video ads before you win any tickets, so you will really have to spend a lot of time getting as many tickets as possible.
Recommended: Check Out the Best Passive Income Apps
How do you get paid?
The money you win from the lottery draws will be deposited into your Winagain account balance. Then, once you've won a total of at least $15, you can withdraw your winnings via PayPal.
That's how simple the payment system of Winagain is, and I like the fact that you can get paid via PayPal because that is, in my opinion, one of the most convenient payment methods available today. But whether or not you will actually get paid by this app remains to be seen. I will expound on this later.
But for now, if you are looking for more platforms that use a convenient payment method, I would recommend you check out the top sites that pay via PayPal. The sites on this list are guaranteed to pay you via PayPal.
Can you use it on a desktop?
Winagain is a mobile-only platform, so you will really need to use a mobile device.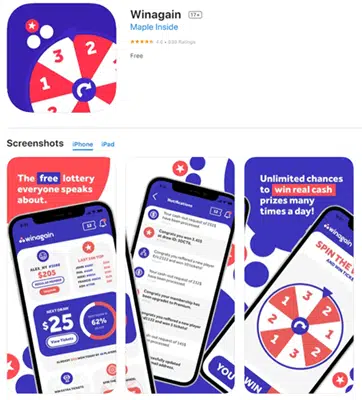 As for the app, you can download it from the Android or iOS app store. It is very easy to use, so you won't have a hard time navigating the app.
But as I've mentioned earlier, you will encounter a lot of pop-up video ads when using the app. The ads are also quite spammy and are usually promoting other mobile apps that I would not recommend you use.
These apps more or less offer the same thing as Winagain where you supposedly can win/earn a lot of money instantly.
I have tested hundreds of apps and sites before and I always get suspicious whenever I encounter any ads like these, which leads me to the next section.
Red flags you need to be aware of
In case it is not clear yet, there are a few red flags you need to be aware of and these red flags are enough reason why I wouldn't recommend you use this app. Let me elaborate further.
Red flag #1 – Spammy ads
As mentioned above, you will encounter a lot of spammy ads when using the Winagain app. In my experience, apps or even sites that promote other sites or apps that offer suspicious claims aren't to be trusted.
My reasoning for this is that if they promote suspicious apps/sites, then they themselves don't put any emphasis on their integrity as a site or app. As long as they can earn from the ads they show regardless of their quality, then it is okay for them.
This kind of thinking doesn't really sit well with me. In my opinion, you at least have to ensure that whatever you are promoting should be legit and not suspicious in any way. If you don't do that, then you are no different from what you are advertising.
Red flag #2 – Unrealistic earning opportunity offered
Whenever I encounter any earning opportunity that seems very unrealistic, I always get suspicious. If you do the math, there's no way the app is able to afford to pay winners $25 every 15 minutes especially if your only mode of income is showing video ads.
Let me break it down for you. In a day (24 hours), there will be a total of 96 lottery draws held. If every drawing has one winner of $25, the app is spending a total of $2,400 a day. You multiply that by 30, then you are handing out $72,000 a month.
There is no way an app that only advertises unknown sites and other mobile apps is able to afford that kind of money. So, it's either they have another source of income or they don't really intend to pay the winners. I would lean on the latter as the more plausible reason.
As I've mentioned earlier, I've tested hundreds of sites and apps and every time I encounter a platform that promises easy money like this, more often than not, it's an offer that is too good to be true.
That is why I don't expect to ever get paid by this app. The next red flag will actually support this statement.
Red flag #3 – Your winning percentage drastically goes down when you are near the threshold
While I was testing the app, I noticed that the more I kept playing their game, the fewer times I got to win anything. That's why I decided to look around and do some research.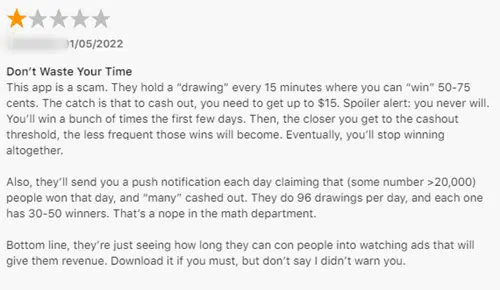 I decided to see what other people were saying about the app. It seems as if a lot of other users have encountered the same thing as evidenced by the photo shown above. Mind you, this isn't the only review that mentioned the same thing.
The closer you get to the payout threshold, the harder it is for you to win until you will eventually not win anything and you will just give up on the app without ever withdrawing a dime. All the time, you were spending hours watching useless video ads, which, in my opinion, was their whole goal all along.
I have encountered a lot of apps and sites that do the same thing, so I'm not surprised about this at all.
Final Verdict
Winagain is a lottery app that claims you can win easy money if you just keep playing the game. It has very few good features but it has major drawbacks you need to consider.
Let me end this review with a summary of its pros and cons to give you an overview of what Winagain has to offer. Then, you can decide if you should really use it or not.

Pros:
Offers payment via PayPal

Cons:
Very time-consuming
Has a lot of red flags
The app is spammy
In my opinion, you shouldn't waste time using this app. The fact that you are not guaranteed to win anything from the earning opportunity it offers is already reason enough not to use it. Then, you add the fact that the app is very spammy and has a lot of red flags, the only natural conclusion is to not waste your time with it.
There are simply better ways to earn extra cash. For a list of great sites and apps to earn from, I would recommend you check out the top survey and GPT sites in your country instead. The sites on this list all have good earning potential and they all offer guaranteed ways for you to earn a decent amount.
If you have any comments, questions, or have any experiences with Winagain yourself, I would love to hear from you in a comment below.