If you are trying to stay fit and healthy, there's an app called WinWalk that claims you can do both and earn at the same time.
I admit it's definitely an appealing offer. But before you download this app, I would recommend you read this WinWalk app review first.
It will verify whether the app is really legit or if it is just a scam. And aside from that, it will show you the full details of what the app has to offer so you can gauge if this app is really a good fit for you or not.
I will also include my rating and recommendations at the end of this review as a sort of barometer you can refer to. So, what are we waiting for? Let's go ahead and take a closer look at this app called WinWalk, shall we?
What is WinWalk and what does it offer?
WinWalk at its core is a pedometer app that also offers rewards when you use it. In that sense, it is quite similar to the popular Sweatcoin app but there are also some differences.
And yes, it is indeed a legit app because it does what it claims it does, which is to reward you for staying fit and healthy.
But how will you know if it is worth joining or not? Well, the first step is to fully understand how this app works. And to do that, we have to take a closer look at the earning opportunities it offers. So, here's how to earn from WinWalk.
Option 1 – Walking
Yes, you read that right. To earn rewards from WinWalk, you just have to walk. The idea is really simple. Since WinWalk is mainly a pedometer app, it will be able to count the steps you have taken as long as it is running in the background, of course.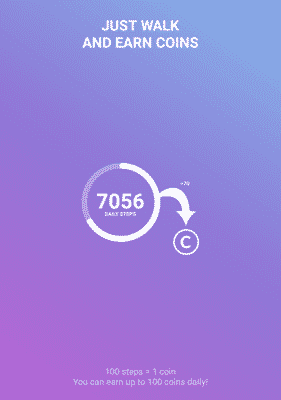 So, when you go out for a walk, the app will count your steps and as you can see in the photo above, you will earn 1 coin for every 100 steps you take. The good thing about WinWalk is, it doesn't need to use your device's GPS. So, your battery won't suffer.
It's a bit more battery-friendly compared to other pedometers. As the photo above shows, you can earn a maximum of only 100 coins per day from walking. So, if you want to maximize your earnings from this app, you have to walk at least 10,000 steps per day.
Option 2 – Missions
If you've completed your 10,000 steps a day, then you can work on their missions to earn more coins.
These missions are really just short tasks you can do to earn rewards. On Get-Paid-To (GPT) sites, they are usually called paid offers.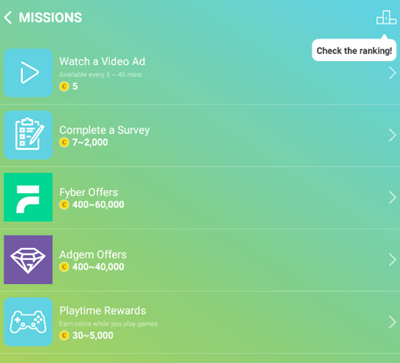 What I noticed when I was testing the app though was, there weren't a lot of missions available. The most I encountered were 5 missions. So, you can't exactly expect to earn a lot from this opportunity. Just think of it as a sort of bonus.
Most missions will usually ask you to watch a video, answer a survey, or work on offerwalls. Offerwalls, for your information, are just in-app advertising platforms that promote certain mobile apps and websites through paid offers.
The offers you will find on offerwalls will usually ask you to download a mobile app, register to a website, answer a survey, or watch a video. It's basically just more of the missions you can do.
When you complete a mission, you will earn a certain number of coins (typically around 10 to 100 coins). It's not the best opportunity in terms of the time-to-money ratio, but at least it's something you can do to earn more rewards.
Option 3 – Referral program
Lastly, you can earn additional rewards for inviting other people to use the app. This earning opportunity is called a referral program in case you don't know.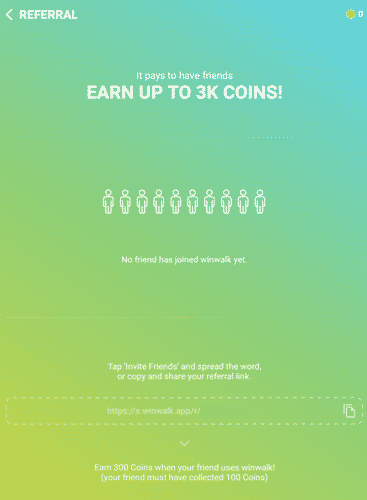 The idea behind this earning opportunity is really simple. You invite people to download and use the app by sharing your invite link. When they click the link and install the app, they will become your referral.
But before you can earn anything from your referral, they must collect 100 coins from the app. They can do that either by walking or working on missions. When they've collected the required number of coins, you will then receive a one-time reward of 300 coins.
The reward isn't much, but at least you get something out of their referral program. One thing I can say though is, their referral program isn't really very profitable because you will only receive a reward once for every referral you get.
Normally, with other apps and sites, you will receive a commission every time your referral earns something. I personally prefer that kind of reward system for a referral program because it is a more long-term form of earning.
Recommended: Check Out the Top Survey Apps
How do you get paid?
As explained above, you will earn coins from all the earning opportunities the app offers. Now, the question is, what can you do with the coins you've earned?
Well, you can exchange them for various gift cards once you've earned at least 8,000 coins. That will be worth $5. Here's a list of some of the gift cards you can redeem:
Amazon
AMC
eBay
Domino's
Google Play
Nike
Starbucks
Target
Sephora
Walmart
I'm not saying that these are the only gift cards you can redeem from the app, but these are the most common ones. From time to time, other gift cards are introduced though.
The bad news is, this is the only type of reward they offer. If you are looking to earn cash, I would recommend you check out the top sites that pay via PayPal instead.
How much money can you make?
The amount you can earn from WinWalk will mostly depend on how many steps you take every day. The other earning opportunities offered by the app are mainly just a form of supplementary "income". The bulk of your earnings will come from the number of steps you take every day.
The only problem is, there's a hard cap to how many coins you can earn per day from walking (100 coins). That's why I would say the earning potential of the app is really quite low.
If you are only going to rely on walking for the coins you can earn, it will take you at least 80 days of walking at least 10,000 steps per day to redeem a $5 gift card. That's a very poor time-to-money ratio, in my opinion.
But if you don't really think about the rewards and just consider them as a bonus for exercising, then you will be able to appreciate this app. If your whole point of using this app is to earn, then you better find other apps to earn from.
Can you use it on a desktop?
In my opinion, there's really no point in making a web version of this app due to the nature of the primary earning opportunity it offers.
Being able to use the app on the desktop really defeats the purpose of the app, in my opinion. That's why I'm okay with this app being a mobile-only app.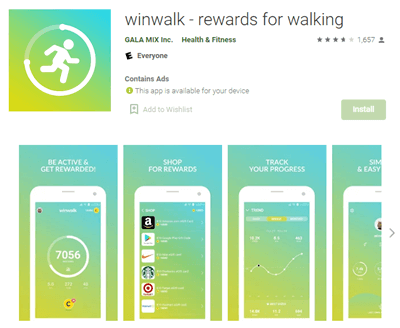 Now, as for their app, it can only be downloaded from the Android app store. It doesn't have an iOS version. So, if you are an iOS user, then this app is not for you.
Their app is very user-friendly. You will easily get used to how it works, which is a good thing, in my opinion. And as I've mentioned earlier, their app doesn't really eat up a lot of your battery because it doesn't require the use of a GPS to function. It just relies on your device's sensors to calculate the steps you take.
Who can join WinWalk?
The app doesn't really talk about which countries it is available in. So, the best way to find out if it is available in your country is to search for it on Google Play. If it shows up among the results, then it is available in your country. If it doesn't, then you are out of luck.
The app doesn't require you to register. Once you've installed it on your mobile device, you can start using it to earn coins. The one main downside of this is you can't really switch devices and keep your earnings.
So, your earnings will be tied to the device you installed the app on. If you happen to uninstall the app, you will lose all your earnings. I'm not sure why they designed it this way, but that's just how the app works. So, make sure to only install the app on the device you plan on taking with you when you go out and walk.
Can you get support?
If you have any questions or you encounter an issue while using the app, you can refer to their FAQ page first. You might find the answers you are looking for.
Usually, if you have trouble with the app's step counting, you can just ignore the battery optimization so that the app can properly count your steps. At least, that's what I did.
Now, if the issue you encountered can't be solved by using their FAQ page or by ignoring battery optimization, then you can send your inquiry by using the contact link provided inside the app. It will open up your email client, so just compose an email about your inquiry and press send.
Overall, I would say the app has a decent support system since it offers a convenient way for you to get in touch with their support team.
Final Verdict
WinWalk is a legit pedometer app that will reward you for walking and participating in the other earning opportunities it offers. It has a couple of good features, but it has some limitations you need to factor in before you decide to join.
Let me wrap up this review by summarizing its pros and cons so you can get an overview of what the app has to offer. Then, you can decide if you should use this app or not.

Pros:
Offers a simple way of earning
Their app is user-friendly

Cons:
Limited earning opportunities offered
There's a cap on how much you can earn per day from walking
Their app only works for Android devices
Doesn't offer cash rewards
If your goal is to find an app that can help facilitate your fitness goals, then WinWalk can be a viable option because their pedometer is actually quite useful, in my opinion. But if your primary goal for using this app is to earn, then you will be disappointed.
This app has a very low earning potential. It will take quite some time before you can redeem any reward. Plus, it doesn't offer any cash rewards. You can only redeem gift cards.
That's why I would recommend you check out the top survey and GPT sites in your country instead. The sites on this list all have better earning potential and you can earn a decent amount without investing a lot of time.
Plus, you will definitely find a site you can join regardless of where you live.
If you have any comments, questions, or have any experiences with WinWalk yourself, I would love to hear from you in a comment below.