If you are looking for extra work to earn extra money, there's a site called WorkMarket that claims you can find work in the healthcare, training, and insurance sectors by using their platform.
But is WorkMarket legit and really a way to earn or a scam to stay away from?
I have joined and tested it myself and in this WorkMarket review, you will get all the important details so you will know exactly what to expect since I will examine every feature it has to offer.
That way, you can make an informed decision on whether signing up for this site is in your best interest or not. So, let's go ahead and take a closer look at WorkMarket, shall we?
What is WorkMarket and what does it offer?
WorkMarket is a gig economy platform that will help you find jobs/gigs to earn some extra money. And yes, it is indeed a legit site since you will really get paid for taking on the jobs they offer.
The question now is, is it really worth your time? To answer that, we first have to take a look at the earning opportunity it offers so you'll understand exactly how WorkMarket works. By doing so, you can properly gauge the amount of time you will need to invest to earn.
I have, therefore, made a video that gives you an inside look and shows exactly how you can earn from WorkMarket. You can also read all the details below the video.
The earning opportunity – Jobs
When you become a member of WorkMarket, you can take on the jobs they offer. All you have to do is log in to their member dashboard and you will immediately see all the jobs you can apply for.

However, before you can apply for a job, you will actually have to complete a few things first like your profile, background check, drug test, and more. So, this is one of the main drawbacks of WorkMarket, in my opinion.
I get that they are just trying to make sure they hire people who are really interested in working, but their requirements will not only take a lot of time to complete, but they also cost a bit of money. The background check alone costs $20, while the drug test costs $25.
So, you'd have to shell out a bit of cash before you can start working. When you've completed all the requirements, you can now start applying for jobs you are interested in.
When you log in to their member dashboard, you will immediately see all the jobs available. Just click the one you are interested in and apply for it. Take note that each job has its own requirements.
Requirements may be based on:
Scorecard Ratings
Labor Cloud Membership
Test Scores
Agreements
Certifications
Insurance
Background Check & Drug Test
So, before you apply for a job, make sure you meet all the requirements for the job. If you meet a requirement, a green checkmark will be displayed. If you do not meet the requirement, a red X will be displayed. Then, a link will be provided if you are able to complete the requirement.
It is at the sole discretion of the company whether or not they will be willing to override an incomplete requirement. So, you can still apply for the job if you don't meet all of the requirements, but the employer will still prioritize applicants who have met all the requirements. That's all there is to it.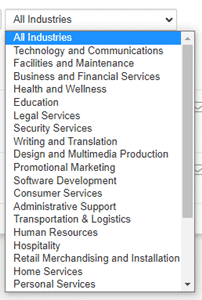 As for the types of jobs you can do, there's actually a wide range of jobs available. As shown in the photo above, there are a lot of job categories available. You can find jobs for software development, digital signage, sales and marketing, health and wellness, legal services, security services, and a lot more.
So, chances are, you will find a job you can do when you become a member. As for your application being accepted, as explained, that will mostly depend on whether you meet the requirements or not.
When you successfully complete the job, you will receive the compensation for it and it will go into your WorkMarket account balance. I will discuss in the next section how you will be able to withdraw your earnings from this platform.
Recommended: Check Out the Top Survey Sites in Your Country
How do you get paid?
As mentioned above, your earnings will be deposited into your WorkMarket account balance. However, before you can withdraw your earnings, you will actually have to provide your tax information first.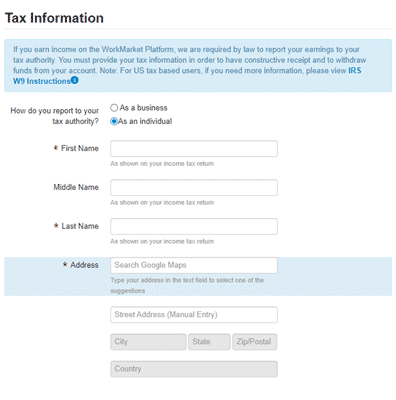 You have to fill out the tax information form found on their website (refer to photo above) before you can add any payment method. Once you've done that, you can now choose how to get paid.
WorkMarket currently offers three methods for withdrawing your earnings. The methods will depend on your location. If you live in the US, you can get paid via direct bank transfer, PayPal, or via the WorkMarket Visa.
If you live in Canada or anywhere else, you can only get paid via direct bank transfer or PayPal.
You don't need to earn a specific amount before you can withdraw your earnings. You can withdraw them anytime you want (as long as you have something you can withdraw).
Take note though that PayPal withdrawals will always involve a $1 transaction fee regardless of the amount you will withdraw. So, keep that in mind when withdrawing your earnings. Overall, I would say their payment system is really simple as long as you don't mind providing your tax information.
And I like the fact that they offer payment via PayPal even though there's a transaction fee. In my opinion, PayPal is one (if not the most) of the most convenient payment gateways available today.
So, if you are looking for more sites that offer a convenient payment method, I would recommend you also check out the top sites that pay via PayPal.
How much money can you make?
The amount you can earn from gig economy platforms will mostly depend on where you live. The reason why I say this is, the availability of jobs/gigs will depend on where you live. If you live in a big city, then chances are, there will be plenty of jobs/gigs you can do.
On the other hand, if you live in a rural city, then you can't expect to find many (if any) opportunities. This is the one main drawback of gig economy platforms like WorkMarket. And unfortunately, there's no way around that.
Now, as for the actual amount you will earn from its jobs, it will usually be in the range of $50 to $300, which, at first glance, is a very high amount. But you have to keep in mind that these jobs will actually require a lot of effort and time to complete.
So, in regards to the time-to-money ratio, I would say WorkMarket only has a decent score and is not really that high. Overall, I would say the earning potential of this site will only be good if you live in a big city where there are plenty of jobs you can do.
Can you use it on mobile?
WorkMarket has a mobile app you can download so you can apply for jobs using your mobile device.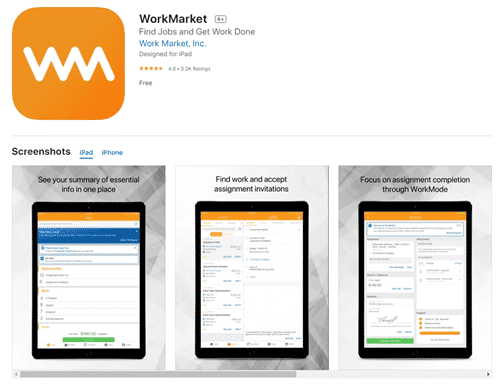 Their app can be downloaded from the Android or iOS app stores. It is very easy to use, so you won't have a hard time getting used to how it works.
All the features found on their web dashboard can also be found inside their mobile app. So, the things you can do on their web dashboard can also be done via their mobile app, which makes it a very good extension of their platform.
So, if you are already out and about and you have a lot of free time, you can just open the app and look for a job near you. That's one advantage their app can offer you.
Who can join WorkMarket?
WorkMarket doesn't specify exactly which countries it is available in. And if you try to register, you can actually sign up as a member regardless of where you live. To register, just fill out their sign-up form.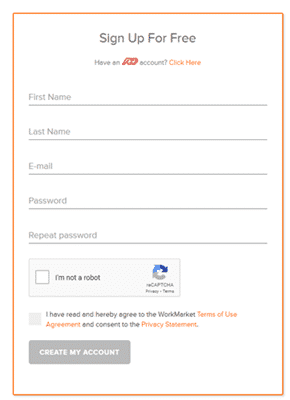 However, what they don't tell you is, most of the job opportunities can only be found in the US or Canada. So, if you live somewhere else, you will most likely not earn from this site since there won't be a lot of jobs (if any) available.
That's why I would only recommend you sign up if you live in Canada or the US. The one tip I can give you to determine if WorkMarket has plenty of jobs in your area is, after you finish the registration process, just log in to the site and check if there are jobs available immediately. If you see any listings, then there's a good possibility you can earn a decent amount from WorkMarket.
If you don't see any jobs available, it would be best not to pursue this. At least, that's what I think. There may be jobs that will be made available in the future, but you'd have to wait a long while.
Can you get support?
WorkMarket has a comprehensive FAQ page that discusses most of the important topics you need to know about the platform. So, if you have a question in mind, you will most likely find the answer on their FAQ page.
But in case you can't find what you are looking for, you can just direct your inquiry to their support team. Just use the message button found in the lower right-hand corner of their Help page. Then, just type in your inquiry and wait for their reply via email.
Overall, I would say they have a decent support system in place for their members since you can conveniently get in touch with their support team. Their Help Center also has a lot of useful information.
Final Verdict
WorkMarket is a legit gig economy platform that will help you find jobs you can earn from. It has a couple of good features, but it also has a few limitations you need to keep in mind.
Let me finish this review with a summary of its pros and cons to give you a better overview of what it has to offer. Then, you can decide if you should really sign up or not.

Pros:
Offers payment via PayPal
No payout threshold
Their jobs pay a decent amount

Cons:
Limited earning opportunities offered
It takes a while before you can start earning
You will have to spend some money for the background check and drug test
If you don't mind shelling out a few bucks for the requirements and you live in a big city, then joining WorkMarket can be profitable for you. You will find a decent number of jobs where you can earn a decent amount since they pay well.
But if you live in a small city, don't expect to earn a lot from this platform. You might even say you won't really earn from it because there might not be any opportunities available. This is the one main downside of WorkMarket. It's not for everybody.
That's why if you are looking for a more reliable way to earn extra cash, I would recommend you check out the top survey and GPT sites in your country instead. The sites on this list all have good earning potential and you can start earning as soon as you finish the registration process.
Plus, you will definitely find a site you can join regardless of where you live.
If you have any comments, questions, or have any experiences with the WorkMarket yourself, I would love to hear from you in a comment below.