Wynter is a site that claims you can earn good money by participating in research studies.
It's an attractive offer, I admit, but the question is, is it legit or just another scam?
This Wynter review will not only answer that question but it will show you the pros and cons of this site so you will know exactly what to expect from it before you even sign up. That way, you will be able to figure out if you should join it or not.
So, let's go ahead and take a look at Wynter, shall we?
What is Wynter, and what does it offer?
Wynter is a market research site that offers an opportunity for you to earn money by participating in research studies. It is indeed a legit site since you will really get paid to participate in these studies.
However, this doesn't necessarily mean that the site is worth it or even a good fit for you. To find out if you should join this site, you must first understand how it works so you will have a good grip on what you need to do to earn.
The video below explains exactly how the site works. You can also read the full details below the video.
Recommended: Check Out the Top Survey Sites in Your Country
The earning opportunity – Research studies
The only way to earn from Wynter is by participating in research studies.
When you become a member of this site, you will be invited to participate in research studies from time to time. The invite will appear on the member dashboard. You will also receive an email notifying you that you have an invitation available.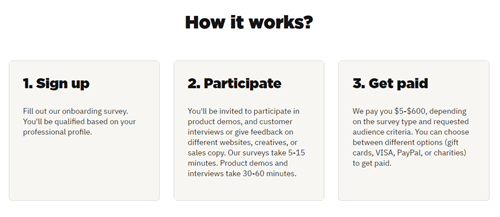 The studies will usually be in the form of surveys. But sometimes, you'll be asked to record a video or even do a 1-on-1 interview. While this opportunity may sound easy, what you need to keep in mind is that Wynter is very specific with the participants they invite.
They are usually looking for participants that fall into certain categories like Product Marketing Manager, Project Manager, Learning and Development Manager, Machine Learning Engineer, Cyber Security Consultant, Cyber Security Engineer, Data Governance, Data Manager, etc.
The reason for this is that Wynter's clients are usually big companies looking to gather useful information for specific departments of their business. That's why you shouldn't expect to receive a lot of invites. In fact, you can consider yourself lucky if you ever get one in a couple of months.
After you complete the study, you will receive compensation, which I will discuss in the next section. The surveys will usually take 10 to 15 minutes to complete, but the other types of studies will mostly take longer to complete, but they do pay more than the surveys.
Recommended: Check Out the Top Survey Sites in Your Country
How do you get paid?
As explained above, when you complete a research study, you will receive compensation. Now, the question is, how will Wynter pay you?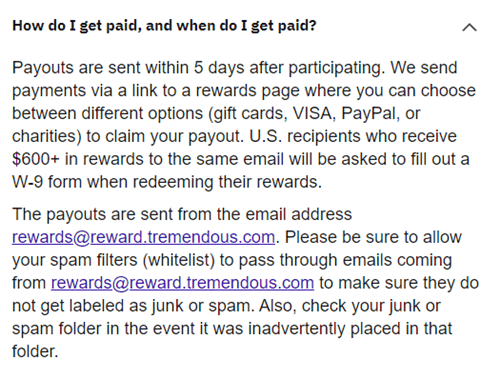 Well, you have the option to choose what reward you will receive. You can go for a prepaid Visa card, or you can also get paid via PayPal. You can also choose to redeem gift cards instead. The reward will be sent to you within five business days, so it's not a long wait, in my opinion.
The payment system of Wynter is relatively straightforward, and I like the fact that you will receive the payment without having to reach a certain threshold, which is usually the case with most other survey sites. I also like the fact that it offers a convenient payment method like PayPal.
If you are looking for more sites that use a convenient payment method, I recommend you also check out the top sites that pay via PayPal.
How much money can you make?
The amount you can earn from Wynter will mostly depend on how many studies you can participate in. And as I've explained earlier, it really doesn't offer a lot of opportunities to earn.
As for how much you can earn per study, for surveys, you will usually earn at least $5, depending on how long the survey is. For other forms of studies, you can earn up to $600, which is quite a significant amount, in my opinion.
But even though the site pays you a good amount per study, I would still consider the earning potential of Wynter to be relatively low, mainly because of the limited opportunities to earn. So, it's not something you can reliably earn from, especially if you don't belong in any of the categories mentioned on their site. You can check out the categories here.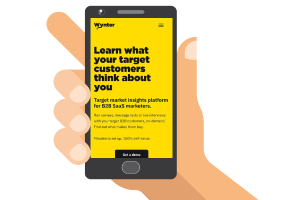 Can you use it on mobile?
Wynter doesn't have a mobile app you can download, but the member area can be accessed using a mobile device conveniently since it is mobile-friendly. You can also conveniently work on surveys using your mobile device, which is a good thing, in my opinion.
But for other types of research studies, you'll definitely have to use a computer if you want to participate. The best use of accessing the dashboard using a mobile device is to check if you have available invites, in my opinion.
Who can join Wynter?
Now, Wynter is only available to people who live in the US or Canada. So, if you live somewhere else, then this opportunity is not for you.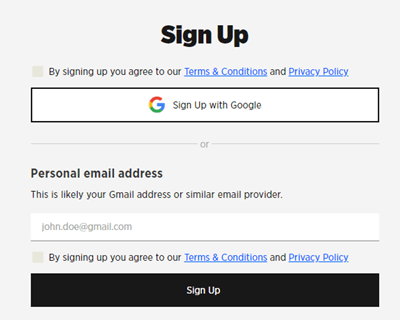 To join, you will need to fill out the registration form, or you can also use your Google account. Then, you'll be asked to provide your LinkedIn profile, which is the most important thing you need to remember if you are interested in this site.
If you don't have a LinkedIn profile, you won't be able to sign up as a participant. This just goes to show that Wynter is looking for professionals, so it's not for everyone, in my opinion. After you are able to submit all the requirements, you need to wait for confirmation from Wynter if you will be accepted as a participant or not.
If you get accepted, then all you have to do is wait for an invite to earn, which can take a bit of time (as mentioned on their website). Its registration process is certainly unique. This is the first time I've encountered a site where you'll need to provide your LinkedIn profile to be accepted. Normally, a survey site will just ask you for your email address or even your mobile number.
Can you get support?
If you have any questions about the site or your account, you can check out the FAQ section of the website first. It discusses most of the basic topics you need to know about Wynter.
If you can't find the answers you are looking for, you can just get in touch with its support team. Just go to the Help Center of the member dashboard to contact Support.
Overall, I would say Wynter does provide decent support to its members since it offers a convenient way for you to get in touch with the Support department. I just wish the contact information would also be available without having to log in to the dashboard. It's a minor inconvenience, in my opinion, but it goes a long way in terms of user experience.
Final Verdict
Wynter is a legit site where you can potentially earn good money. It has a couple of good features, but it also has a few drawbacks you need to know.
Let me end this review by summarizing its pros and cons to give you an overview of what the site has to offer. Then, you can decide if this is a good fit for you or not.

Pros:
Offers a passive way of earning extra cash
Payment via PayPal is available
Available globally

Cons:
Limited earning opportunities
High payout threshold
The app consumes more battery charge, so you will have to charge your device more than you're used to
You have to install the app manually
In my opinion, Wynter is not for everyone. You have to belong to a specific industry to qualify for the opportunities it offers. But if you are qualified to join, then you can potentially earn good money from it. Just don't expect to regularly earn from it because the opportunities to earn will still be a bit limited, based on my experience.
So, if you are looking for a site to earn extra cash regularly, I suggest you check out the top survey and GPT sites in your country instead. The sites on this list all have good earning potential, so you will be able to earn a decent amount on a regular basis.
Plus, you will definitely find a site you can join regardless of where you live.
If you have any comments, questions, or experiences with Wynter, I would love to hear from you in a comment below.