Are you a gamer looking for ways to get in-game items without spending any money? Or do you want to get that gaming mouse that you've always wanted?
There's a site called Xpango that promises to reward you with game codes, gaming platform currency, and even gaming accessories or PC components, so you can get all this for free.
But is Xpango a scam, or is it a legit site?
Let's tackle this issue right away because this is a very important question that needs to be answered. No, Xpango is not a scam. It is indeed a legit online rewards site that will reward you for viewing ads and doing other activities.
But how good is Xpango, though?
Well, to answer that question, there are a few things we have to evaluate. This Xpango review will show you exactly what the site has to offer, so you can determine if this is the right opportunity for you or not.
What is Xpango, and what does it offer?
Xpango is a Get-Paid-To (GPT) site that offers a few ways for you to earn rewards. It's been around for several years now and claims to have 370K+ members.
However, I have checked it regularly over the last few years, and the number of members they display on the website has not changed, so that is a bit strange. But anyways, that was just a side note:-)
Here's a short video explaining the basics of how the site works, and then we will go into more detail below.
As shown in the video, earning rewards from this site is relatively easy. But for you to determine if this site is what you are looking for or if it is worth joining or not, let's take a closer look at the earning opportunities it offers. This is also a good way to understand the ins and outs of the site.
So, here's how you can earn from Xpango.
Option 1 – Referral program
As explained in the video above, you can invite other people to join the site to earn rewards. This is called a referral program or affiliate program.
All you have to do is share your referral code/link with the person you want to invite. Once they sign up using your code or link, they will become your referral.
Now, before you can receive the credit for inviting people, your referral must earn at least 1000 points by completing offers on the site (I will discuss what these offers are in the next section). Xpango does this to make sure you will not earn from fake referrals.
In other words, you will only get credits if your referral becomes an active member of the site. This is actually a pretty common strategy among GPT sites. As mentioned, once your referral has earned this amount, you will receive your bonus points.
They don't exactly tell you how many points you'll earn, though. But nevertheless, this is how their referral program works.
Option 2 – Offerwalls
As mentioned above, you can earn rewards by completing offers. These offers will come from offerwalls.
If this is your first time hearing about offerwalls, they are basically third-party advertising networks. So, the offers you will find on these offerwalls are geared towards promoting sites and mobile apps.
In general, the offers you will see on the offerwalls of Xpango will range from App installs, surveys, trials, games, videos, and more. When you complete an offer from any of the offerwalls, your account will automatically be credited points.
Each offer will show you what you need to do to complete it, as well as the number of points you will receive for completing it. This is great information to know beforehand because it will allow you to know which offers to prioritize (the ones with higher rewards and easy to complete).
There is sometimes a delay in receiving your points. Normally, they are credited within a few minutes, but sometimes, it can take hours, and in rare cases, they make take a few days or more.
This is because the advertiser or offerwall provider has to check their system to make sure you have indeed completed the required action honestly. So, don't worry if you don't receive your reward immediately. It will eventually be credited to your account if everything checks out.
Option 3 – Daily points
You can also earn additional points by claiming your daily log-in bonus. Every day, during your first log-in, you can claim your daily points by simply clicking the "Collect Free Points" button on their member dashboard.
After you've collected your points, the button will show a timer of when you will be able to claim your next free points.
Usually, your free points can be collected once every 2-12 hours. That being said, the points you will receive won't be much, but it's free, and you don't have to do anything special.
Option 4 – Random giveaways
From time to time, Xpango will hold random giveaways of gaming products, gadgets, or gift cards.
So, you also have to keep an eye on that opportunity. Every giveaway will have a requirement for you to join. So, just make sure you are able to meet the requirements to join.
Recommended: Check Out the Top GPT Sites
How do you get paid?
Every offer you complete on this site will earn you Xpango points.
You can then exchange your Xpango points for games, free gift cards, consoles, mice, free Spotify premium, keyboards, PC parts, mousemats, headsets, free iPhones, free Xbox one games or free PSN codes, and a lot more.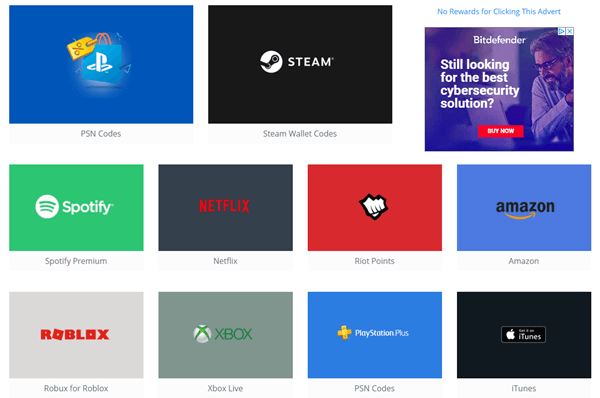 Unfortunately, as you can see, there aren't any cash rewards. So, if you are looking to earn cash primarily, then this site is not for you. Each type of reward will require a certain number of Xpango points.
Plus, the availability of some of the rewards will depend on the stocks available. For example, if you want to exchange your Xpango points for a Razer gaming mouse and it isn't available, then you won't be able to redeem it.
You will have to wait for the next restock or just choose a different reward. But I have to say, most of the rewards available on this site are really geared for gamers.
If you are looking to earn cash, though, I would say you should check out the top sites that pay via PayPal.
How much money can you make?
The thing with GPT sites is that there will always be opportunities available for you so you can earn rewards. So, the availability of earning opportunities won't be a problem.
So, the main factor that determines the earning potential of Xpango is how well they pay. The offers on their offerwalls aren't really game-breaking, so to speak.
Plus, most of the offers you will find on their offerwalls can also be found on other GPT sites. So, their opportunities aren't really very unique. That's why I would say their earning potential isn't really that good.
The real unique thing they offer is their rewards, though. I haven't encountered any site that features gamer-specific accessories, mobile phones, and game consoles even. So, if these are what you are after, then this is the best site to join.
But expect that it will take a while before you can redeem these expensive rewards though.
Can you use it on mobile?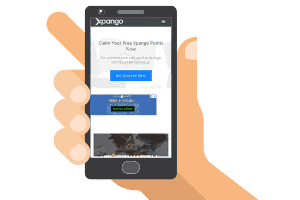 Xpango is a browser-based platform. So, it doesn't have a mobile app you can download, so you can complete your offers from a mobile device conveniently. That being said, you can still work from your mobile device.
You can access their site from a mobile device using a mobile web browser. The good thing is that the site is mobile-friendly. So you don't have to zoom in to read the content or click on the links.
However, since their earning opportunities will involve having to open multiple browser tabs, it can get annoying and inconvenient when done from a mobile device. That's why I would suggest you work on it from a laptop or desktop for more convenience.
Who can join Xpango?
Xpango is a UK-based site, but it is available globally. So fortunately, you will be able to sign up as a member regardless of where you live.
And as mentioned in the video earlier, they can ship your rewards anywhere in the world.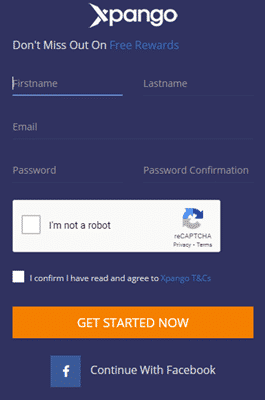 To become a member of the site, all you have to do is fill out their sign-up form. You can also choose to use your Facebook account to sign up as a member of the site.
Can you get support?
Xpango does have a FAQ page that discusses most of the important topics you need to know about their site and how it works. Their FAQ is found on their How It Works page. So, I suggest you read this first before joining.
If you have any questions about the site or you are experiencing a problem with your account, you can get in touch with their support team by emailing them at [email protected].
However, I have tried writing them, and I never heard back from them.
So it does not seem like they have active support anymore, which is definitely a big minus.
Final Verdict
Xpango is a GPT site that rewards you for completing offers and inviting other people to join the site. It has a couple of good features, but it also has certain limitations you need to consider.
Let me conclude this review with a summary of its pros and cons to give you a better overview of what the site is all about so you can decide if it is worth joining or not.

Pros:
Offers unique rewards
You can claim free rewards daily without doing anything special

Cons:
Limited earning opportunities offered for a GPT site
No cash rewards
Support does not always reply
As I've mentioned, if you are a gamer, this site might be worth considering. They offer rewards that are tailored specifically for gamers. Some of the rewards they offer can't be found on other online rewards sites. This is really the best value they have to offer.
However, they do have problems with their sign-up form. So it's a bit hard to register. And their support does not reply, in my experience. And these two things are deal-breakers, in my opinion.
So if you are looking for a site to earn extra cash from, there are many better options. For a list of sites you can earn cash from, I would recommend you check out the top survey and GPT sites in your country instead.
The sites on this list all have good earning potential, and most of them offer cash rewards as well. Plus, you will be able to find a site you can join without any problems, regardless of where you live.
If you have any comments, questions, or have any experiences with Xpango yourself, I would love to hear from you in a comment below.
---