Are you into fitness? If so, then you might want to consider using an app called Yodo which claims you can earn by exercising.
It sounds promising, right?
But before you go and download this app, I suggest you read this Yodo app review first so you will know what to expect before you even use it. This review will verify if the app is legit or if it is just a scam.
It will also take a look at all the app has to offer so you know exactly what to expect and can determine if it is really worth it or not. So, let's get this review started.
What is Yodo and what does it offer?
Yodo is essentially a Get-Paid-To (GPT) app that will reward you for doing physical activities like walking and running. It is very similar to another app called Sweatcoin, which offers the same kind of earning opportunity. It is indeed a legit app since it will really reward you for doing these things.
But, the question now is, is this app worth it? To answer that, we have to first examine the earning opportunities this app offers. This will help you understand how the app works and how well you can earn from it. So, here's how to earn from Yodo.
Option 1 – Walking and running
The main way to earn rewards from this app is to let it measure the number of steps you've walked and the distance you run.
The process is very easy. You just have to log in to the app and you will immediately see the cash rewards for walking and running.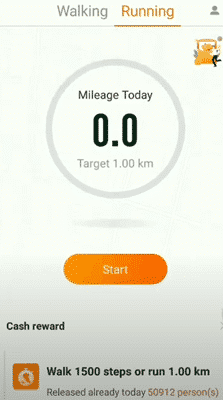 Then, just check the cash rewards opportunities to see what you need to do to earn rewards. Usually, you will just have to walk a certain number of steps or run a certain number of kilometers to receive the reward.
The app has a pedometer that will be able to count how many steps you've taken or how many kilometers you run. So, you can more or less gauge how long you have to continue running or walking to fulfill the requirements to claim the reward for it.
Just press the "Claim" button below the respective cash rewards offer and you will receive a certain number of reward points that will be credited to your account balance (I will discuss later what you can do with the reward points).
Now, when you are using the app, you have to make sure you enable the location of your mobile device so the app can track your progress. That's all you really need to keep in mind when you are using the app.
Option 2 – Referral program
The other way to earn rewards from Yodo is to participate in its referral program. If this is your first time hearing about this term, a referral program is an opportunity for you to earn rewards by inviting other people to join the platform.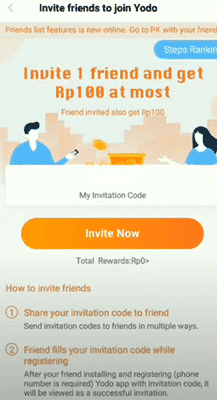 To invite a person, you just have to share your invite code with them. When they install the app and register, they have to provide your code. Otherwise, Yodo will not be able to recognize them as your referral. So, make sure to remind them to input your code during sign-up.
Once they've provided your invite code, it will count as a successful sign-up and you will receive 100 reward points.
The reward isn't much but at least, the condition to get the reward is pretty easy. Typically, for other GPT sites and apps, your referral has to complete an earning opportunity first before you receive the reward.
So, Yodo's referral program is a bit more simple albeit less rewarding.
Recommended: Check Out the Top Survey Apps
How do you get paid?
As mentioned earlier, you will receive reward points for every opportunity you complete on Yodo. But what can you do with your reward points?
Well, you can exchange your reward points for various rewards. The reward options you can choose from will depend on the country you live in. I'm not exactly sure if there are cash rewards offered in other countries, but when I did my testing, the only option I had was to convert my reward points to a prepaid mobile card.
And the problem is, they don't really have a website that explains what the usual withdrawal options are. On their app page, it says you can get cash rewards, so there might be cash rewards offered in some countries.
The threshold you need to reach to withdraw your earnings or redeem other types of rewards will also depend on the country you live in. Yodo will automatically convert your reward points to your local currency. So, you will immediately know the value of the reward points you've accumulated.
Their payment system is relatively simple, but if you are looking for a guaranteed way to earn extra cash, I would suggest you check out the top sites that pay via PayPal instead.
How much money can you make?
The thing with apps like Yodo is that the earning potential isn't really that good. And Yodo is no different from the other apps that offer this kind of earning opportunity. So, I would say the earning potential of Yodo isn't really that great.
You can't expect to earn a decent amount within a short period of time. The real value this kind of app offers, in my opinion, is it helps you stay motivated to reach your fitness goals.
Apps that will reward you for physical activities can help you stay motivated to keep being physically active. That's the one benefit Yodo offers, in my opinion. But if your primary goal is to earn extra cash, there are better options out there.
Can you use it on a desktop?
Due to the nature of the earning opportunities Yodo offers, you will really need to use a mobile device to earn from it.
So, to answer the question above, no, you can't use it on a desktop because the app will need to track your progress and the only way to do that is to make sure you bring your mobile device with you when you are walking or running.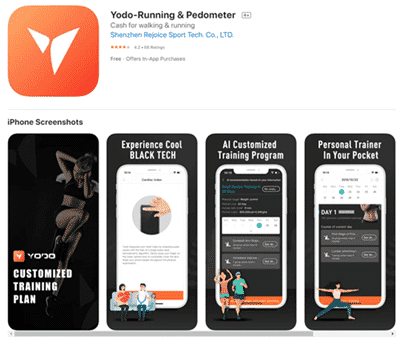 As for their app, it is available for download on both Android and iOS app stores. So, compatibility won't really be an issue. Their app is fairly easy to use. The user interface is intuitive, so you will easily get used to how it works.
And as I've mentioned earlier, you just need to make sure you enable your device's location tracking when you are using this app so it can track your progress.
Who can join Yodo?
Yodo is available globally. So, you can register as a member regardless of where you live. But you have to be at least 18 years of age to join their platform though.
To sign up, you have to first provide your mobile number. The app will then send a code you need to input so you can proceed with the registration process. There's no way around this, so if you are hesitant to provide your mobile number, then this app is not for you.
Once you finish the registration process, you will receive a joining bonus and the amount you will receive will depend on the country you live in. After you've finished signing up, you can start earning right away.
However, I have heard from several people around the world that when trying to sign up they did not get the code but just a message saying "network error". If this happens to you, you need to contact their support.
Can you get support?
If you have any questions about the app or you are experiencing technical issues, you can check out the Help and Feedback section of the app first. You will find most of the important topics discussed on that section.
If you can't find the answers you are looking for, you can send your inquiry in the same section. Just fill out their contact form with all the necessary information.
Overall, I would say that Yodo has a decent support system in place for their members since they provide a way for you to get in touch with their support team. But I do wish they had a website that explained what the app is all about so that people who are interested in using could learn more about the app before even downloading it – but hopefully this review has then helped with that instead:-).
Final Verdict
Yodo is a legit fitness app that will help you stay motivated to achieve your fitness goals and at the same time, reward you for performing physical activities like walking and running. It has a couple of good features but it also has limitations you need to consider.
Let me wrap up this review by summarizing its pros and cons so you can get an overview of what the app has to offer. That way, you can decide if it is really worth using or not.

Pros:
Offers an interesting way to earn rewards
Available globally

Cons:
Limited earning opportunities offered
Low rewards
Limited payment options offered
If you are looking for a great way to earn extra cash, then Yodo isn't it. It has a limited number of earning opportunities offered and the rewards are quite low. It also doesn't offer a lot of payment options compared to other apps that offer the same earning opportunity.
The app really doesn't provide enough reasons for you to use it. If you are looking for fitness apps, there are better apps out there that offer the same kind of opportunity, ones that offer better rewards and payment methods.
Now, if you are looking for sites and apps where you can earn a decent amount of extra cash, I would recommend you check out the top survey and GPT sites in your country instead. The sites and apps on this list all have good earning potential and they all offer convenient payment methods as well.
If you have any comments, questions, or have any experiences with Yodo yourself, I would love to hear from you in a comment below.