When I was browsing YouTube looking for good ways to earn extra cash, I saw a lot of videos talking about a site called YouLikeHits. These videos claim that you can earn $1 per click when working on YouLikeHits.
So, I got curious and immediately tested the site to see if the videos were telling the truth. And let me just tell you right now that there are a lot of details not mentioned in most videos and articles that you need to know.
In this YouLikeHits review, I will give you an inside look and reveal exactly how it works, so you can determine if this is a good opportunity to earn extra cash.
What is YouLikeHits and what does it offer?
YouLikeHits is a type of Paid-To-Click (PTC) site that will allow you to earn by visiting websites and participating in other earning opportunities it offers.
It is a legit site since you will really earn rewards, but there's something you need to know about the rewards you will earn (more on this later).
Now, to get a clear picture of how the site works and how much time and effort is required to earn rewards, we need to look closely at the earning opportunities it offers. The video below will explain how the site works. You can also read all the details after the video.
Recommended: Best Way to Build a Full-Time Income Online
Option 1 – Clicking Links
The primary way to earn rewards from YouLikeHits is by clicking links. When you log in to the member dashboard, you just have to click the "Earn Points" option on the menu. Then, you will see something similar to the photo below.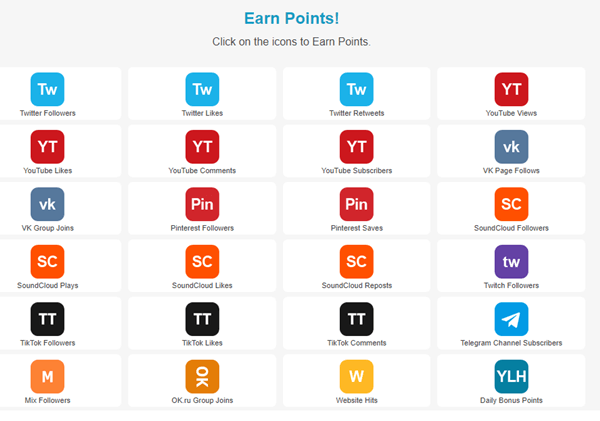 All you have to do is choose the category you want to work on and click it. If you choose a social media platform like Twitter, you'll have to connect your Twitter account to YouLikeHits first before you can start earning.
I do have to say though that it's not a good idea to link your main Twitter account to this website and you will understand why later.
Most of the links you will have to click will take you to a social media page or a YouTube video. Now, what you need to know is that some links will require you to leave a comment or follow the social media page.
This, in my opinion, is the true purpose of the site. It acts as a way for members to get traffic for their social media/YouTube pages. Once you click the link and do what it is asking you to do (like watch videos, follow social media pages, or leave comments), you will receive a certain number of points.
Later on, I will discuss what you can do with the points you've offered. That's all there is to it. One thing you have to note though is that the links you will find on this website are provided by other members of the site. Later, I will discuss the implications of this fact.
Option 2 – Referral Program
The other earning opportunity YouLikeHits offers is its referral program. If you've been a member of Get-Paid-To or survey sites before, then this opportunity will be very familiar.

All you have to do is invite people to join the site by sharing your referral link with them. When they click the link and sign up as a member of YouLikeHits, they will become your referral.
But as the photo above shows, you will only receive the reward if your referral becomes an active member of the site. YouLikeHits says that your referral has to be active for several days and must earn a few hundred points before you will receive the reward which is 500 points.
The one thing that bugs me with YouLikeHits' referral program is that they are not very transparent with the requirements. Most referral programs I have encountered will clarify the exact requirements to receive the reward.
In my opinion, the statement "has to be active for several days and must earn a few hundred points" is a very vague description. So, there's no guarantee when you will receive the reward or if you will really receive one. This, in my opinion, makes their referral program not very ideal.
Plus, YouLikeHits is not something I would really recommend to other people, and I will explain why later.
Recommended: Check Out the Top GPT Sites
How do you get paid?
As explained above, you will earn points for clicking links and participating in the referral program of the site. But here's the thing with YouLikeHits. The points you've earned can't be converted to cash or any reward.
You see, the points you've earned can only be used as a reward for other members of the site. As a member of YouLikeHits, you can add your own links to the earning section. Then, you can use the points you've earned to pay the people who will click your link.
So, you will essentially just be exchanging traffic with other members of the site. But the videos I mentioned earlier claim you will be able to earn from this site. So, how does one do that exactly?
Well, the "trick" to earning from YouLikeHits is to use a different platform like CPALead. What you have to do is sign up for CPALead which is a site that will pay its members for installing various mobile apps.
On this platform, you can create a link for the app that has to be downloaded. Then, what you need to do is share this link with YouLikeHits so that other people will click it. After that, you will get paid if a member of YouLikeHits clicks your link and installs the app.
The site that you have to join doesn't have to be CPALead. It can be any platform where you can get paid for promoting offers. YouLikeHits will then just serve as a way for you to get the clicks you need. That's the logic behind how you will be able to earn from YouLikeHits.
It's a bit convoluted, in my opinion, which is not a good thing. I personally prefer a site where you can immediately earn from the earning opportunities offered.
Also, the method described above only works in theory, and there are some important details most people do not tell you about how it really works, and I will explain this below.
The reality of YouLikeHits
As you can see, earning from YouLikeHits will involve using a different platform. The site itself doesn't offer any cash rewards or even gift cards. All it really does, in my opinion, is to let you generate "empty" traffic for websites and social media pages.
Now, you might think that this site is a viable way to generate traffic for your website or links. But as mentioned above, the traffic you will be getting from a platform like this will be next to useless.
You have to keep in mind that the members of YouLikeHits are also just other people looking to promote their own links. They aren't really your target audience. So, the traffic you are getting from YouLikeHits will be useless because you won't be able to convert them.
You see, traffic is only useful if it is converted to sales (or action if you aren't selling anything). You might be able to get a conversion once in a while, and you might be able to earn maybe a few dollars. But it will take a lot of time to get those conversions, which, in my opinion, is not time well spent.
Another thing you need to keep in mind is that, as explained earlier, if you want to earn points from clicking on Twitter links, you will have to link your Twitter account. Now, it's not a good idea to link your main Twitter account, as I've mentioned, because if you share or retweet any of the links from YouLikeHits, your followers will just see it as spam.
Sure, you might be able to get a few clicks at the beginning from unsuspecting followers, but later on, your followers will just think that the links you are sharing are spam, and they will not click it anymore. So, you won't get any repeat clicks.
That is why most of the members of YouLikeHits use dummy Twitter accounts and not their main accounts because they don't want to risk annoying their real followers.
This is why I would classify the traffic you get from YouLikeHits as "empty" because you don't get any real value from it.
Final Verdict
YouLikeHits is a site that will allow you to get traffic to your social media page or any website. However, the traffic you are getting doesn't provide any value to you.
Let me wrap up this review by summarizing its pros and cons so you will see an overview of what it offers. Then, you will understand why it's not a site worth your time.

Pros:

Cons:
Doesn't offer any earning opportunities
The traffic you are getting will rarely translate into conversions
In case it is not clear yet, YouLikeHits is not a site I would recommend you join. You will only be wasting your time with this site because it doesn't provide any real opportunities for you to earn. You are better off finding other ways to earn extra cash.
Now, if you are looking to earn a full-time income but don't know where to start, I recommend you check out the best and fastest way to earn a full-time income online instead. This will guide you on how you can set up your online business in just a matter of days.
If you have any comments, questions, or have any experience with YouLikeHits yourself, I would love to hear from you in a comment below.