If you've been looking for an app that will let you earn rewards by exercising, then you have maybe encountered an app called YourFitWay.
But is YourFitWay legit and really a way to earn or a scam to stay away from?
I have decided to find out and have joined to test it and see exactly what it offers.
In this YourFitWay review, you will get an inside look and learn all the details so you can easily find out if this is the right option for you or not.
I've compared it with the many other apps that offer the same thing that I have also tried. So, all the information I will be sharing will be based on actual experience of using the app.
What is YourFitWay and what does it offer?
YourFitWay is a fitness app that will reward you for every step you take. In other words, you can earn by simply walking around while the app is active.
It's a lot like CashWalk which is another app that will let you earn rewards when you go out for a walk or run.
And yes, it is indeed a legit app since you will really earn rewards. But the real question is, is this app worth using? The first thing you need to do to answer that question is understanding how the app works. And to do that, we need to examine the earning opportunities it offers.
So, here's how to earn from YourFitWay.
Option 1 – Walking
Let me just make it clear that you will need to spend money in order to earn from this app.
Yes, their earning opportunity isn't free. So, if you are not planning on spending money for a fitness app, then there's no point in continuing to read this review because, in order to unlock the app's earning opportunity, you will need to pay for it. If you are looking for a free way to earn, I would instead suggest you check out the best free passive income apps.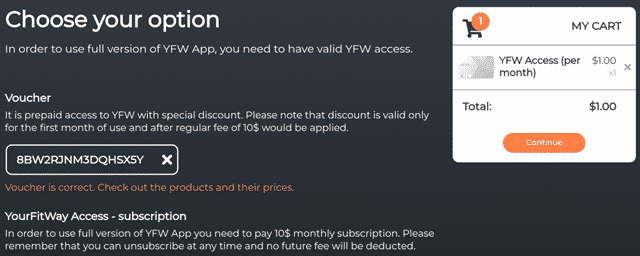 As shown in the photo above, you need to opt into the YFW (YourFitWay) subscription because that's the only way to unlock all the features of the app including their earning opportunity.
The monthly fee will be $10 but you can also choose to pay $100 for a year's subscription, which will effectively save you $20.
You can use your credit card to pay for the subscription. Or, you can also use the YourFitWay coin cash (YFWCC) to pay for the subscription. Later on, I will discuss what the YFWCC is and how to get it.

Once you have an active subscription, then earning will really be easy. All you have to do is make sure the app is running in the background when you go out for a walk. Then, the app will use your mobile device's sensors to calculate the number of steps you've taken.
When you are done walking, just open the app again and collect the points by pressing on the chests that were unlocked during your walking session. It works when you are running too. The app can still detect the number of steps you've taken.
That's all you really need to do. Unfortunately, the app doesn't really break down in detail the number of points you will earn per step you take. So, it's quite hard to pinpoint the exact number of points earned per step taken unless you tally the points you've collected for several days and calculate the rate.
I personally didn't reach the point of using it for multiple days and later on, I will explain why.
Option 2 – Quests
Another way to earn rewards is to complete quests. These quests are really just short tasks that usually involve walking or other actions in the app.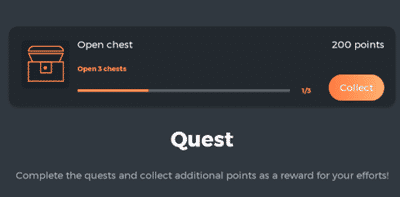 The idea is, when you've completed all the quests required, you will be able to open the chest and receive the reward points.
I personally haven't encountered this during my testing, but that's how they've explained this earning opportunity in their tutorial.
Recommended: Check Out the Top Survey Apps
How do you get paid?
As explained earlier, you will earn points every time you take a step and the app is running in the background. But what can you do with the points you've earned?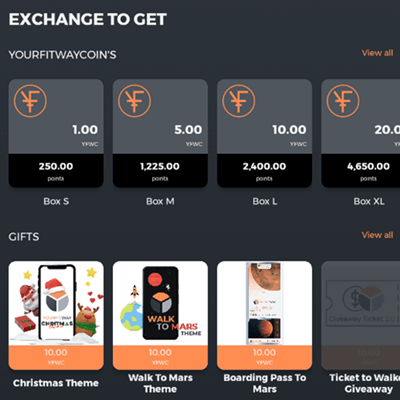 As mentioned earlier, the app has what they call the YFW coins cash. This is the currency they are using. So, the first thing you need to do is convert your points to YFC coins (refer to the photo above). As you can see above, 1 YFW coin is equivalent to 250 points.
Now, what can you do with the YFW coins? Aside from using it to pay for your monthly subscription, you can also use it to redeem various gifts like mobile phones, vitamins and supplements, and more. The gifts available will vary from time to time and the minimum YFW coins required will also depend on the gift you want to redeem.
Usually, the minimum YFW coins needed will be 5 YFW coins. For more expensive gifts, it can cost up to 100 YFW coins.
Their payment system is simple to understand, in my opinion. You convert your points to YFW coins and use them however you like in the app.
But unfortunately, they don't offer any cash rewards. That's why if you are looking to earn cash, I would suggest you check out the top sites that pay via PayPal instead.
How much money can you make?
Now comes the part where we evaluate if the earning potential of this app is truly worth it.
To answer that, the amount of money you can earn from YourFitWay will really depend on how often you go out for a walk/run.
If you're really just inside the house most of the time, and you only go out for a walk sparingly, then you won't really earn a lot from this app. In my opinion, the person who can best utilize what this app has to offer is the person who goes on a daily walk/run.
Because as you already know, in order to earn from this app, you will need to spend at least $10 for the first monthly subscription. Then, you can use your earnings to pay for the next succeeding months provided of course, you earn enough points.
So, you need to earn enough points to cover the next month's subscription. Then, you just have to save up the excess points until you can earn enough to redeem gifts. And that can take some time.
That is why if you don't really go out for a walk on a daily basis, then there's really no point in using this app. You'll just end up losing money trying to keep up with the monthly subscription payments.
Can you use it on a desktop?
YourFitWay's website can be accessed from a mobile device. However, if you really want to earn, you'll have to download their mobile app and use it.
If you are only going to redeem gifts or update your subscription, then you don't need the app to do that. You can just log in to their site since it is optimized for mobile use.
But to tell you the truth, you can also just do everything from the app. So, I don't really see the need to log in to their site from a mobile device.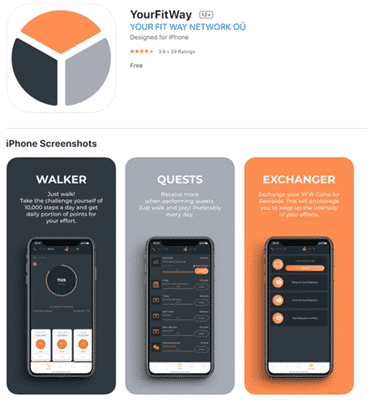 As for their app, during my testing, it was still in development. So, there were a few bugs here and there. But overall, the app was relatively easy to use.
It will work with both Android and iOS devices, so you won't have any compatibility issues. Overall, it's relatively easy to use, which is what you should really be looking for in a mobile app.
Who can join YourFitWay?
The app doesn't really tell you exactly which countries it is available in. So, the best way to find out if you can join this platform is to see if you can download it from the Google or iOS app store. If you can, then that means it is available in your country.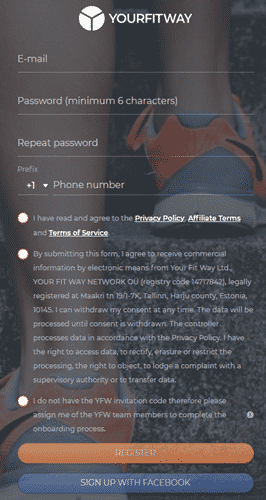 To be eligible to register, you only have to be at least 13 years of age. There are two ways you can sign up as a member. You can sign up on their website (refer to the photo above). Just fill out their sign-up form and submit it. Alternatively, you can also just use your Facebook account to register.
You can also sign up from their mobile app. After you've installed the app, you have to go through the same sign-up process as the web version. You can fill out the sign-up form or you can use your Facebook account.
Once you are done with the sign-up process, YFW will send a confirmation email. Simply click the link in the email to confirm your registration. When that is done, you can now log in to the app. During my testing, I received $4 worth of YFW coin cash as a sign-up bonus.
Can you get support?
One issue I encountered while I was testing the app was, their site doesn't really have a lot of useful information regarding the ins and outs of the app. Their FAQ barely provides any useful answers.
But, you can still submit your inquiry to their support team by creating a support ticket on their Contact page. This feature isn't available inside the app though, so you will really need to go to their website.
The good thing is, they also provide phone numbers you can call if you really need to speak with a YFW representative immediately. That's why I would say YourFitWay has a decent support system in place for their members since they provide a convenient way for you to get in touch with their support team.
But I do wish they would also make their Contact page accessible from their app. That would make the overall user experience a bit better, in my opinion.
Final Verdict
YourFitWay is a legit fitness app that will allow you to earn rewards while walking. It has a couple of decent features to offer, but it has a few limitations you need to consider.
Let me wrap up this review with a summary of its pros and cons to give you an overview of what it has to offer. Then, you can decide if you should really use it or not.

Pros:
Their app is user-friendly
Offers an easy way to earn rewards

Cons:
Limited earning opportunities offered
Doesn't offer cash rewards
Requires a subscription fee to earn
In my opinion, the YourFitWay's monthly subscription fee is its deal-breaker. The reason why I say that is, there are plenty of other fitness apps out there that don't require any monthly fee for you to earn. So, in that aspect, YourFitWay has already lost.
There are simply far better options out there and they don't really have something unique to offer, in my opinion. That's why there's really no reason for you to use it.
I would instead suggest you check out the top survey and GPT sites in your country if you are looking to earn extra cash. The sites on this list all have good earning potential and you don't have to pay in order to earn.
If you have any comments, questions, or have any experiences with YourFitWay yourself, I would love to hear from you in a comment below.