If you love watching videos or creating them, then there's an app called ZikTalk you might be interested in. This app claims you can earn rewards for every video you create.
It's a tempting offer, so I understand if you are interested in it. However, I highly suggest you read this ZikTalk app review first.
I have tested the app to see how it works, what its features are, and how it compares with other apps that offer the same opportunity.
That way, you'll know exactly what to expect before you even join. Then, you can decide if it is really an app worth using or not.
So, let's go ahead and take a closer look at ZikTalk, shall we?
What is ZikTalk, and what does it offer?
ZikTalk used to be an app for English tutors. However, it has since rebranded and is now a video hosting platform that also doubles as a social media app.
It's similar to TikTok, but the only difference is that it offers rewards for uploading and watching videos.
To figure out if it is worth it, you must first understand how it works. And the best way to do this is to examine the earning opportunities it offers so you can gauge the amount of time and effort required to earn from it.
So, here's how to earn from ZikTalk.
Option 1 – Uploading videos
One way to earn from ZikTalk is by uploading videos. However, keep in mind that the app won't pay you for uploading the videos. Instead, you will get paid once your uploaded videos get views.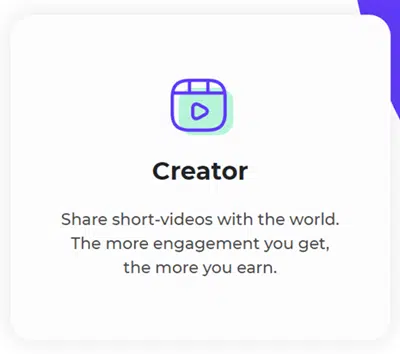 You can upload videos that are 3 to 60 seconds long. Then, when somebody watches your video, you will receive 0.5 ZIK (the currency the app is using).
If somebody likes your video, you will receive 1 ZIK, and if they follow you, you will receive 3 ZIK.
It's a relatively straightforward process, but the only problem I noticed is that there's no way for you to promote your videos on the platform.
Plus, you will only earn if the person who watched your video is a member of ZikTalk as well. So, there's no point in promoting your videos outside of the platform. In my opinion, it's a poor reward system because you will have to rely on ZikTalk to show your videos to other members.
That's why this earning opportunity is not a reliable way to earn from this platform, in my opinion.
Option 2 – Watching videos
The more reliable way to earn rewards from ZikTalk is by watching videos.
Every day, you can earn ZIK by just watching some of the featured videos shown by the app. However, this opportunity will only be available for iOS users.
You will NOT EARN anything by watching videos if you are an Android user. If you want to earn from Android apps, I suggest you check out the best money making apps for Android instead.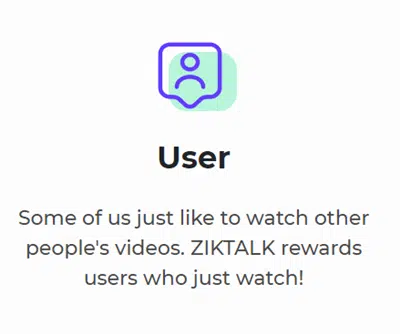 To start earning, all you have to do is log in to the app and go to the "For You" section. Then, you will see a progress bar loading in the upper left-hand corner of the screen. Just keep watching the video until the bar stops loading.
When this happens, you have to scroll down to view a new video to let the bar load again. When the bar finishes loading, you will receive 0.1 ZIK (which is a very small amount, I might add).
However, you can only receive rewards for the first few videos you watch per day, so it's a very limited way to earn, in my opinion.
Recommended: Check Out the Top Survey Apps
How do you get paid?
As explained above, you will earn ZIK tokens every time someone watches or likes your video, follows you, or if you watch videos of other members (if you are an iOS user).
The app doesn't offer any other payment method, so if you are not interested in earning crypto, then this app is not for you.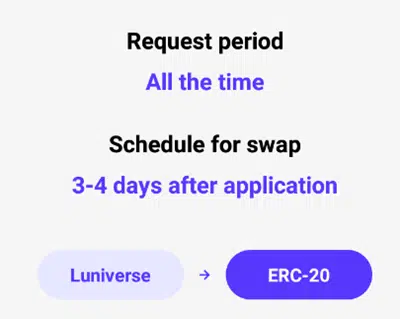 Now, the question is, what can you do with the ZIK tokens you've earned?
Well, you can cash out your ZIK tokens to your ZIK wallet once you've earned at least 3,000 ZIK tokens. This will be equivalent to more or less $3, depending on the conversion rate of ZIK tokens at the time of withdrawal.
If you don't know of any ZIK wallet, I suggest you use Crypto.com because it supports ZIK tokens as well. If you want to learn more about Crypto.com, you can check out my guide on the best crypto app for beginners.
So, to be clear, once you've earned at least 3,000 ZIK tokens, you can withdraw them to your ZIK wallet through the ZikTalk app. It will take three to four days to process the withdrawal, so you have to be patient.
If you are new to crypto, this process can be a bit overwhelming, so I suggest you do your research first on how to withdraw crypto to your crypto wallet.
Now, if you prefer apps/sites that offer simpler cashout methods, I suggest you check out the top sites that pay via PayPal instead.
How much money can you make?
I will tell you right now the amount you can earn from ZikTalk won't be a lot. Let me give you an example.
As mentioned earlier, you will earn 3 ZIK when somebody follows you. This is the highest reward you can earn.
While it might sound like a lot, the monetary value of 3 ZIK is actually less than $0.01 at the moment of writing this review, so the rewards are actually very low. To put it into perspective, the monetary worth of 50 ZIK is only worth $0.05, and 3,000 ZIK will only be around $3.
So, you will really need to get thousands of views and hundreds of follows from members before you can even earn a decent amount from this app. And that will take quite a lot of time to achieve.
The time-to-money ratio of this app is very low, which is why I would say you are better off investing your time in apps or sites that offer higher earning potential. If you want to earn crypto efficiently, I suggest you check out the best ways to earn Bitcoin for free instead.
Can you use it on a desktop?
ZikTalk is a mobile-only platform, so you will need to use a mobile device if you want to earn from it.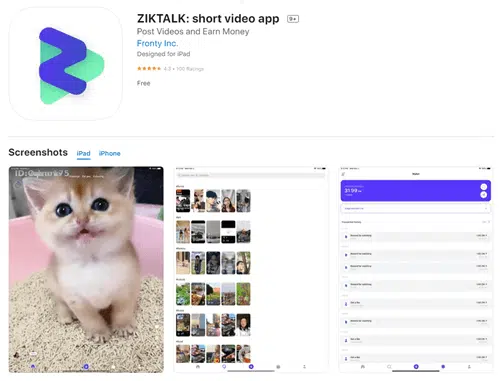 As for the app, it is available for both Android and iOS devices, so you shouldn't have any issues with compatibility. The app is quite easy to use, and you won't encounter any annoying pop-up ads while using it, which is the only upside ZikTalk offers, in my opinion.
Who can join ZikTalk?
The app doesn't tell you exactly which countries it is available in, but as far as I can tell, it is available more or less worldwide.
To check if it is available in your country, search for it in your app store, and if it appears among the search results, then that means it is available in your country, and you can sign up.
To register, you just have to download and install the app. Then, you have to use your Google account to sign in. It didn't offer any other sign-up method when I was testing the app, so if you are really intent on using this app, I suggest you create a Google account first if you don't have one.
After you complete the registration process, you will receive 50 ZIK as a bonus.
Can you get support?
If you have any questions about the app, you can check out the FAQ section first. It discusses most of the basic topics you need to know about the app.
But if you can't find the answers you are looking for, go to the Help section and fill out the Google Doc form, and hit submit. Overall, I would say the app offers decent support because it at least provides a way for you to get in touch with their support team.
Final Verdict
ZikTalk is a video hosting app that will allow you to earn crypto by uploading videos or watching them. It doesn't have a lot of good features, but it certainly has a lot of disadvantages.
Let me wrap up this review by summarizing its pros and cons to give you an overview of what the app has to offer. Then, you can decide if you should push through with signing up or not.

Pros:
The app is very easy to use
The app is not spammy

Cons:
Limited earning opportunities offered
Very low rewards
Doesn't offer cash rewards
In my opinion, ZikTalk is not worth your time. The earning potential of this app is simply too low. You are better off earning from apps or sites with higher earning potential, so you can make use of your free time more efficiently.
If you want to earn extra cash easily, I suggest you check out the top survey and GPT sites in your country instead. The sites on this list all have good earning potential, so you will be able to earn decent money without investing a lot of time.
If you have any comments, questions, or have any experience with ZikTalk yourself, I would love to hear from you in a comment below.