If you are looking for an easy and simple way to earn, you have maybe considered using captcha solving sites since these sites promise to pay you simply for solving captchas.
One of the sites that offer this is called 2Captcha.com, which is a relatively popular captcha solving site.
But is 2Captcha legit, or is it just a scam to stay away from?
Let me answer this right away so we can proceed with discussing other important aspects of the site.
Yes, 2Captcha.com is a legit site that will pay you for answering captchas. However, this is not the real barometer to check if a site is worth joining or not.
We have to figure out if this site offers an efficient and sustainable way of earning, and this 2Captcha.com review will help you do that. It will explain all the details you need to know so you can decide if it is indeed worth joining or not.
What is 2Captcha.com and what does it offer?
Simply put, 2Captcha.com, as the name suggests, is a site that offers compensation for answering captchas.
It can sound like a very appealing way to make some extra cash as it is so easy.
But you need to do it with the right expectations so let's take a closer look to see if it's something you can dump your free time into and if it will be worth it.
I have made a video that gives you an inside look and shows exactly how to use 2Captcha and how you can earn from it. You can also read all the details below the video.
Recommended: Check Out the Top GPT Sites
Option 1 – Solving captchas
The main method of earning from this site is by solving captchas. Yes, it's that simple.
You will be given a captcha to solve and once you solve it, it will count towards the requirement needed to redeem rewards (I will talk about how you will get paid later).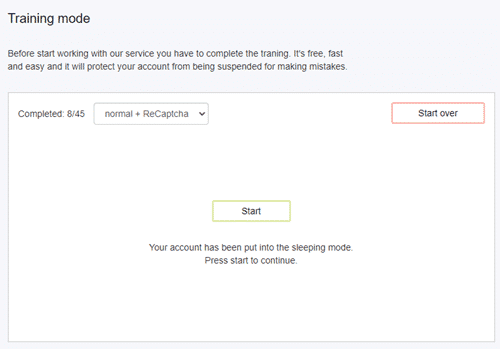 However, before you can start solving captchas, you have to go through their training first, which is a good thing because it will help you get used to how the site works. The training program consists of 45 captchas you need to solve.
You just need to be aware that you will not get paid for this training. But you have to invest some time into this training to get access to the paid captchas.
On a site like Timebucks, you do not have to take any training before starting to get paid, so this is something you need to take into consideration before joining.
But once you finish the training program, you can then start answering captchas, and there will be plenty of tasks for you.
There are two types of captchas you can solve on this site. One is the image captcha, and the other is the recaptcha.
As the name suggests, image captchas are captchas that can be solved by typing in what you see in the distorted image. Recaptcha, on the other hand, is the captcha where you will be asked to check a box that says "I'm not a robot".
It will then display an image puzzle you need to solve. You can solve it by choosing the right images that it is asking you to choose.
Now, once you've solved 1000 of each kind of captcha, you will receive payment which I will go more into details about later.
Option 2 – Referral program
You can also earn a commission by referring people to the site. There are two types of referrals you can make.
You can invite people to become workers, or you can invite customers who want to bypass captchas automatically.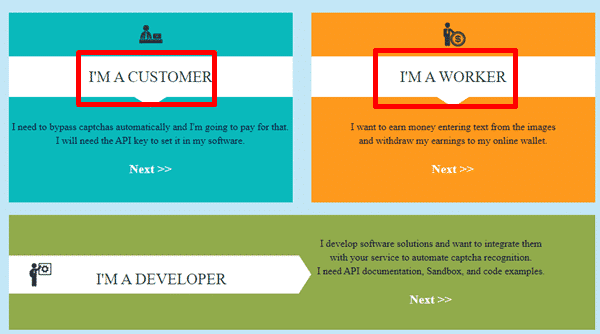 For workers, you will earn 10% of their earnings, which will be shouldered by the site. For customers, you will receive a 10% commission on whatever service they will pay for. The earnings you get from their referral program will be credited to your 2Captcha account.
You can invite people by sharing your affiliate link with them. Once they click the link and complete the sign-up process, they will become your referral.
Recommended: Check Out the Top GPT Sites
How do you get paid?
It's important to note that you won't get paid per captcha you solve. Technically speaking, you will get paid for every thousand captchas you solve.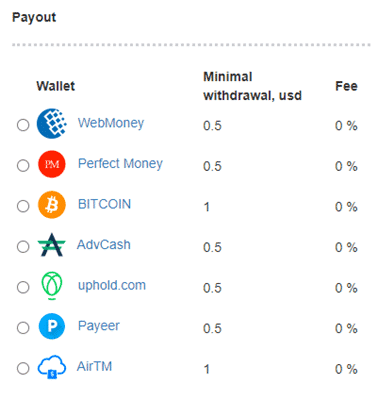 Each type of captcha has a different payment rate. As you can see in the photo above, you will be paid $0.3 for every 1000 image captchas you solve and $1.01 for every 1000 recaptchas. These aren't great rates really.
So, don't expect to earn a lot from this site. Now, once you've earned $1, you can request payment via WebMoney, Payza, Perfect Money, Payeer, AdvCash, AirTM, or Bitcoin. PayPal, Western Union, Bank Account are NOT AVAILABLE and will never be available as a payment option.
This is because they feel the withdrawal fees are simply too high, which totally makes sense because the amount of money you will earn won't be that much either. So, if the fees for withdrawing are already high, you will wind up receiving a much more reduced payment.
However, I do like the fact that they have a low payout threshold, which, in my opinion, is only appropriate since you can't really earn a lot of money from them.
If you are interested in more sites with low payout thresholds, I suggest you check out the fastest paying sites as well.
How much money can you make?
When you think about it, $0.3 or $1 for a thousand captchas solved isn't really something very appealing, in my opinion. That's why I would say you can't really expect to earn a lot from this site. This is also true for all captcha sites.
On 2Captcha.com you can see that it will take, on average, 37 seconds to complete a regular captcha because there also is some waiting time.
From this, you can figure out that it can take you around 10 hours to solve 1000 captchas. The recaptchas are faster, but you will still have to invest A LOT of time to earn just a little bit of money.   
So, to answer the question "how money can you make from 2Captcha?" the unfortunate answer is not a lot.
The only good thing about this site is the earning opportunity is very simple to do. Yes, it's certainly an option to dump your free time into, but if you want to earn a decent amount, your time is better spent somewhere else.
Also, you have to think about the ethical aspect of solving captchas. Sometimes solving big amounts of captchas are used by scammers, and you do not know what the captchas you are solving are used for, which is definitely very important to consider, in my opinion.
When you out all this together, there are just many better ways to earn some extra money online.
For a list of sites that offer better earning potential, I recommend you check out the top survey sites in your country.
Can you use it on mobile?
2Captcha.com has a mobile app you can download so you can solve captchas on your mobile device. Unfortunately, their app is only available for Android devices.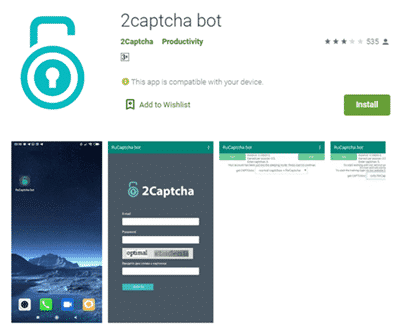 If you are an iOS user, you can still use the site on a mobile device by accessing it using a mobile web browser. Fortunately, their site is also mobile-friendly. So you will be able to read their content clearly without having to zoom in. You can also navigate their site easily since the buttons and links are easily clickable.
This, at least, makes you a more efficient earner because you don't have to sit in front of the computer to earn. And, in my opinion, answering captchas from your mobile device is the best way to work on this site.
Who can join 2Captcha.com?
The other thing that this site has going for itself is it is available globally. You can sign up as a member regardless of where you live.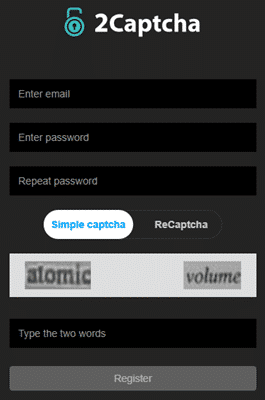 All you have to do is fill out their sign-up form, then click the confirmation link in the email they will send to you. Once you've done that, you can log in to their member dashboard.
But as explained earlier, before you can really earn from this site, you have to go through their training program. Unfortunately, you won't get paid for finishing the training program. But it is necessary to finish if you ever hope to solve captchas from this site.
One thing to take note of when you become a member of this site, if you make a lot of mistakes when solving captchas, then your account will be blocked. It can be unblocked, but it usually takes up to 2 working days. So, make sure to solve captchas carefully.
Can you get support?
If you need support or have any questions that need to be answered, you can always check their FAQ page to see if they have the answers you are looking for. Their FAQ page discusses the basic aspects of the site.
So, if you have a more complicated question or issue you are facing, then you have to contact their support team to resolve it. The weird thing is, there's a section on their dashboard about support tickets, but there's no way to create one.
So, I'm not sure if they disabled it or if it wasn't there in the first place. So, if you want to contact their support team, you have to email them at [email protected].
In my opinion, even though you can still contact them through email, it would have been better if they ironed out their ticketing system not to confuse members. Because right now, it's a useless part of their member dashboard.
Final Verdict
2Captcha.com is a captcha site that pays you for solving captchas. It has a couple of reasonable features to offer, but it has some glaring limitations that are hard to ignore.
So, let me end this review with a summary of its pros and cons to help you decide if it is a site worth joining or not.

Pros:
Low payout threshold
Offers a very simple way to earn extra money
Cons:

Limited earning opportunities offered
Very low rewards
Their support system needs a bit of work
Sometimes captcha solving is used by scammers
Overall, I would say 2Captcha can only be a viable option if you don't have any other sites to earn money from.
The low rewards are really what hurt this site, in my opinion. If only it paid more for solving captchas, then this could be a decent site to join because of how simple the earning opportunities are.
But that is to be expected, though. Captcha sites aren't known for their earning potential. And when you then also think about the ethical aspect and that you do not know what the captchas you solve will be used for, it is clearly not a good option, in my opinion.
If you want to earn a decent amount, I suggest you check out the top GPT sites instead. The sites on this list all pay rather well.
Plus, you will definitely be able to find a site you can join regardless of where you live.
If you have any comments, questions, or have any experiences with 2Captcha.com yourself, I would love to hear from you in a comment below.