Participating in focus groups can be a great way to make a difference, and it's also a good way to potentially earn some extra money and meet other people with similar interests.
The site Apex Focus Group claims you can do all those things and more.
So, if this is something you are interested in doing, I highly recommend you read this Apex Focus Group review so you will learn more about what it has to offer.
That way, you can properly gauge if it is really worth it or not. So, let's go ahead examine what Apex Focus Group is all about, shall we?
What is Apex Focus Group and what does it offer?
At its core, Apex Focus Group is a crowdsourcing platform that connects people with focus group opportunities. And in case you are wondering if this site is legit or a scam, then let me address this concern right away. Yes, it is indeed a legit site.
They will really match you to focus group opportunities if you apply as a member of their site. Now, the question is, is it worth it?
To answer that, we first have to examine the earning opportunity it offers so you'll understand how the site works.
I have, therefore, made a video that gives you an inside look and shows exactly how you can earn from Apex Focus Group. You can also read all the details below the video.
Recommended: Check Out the Top Survey Sites in Your Country
The earning opportunity – Become a panelist
The only way to earn from Apex Focus Group is to become one of their panelists. When you become an Apex Focus Group panelist, you will be eligible to participate in focus groups, clinical trials, and even paid surveys.
And you don't have control over what will be offered to you. Let me explain how the process of earning from this site works.
When you become a panelist, what will happen is, Apex Focus Group will match you with any opportunity they can find whether focus groups, clinical trials, or paid surveys. They will base it on the information you provide in your profile when joining.
If your profile matches with any of the focus groups, clinical trials, and paid surveys they offer, you will receive an email invitation from them. Take note that the site doesn't have a member dashboard you can log in to, unlike many other crowdsourcing platforms.
So, everything will be done via email. That's why it is important that you check your email inbox regularly so you won't miss any earning opportunities.
Most of their paid focus group studies and surveys will offer you the option to participate online or in person. So, it does provide flexibility on your end, which is a good thing because you can still earn in the comfort of your home.
However, if you get invited to participate in clinical trials, then you have no choice but to go to the facility where it is being held if you want to participate. Don't worry though because they won't match you with any clinical trial opportunity if you don't live in the immediate vicinity.
Overall, you should, therefore, expect to receive more focus group or survey invites instead of clinical trials.
It is important to note though that even if you get invited to participate in an earning opportunity, there's still no guarantee that you will actually earn from the invite. You still have to go through a qualifying process. That's because the company/site that is conducting the research opportunity will want to make sure you belong to the demographic group it is intended for.
This is an important step in the selection process because the companies want to make sure they get relevant information and the only way to do that is to ensure the people participating can really relate to the topic.
That's why if you plan to become a member of their panel, you will have to be very patient because you will not always qualify for the focus groups or surveys they invite you to participate in.
Plus, you need to be aware of something that is a bit suspicious. After you sign up, you will receive emails with promotional offers/affiliate links. These emails make it look like you will get a chance to qualify for opportunities if you do tasks.
But in reality, it is just a way to get people to click their referral links, in my opinion, as they get paid when you click these. They don't really mention this anywhere on their website. So, in this regard, they aren't very transparent with what they have to offer.
Recommended: Check Out the Top Survey Sites in Your Country
How do you get paid?
Every time you successfully complete a focus group or paid survey (regardless if it is done online or in person), you will earn. The payment method will depend on the opportunity offered.
But usually, in my experience, if you participate in a focus group, you will get paid in cash via PayPal. For paid surveys, you will get paid via PayPal or sometimes, in gift cards. For clinical trials, payment will usually be in cash and you will get paid after each session.
However, since you will not actually be earning from Apex itself but just be referred to other sites, you will not get paid by Apex.
Therefore, the exact payout method and conditions will depend on the options you end up signing up for.
If you are looking for sites that pay quickly where you will actually earn on the sites themselves, I would recommend you check out the fastest paying sites as well.
How much money can you make?
The amount you can earn from Apex Focus Group will mostly depend on how often you get to complete any of the earning opportunities it offers.

As you can see in the photo above, you can earn a good amount ranging from $35 to $75 for a 1-hour focus group session. For paid surveys though, expect the reward to be significantly lower. The realistic amount you can earn from paid surveys will be around $2 to $5 per survey.
But there will be paid surveys that pay more. However, they will be few and far between.
As for clinical trials, they are actually the most lucrative opportunity offered by the site. You can potentially earn thousands of dollars from just one clinical trial.
But it's really hard to qualify for any of those, so it's really not something you can rely on. Consider yourself lucky if you even qualify for a clinical trial.
That being said, you really don't have any control over how many invites you will receive from this site. In my experience, it will all depend on where you are located. For example, if you live in the US or the UK, you will have access to more opportunities because most companies that conduct focus groups or paid surveys will be from companies in those countries.
But as I've explained earlier, there's something suspicious about the way Apex Focus Group works. All I've been getting are promotional emails with affiliate links that claim I can qualify for focus groups or trials if I do certain tasks.
But in reality, all it will ever do is ask you to click on affiliate links, which means they will get paid to refer you to other sites.
I do not have a problem with them making money referring people if they actually helped people. But I have a problem with them making it look like it is something else and that they make it look like you do tasks on their site and are not transparent about the fact that all they are really doing is to refer you to other sites to get paid for this.
This is really a huge deal-breaker, in my opinion. That's why I don't really recommend you join this site if you want to avoid receiving a lot of promotional emails.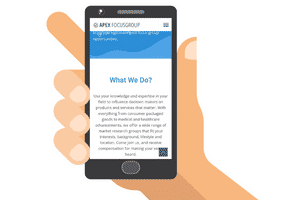 Can you use it on mobile?
As mentioned earlier, the site doesn't have a member dashboard you can log in to, so there's really no need to log in to anything. That's why you can't really expect the site to have an app.
And based on the earning opportunities it offers, the only time you can really use your mobile device is if you will be asked to answer a paid survey. For focus groups that will be conducted online, you will mostly have to do it in front of a laptop or desktop for a more seamless experience.
Their site is mobile-friendly, so expect the paid surveys to be mobile-friendly as well. That's a good thing because you won't have to zoom in just to read the content.
Who can join Apex Focus Group?
The site doesn't really mention which countries it is available in. I've checked their locations and found out they have an office in Singapore but they also have an office in Georgia, United States. That would lead me to believe that the site is available more or less worldwide.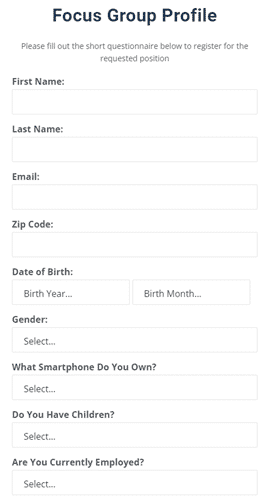 To register as a member, you have to be at least 18 years of age. Then, you have to fill out their registration form. Once you've submitted the form, you are now a certified panelist of Apex Focus Group.
All you have to do is wait for an email from them inviting you to participate in any earning opportunities they offer.  However, as I've explained earlier, the availability of opportunities will depend on where you are located.
And in my experience, the bulk of the earning opportunities offered are for people who live in the US. So, if you live somewhere else, don't expect to receive plenty of opportunities to earn.
Can you get support?
The site doesn't have a FAQ page you can refer to if you have any questions. But their application page actually does a good job of explaining what you can expect from them. So, most of the basic questions you might have can be answered by that page.
But in case you really need assistance from their support team, you can use the contact form provided on their Contact Us page to submit your inquiry. Or, you can also send your inquiry via email to [email protected]. These are the two options you can go for if you want to contact their support team.
Overall, I would say they have a decent support system in place for their members because they provide convenient ways for you to get in touch with their support team.
Final Verdict
Apex Focus Group is a legit crowdsourcing platform that will allow you to earn by participating in focus groups, clinical trials, and paid surveys. It certainly has its merits, but it also has some limitations you need to consider.
Let me wrap up this review with a summary of its pros and cons to give you an overview of what the site has to offer. Then, you can decide if it is really worth it for you or not.

Pros:

Cons:
Limited earning opportunities offered
Not transparent with what they offer
Sends emails that contain lots of promotional or affiliate links
In my opinion, Apex Focus Group isn't really a good option if you are looking for a site to earn from. I can't really justify recommending it as a site you can join because it is not transparent with what it offers.
The deal-breaker for me is those promotional emails that contain referral links. I do not have a problem with them earning by referring but I do not like they make it look like it is something else and that they are not transparent about what they offer.
That is why if you are looking for primary ways to earn extra cash, I would recommend you check out the top survey and GPT sites in your country instead. The sites on this list all have good earning potential and all of them are very transparent with what you get when you sign up.
If you have any comments, questions, or have any experiences with Apex Focus Group yourself, I would love to hear from you in a comment below.