Let's face it, mobile apps have become a big part of most people's lives today. There are hundreds of thousands of mobile apps today that that can be used for practically every need. And the best way to figure out which mobile apps are worth using is to read reviews about it.
This is where Apperwall comes in. This site promises to pay you for writing short reviews of mobile apps. So, not only will you be helping other people figure out if certain apps are good or bad, but you will also be able to earn a little bit of money.
The question is, is Apperwall a scam or is it a legit site that will really pay you for writing short reviews of mobile apps?
Let me answer this very important question right away. Yes, Apperwall is a legit Get-Paid-To (GPT) site that will pay you for writing reviews of mobile apps.
However, before you go ahead and sign up as a member, you have to figure out first if this site is worth joining or not. This Apperwall review will give you an inside look and show exactly what the site has to offer so you can decide if it is really the right option for you.
What is Apperwall and what does it offer?
As explained above, Apperwall is a GPT site that will pay you for writing reviews of mobile apps.
It's a pretty straightforward way of earning. Plus, you actually get to try different mobile apps and who knows, you might discover apps that will be useful for you.
Now, to understand the earning potential of this site and to learn how to earn from it, we have to examine the earning opportunities it offers. So, here's how you can earn from Apperwall.
Option 1 – Mobile app reviews
Apperwall will ask you to review mobile apps in exchange for a reward. You can log in to the site and see if there are apps you can review.
When an offer is available, you simply have to download the app from its respective app store (Google Play or iOS app store). Use the app for a few minutes and leave a review about it on Google Play or iOS App Store.
Before you start working on the offer though, I would suggest you read the instructions of each offer.
Because from time to time, there will be offers that will ask you not to write a unique review but instead, just copy and paste what the offer wants you to write on the review.
Personally, I do not like this type of reviews as it is clearly to manipulate the star ratings to get more people to join, and I hate fake reviews as people might end up wasting a lot of time by following the advice they give.
So I would stay away from this type of reviews – when writing a review, it should always be an honest one and not decided by the company behind, in my opinion.
After you have finished writing a review of the app, you will have to send some kind of proof to Apperwall (usually a screenshot) that you really did the review.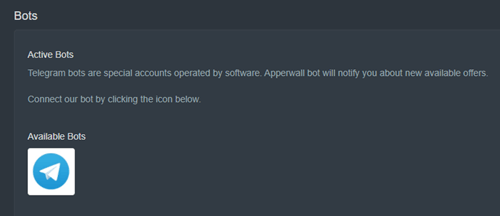 Now, app review offers won't be available all the time. So, you'd have to regularly check the member dashboard to see if there are available apps you can review.
Or, you can set up a notification bot called Telegram bot so that you will be notified if there are new app review offers available. When you log in to the site, you will immediately see the link to install the Telegram bot. Simply follow the instructions provided.
Once it is set up, you don't have to keep logging in to the site just to check if there are new app review offers. You can just log in when the bot notifies you that there are new offers. It's a much more convenient process, so I suggest you take advantage of it.
Option 2 – Referral program
Apperwall also has a referral program you can participate in so you can earn additional rewards. Their referral program has 3 tiers.
When you invite a person to join the site, they will become your level 1 referral. If your level 1 referral will invite another person to the site and they sign up, then that person will become your level 2 referral.
Then lastly, if your level 2 referral will invite a person and they sign up, that person will become your level 3 referral. In my opinion, a multi-tiered referral program can be a very profitable referral program because you will have plenty of opportunities to earn passive income.

As shown in the photo above, before you can earn from your referrals, they must meet certain conditions.
First, they must register to the site using your referral link. Then, they have to complete app review offers and actually withdraw their earnings, which means they will have to reach the payout threshold (I will talk about this in the next section).
So, the people you should invite are those that are really interested in working on the site. As for what you will receive for your referral bonus, for level 1 referrals, you will get a 50% commission of the amount they will withdraw. For level 2, it will be 30% and for level 3, it will be 20%.
It's actually a pretty good deal, in my opinion. But as I've said, your referrals need to be active on the site for you to earn the said rewards.
How do you get paid?
Every app you review will earn you a certain amount which will be stored in your Apperwall account balance.
Once you reach their threshold of $9, you can then withdraw your earnings via PayPal. This is the only payment option available. But, in my opinion, this is the most convenient payment option anyway.
They do say on their site that gift cards will be available in the future, but as of the writing of this review, gift cards aren't available yet. I do like the fact that they offer a convenient payment method. Plus, the threshold is relatively low, which won't be impossible to reach.
If you are interested in more sites that have a low payout threshold, I suggest you also check out the fastest paying sites.
How much money can you make?
Compared to other GPT sites, Apperwall really doesn't offer a lot of ways for you to earn. So, you're really at the mercy of whether or not there are available app review offers or not.
Each offer will usually allow you to earn around $0.5 to $1, which is fairly decent. On their homepage, they paint a scenario where you will be able to earn $30 in one month. So, that means you will receive one app review offer every day.
But, in my experience, this will rarely be the case. And based on feedback from long time members, opportunities are actually quite rare. You will be lucky to receive two offers in a week. So, it will take a bit of patience to reach their threshold

Apperwall does have a system in place where you can get an income boost by meeting certain requirements. As shown in the photo above, your earnings per review will increase by a certain percentage if you qualify for their income boost.
It's a nice little bonus, in my opinion, because you don't really have to do anything special since most of the requirements to get the boost are very achievable. You just have to do what you need to do on the site.
But again, these boosts are really a bit useless unless you have apps to review.
So, overall, I would still say the site has a low earning potential. There simply isn't enough earning opportunities available for you to earn a decent amount in a short period of time.
Can you use it on mobile?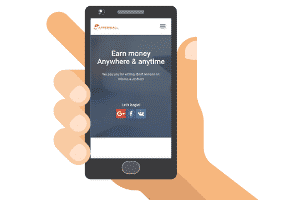 The site doesn't have a mobile app you can download (although I believe they had one a couple of years ago). But their site is mobile-friendly. You can read all the content without having to zoom in. So, it's fairly convenient to work on this app from a mobile device.
This is a very important aspect because after all, you will have to download mobile apps.
So, at least, you will be able to work on the site conveniently from a mobile device even though they don't have an app.
Who can join Apperwall?
Apperwall does not say exactly who can join. You can, in theory, sign up as a member regardless of where you live.
However, after doing a lot of research, I found out that it is not supported in some countries which means you will not get any earning opportunities there.
The problem is just that they do not make it clear which countries it will be worth joining from. So if you are interested after reading this review, you have to just go and test it in your country.
They don't mention this on their site, but technically, you also have to be at least 18 years old or older to join since they use PayPal as their payment method and 18 is the minimum age required to have a PayPal account.
To sign up as a member, you can use your Facebook or Google account. They don't have an option where you can provide your own login details, which is pretty weird, in my opinion. But overall, the sign-up process is very simple, so you shouldn't have any problems becoming a member.
Just remember to add your PayPal address once you are logged in to the site.
Can you get support?
Their FAQ page, in all honesty, is a bit disappointing. There are only four questions on it and the answers provided aren't even that comprehensive. So, if you have any questions about the site, you will most probably have to talk to their support team.

At first, it looks like they have great support options as they give you two ways to get in touch with them. You can either chat with them using the chat window on their site or you can send them an email at [email protected].
Their chat support is only available when you log in to the site though. It will also ask you for your email address. So, if you happen to go offline when they reply, you will still be able to read what they replied.
However, it says when you open the chat that the typical response time is 2 hours. This NOT always true, in my experience.
I have tried contacting them there and it took several days before I got a reply.
So you should not expect fast support even though their chat feature makes it look like you can.
Final Verdict
Apperwall is a legit GPT site where you will be paid to write reviews of mobile apps. It has a couple of good features but it also has a few limitations you need to consider before joining.
So, let's end this review with a summary of its pros and cons so you can get a full overview before deciding whether you should join this site or not.

Pros:
Offers payment via PayPal
Relatively low payout threshold

Cons:
Limited earning opportunities offered
Limited payment options
The site lacks relevant information especially their FAQ page
You are not always allowed to post honest reviews
Their support is a bit slow
Not clear which countries they accept members from
The main problem of this site, in my opinion, is that it doesn't offer plenty of ways for you to earn. If there aren't any apps to review, you won't be able to earn from this site. Although you are able to earn a decent amount for each review, you'll just be stuck with nothing to do if there aren't any apps to review.
Also, I do not like that for some reviews, you are not allowed to share your honest opinion but have to post a pre-written review.
So, I would say this site is not worth joining if you are looking to earn quickly and regularly. There are simply far better choices out there. And for a list of sites you can earn decent money from, I would recommend you check out the top survey and GPT sites in your country instead.
Most of the sites on this list offer several ways for you to earn rewards and offer several payment options. Plus, all of them have good earning potential and you will definitely be able to find a site you can join regardless of where you live.
If you have any comments, questions, or have any experiences with Apperwall yourself, I would love to hear from you in a comment below.