Doesn't it sound like a good way to earn extra cash just by using your mobile phone and going around town performing short tasks?
There are actually apps that offer this – one of them is appJobber. However, not all apps that promise this kind of opportunity are really worth using.
So is appJobber one of the legit options worth your time or is it a scam?
This is exactly what this appJobber review will help you find out, so you know exactly what to expect before signing up.
It will give you an inside look and show all the details so you know all the pros and cons before deciding if this is for you or not.
So, let's go ahead and check out appJobber, shall we?
What is appJobber and what does it offer?
appJobber is a micro-job app that will allow you to earn by completing small jobs. It's pretty similar to another micro-job app called EasyShift.
It is indeed a legit app that will pay you once your work is approved.
Here's a short video explaining what the app does.
Now, to clearly understand how the app works, we have to take a closer look at the earning opportunity it offers. This way, you can also know how well you can earn from it and if it will be worth your time.
So, here's how you can earn from appJobber.
The earning opportunity – Jobs
The only way for you to earn from this app is by completing micro-jobs.
When you log in to the app, you will be able to see all the available jobs you can do by going to the "Find Jobs" section.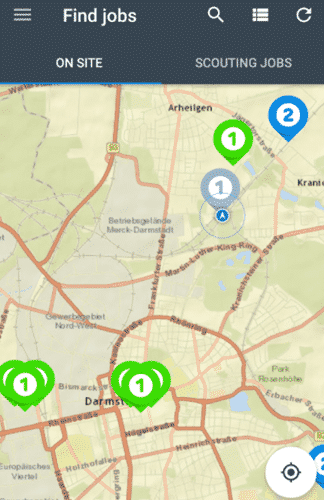 You can then view all the jobs available in list mode or map mode. The list mode is more compact but the map mode will allow you to easily view the jobs nearest to your location.
When you see a job you are interested in doing, just press it and you will be taken to the Job Details page. You will then see what the job is asking you to do, as well as the reward you will earn for completing it.
Most of the time, their jobs will involve taking photos of certain products or items in stores/shops. Sometimes, you can also find jobs that will ask you to take photos of certain locations or spots.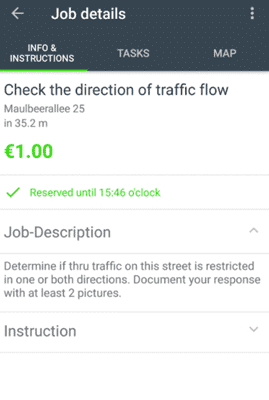 Aside from the instructions and the reward you will earn, you will also see the deadline for the job in their job details page. Make sure to take note of the deadline and only take on a job if you are sure you are able to meet the deadline.
appJobber has two types of jobs available: normal jobs and scouting jobs.
Normal jobs are jobs that will require you to go to certain locations and take photos. Occasionally, you will have to answer some additional questions or visit certain waypoints.
Scouting jobs, on the other hand, do not have fixed coordinates and are therefore not bound to a certain location. So, they can be completed either from home or by collecting relevant information about a specified area.
Between the two types, normal jobs are by far the most common jobs you can find inside the app.
Once you see a job you are interested in, go to the details and read the instructions carefully. When you are ready to do the job, press the "Accept Job" button.
It will then be reserved for 3 hours and cannot be done by any other Jobber during this time. When the reservation time has expired, you can reserve the same job again if you have not completed it yet. This can be done a maximum of three times in a row.
If you still haven't completed the job after that, there will be a 24-hour blocking period. During this time, you will not be able to access the corresponding job. This is a safety net that will prevent members from reserving jobs for days on end so that other jobbers can't take it.
One thing to note about booking jobs is, when you accept a job, you can't reserve another job until you complete the current job you've booked. Take note that you can cancel the job anytime by pressing the cancel button on the menu in the top right corner of the job page.
Once you have completed the job, you will have to submit it for review. appJobber will then check everything you've submitted and if everything is in order, they will credit the amount promised on the job details page (I will talk about how you can withdraw your earnings next).
This review period can last up to two weeks, which, in my opinion, is quite a long time to wait to see if your work was approved or not.
Other similar apps usually have a way shorter review period. So this is something you need to be aware of so you do not expect to get your rewards right away.
Recommended: Check Out the Top Micro Job Sites
How do you get paid?
As explained above, you will earn a specific amount for every job you complete. It will be credited to your appJobber account balance.

You then have two options to withdraw your earnings. You can withdraw it via direct bank transfer (SEPA bank transfer) or you can withdraw it via PayPal. None of the payment options will require you to reach a certain threshold before you can withdraw your earnings.
However, I do not really recommend you withdraw your earnings every time you complete a job. That's because there will be a transaction fee involved for every PayPal withdrawal you do. PayPal charges €0.35 for each individual transfer and also deducts 2.49% for each transaction up to €2,000.
The fee might not be that high, but if you withdraw your earnings right away, the fees will pile up and you will lose a significant amount of money. So, I suggest you wait until you've earned a larger amount and request it then. There will still be a 2.49% deduction, but you only have to pay the fixed fee of €0.35 once. So, you can save a bit of money.
If you want to avoid transaction fees, you should withdraw your earnings via direct bank transfer instead.
Overall, I would say their payment options are pretty convenient. I especially like the fact that you can withdraw your earnings directly to your bank account. This is the most convenient payment option, in my opinion.
If you are interested in more sites that pay via direct bank transfer, I would recommend you check out the top sites that pay via direct bank transfer.
How much money can you make?
Usually, with micro job apps like this, the amount you can earn will mostly depend on your location. If you live in a city where there are plenty of jobs available, the earning potential of the app will be pretty good. You can usually find a lot of jobs in major cities (I will discuss later which countries the app is available in).
But if you live in a city where there are only a few jobs available, the earning potential will naturally be significantly less.
As for how much you can earn per job, it will depend on the complexity of the job. But it is always at least £1 or €1 (the currency depends on which country you live in).
Usually though, you can earn around €1 to €4 per job. There are some jobs that pay more and you will be able to quickly identify which jobs have higher pay because they are color coded if you view the jobs available in map mode.
The jobs marked in red are the highest paying jobs you can find. So, I would suggest you book it right away if a red job appears on your map.
Can you use it on a desktop?
While you are able to log in to their site from your laptop or desktop, the only thing you can really do on the website is to view the status of the jobs you've done, as well as withdraw your earnings. As for the actual work that needs to be done, you will have to use their app.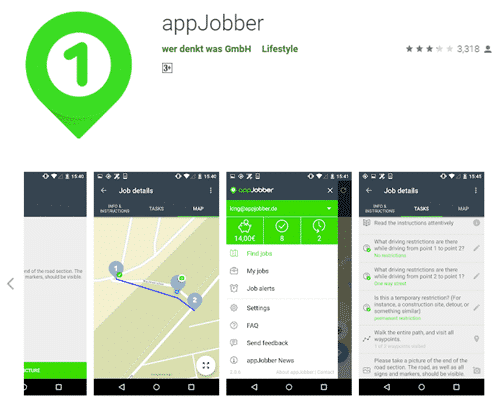 Fortunately, their app is compatible with both Android and iOS devices. So, you shouldn't have any issues with the compatibility (unless of course, if you are using a Windows phone). Their app is user-friendly, so you'll easily get used to how the app works.
One thing to note when using their app is, you have to make sure you enable your GPS so the app will be able to track your location.
Who can join appJobber?
appJobber is only available in Europe. To become a member, you have to be at least 18 years of age. In the photo below, you will see the countries it is available in.

To become a member, you can register through their website or their app. If you registered through their website, you can just use the login details when you login to the app.
One thing to note about the jobs you can do on appJobber is that they can only be seen and completed in countries that use the same currency as the country of residence stated in your account.
For example, an account that's registered in Germany can complete jobs in Germany, Austria or Spain, but not in the UK or Denmark. The jobs offered in Switzerland are an exception. That's because jobs are also offered in euros and can therefore be completed by users from Germany, Austria, France, Italy, etc.
Can you get support?
If you have any questions about the app or your account, you can check out their FAQ page first. It's fairly comprehensive since it discusses most of the basic topics you need to know about appJobber.
Now, if you can't find the answers you are looking for, their site doesn't have a contact form, but you can contact their support team by using their app. You can go to the Send Feedback section to send your inquiries.
For contesting jobs that were denied, you can just click on the objection link in your rejection mail. Your result will then be checked again with consideration of the comment in your objection.
Overall, I would say appJobber has a decent support system in place for their members since they make sure you will be able to get in touch with their support team or contest the jobs you've done that were denied.
Final Verdict
appJobber is a legit micro job app that will pay you for completing small jobs. It has a couple of good features to offer but it also has certain limitations you need to be aware of.
To conclude this review, let me summarize the app's pros and cons so you can get an overview of what the app has to offer. That way, you will be able to decide if this app is worth it or not.

Pros:
No payout threshold
Their app is user-friendly
Offers convenient payment methods

Cons:
Limited earning opportunities offered
You can only reserve one job at a time
Quite a long wait time for jobs to be approved
appJobber, in my opinion, can be a decent secondary app to earn from, if you are eligible to join. However, you shouldn't really expect to earn a lot from it because it offers limited earning opportunities.
It also doesn't help that you can only reserve one job at a time. There are other micro job apps that will allow you to reserve multiple jobs at any given time. While that may seem like a trivial feature, it can actually help you earn more because there's a higher guarantee of earning due to multiple booked jobs.
I would only recommend you join appJobber if you need an extra app to earn from and if you live in a city with plenty of jobs. But if you are looking for primary sources of extra cash, I would suggest you instead check out the top survey and GPT sites in your country.
The sites on this list all have good earning potential and offer ways for you to earn without even leaving your home. Plus, you will also find a site you can join regardless of where you live.
If you have any comments, questions, or have any experiences with appJobber yourself, I would love to hear from you in a comment below.