EasyShift is an app that claims you can get paid to shop, eat, and explore in your city. Sounds like a pretty fun way to earn, right?
Well, there are actually a lot of apps that offer the same kind of earning opportunity.
So, is EasyShift better than any of the other apps with the same earning opportunity? And is this app really legit or is it a scam you need to stay away from? This EasyShift app review will help you answer these questions.
It will also give you an inside look so you will know what to expect from it before you even sign up. That way, you will be able to decide if this app is a good fit for you or not.
What is EasyShift and what does it offer?
EasyShift is a data collection app that will pay you for doing simple jobs at local stores and shops. It is a lot like Field Agent, another data collection app that pays you for doing easy jobs. As for its legitimacy, it is indeed legit because it will really pay you for doing the said jobs.
But to truly gauge if this app is worth your time or not, we have to take a closer look at the earning opportunities it offers. This will help you understand how the app really works and how well you can earn from it. So, here's how you can earn from EasyShift.
The earning opportunity – Shifts
The only way for you to earn from this app is by doing shifts. This is what they call the jobs they offer.
There are two different types of Shifts: the Anywhere shift and the Location-based shift.
Anywhere shifts will automatically show in your Reserved Shifts list and are optional. These are generally opinion-based surveys to help improve EasyShift.
Location-based shifts, on the other hand, require you to go to a specific store location and complete tasks that may include: capturing categories with photos, surveys, price checks, and promotion checks. 
When you log in to the app, you will be able to see all the available shifts you can take if you press the "Shifts" option at the bottom.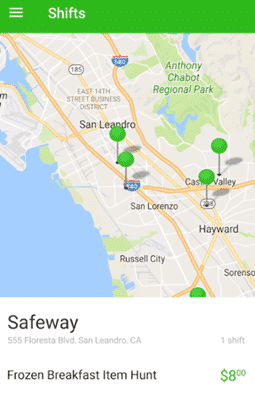 You can then view all the available shifts in map or list mode. I personally prefer the map mode so I can easily spot the shifts that are closest to my location. If a shift is marked unavailable, it means somebody else is already working on it.
If it says available, then you can reserve it. If you see an available shift that you are interested in doing, simply press it to see the full details. You will then see the instructions you need to follow, the requirements needed to complete the shift, the deadline, as well as the reward you will earn.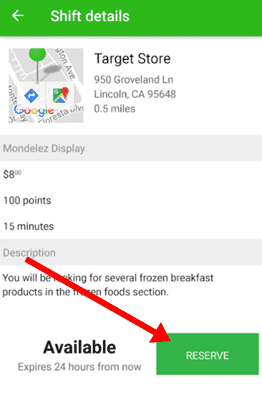 To reserve a shift, simply click the "Reserve" button.
In most cases, once you reserve a shift, you will typically have a period of 12 hours or less to complete it. That's why I would suggest you only reserve shifts when you are sure you are able to complete it within that time period.
Another thing you need to take note of when reserving shifts is, shifts have a hard expiration date for the campaign (a collection of similar Shifts). So, if a shift belongs to a campaign that is about to expire, the expiration date will take precedence over the usual 12-hour leeway you get.
When you complete a shift, EasyShift will then review your work and if everything is in order, you will then receive the amount promised, as well as a certain number of points. Later on, I will explain to you what these points are for.
Recommended: Check Out the Top Survey Apps
How do you get paid?
As mentioned above, for every shift you complete, you will earn a certain amount. And the good thing about EasyShift is, unlike some other apps, you don't actually have to reach a certain threshold to withdraw your earnings.
What happens is, when you complete a shift and your work passes the verification process, you will receive the payment via PayPal. However, don't expect to receive the payment immediately. Typically, it will be credited to your PayPal account in about 48 hours, but sometimes it can take more than that.
But overall, I like how simple their payment system works. I also like the fact that you don't have to reach a threshold to withdraw your earnings. And even though they only pay you via PayPal, it's still a very good payment method because it is one of the most convenient options around today.
If you are interested in sites that pay via PayPal, I would suggest you check out the top sites that pay via PayPal.
How much money can you make?
Every shift you complete will earn you around $4 to $20, which is a relatively decent pay range, in my opinion. But the amount of money you can make from an app like EasyShift will really depend on your location.
If you live in a city where there are lots of shifts available and there aren't a lot of Shifters, then you will stand to benefit the most from this app. Conversely, if you live in a city where there are only a few shifts available, then the earning potential of this app will be significantly lower.
Also, you have to keep in mind that you will be competing with other Shifters for available shifts. So, it is important to always be on the lookout for available shifts. Fortunately, EasyShift has a system that will allow you to reserve multiple shifts.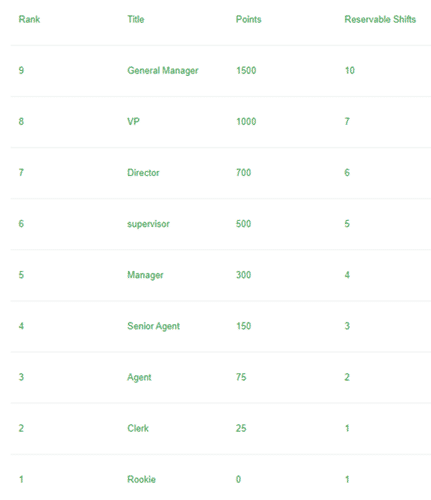 Earlier I mentioned that you will also earn points as a reward for completing shifts. Those points will actually be used to increase your rank in the app. As shown in the photo above, you will start with the rank Rookie.
With this rank, you can only reserve shifts one at a time. But as you keep completing shifts, you will eventually rank up and you will be able to reserve more shifts. This is a very valuable perk in the app because the ability to reserve multiple shifts can make a huge difference to the earning potential of EasyShift.
So basically, the earning potential of this app will start to get better the more shifts you complete. By the time you reach the highest rank, you will be able to reserve 10 shifts at a time, which is a lot. You can basically own all the shifts in your area.
However, I strongly advise you to refrain from reserving shifts that you don't plan to complete because if you do that too often, your account will get banned and you will not receive any pending payments that you are supposed to receive.
So, if you plan to be a long-term "Shifter", I would recommend you only reserve shifts you intend to complete.
Can you use it on a desktop?
EasyShift is a mobile-only platform, so you won't be able to work on shifts from your laptop or desktop.
Also, the nature of the work you need to do will require you to go to certain locations and take photos. You simply can't do that with a laptop or desktop.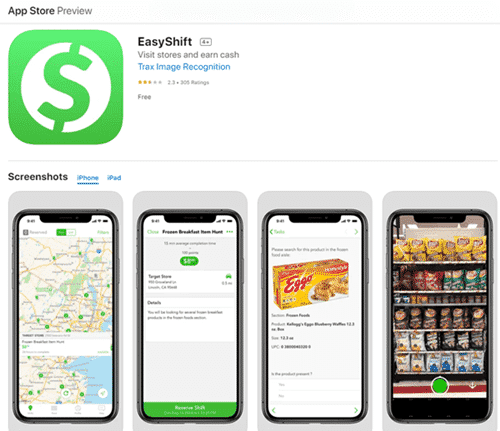 So, you will really need a mobile device if you want to use EasyShift. The good news is, their app is compatible with both Android and iOS devices. So, compatibility won't really be an issue. Their app is also very user-friendly. You will easily get used to how it works.
Who can join EasyShift?
While it is not specifically indicated on their site or their app, EasyShift is really only available in the US and the UK. So, if you live in another country, then this app is not for you. You also have to be at least 18 years of age to register as a member.
Additionally, some shifts will require you to be at least 21 years of age to participate.
Now, to become a member, you first have to download the app and install it on your mobile device. The app will ask you for permission to allow it to determine your location. You have to allow it because that will be the only way for the app to determine which shifts will be made available for you.
Once it is installed, simply open the program and go through the registration process. When you complete the registration, I would recommend you log in to the app and set up your PayPal address first before you begin reserving shifts.
Can you get support?
What I like about EasyShift is, it has a fairly comprehensive FAQ page that discusses most of the basic things you need to know about the app. So, if you have any questions about the app or your account, you can refer to their FAQ page first.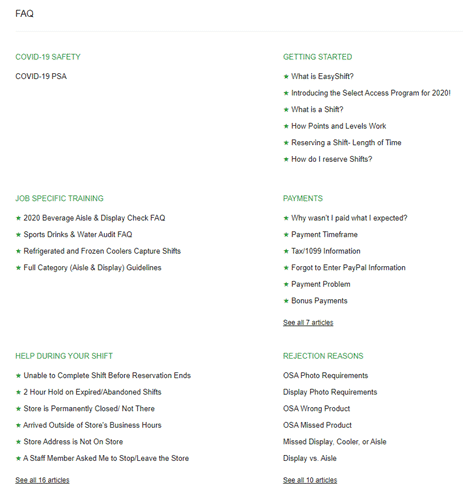 But if you can't find the answers you are looking for, you can submit your inquiry through their FAQ. You will find a "Submit a request" link at the top of the page. Simply click that link and fill out the form. You can also use the support section of the app to get in touch with their support team.
Overall, I would say EasyShift has a decent support system in place because they provide a convenient way for you to get help from their support team.
Final Verdict
EasyShift is a legit data collection app that will pay you for completing simple jobs. It has good qualities and it has certain limitations you need to keep in mind as well.
So, let's finish this review by summing up its pros and cons to give you a good overview of what the site has to offer. This should help you decide whether you should use this app or not.

Pros:
No payout threshold
Offers payment via PayPal
The app is user-friendly

Cons:
Limited earning opportunities offered
You will have to work your way up to improve the earning potential of the app
In my opinion, EasyShift is a decent app to use if you are eligible to register. However, don't expect to earn a significant amount from this app even though it pays relatively well per task. The earning opportunities are quite limited especially when you first join.
The amount you can earn will start to pick up when your rank as a Shifter increases because you can reserve multiple shifts at once. That's when you are able to earn a decent amount from it.
So, to answer the question posed at the start of this review, EasyShift isn't really better than the other apps like it. But, it's not also worse. You could say it's the same as the other apps that offer the same kind of opportunity. In my opinion, it can serve as a decent secondary app to earn from.
Now, if you are looking for primary sites to earn from, I would highly recommend you check out the top survey and GPT sites in your country instead. The sites on this list all have good earning potential even right from the start. You also don't have to compete with other members for the availability of earning opportunities.
Plus, you will also find a site you can join regardless of where you live.
If you have any comments, questions, or have any experiences with EasyShift App yourself, I would love to hear from you in a comment below.