Cashvib is a site that claims you can earn just by inviting people and watching ads. It sounds like a promising way to earn extra cash because it doesn't require a lot of effort to earn.
But I would suggest you hold your horses a bit and read this Cashvib review first.
You see, when a site offers a very simple and effortless way to earn good money, there is usually a caveat. I can't tell you how many times I've found that out the hard way.
And let me just reveal right away that there are some very important details you need to know when it comes to Cashvib.
I have personally tested it, and in this review, you will get an inside look and learn exactly what to expect.
That way, you'll know if it is really worth it or not. So, let's go ahead and put this site under a microscope, shall we?
What is Cashvib and what does it offer?
Cashvib is a Paid-To-Click (PTC) site that will supposedly pay you for viewing ads. I say "supposedly" because I encountered a few red flags with this site while I was testing. Later, I will explain what these red flags are.
Now, the first step to finding out if this site is worth it or not is to understand how to earn from it. That way, you'll have an idea of what you need to do to earn rewards.
For that, I have made a video that gives you an inside look and shows exactly how Cashvib works. You can also read all the details below the video.
Recommended: Check Out the Top Survey Sites in Your Country
Option 1 –Viewing ads
The primary way to earn from this site is to view ads. When you log in to the site, you will immediately see all the available ads you can view (refer to photo below).

As you can see in the photo above, you will immediately know how long the ad is and how much you will earn for watching it. To start watching the ad, just click the "Complete" button.
Then, a new browser tab will open. However, this will actually not be the ad you will be viewing. It's just another spam ad, and you need to close it. You will have to close this tab first and click the ad again.
Once you've done that, you'll see a pop-up window saying it will load the ad. After a few seconds, it will load the ad you need to watch and you will see a countdown timer in the upper right-hand corner of the page.
Just let the timer finish, and once it is done, you will see a "Skip" button instead. You just have to press the button to close the ad and get back to the member dashboard. Once the ad is closed, the reward will be credited to your account balance.
There aren't a lot of ads available. When I was testing, there were only around 5 to 6 ads. Normally, with PTC sites, you can usually view more than 20 ads per day. Later on, I will explain why this matters.
But, I do have to say that they pay quite well for every ad you view. You'll usually earn around $0.30 to $0.6 per ad you view. While this may not sound like a lot, it's actually a very high rate for viewing ads.
Usually, PTC sites will pay you around $0.001 to $0.005 per ad you view. That's the reason why this site really caught my attention. It offers an unusually high reward rate which makes me think there's a catch to this site, but more about that later.
Option 2 – Referral program
A referral program is an earning opportunity that will allow you to earn by inviting other people to join the site. To earn from this opportunity, you will have to convince people to sign up as a member of Cashvib.

You'll have to share your invite link with the person you want to invite. Then, when they click the link and sign up as a member of the site, they will become your referral, and you will receive $1. Your referral will, in turn, receive $10 as a bonus.
It's a very simple way to earn rewards, but personally, this site isn't really something I would recommend to my friends. I will explain why later.
Recommended: Check Out the Top Survey Sites in Your Country
How do you get paid?
Earlier I mentioned there's a catch to this site. Well, this is what I'm talking about. As explained above, you'll earn a certain amount every time you view an ad or get a referral. The question is, how will you be able to withdraw your earnings?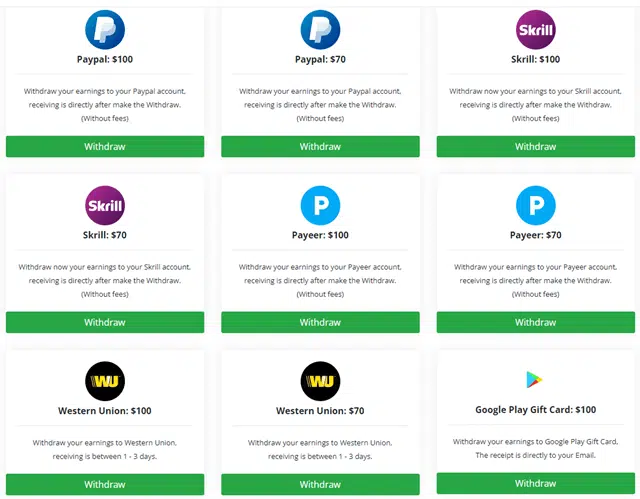 Well, as you can see in the photo above, the site actually offers a few payment methods – PayPal, Skrill, Payeer, and Western Union, to be exact. But the problem is that they have a very high payout threshold.
In order to withdraw your earnings, you'll have to earn at least $70 first. That's an insanely high threshold, and if you just rely on viewing ads, it will take you quite a long time to hit that threshold, considering there are only a few ads available daily.
So, the most likely scenario, if you want to reach the threshold immediately, is to invite a lot of people to join the site. And as I've mentioned earlier, this isn't exactly a good site to recommend to your friends (or anyone for that matter).
I would say their payout threshold is really unrealistic, but there's more to it than that, and I will explain it in the next section.
That's why I would instead suggest you check out the fastest paying sites. These sites have a very low payout threshold, so you don't need to wait that long to withdraw your earnings.
Red flags you need to be aware of
As I've mentioned earlier, I encountered a couple of red flags that will make you not want to use this site. I have personally encountered a lot of sites that are very similar to Cashvib, and they all share these red flags.
Red flag #1 – Has a lot of pop-up ads that contain malicious content
The first thing I noticed while testing the site was that it was very spammy. Every time you try to click a link on the dashboard, a pop-up ad will appear.
And worst of all, these pop-up ads usually triggered my anti-virus program. That means all these pop-up ads either contain a virus or something harmful to your computer.
This is a deal-breaker for me. I personally don't like using sites that will trigger my anti-virus constantly. Not only is it very annoying to deal with, but you also risk infecting your computer with malware, spyware, or adware.
And if you keep ignoring it and keep using the site, sooner or later, you will notice that your computer will start running slow, or worse, your password and personal information will be stolen. That is why I avoid a site like this at all costs because there is no benefit to using it.
You see, these ads are actually how Cashvib can earn. They charge their advertisers every time their ad is viewed, and what better way to get views than to force their members to view even just for a few seconds?
It's a very unethical way of earning, in my opinion. Plus, the pop-up ads you will see will usually promote something that isn't really useful. That's why I highly advise you not to click any of the ads.
Red flag #2 – Very high payout threshold
As I've explained earlier, the site has an unusually high payout threshold. And based on my experience of testing hundreds of sites, when a site has an unusually high payout threshold, that can really mean just one thing. The site is not willing to pay you.
I have encountered a lot of these sites that all do the same thing. They appear to pay a good amount for their earning opportunities, but they also impose a very high payout threshold.
While that may not sound suspicious, what happens is that when you've earned around half of the payout threshold, you'll start to notice that the rewards you will receive will decrease drastically. It's sort of their fail-safe to prevent you from reaching their payout threshold.
They keep reducing the reward until you just eventually give up. But if somehow you get to the threshold, they will then impose an additional impossible requirement for you to withdraw your earnings.
For example, they will say that before you can withdraw your earnings, you'll need to get a minimum of 50 referrals, or they will say you need to pay a fee to get your earnings out.
In the end, you'll just end up giving up because the additional requirements are usually either impossible or outright crazy.
A site like this will usually force you to invite people because they can potentially get more people to sign up to the site and therefore view their spam ads and in turn earn more without paying you a single dime. It's really just a never-ending cycle that will always work in their favor.
Final Verdict
Cashvib is a PTC site that claims you can earn simply by viewing ads. It offers a very appealing way to earn, but as you can see, there are some red flags you have to factor in.
Let me finish this review with a summary of its pros and cons to give you an overview of what the site offers. Then, you can decide if you should push through with the registration or not.

Pros:

Cons:
The site is very spammy
Has a very high payout threshold
Limited earning opportunities offered
You will never get paid
If it is not clear by now, then let me just reiterate that Cashvib is not a site I would recommend you join. The site simply has red flags that you can't ignore. If you decide to join this site, you will just waste your time because you will most likely not get paid.
Aside from that, you are risking that your computer will get infected with viruses, malware, or spyware. That's why I would recommend you find another site to earn from.
And speaking of sites that you can earn from, if you want a safer way to earn a decent amount of extra cash, I would recommend you check out the top survey and GPT sites in your country instead. The sites on this list all have good earning potential, and they are all legit and free to join as well.
You will be able to safely earn a decent amount in no time.
If you have any comments, questions, or have any experience with Cashvib yourself, I would love to hear from you in a comment below.