There's an app called Cashzine that promises to pay you for reading. Yes, you read that right. All you have to do is read online content.
So, it's seems like a very easy way to earn. Now, if you are hesitant to use this app because it sounds too good to be true, then your hesitation is warranted. After all, this kind of offer really sounds fishy.
So, is Cashzine legit or is it just another scam? Let's address this concern right away. Yes, Cashzine is a legit content reading app. It does reward you for reading articles among other things.
But is it worth it though? This is a different story and to answer this question, there are a few things we must consider. This Cashzine review will reveal the full details so you can decide if you should download and use this app or not.
What is Cashzine and what does it offer?
Cashzine is a content reading app where you will be able to earn rewards by reading articles. This mobile-only platform matches content to your interests and encourages you to form a good reading habit.
Now, to properly gauge the earning potential of this app, we have to take a closer look at how you can earn from it. So, here are the earning opportunities Cashzine offers.
Option 1 – Article reading
As stated above, you will be able to earn rewards by reading articles. This opportunity is not as easy as it sounds though. There are a few things you need to keep in mind when doing this.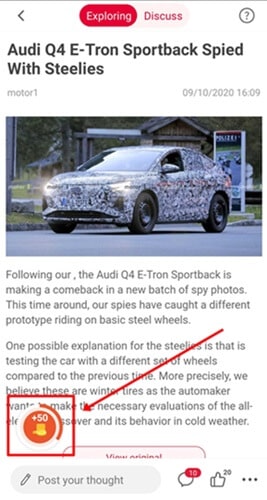 When you log in to the app, you will immediately see all the articles you can read. You just have to tap on an article you want to read. Then, it will open the article and all you have to do is read it.
If you look at the photo above, you will notice there's an icon with a coin logo on the lower left hand corner. This will actually be your timer. When you first scroll down the page, the timer will start. It will eventually stop after a few seconds.
To make the timer run again, you have to scroll down again. Once the timer reaches one rotation, you will earn 50 coins (more about the value of the coins later).
If you have been using BuzzBreak, it is very similar to the system that app uses.
Now, you might be thinking that you don't really need to read the article. All you have to do is keep scrolling to make the timer run.
That will work for a while, but their system is designed to detect users that don't actually read the articles and vice versa. And when they do, they will deduct a certain number of coins from what you will earn for reading articles (I will discuss more about this later). But basically, there will be a penalty for cheating their system.
This is their way of making sure you really read the articles. Also, this is how they ensure you develop a good reading habit, which is quite nice, in my opinion.
Option 2 – Daily offers
You can earn additional coins for completing their daily offers. These offers are really more like bonuses you can claim for doing something specific in the app.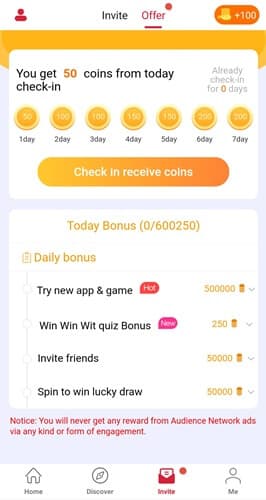 As you can see in the photo above, you can claim a daily login bonus or do other stuff like trying out a new app or answering a quiz.
You can claim the bonus once you've completed what it will ask you to do. And take note, you can claim the bonuses only once every day.
You won't really earn a lot of coins from this opportunity but it's nice to have as an additional source of coins.
Option 3 – Referral program
Lastly, you can also invite other people to join the site through their referral program. All you have to do is share your invite link with the person you want to invite. When they download and install the app, they will become your downline.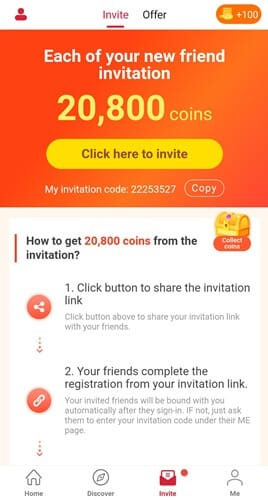 Before you will receive your referral bonuses though, your downline has to meet the requirements needed (refer to the photo above). You will receive 6,400 coins once your downline reads an article for the first time.
You will receive an additional 4,800 coins if your downline manages to earn at least 2000 coins for 3 consecutive days. You will then receive an additional 9,600 coins if your downline manages to earn 5,000 coins for 7 consecutive days.
So, you need to make sure the person you will be inviting is really interested in using this app for you to maximize your earnings. But if they don't meet the requirements though, you will still earn a 15% commission from the number of coins that all your downlines earned for the day.
You will receive this commission the next day.
I like the fact that you can earn in a lot of ways from their referral program. It really incentivizes members who work hard in inviting people to join the app.
And obviously, the more people you invite, the more you will earn. However, even though it might seem like you can earn a lot from this, you will see later that the value of the coins you get is really not impressive.
So still not a very good referral program, in my opinion.
How do you get paid?
As you already know, you will receive coins for everything you do in the Cashzine app. You can then convert the coins you've earned into cash via PayPal or a different payment gateway that will depend on the country you live in.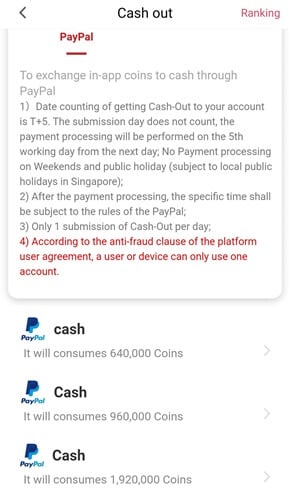 The threshold and the amount you can withdraw will also vary depending on the country you live in. But just to give you an idea, it will be somewhere around the $8-$10 mark. You will be able to see how much your coins are worth when you go to your profile and check your coin balance.
It will display the coin conversion rate and again, this will vary depending on the country you live in.
I like the fact that they have a relatively low payout threshold. This makes it easier to reach so you can start withdrawing your earnings. However, as I will go more into the next section, it will still take some patience to reach the threshold.
If you are interested in more sites that have a low payout threshold, I suggest you check out the fastest paying sites.
How much money can you make?
You already know Cashzine has a low payout threshold. But this really doesn't tell the whole picture of how fast you can withdraw your earnings. Although it has a low payout threshold, you will still need to spend a considerable amount of time to reach their threshold.
This is because the reward you will earn for reading an article isn't really that much. You have to remember, you will only earn 50 coins per timer rotation. That will be equivalent to less than a dime. You will literally have to read hundreds of articles before you can reach their threshold.
Plus, if you get caught cheating their system (where you just keep scrolling to earn coins and not actually reading the article), you will earn less. Let me paint a picture with this.
You already know you will earn 50 coins every time the timer finishes one rotation. If you get caught cheating, instead of earning 50 coins, you will only earn 45 coins. And if you keep doing it, they will keep deducting from the base reward of 50 coins until you can only earn 5 coins per timer rotation.
So, if you think you can earn faster by just scrolling instead of reading the article, then think again. This will actually be counterproductive. Conversely, their system will also recognize if you have been really reading the articles.
Instead of earning 50 coins per timer rotation, you will earn let's say 55 coins. They will keep adding to the base reward until you will reach the 100 coin mark per timer rotation. This is the maximum base reward you can reach.
So, if you want to increase your earnings from this app, you have to read the articles. But overall, I would still say this app has a low earning potential. It will take a lot of patience to earn a decent amount.
Can you use it on a desktop?
As mentioned at the beginning of this review, Cashzine is a mobile-only platform. So, you can't read the articles when you are sitting in front of a computer.
You will really need a mobile device if you plan to become a member of this platform.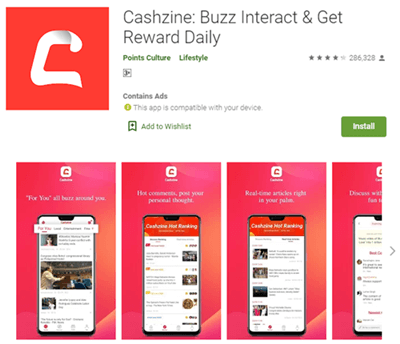 Unfortunately, their app is only available for Android devices. So, if you are an iOS user, then this app is not for you. I would suggest you check out the top survey apps instead. You will find apps that are also compatible with iOS devices on that list.
As for their app, it is user-friendly. You can navigate through the app with ease. One thing I did notice though is, there are quite a few grammatical errors inside the app. So, you might have a hard time understanding some of the things the app is saying. This is a minor thing really, but it does affect the overall user experience.
Also, there will be ads that will pop-up from time when you are using their app. If you hate ads, then this can get quite annoying.
Who can join Cashzine?
Cashzine is available in several different regions like Southeast Asia, China, India, Europe, and South America. The problem is, they don't really specify which countries it is available in.
The best way to check is to click the Google Play link and see if the install button is available. If it is, then you are eligible to use it. If it isn't, then the app is not available in your country. You also have to be at least 18 years of age to join.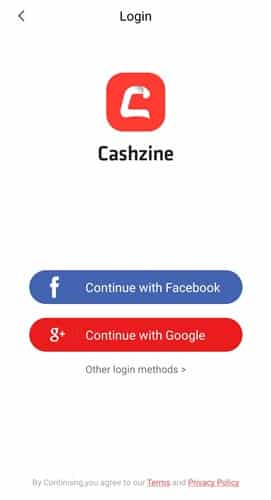 Once you've downloaded the app, you will be able to start reading articles right away.
But before you do that though, I would suggest you link your Facebook or Google account (refer to photo above). You can do this by tapping on the "Me" option on the lower right-hand corner of your screen.
If you do this, you can use the same account on other mobile devices you have so that your earnings will be carried over.
You will then see a Login button. Just tap the Login button and you will see the page that is displayed on the photo above. Simply choose which account you want to link with your Cashzine account and you are done.
You also have the choice to provide your own login details. It's up to you which option you prefer using.
Final Verdict
Cashzine is a legit content reading app that will pay you for reading articles and doing a few other things. It has a couple of good qualities but it also has quite a few drawbacks you need to consider.
So, let me finish this review with a summary of its pros and cons to help you decide if this app is worth using or not.

Pros:
Offers a very easy way to earn rewards
Pays via PayPal

Cons:
Low rewards
Only available for Android devices
The app is a bit spammy
I would only recommend you use this app if you really like to read articles. But if you are looking to earn extra cash, there are plenty of better ways to do it. This app simply doesn't offer a lot for your time. You will have to spend a lot of time to earn a decent amount.
Plus, it's not a very versatile app since it can only be used on Android devices. If you are looking for good sites and apps you can join to earn a bit of money, I would recommend you check out the top survey and GPT sites in your country instead.
The sites and apps on this list all offer plenty of ways for you to earn rewards without having to spend a lot of time to earn a decent amount. Plus, you will definitely find a site you can join regardless of where you live.
If you have any comments, questions, or have any experiences with Cashzine yourself, I would love to hear from you in a comment below.