Cinchbucks is a Get-Paid-To and survey site that supposedly gives a lot of earning opportunities.
But is Cinchbucks legit and really a great way to make some extra cash online, or is it a scam to stay away from?
I have joined and tested the platform thoroughly myself, and in this Cinchbucks review, I will give you all the details about what it really offers, what you can expect, and if it will be worth your time.
So let's find out if it is the right site for you or not!
What is Cinchbucks and what does the site offer?
Cinchbucks started in 2014, and according to the site itself, it now has more than 1 million members.
It is a Get-Paid-To site (GPT), which means there are several ways you can earn on the site.
Let me reveal right away that Cinchbucks is legit, and it is a site where you can actually earn and get paid. That it is legit does, however, not mean it is necessarily the right site for you, so let's go over what it offers so that you can find out.
I have created a video tutorial so you can see exactly how it works. You can also read all the details below the video:
Recommended: Check Out the Top Survey Sites in Your Country
Option 1 – Paid surveys:
If you have read any other articles or reviews here on PaidFromSurveys.com before, you will know that I think paid surveys are a great way to earn and have your opinion heard at the same time.
As most other GPT sites, Cinchbucks offers paid surveys as a way to earn. It offers paid surveys through third-party providers, which means they have cooperation with several survey providers, and you will therefore find a good amount of paid surveys here.
Exactly how many surveys you find depends on the country you live in.
You can always see, before you start a survey, how much you will earn and the estimated time it will take.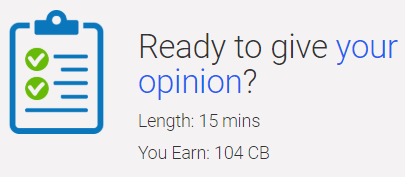 It is great being able to see this before starting, so you can easily see if it is a survey you want to participate in or not.
There is no demand for a certain amount of surveys you have to take to be a member. You can just take as many or as few as you want to. Just be aware that you will not qualify for all the available surveys, so sometimes it can take a bit of patience to find the surveys you qualify for.
But there are a lot of surveys available for members from most countries, and they pay quite decently for the time spent compared to many other sites.
Option 2 – Cashback when shopping:
Cinchbucks has a small section where you can get cashback for certain services you can buy online.
At the moment of writing this review, there is not a big selection, and it is mostly services related to internet marketing like email services, hosting, etc.
Be aware that you have to pay to earn rewards here, so it is not as such a way to earn money.
I must admit that I am not impressed with the opportunities in this section. Compared to a site like, for example, Swagbucks, where you can get cashback on hundreds of regular online shops, it does not offer a lot here.
But if there are any of the services you would like anyways, you might as well get a little cashback. But unless you work with internet marketing, it is not likely you will find any relevant offers here.
In general, make sure to read the conditions before taking any offers here, so you know exactly what it takes for you to get your reward and how long it will take, as there usually is a delay for up to several months, before you get your cashback reward.
Overall, there are many cashback sites with a lot better options, in my opinion.
Option 3 – Paid offers:
On Cinchbucks, you can also find an offerwall section, where you can take paid offers.
Cinchbucks offers access to several offerwalls and has a good selection of offers. You can earn by, for example, signing up for free trials, downloading apps, participating in contests, and more.
You can also often find extra surveys you can take on some of the offer walls.
It is a section that, in my opinion, is worth checking out, as you can sometimes find some really great offers and ways to boost your earnings.
Not all offers are great, though, so make sure to read the conditions for each offer before taking any so you are sure of what you need to do and what the requirements are to get your reward.
Option 4 – Joining bonus:
Sometimes you will get a pop-up with a promo code when you first enter the Cinchbucks website. This code can then be used to get a joining bonus.
After you sign up, it might not be clear where you need to put this code, but it is at the top of the screen where it says "CB Code". In my case, I got a bonus of 50 points just by doing this – easy money.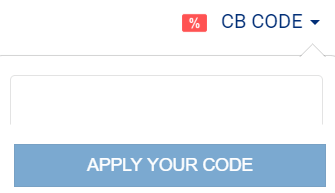 This is also where you, in general, have to put Cinchbucks promo codes that you, at times, can find.
According to the site itself, these promo codes can appear anywhere on the Cinchbucks website, blog, and social media pages.
I have personally only found the joining bonus promo code myself, but if you are regularly on their social media accounts, it can be worth keeping an eye on these codes to get some extra free cash.
In addition to this, you get 10 points just by answering a couple of very short questions after joining.
You can also earn 50 extra points by filling out your user profile after you join. This does, however, depend on the country you live in. In the country I live in, I could not earn this reward, but it is possible in some countries.
Option 5 – Invite friends:
You can invite friends to join Cinchbucks and then earn extra rewards. If a friend you invite joins, you will earn 10% of everything they earn once they have earned their first 1000 points.
This will not affect the rewards your friend will get, but is something paid by Cinchbucks as a thanks to you for inviting.
You will need to know a lot of friends to invite to make any real money like this, but it can still be a nice way to get some extra earnings.
Option 6 – Watch videos:
You can get paid to watch videos on Cinchbucks. This is the same video option as many other similar sites offer, and if you have read any of my previous reviews, you will know it is not an option I am too excited about.

It can be entertaining and easy, but it takes a lot of time to make any money by watching these videos.
Therefore, it is, in my opinion, only worth it if it is videos you want to watch anyways. If it is just to earn, you will get more out of many of the other options on Cinchbucks.
Option 7 – Play games:
Cinchbucks has a section with A LOT of small online games you can play for free.
There are games within all kinds of genres.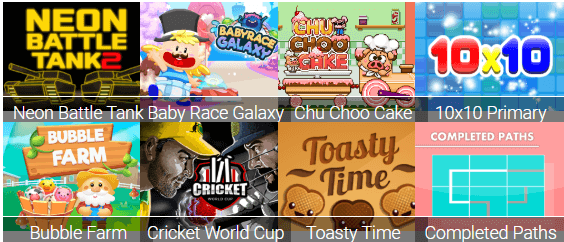 From what I can see and have been able to find out by testing, you will, however, not get paid to play these games.
But there are a lot of entertaining games, so if you like playing games, you can find a lot here. But if you want to earn, you should use some of the other options instead.
Option 8 – Get coupons:
You can find some coupons that will give a small savings on certain products.
It can be savings on products like, for example, deodorants and sugar. The items are mostly household items, and there is not a huge amount available.
Be aware that these coupons cannot be used worldwide and are mostly relevant if you live in the USA. If you live here, it can be a way to save a few extra dollars if you can find coupons for products you use.
Option 9 – Chrome extension:
You can get an extension for your Chrome browser called CinchAddon (also sometimes called CinchButton).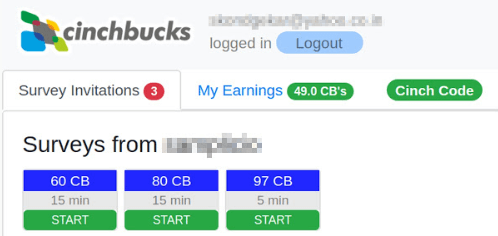 This means that will automatically get a notification in your browser when a new survey or offer is available.
If you use Chrome, this can be an easy way to make sure not to miss a survey or offer without having to check on the site.
Recommended: Check Out the Top Survey Sites in Your Country
How do you get paid?
As you can see, Cinchbucks has a good amount of opportunities. But how you will get paid is of course also very important to find out, if it is a site for you or not.
Cinchbucks has a very good selection of rewards, and you can find a reward almost no matter your preferences. You can, for example, get paid in cash through PayPal, get paid in Bitcoin, or choose between many gift cards.
Personally, I prefer sites that offer PayPal as a payout method, as it is an easy way to get your rewards in cash, so I am happy Cinchbucks offers this. But there are many other great rewards as well if you prefer other methods.
When you take surveys, offers, etc., you earn Cinch Bucks (CB). 1 CB is worth 1 cent, so 100 CB is equivalent to $1.
You can request a payout once you have earned $10.
How much money can you make?
With a little patience to find the surveys you qualify for and by taking your time to find the good offers, it is possible to make some nice extra cash or rewards on Cinchbucks.
You should, however, see it as a way to make some extra cash on the side and NOT as a potential way to make a full-time income.
If this is your goal, you will be disappointed. But if you go into it with the right expectations, it can be a great way to make some extra money when and where you want to.
Can you use it on mobile?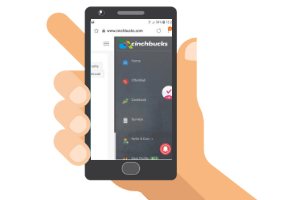 If you like to take surveys and offers on the go, this is possible with Cinchbucks.
It does not have an app, but the website is kind of mobile optimized.
What I mean about this is that certain aspects of the site work fine on mobile, but other aspects are not working so well, and the navigation is a bit more difficult than on desktop.
Some surveys you will take might also not be optimized for mobile, and in those cases, you might have to scroll in and out a bit.
But overall, Cinchbucks gives a decent user experience on mobile, and if you take a little time to get to know how to navigate on mobile, it is definitely possible.
Who can join Cinchbucks?
A great thing about Cinchbucks is that you can join it from most of the world.
The only countries you cannot join from are Pakistan, Nigeria, North Korea & 11 other countries blocked by PayPal. You can join from all other countries.
The amount of opportunities will, however, depend on the country you live in. But it has a good amount of opportunities for many countries.
In addition to Cinchbucks it can, however, be worth also checking out the list of the best paid survey and GPT sites in your country, as it will increase your chances of earning if you join more sites.
Can you get support?
If you need help with any issues with your Cinchbucks account, the website has a fairly big section with FAQ where you can find answers to the most common questions.
After you log in, you can also submit a ticket if you need further help.
If you are not a member, Cinchbucks also has a support email you can write (support[@]cinchbucks.com).
I have been in contact with support a couple of times, and I have received a quick reply, so I personally have good experiences with the support there.
Final verdict
Cinchbucks is NOT a scam but a legit site where you can earn some extra money. This does, however, not mean it is the right option for everyone.
So let's finish this review by summing up the pros and cons, so you can get a better overview and see if it is for you or not.

Pros:
Several ways to earn
Free to join
Available in most countries
Good reward options

Cons:
Some usability issues on mobile
Certain options only available in some countries
You have to be aware of what you are saying yes to in the cashback section
Overall, Cinchbucks has a good amount of opportunities to earn, and it is definitely a site where you can earn some extra cash.
It can take a little patience to find the surveys you qualify for, and you have to be aware of the cashback section so you do not end up saying yes to conditions you are not aware of.
But the site is fairly easy to use (even though on mobile it is not as easy), it has a fairly low payout threshold, good reward options, and is available in most countries, so it can definitely be worth considering.
But, in my opinion, you should make sure to also check out the best survey and GPT sites in your country, as all of these give better opportunities.
If you have any comments, questions, or have any experiences with Cinchbucks yourself, I would love to hear from you in a comment below.