Do you like playing mobile games? If so, there's a mobile game I encountered you might find interesting. It's called Coin Hunt World. This game claims you can earn cryptocurrency if you play it.
It's an interesting claim and I admit, it got me intrigued. So, I decided to test it out since I'm always on the lookout for great ways to earn extra cash or cryptocurrency.
I will share everything that I've learned about this mobile game in this Coin Hunt World review. It will give you a detailed inside look so you'll know exactly what to expect from the app before you even use it.
That way, you will know if it is worth using or not and can decide if you should join or use other options instead.
What is Coin Hunt World and what does it offer?
Coin Hunt World is a mobile game that offers opportunities for you to earn various cryptocurrencies.
If you've played Pokemon Go before, then this game will be very familiar because, in order to get something out of this app, you will have to walk around town.
To give you an idea of how it works, here's a short video explaining the basics of what Coin Hunt World offers.
Now, if you want to know if it is worth using, you have to understand how it works in detail, and the best way to do that is to examine the earning opportunities it offers in more detail.
So, here's how to earn from Coin Hunt World.
Option 1 – Unlocking vaults and mystery boxes
The primary way to earn from Coin Hunt World is by unlocking vaults and mystery boxes. To do so, you just have to play the game like you're supposed to.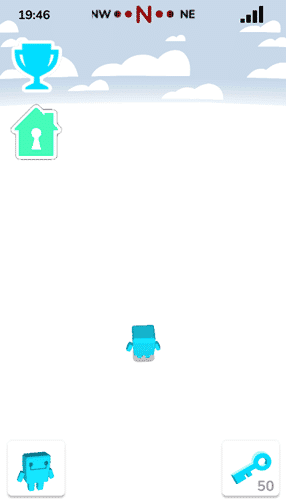 You start off by setting up your headquarters. Ideally, you should set up your headquarters at your home or any place where you spend a lot of time. Then, just like Pokemon Go, you walk around town while the app is open to look for vaults you can unlock.
Once you find a vault, you will need a key to unlock it. If you have the corresponding key, you can unlock the vault and collect the reward. The reward you can get will vary. You can receive various in-game currencies and items. But the best reward, in my opinion, is cryptocurrency.
Vaults usually contain a small amount of cryptocurrency (usually Bitcoin or Ethereum). To get this you, however, need to answer a trivia correctly.
So, how do you get the keys? Well, you'd have to walk some more to find keybooths. These keybooths can be used to craft various types of keys for vaults.
The other way to collect rewards is to open mystery boxes. This one is a bit easier to open because you won't need a key. However, these boxes will only show up if you've completed some sort of challenge which are essentially other forms of earning opportunities that I will discuss next.
Technically speaking, these mystery boxes offer better rewards than vaults, but they are hard to "find".
Option 2 – Bounties
Another way to earn rewards from Coin Hunt World is to complete bounties. These are tasks that offer mystery boxes as a reward.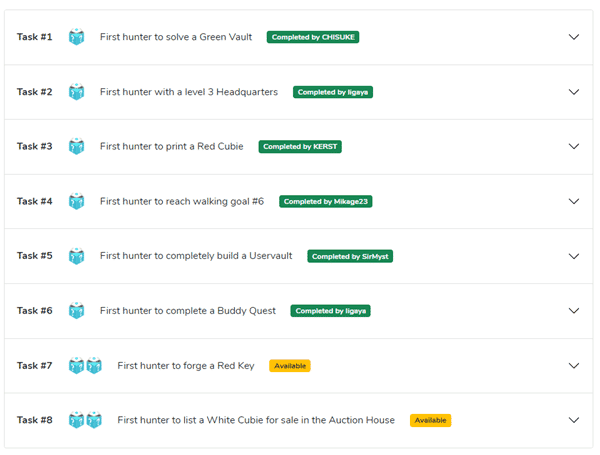 If you manage to complete a bounty, a mystery box will show up when you walk around town while playing the game. These bounties will require a bit more effort to complete. Usually, you need to reach certain milestones in the game before you can complete the bounty.
For example, in the photo shown above, you have to be the first hunter to forge a red key. If you successfully meet the requirements for the bounty, the mystery box will be awarded to you. But you have to go to the location where the box is to open it.
These bounties aren't very common, so if you have the opportunity to complete one, go for it.
Option 3 – Referral program
Lastly, you can also earn additional rewards through Coin Hunt World's referral program. You can create an invite link and share it with the person you want to invite to play the game. When the person clicks the link and registers, they will become your referral.
Both you and your referral will then receive two mystery boxes each. Then, you will receive additional rewards depending on how active your referral will be in the game. Take note though that you can only unlock this earning opportunity once you've upgraded your Headquarters to level 3.
Recommended: Check Out the Top Game Apps That Pay
How do you get paid?
There's a lot of nuance in Coin Hunt World. While it may seem like it is very easy to earn cryptocurrency from this app, it's actually not that simple to withdraw whatever you've earned.
As mentioned earlier, you will receive cryptocurrencies like Bitcoin and Ethereum from time to time when opening vaults and mystery boxes. But how can you withdraw your crypto earnings? Well, you'll need a crypto wallet, specifically an Uphold crypto wallet.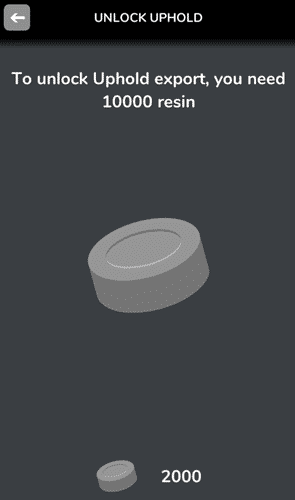 In order to unlock this feature though, you will need to collect 10,000 resins which can be done by playing the game. Resins are in-game resources you need to collect and can be done by opening vaults. I personally can't tell you how long it will take because when I did my testing, I never reached that point.
But that is how you are able to unlock the Uphold feature of the game which is the only way you can withdraw your crypto earnings. Once you've unlocked the Uphold feature, you can withdraw your crypto earnings anytime you want.
But this also means you need to create an Uphold account first if you want to play this game and withdraw your earnings. Once you understand how to withdraw your earnings from Coin Hunt World, it will be relatively easy to withdraw the cryptocurrencies you will earn.
However, I don't really like how the payment system of this app is set up. I'm not a fan of having to unlock the payment feature. This should always be readily available, in my opinion.
If you prefer sites that offer a simpler way to take out your earnings, I would recommend you check out the top sites to earn Ethereum for free.
You can also check out the top sites to earn Bitcoin for free depending on the crypto you prefer to earn.
How much money can you make?
Based on my testing, Coin Hunt World can give some nice earnings but you need to do it with the right expectations.
It can take some patience to earn but some people report earning quite nice money from this. Nothing similar to a full-time income or anything like that but some extra crypto on the side, which can definitely also be nice.
Can you use it on a desktop?
Coin Hunt World is a mobile-only platform, so you'll really need to use a mobile device. It also makes sense because, in order to play this game, you have to walk around town and go to certain locations in order to unlock rewards.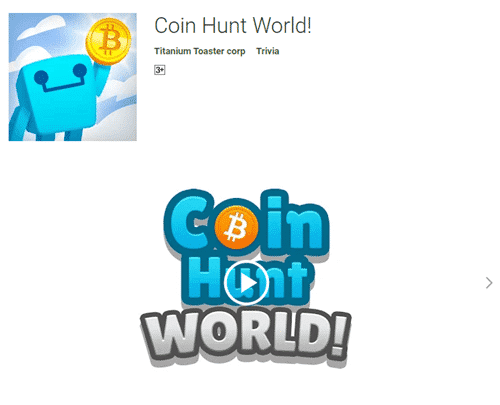 The app is currently only available for Android devices. The iOS version is still in closed beta as of the writing of this review.
The first thing I noticed about the app was it wasn't very user-friendly. If you haven't played Pokemon Go before, you will have no idea what to do to earn from this app. It also does a poor job of teaching you what to do.
Normally, you would expect that the app will walk you through what you need to do in the beginning. But that wasn't really available when I was testing the app.
I'm not sure if it was just a bug or if they really don't have a tutorial for the game, but it is a must, in my opinion, to make sure your user knows what they need to do to play the game.
Who can join Coin Hunt World?
Coin Hunt World is available in many countries. However, they don't really tell you which countries it is available in. The best way to find out if it is available in your country is to search for it on Google Play.
If it will show up in the search results, that means you can download and install the game. If it doesn't, then that means the game isn't available in your region.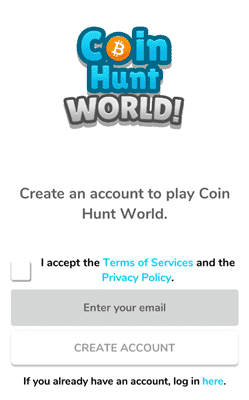 To register as a member, you must first download and install the app. After the installation is completed, you need to open the app and go through the registration process (refer to the photo above). You just need to provide your email address.
Then, Coin Hunt World will send you an email containing the link you can click on to log in to the app. Simply click the link to log in to the app. After you've done that, you can just open the app like you normally would play it.
Final Verdict
Coin Hunt World is a mobile game that offers a chance for you to earn cryptocurrencies. It has a couple of good features, but it has a lot of drawbacks you need to consider.
Let me complete this review by summarizing its pros and cons to give you an overview of what the game has to offer. Then, you can decide whether or not you should push through with playing it.

Pros:
Offers an interesting way to earn cryptocurrency
Helps promote an active lifestyle
Fun game

Cons:
Limited earning opportunities offered
Fairly low rewards
Limited options offered for reward withdrawal
In my opinion, Coin Hunt World can be a fun way to earn. But you need to do it with the right expectations. It offers limited ways to earn and when you earn, you don't earn a lot.
But as a mobile game, it can be a decent one since it offers different challenges. Plus, it does promote an active lifestyle because you will have to walk around to play it. That can be a good form of exercise. And then earning some extra crypto at the same time is a great bonus.
But if you are just looking for a way to earn extra cash, I would suggest you check out the top survey and GPT sites in your country instead. The sites on this list all have good earning potential and offer flexible payout options.
If you have any comments, questions, or have any experiences with Coin Hunt World yourself, I would love to hear from you in a comment below.