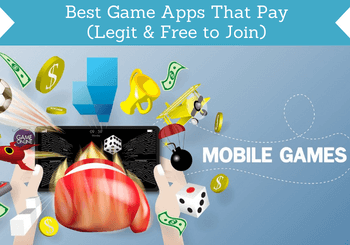 Are you looking for mobile apps that pay you real money just for playing games?
If so, then this guide will show you the best game apps that pay.
I have personally tested all the apps I will include on the list below and have compared them with the hundreds of other apps I have tested. That way, you don't have to go and try them out for yourself to find out which ones are worth it and which ones aren't.
All the apps I will be including in this guide are legit and free to join. So, all you need to do is put in a bit of time and some effort to earn money and at the same time, have fun as well.
Disclosure: Some articles on this website contain affiliate/sponsored links. Click for more info.
Are all game apps worth it or not?
There are actually a lot of apps that offer this kind of opportunity. So, it's very important that you can distinguish which ones are worth it and which ones aren't.
To answer the question above, the reality is, the majority of these apps are extremely spammy and there are even those that actually don't pay you in the end. And for those that do actually pay, they will pay you a very small amount. These are the apps that are not worth it, in my opinion, because you will have to invest a lot of time just to earn a bit of extra money.
The game apps that will be included in this guide are those that I have actually tested and found that they do have a decent time-to-money ratio. So, you will be able to earn a decent amount in a relatively short amount of time.
How much money can you earn from these game apps?
Before we talk about the game apps, it is important that I make this clear first. The amount you can earn from these apps will not come close to what you can earn from a full-time job. So, it's not actually a way to make a living.
Instead, it's just a way to earn some extra cash you can use to supplement your earnings from your day job. That's why before you head into this kind of venture, you have to know that this is just a way to earn some spending money so you won't get disappointed in the end.
One piece of advice I can give you though is, if you want to maximize your earnings, I would recommend you join around 5 to 7 game apps, so you can gain access to more opportunities. By doing so, you should be able to earn a decent amount from all the apps combined.
7 best game apps that pay real money
Now that we've cleared everything up, let's talk about the game apps you should join. As I've mentioned earlier, I have tested these apps, so all the information I will be providing will be based on my experience.
I will include a brief description of what each app has to offer so you can easily distinguish which ones are a good fit for you.
I will keep updating this list if I find new apps that I think are really worth your time. So, make sure to bookmark this page and come back to it from time to time to see if there are new apps you can use.