CPAGrip is a website that claims you can potentially earn hundreds of dollars per day.
Now, I've seen many websites make this claim over the years, so I always become skeptical when I see a site that offers something like this.
That's why I had to test CPAGrip to see if it does what it claims it does and to figure out how it works. In this CPAGrip review, I will give you a detailed inside look, so you will know exactly what to expect from this site.
Then, you can decide if it is a site worth using or not. So let's go ahead and get the ball rolling, shall we?
What is CPAGrip, and what does it offer?
CPAGrip is a website that utilizes CPA (cost per action) marketing for its earning opportunities. In case you don't know what CPA marketing is, it is an affiliate marketing strategy that involves a partnership between an affiliate and an advertiser.
For you to earn from this website, you have to become an advertiser. In short, you'll be promoting offers. And yes, CPAGrip is indeed a legit site because you will really get paid to promote offers.
But this doesn't necessarily mean CPAGrip is worth using. To find out if it is worth your time, you must first understand how it works. And the best way to do that is to examine the earning opportunities it offers.
For that, I have made a video explaining exactly how CPAGrip works. You can also read the full details below the video.
Recommended: Check Out the Best Passive Income Apps
Option 1 – Promoting Offers
The primary way to earn from CPAGrip is to promote their offers.
The first step is to find offers, and to do that, you just have to log in to the member dashboard. Then, click on the "Offer Tools" link on the left side of the dashboard.

Once you are on the Offer Tools section, you can filter the offers you can view by country. This is a very useful feature because it will help you find the appropriate offers to promote.
As you can see in the photo above, every offer will tell you how much you will earn when the action is completed.
You will also see what type of action is required to earn from it. In the photo above, most offers will require that a person submits their email address and zip code. Once they've done that, when they go to the offer, you will earn the amount promised.
After you've chosen an offer, just click it to see the link you need to copy. Now, it's up to you how you want to share this link. You can post it on social media sites, your blog, or your newsletter.
The question you need to be asking with this opportunity is, what's the best way to drive traffic to the offer?
Based on my experience, the best way to generate meaningful traffic is to find offers that are truly worth recommending.
This is a great way of providing value to your target audience, and it's a great way to build trust. Once they recognize that you are promoting offers that are worth it, they will begin to trust what you are promoting in the future.
It's the more sustainable and profitable approach, in my opinion and experience.
However, you have to keep in mind that there are many ways to do affiliate marketing, and if you are new to this kind of earning method, I suggest you check out how to promote affiliate links for free.
Option 2 – Referral Program
The other way to earn from CPAGrip is through its referral program. All you have to do is invite people to join the site by sharing your invite link.

Then, once the person you invited clicks the link and registers as a member, they will become your referral. But for you to earn, your referral must become active on the site. That means they will also have to promote offers.
When they do, you'll receive a 5% commission every time they earn from the offers they promote. It's a decent way to earn passively, but you have to make sure the people you invite are really interested in this kind of earning opportunity. Otherwise, you'll just be wasting your time, in my opinion.
Recommended: Check Out the Best Passive Income Apps
How do you get paid?
CPAGrip will be able to track the offers you've promoted, and every time you get a conversion, the earnings will be credited to your CPAGrip account.
Once you've earned at least $50, you'll be able to cash out through the payment method of your choice.
Now, you might think that this threshold is high, but for a CPA platform, this is normal, and if you are good at marketing, it is very easy to hit.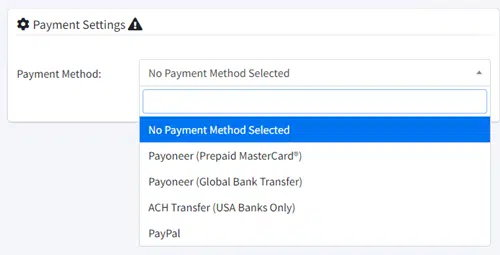 As shown in the photo above, you can get paid via Payoneer, PayPal, or bank transfer (for US residents only). However, once you reach the threshold, you'll have to wait 30 days for the payment to be processed.
It's quite a long wait, in my opinion, but you will be able to change the waiting period to 15 days or 7 days, depending on how well you perform on the site.
If you have good traffic quality and consistent earnings, you can request to get paid every 15 days or 7 days by contacting their support team via Skype.
Overall, I would say the payment system of CPAGrip is relatively straightforward, but the waiting period is quite long, especially if you are just starting out.
If you prefer a site that pays quickly, I suggest you check out the fastest paying sites instead.
How much money can you earn?
The amount you can earn from this site will depend on how good you are at promoting the offers. It is certainly possible to earn hundreds of dollars per day, but what the site doesn't tell you is the amount of prep work that needs to be done to achieve that kind of earnings.
You see, earning from affiliate marketing is a bit tricky. You can't just spam your way forward.
If you do that, the long-term effect is that no one will trust any link you share or promote. They will all just think that what you are promoting is worth less. Sure, you might be able to get a few conversions in the beginning, but in the long run, you won't earn anything.
In my opinion, the best way to earn a sustainable income from this kind of opportunity is to find offers that provide value. In short, find offers that are truly worth it. For that, you'll need to spend quite a bit of time looking for the right offers.
You'll also have to spend time building up a good and sustainable traffic source. Putting in the time to build a real business/network can be worth it, provided, of course, you spend it on a platform that is really worth it.
Personally, I would say there are better CPA platforms than CPAGrip (more on this later), in my opinion, especially in terms of earning potential.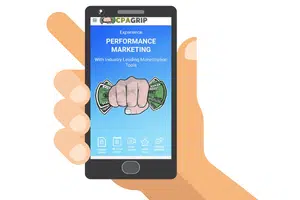 Can you use it on mobile?
CPAGrip doesn't have a mobile app you can download, but you can access the website from a mobile device quite conveniently because it is mobile-friendly. You won't have to zoom in to read the content or click links.
This can be pretty useful because you can spend your extra time finding quality offers to promote even when you are not in front of your computer.
Who can join CPAGrip?
CPAGrip is available more or less worldwide. You'll be able to sign up as a member by just filling out the registration form. But you have to be at least 18 years of age to sign up.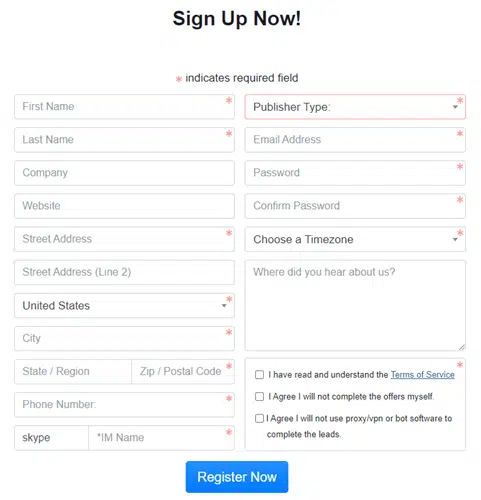 You'll have to provide your Skype ID when you sign up, so make sure you have one if you are really intent on joining this site. After you've submitted the sign-up form, check your email inbox because CPAGrip will send you a confirmation email.
Just click the link in the email to complete your registration. Once you've done that, you can now log in to the member dashboard and start earning.
Can you get support?
If you have any questions about the site or your account, you can check out the Support page. It contains a lot of FAQs about the site. If you can't find the answers you are looking for, you can just email your inquiry to support@cpagrip.com.
You can also just get in touch with your account manager directly via Skype. You can find their Skype ID on the Contact page of the member dashboard.
Overall, I would say the site provides decent support for its members since it offers a couple of ways for you to ask for help.
Final Verdict
CPAGrip is a legit site where you can earn by promoting offers to other people. It has its advantages, but it also has some drawbacks you need to be aware of.
Let me finish this review with a summary of its pros and cons to give you an exact overview of what the site has to offer. Then, you can decide if this is the right opportunity for you or not.

Pros:
Offers several good payment methods
Available worldwide

Cons:
Long wait time to receive earnings
Many offers are not worth promoting
CPAGrip is not a bad site to earn from. However, you have to know what you are doing if you really want to profit from it. You need to have the proper knowledge about affiliate marketing if you want to earn a good amount.
You can't just wing it as you can with survey and Get-Paid-To sites. This site will require you to have a solid plan to promote your offers. If you don't have one, you won't be able to earn from this site.
That's why if you are new to affiliate marketing, I suggest you check out how to promote affiliate links for free before you decide if you want to join this site.
Now, if you are looking for simpler ways to earn, I recommend you check out the top survey and GPT sites in your country instead. The sites on this list all have good earning potential, so you'll be able to earn a decent amount in no time.
If you have any comments, questions, or have any experience with CPAGrip yourself, I would love to hear from you in a comment below.