If you've been looking for ways to earn extra cash online, then you might have already encountered a website called DollarHuge.
But is DollarHuge legit or a scam? And if it is legit, is it worth your time or not?
These are questions that can only be answered properly if we take a detailed inside look at the site. I have joined and tested the site myself and compared it to the hundreds of other Get-Paid-To sites I have tested. And in this DollarHuge review, you will learn about everything the site has to offer so you'll know exactly what to expect before you even sign up.
It will answer all the questions above and it will also take a look at the earning potential of the site. That way, you can make an informed decision on whether DollarHuge is a good fit for you or not. So, let's get started.
What is DollarHuge and what does it offer?
DollarHuge is a Get-Paid-To (GPT) website that will pay you for completing any of the earning opportunities it offers. It is a lot like GPTBox, another GPT site that offers similar types of earning opportunities.
It is indeed a legit GPT site since it will really pay you when you successfully complete their activities.
However, this will not really be the barometer to gauge if the site is worth joining. To figure that out, we have to take a closer look at the earning opportunities it offers and compare it to other similar sites.
I have, therefore, made a video that gives you a full guided tour and shows exactly how you can earn from DollarHuge. You can also read all the details below the video:
Option 1 – Paid surveys
One way you can earn from DollarHuge is by answering their paid surveys. However, DollarHuge doesn't really have its own surveys. It only acts as a survey router.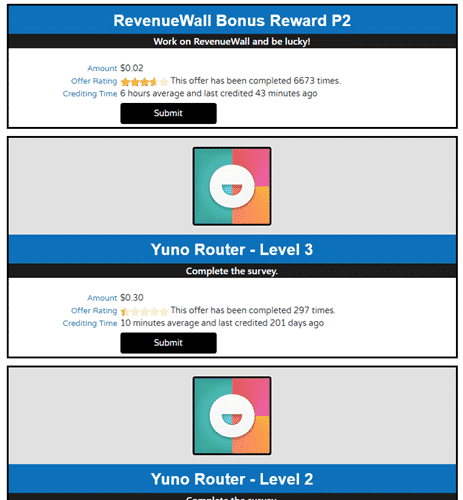 As shown in the photo above, the surveys you can answer will come from other survey providers like Yuno Router, Your Surveys, Revenue Wall, and several more. What makes this advantageous is that you get access to many surveys within one platform.
As for the actual process of answering a survey, after you've provided your basic information, you will then have to answer a set of qualifying questions.
Survey providers do this to determine if you really belong to the group the survey is intended for. If you qualify, you get to answer the actual survey. When you complete the actual survey, you will receive the reward promised. If you don't qualify though, then you just have to move on to the next survey available.
When I tested their surveys, it was very hard to qualify for any survey. So, it can definitely take a bit of patience since you won't always qualify for surveys.
And you should, especially, not expect to qualify for the higher paying surveys very often – if ever (depending on your profile and country).
Option 2 – Offerwalls
Another way you can earn from DollarHuge is by working on the paid offers found on their offerwalls.
If you don't know what an offerwall is, let me explain it to you. An offerwall is an in-site/app advertising platform that is designed to promote specific websites and mobile apps through their paid offers.
As you can see in the photo above, every offerwall has a set of paid offers you can do. These paid offers are basically just small tasks you can do to earn rewards. Usually, you will just have to answer a quiz, play a game, download a mobile app, answer surveys, and watch videos.
When you click on an offer, it will show you the steps you need to follow to complete it. Make sure to follow the instructions down to the letter to complete the offer. If you miss one, you won't finish the offer and you won't earn any reward.
Once you complete an offer, you will receive the reward promised.

One thing I like about DollarHuge's offerwalls is, there are a lot to choose from. During my testing, I had access to more than 30 offerwalls (which is a lot). With this many offerwalls, you basically won't run out of things to do to earn rewards, which is a good thing.
However, many other GPT sites have the exact same offers, and when I compare the earnings for the different offers, you will often be able to earn significantly more by taking the exact same offers on other platforms.
Another thing you need to remember about the paid offers on their offerwalls is that you are not allowed to complete the same offer several times. Doing so will result in your account being banned. And believe me, they will really ban your account.
Option 3 – Referral program
Lastly, you will also be able to earn by participating in DollarHuge's referral program. You can invite other people to join the site to earn bonus rewards.
Their referral program has two tiers. When you invite a person using your referral link and they sign up to the site using that link, they will become your level 1 referral. You will then receive a 15% commission every time your level 1 referral earns a reward on the site.
Now, when your level 1 referral invites another person to the site, when this person signs up, he/she will become your level 2 referral (or downline as the site calls it). You will receive a 5% commission every time your level 2 referral earns a reward.
It's a good way to earn passive income from the site, but you have to keep in mind that the person you invite should be interested in earning from the site. Otherwise, you won't earn anything.
Recommended: Check Out the Top GPT Sites
How do you get paid?
Every paid survey you complete on DollarHuge will earn you a certain amount and it will be credited to your account balance. As for their offerwalls, you will instead earn points when you complete paid offers.
You will then have to convert the points you've earned into cash to withdraw. The conversion rate is 1 Point = $0.01. When you've converted your points to cash, it will be added to your account balance.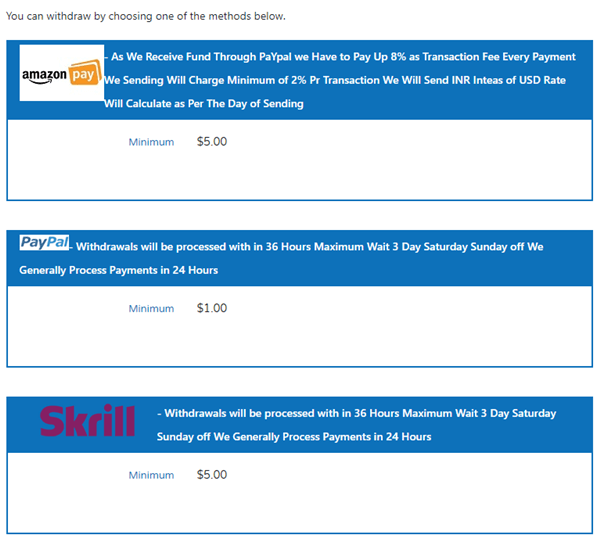 You can then withdraw your earnings in three different ways. As shown in the photo above, you can withdraw your earnings either via Amazon Pay, PayPal, or Skrill. If you choose to withdraw it via Amazon Pay, you will need to earn $5 first.
For PayPal, the threshold will only be $1. As for Skrill, the threshold will be $5. Their payout threshold is quite low especially for PayPal.
This is a good thing since you will be able to withdraw your earnings quickly and this is one of the best aspects of DollarHuge, in my opinion.
If you are interested in more sites that have a low payout threshold, I would recommend you check out the fastest paying sites.
How much money can you make?
The amount you can earn from DollarHuge will mostly depend on how active you are on the site. Seeing as they do offer a good number of paid offers from their offerwalls, you won't really run out of ways to earn rewards.
The only problem is, their earning opportunities don't really pay that well compared to many other sites.
The paid surveys on DollarHuge is the best way to earn, in my experience. But you have to take into account that you won't always qualify for the surveys.
So, earning a decent amount from this site can take some time and patience. That's why I would say the earning potential of this site isn't really that good. However, it can serve as a decent secondary option to earn from. But as I've mentioned, you will need to be a bit more patient with this site.
Can you use it on mobile?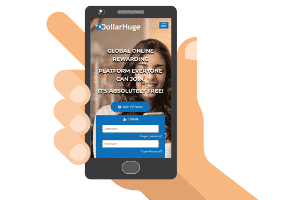 DollarHuge doesn't have a mobile app you can download. But, you will be able to access their site from a mobile device using a mobile web browser.
Their site is mobile-friendly, so you will be able to navigate through the site with relative ease and you won't have to zoom in to read all the content clearly. However, I don't really recommend you use your mobile device when working on this site.
That's because working on the earning opportunities will mostly involve opening a lot of browser tabs. And that can get a bit annoying in the long run when you have to constantly close mobile browser tabs.
For a more seamless user experience, I would recommend you use your laptop or desktop when working on this site. I would only recommend you use your mobile device when you are working on offers that will ask you to install mobile apps.
Who can join DollarHuge?
DollarHuge is available globally. That means you will be able to sign up regardless of the country you live in. But, you do have to keep a few things in mind when you become a member (refer to photo below).

As shown in the photo above, only one member per household is allowed to join DollarHuge. So, if there's another person in your household who is interested in joining the site, then you better talk it out with them and agree who will join.
You are also not allowed to use a VPN when working on the site. This is pretty standard across all online rewards sites. Using a VPN means you are trying to make the site believe you live in another country than where you actually live which is basically fraud.
Failure to comply with any of the conditions will lead to your account getting permanently banned or suspended (depending on the offense).
To register as a member, just fill out their registration form. The site will then send you a confirmation email. You can click the confirmation link provided or you can copy the confirmation code and provide it during your first log in (I did the latter). Once you've confirmed your registration, you can log in to the site and start earning.
Can you get support?
If you have any questions about the site, you can first refer to their FAQ page. You might find the answers you are looking for. If that fails, then you can contact their support team by creating a support ticket.
To do this, you have to log in to the site and go to their Support page. Then fill out the form with the necessary information. The good thing about this system is, you will be able to track the status of your inquiries.
And speaking of tracking, the one thing I noticed about DollarHuge is, they actually have a pretty comprehensive History list for the surveys and paid offers you completed. So, you'll be able to keep track of everything you do on the site. This can add to the overall usability of the site, in my opinion.
That's why I would say the site has a decent support system in place for their members because you can easily get in touch with their support team. You can also track your activities easily.
Final Verdict
DollarHuge is a legit GPT site that will pay you for answering surveys and completing paid offers. It has a couple of good features to offer but it also has some drawbacks you need to consider.
So, let me conclude this review with a summary of its pros and cons to give you an overview of what the site has to offer. That way, you can figure out if this site is a good fit for you or not.

Pros:
Has a low payout threshold
Has plenty of offerwalls
Available globally

Cons:
Lower rewards than on many other sites
It can take a bit of patience to qualify for their surveys
Overall, I would say DollarHuge is not a bad GPT site. However, it's not that good either. I like that it has a low payout threshold and there are plenty of offerwalls available.
The only downside is, they don't really pay that well. So, it will take some time to earn a decent amount from this site. That's why I would only recommend you join this site if you need an extra GPT site to earn from.
But if you are looking for primary ways to earn extra cash online, I would instead suggest you check out the top survey and GPT sites in your country. The sites on this list all have better earning potential since they pay more than DollarHuge.
If you have any comments, questions, or have any experiences with DollarHuge yourself, I would love to hear from you in a comment below.