DonkeyMails is a Paid-To-Click (PTC) site that promises to pay you for doing the activities available on their site.
With so many PTC sites nowadays, it's hard to figure out which ones are legit opportunities or which ones aren't.
So is DonkeyMails a scam or one of the legit ways to earn online?
The answer to this question is a bit complicated. It is not a scam, but you can also not really earn there anymore in the sense you might expect.
This DonkeyMails review will tell you everything you need to know about it, so you know exactly what to expect and can decide if this PTC site is a good fit for you or not.
What is DonkeyMails and what does it offer?
As mentioned, DonkeyMails is a PTC site that will pay you for completing the offers they provide.
It has been around since 2005, which really tells that it is a legit website. That's because no scam site will last this long. They will eventually shut down – some sooner than others.
To be able to get a clear picture of the site's earning potential though, we need to examine all the earning opportunities DonkeyMails provides. This way, you will know what to expect if you ever decide to become a member.
It can be quite confusing at first as it is not the most user-friendly site. Also, there were some big changes made in February 2020 that will affect your earning potential (more about this in the payout section).
But let's start with an overview of how you can earn from DonkeyMails.
Option 1 – View Ads
Since DonkeyMails is a PTC site, you can expect to earn simply by viewing ads.

Once you finish the registration process (which I will talk about later), you will be able to log in to their member dashboard and view all the ads you can click.
To earn from clicking, just go to the Paid-To-Click section. You will then see all the ads you can view.
What's good about clicking the ads available on DonkeyMails is, they pay you more for clicking an ad than most other sites.
As you can see in the photo above, most of the ads will reward you with $0.1 cent. It's not a lot, but it is relatively higher than other PTC sites, in my experience. Other PTC sites usually pay you a lot less.
You just need to view the ad long enough to earn the reward promised. It's a pretty straightforward earning opportunity. It doesn't take a lot of effort, but it also doesn't pay well.
You need to invest a considerable amount of time to accumulate a significant amount of earnings. But then again, this is really how it is with PTC sites.
Option 2 – Offerwalls
If you've been a member of Get-Paid-To sites, offerwalls will be familiar to you.

Offerwalls are basically like a bulletin board for tasks you can do in order to earn a reward. When you go to the offerwall, you will see all the tasks you can do. Each task will have a corresponding reward when completed.
Once you complete an offer, the reward will then be credited to your DonkeyMails account. Most of the offers will ask you to either sign up to a website, answer a survey or quiz, play games and a lot more.
But regardless of what an offer asks you to do, the important thing to remember is, you have to make sure you follow the instructions of the offer to the letter in order to earn the reward promised.
One thing to note, the offers will come from their partner sites and not from DonkeyMails itself. There are plenty of offerwalls from different sites once you become a member of DonkeyMails.
Option 3 – Paid Surveys
DonkeyMails also offers paid surveys as a way for you to earn rewards.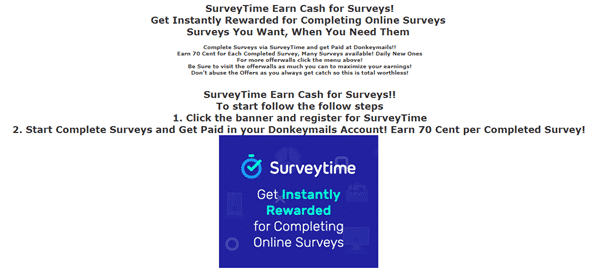 The surveys you can find here are different from the ones you can find on the offerwalls. The paid surveys still come from their partner sites. Basically, they just have a specific section for paid surveys.
When you click on a paid survey offer, you will be taken to another website. You will have to register to that website in order to start answering surveys in some cases.
When you complete a survey, you will then receive your reward, which will be credited to your DonkeyMails account.
In my experience though, the rewards you will receive from doing these survey offers will be slightly less than the actual rewards the site offering the survey pays.
You can, for example, just go and register directly on Surveytime, that is shown on the image above, and then get a higher reward per survey.
So, in reality, if we are talking about the amount you will receive for completing a survey, you will be better off getting them from the actual survey site that offers the surveys.
It can still be a good way to earn additional rewards from DonkeyMails though.
Option 4 – Paid To Promote (PTP)
You will also be able to earn rewards by promoting links.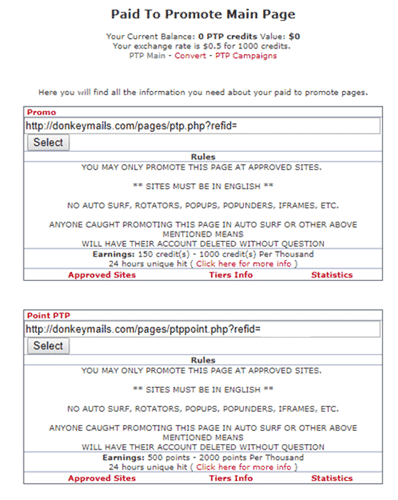 The premise is simple. Promote a link and you will get rewarded with PTP credits. You can then exchange the credits into real money, which will be credited to your DonkeyMails account.
Every 1000 clicks will earn you $0.50. In my opinion, this is a pretty low rate. The only good thing about this, in my opinion, is it is some form of passive income. Once you embed the link on your site, you can just set it and forget it.
You can then just visit the PTP section on their dashboard from time to time to see if you can start converting PTP credits.
However, if you have a website sending 1000 clicks for just $0.50 is really a bad deal for you. You can find cooperations that will pay you A LOT more than this kind of traffic. So this earning option is NOT one I am impressed with.
Option 5 – Paid To Sign Up
Another way to earn rewards from DonkeyMails is to sign up to websites. But this one is a bit different since it will only be available to members living in the US.

As you can see in the photo above, if you don't live in the US, do not ever do this type of earning opportunity because it will lead to the cancellation of your membership. You will then forfeit all the earnings you've accumulated.
So keep that in mind before clicking. But if you are a resident of the US, basically, the premise for this type of opportunity is, you simply have to sign up to a website and complete the offers these sites provide.
Normally, you have to keep doing offers for a specific period of time before you will get the reward offered by DonkeyMails.
So, I suggest you only do this kind of offer if you have plenty of time to spare. The point of this kind of offer is basically to drive traffic to the site the offer is referring to.
The reward you earn from this is basically a percentage of the commission the site is paying to DonkeyMails.
Option 6 – Paid To Review
You will be able to earn rewards by reviewing sites or social media pages.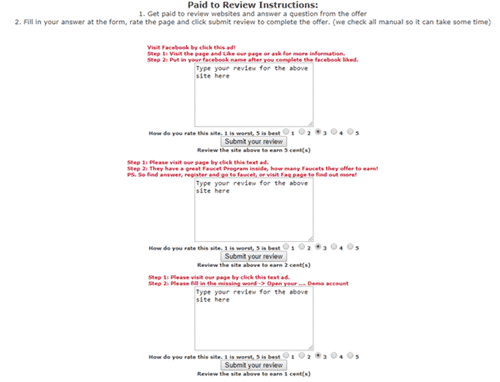 When you view all the available Paid-To-Review offers, you will usually see a bunch of offers asking you to visit a site or social media page.
All you have to do is follow the instructions of the offer and then answer a couple of questions afterward. You will also be asked to give a rating for it.
It's a pretty simple way of earning rewards, in my opinion.
Option 7 – Referral Program
You can refer friends to DonkeyMails and earn a bit of income.

DonkeyMails' referral program structure is 5 levels deep. When you invite someone to their website, that person will become your direct referral.
If that person will then refer another person to DonkeyMails, the newly-referred person will then be your 2nd level referral and so on and so forth.
It will stop until the 5th level. You will then be able to earn 10% of your direct referral's income, 5% on the 2nd level, 3% on the 3rd, 4% on the 4th and 1% on the 5th level.
The percentage you will earn will be shouldered by DonkeyMails and not your referrals. The percentage of the commission will be based on the total earnings of the member except for what they earned from the Paid-To-Signup offers.
Overall, it's not a bad way of earning additional income. But, it is solely reliant on whether your referrals will remain active on the site.
Option 8 – Donkey Lotto
This is not an earning opportunity per se, but I included this in the list because you will be able to win a significant amount of money if you are lucky.

Some of the offers and activities on DonkeyMails will allow you to earn points aside from the usual amount you will receive.
You can then use these points to join their lotto. You can purchase an entry to the lotto using the points (250 points to be exact).
Of course, you can also purchase an entry using the earnings you've accumulated. If you want to go that route, each entry will cost $0.01.
Each entry will grant you the chance to win $25.
A word of caution though – don't get carried away and spend all your earnings on this one. I would recommend you only spend the points you've accumulated instead of your earnings.
How do you get paid?
Now that you know how to earn from DonkeyMails, the next thing you need to know about is how you will get paid.
This is a very important factor because this can determine if the site is a good fit for you or not. And there were some BIG changes in the payout methods in February 2020.

For every offer or activity you complete on DonkeyMails, you will still receive a certain amount of points.
However, where you in the past were able to withdraw your earnings via Bitcoin, Payeer, Perfect Money, SolidTrust Pay or exchange it for Amazon gift cards, this is no longer possible.
Now you can ONLY use your earnings for advertising. This means that you cannot get your earnings out as cash or gift cards anymore.
So it is only relevant if you have a website or similar you want to advertise and want to use DonkeyMails.com for this.
This seriously limits the opportunities of this site, in my opinion. And even if you want to advertise, you have to think about that all other members will also be advertisers and there will be no members that just want to earn.
This means you can risk your advertising will be very ineffective.
So if you want to join sites where you can actually earn and not just get advertising credits, you should check out the fastest paying survey sites instead.
How much money can you make?
The earning potential of DonkeyMails is basically the same as any PTC site. The more active you are on the site, the more you will earn.
But as mentioned above, you will not really be able to earn as such but you can only get advertising credits.
Also, each offer will only reward you with cents. So even if you are interested in advertising credits, you will have to invest a significant amount of time in order to turn in a significant amount of money.

However, DonkeyMails does offer a way to boost your earnings. You can upgrade your membership to get several benefits.
There are several upgrade choices. To summarize the benefits, if you upgrade, you will receive extra ads that will pay more. You will also receive additional referrals.
For every member that registers to the site without a referral ID, you will have the chance to get that member as a direct referral (which, as you already know, will add to your income if they stay active on the site).
The number of "lottery referrals" (let's call it that for lack of a better term) will depend on the upgrade you will choose.
The more expensive the upgrade, the more "lottery referrals" you get. The same goes for the additional ads that will pay more.
While this can be certainly appealing at first glance, I recommend you exercise caution before upgrading. You have to remember, the income you will earn will still depend on how active those "lottery referrals" will be on DonkeyMails.
You might end up losing money instead of earning, which totally defeats the purpose of joining the site in the first place. So, I suggest, you work out a plan to make sure you get your money back when you upgrade.
I, personally don't like these types of upgrades because as I've said, it can be a bit risky.
I only suggest doing this if you have a clear plan on how to make sure you earn back the money you've spent on upgrading your membership.
Can you use it on mobile?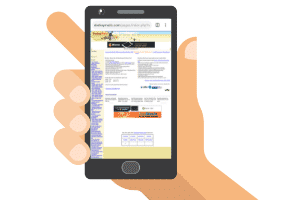 They do not mention on their website about any DonkeyMails app you can download on your mobile device so you can work on offers even when you are not in front of a computer.
You will be able to access their website on a mobile device though. You can use a mobile web browser. The problem is, the mobile version of their site is not optimized for mobile use.
You won't be able to read the content unless you zoom in, which can be a bit of a hassle. So, for all intents and purposes, DonkeyMails is best done sitting in front of the computer.
This significantly reduces the earning potential of this PTC site. And since we are already talking about their website, it seems as if the design of their website hasn't been updated since they launched in 2005, in my opinion.
The site just looks a bit old and not well designed. It can be a bit of a hassle getting around the member dashboard because the user interface isn't well thought of.
So, it can overall take a bit of patience to use DonkeyMails.
Who can join DonkeyMails?
Probably the best aspect of DonkeyMails is that it is open for everyone regardless of where they live. You do have to be at least 13 years of age or older to participate in this program.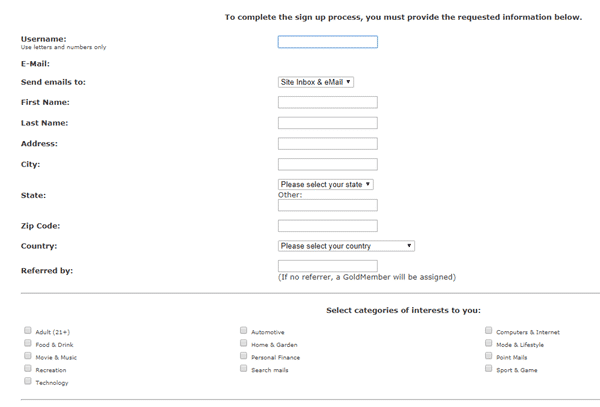 To become a member, click the sign-up link. You will then have to provide your email address. Then, you will receive a confirmation email with a link you have to click.
When you click the link, you will then be taken to the page shown in the photo above.
You simply have to complete the form to finish the registration process. Once you've completed it, you can then log in to their dashboard and start doing offers.
One thing to note though is, even though DonkeyMails is available to anyone, some countries have better opportunities than others. For example, the paid-to-sign up opportunity is only available for US residents.
So, keep that in mind especially if you are planning to upgrade your membership.
Can you get support?
DonkeyMails does provide a good way for you to request for support.
You can submit a support ticket if you need help with your account or if you have any questions for their support team. What I like about this ticket system is, it is easier to track the progress of your inquiry.
They also provide an FAQ section that covers most of the basic questions. They also have a Facebook page you can visit, which is somewhat active. I'm not sure though if you are able to get support via that platform.
I still recommend you use the ticket system for any inquiries. But overall, they have a pretty decent support system in place.
Final Verdict
DonkeyMails.com is a legit PTC site that will pay you for completing their offers and activities. It has plenty of earning opportunities, but it does have its flaws.
So let's finish this review with a summary of its pros and cons to help you decide if this site is indeed a good fit for you or not.

Pros:
Has several earning opportunities
Open to everyone regardless of where they live
Sign up process is very simple

Cons:
Low rewards
Site is not optimized for mobile use
Poor user interface design
You cannot get your earnings out
The main drawback of DonkeyMails is the low earning potential and the fact that it no longer allows you to get your earnings out but only use them for advertising on the site.
And even if you are interested in advertising credits, you have to invest a significant amount of time in order to earn a significant amount of money.
The good thing is, it is available worldwide. So, you can join their site regardless of where you live. But it is only worth considering if you want to advertise and even if that is the case it is not the most effective option, in my opinion.
If you are interested in sites that will allow you to earn in a more efficient manner and earn real cash, I suggest you check out the top survey sites in your country instead.
The sites on this list are all known to provide better earning potential. Plus, you will also be able to find a site for you regardless of where you live.
If you have any comments, questions, or have any experiences with DonkeyMails yourself, I would love to hear from you in a comment below.