I'm always looking for ways to earn extra cash online. So, when I encountered this site called DoodStream which claims you can supposedly earn really good money by uploading videos, it piqued my interest.
That's why I immediately tested the site to find out if it is just a scam or if it is really legit.
In this DoodStream review, I will share everything I have learned to give you a clear picture of what this site is all about.
That way, you'll be able to properly gauge if this site is really worth it or not. And let me just reveal right away that there are some things you need to know about this site.
So, let's go ahead and get this review started, shall we?
What is DoodStream and what does it offer?
DoodStream is a video hosting platform that will allow you to earn money by uploading videos. It does indeed potentially pay you for uploading videos. However, as I've mentioned above, there are some things you need to know about it before joining.
To fully understand how this site works, we have to examine the earning opportunities it offers. Doing so will give you an idea of what you need to do to earn.
For that, I have made a video that gives you an inside look and shows exactly how DoodStream works. You can also read all the details below the video.
Recommended: Check Out the Best Ways to Earn Money Online Watching Videos
Option 1 – Uploading videos
The primary way to earn from DoodStream is by uploading videos. However, you don't actually get paid for uploading even though that is what it claims you do.
Instead, you will be paid when the videos you upload get views, and the figure you need to keep in mind is 10,000 views.
Yes, that means to earn from a video you uploaded, it has to be viewed at least 10,000 times by different people from a specific country. That's the magic number, which, in my opinion, is quite a high target.

To start the earning process, you just have to log in to the member dashboard and upload your video. Once it is uploaded, you can promote the video on any platform – like, for example, on social media sites.
Take note that you can upload any kind of video, even videos that have adult content (which I do NOT recommend). To promote the video, just go to the member dashboard (refer to the photo above) and right-click on the video you want to promote.
Then, click the "Copy Link" option and just share it on any platform you want. When a person clicks the link, it will take them to the video you uploaded. However, this is the concerning part I mentioned earlier that you need to know.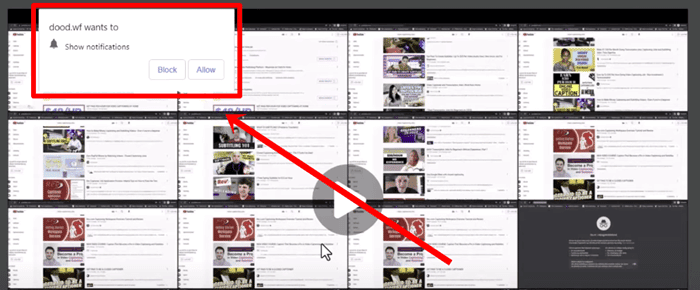 When the person clicks the link, they will be taken to a page to see your video, but there will be a pop-up ad that will appear asking to allow or block notifications. Naturally, people tend to click "Block" so that they won't get any annoying notifications.
But what happens is that when they click "Block" (or even "Allow" for that matter), another pop-up ad will appear. So, you have to close it, expecting you can now watch the video. However, that isn't the case. You'll just be taken back to the screen with the Allow or Block ad.
This is what I found annoying about DoodStream. I never actually got to view the video I uploaded when I was testing it using the link. All I encountered was an endless stream of spam ads.
That means the people who click your link will also encounter the same thing and this will result in people treating your links as spam ads. In the end, they will not trust the links you share anymore, and you will not get the views you need to earn.
It's a very concerning thing because you don't really want to share something that is spammy. Not only will it waste the viewer's time, but it will also waste yours because people will not trust your links anymore.
In my opinion, this is the primary reason you need to be wary of this site. While the opportunity sounds promising, the actual experience it offers isn't.
Option 2 – Referral program
The other earning opportunity this site offers is its referral program. Just like with any other referral program, you can participate by inviting other people to join the site.
You just have to share your invite link, and when they click the link and sign up, they will become your referral.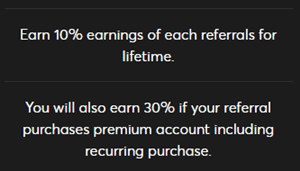 Once they become your referral, you will receive a 10% commission every time they earn on DoodStream. Aside from that, you will also receive a 30% commission if your referral purchases a premium membership.
It can be a profitable earning opportunity, but again, I don't really consider this site as something worth promoting.
Recommended: Check Out the Best Ways to Earn Money Online Watching Videos
How do you get paid?
As explained earlier, you will get paid for the video you uploaded when it hits 10,000 views from one country.
This can take a bit of time to achieve, so you will have to keep promoting your videos. Once you hit the target, you will get paid a certain amount depending on the country that reached the target. The photo below shows the rate per country.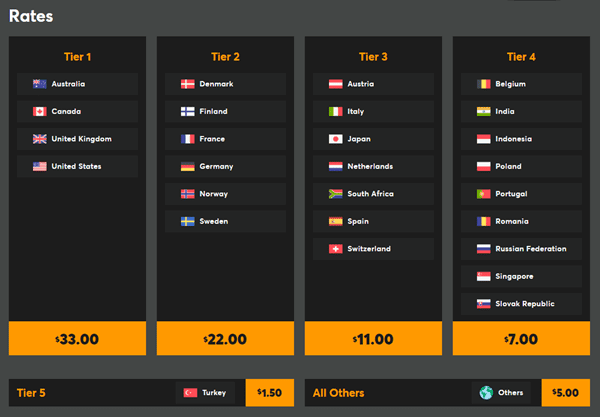 As shown in the photo above, the tier 1 countries offer the most pay. You can earn $33 if you reach 10,000 views from countries like the US, Canada, the UK, and Australia. For tier 2 countries, you will earn $22. For tier 3, you will earn $11, and for tier 4, it will be $7.
For other countries not listed under the tiers, you will earn $5 except for views from Turkey, which will only net you $1.5. Once you've earned at least $10 from the videos you've uploaded, you can withdraw your earnings via PayPal, Webmoney, Payoneer, or Skrill.
You can also convert your earnings to Bitcoin, Bitcoin Cash, Ethereum, and Tether. Overall, the payment system of DoodStream is relatively straightforward, and I do like that they offer PayPal as one of their payment methods since it is one of the most convenient payment methods available.
If you are interested in more sites that offer a convenient payment method, I recommend you check out the top sites that pay via PayPal instead.
How much money can you make?
The amount you can earn from DoodStream will depend on the views you get and the country where the views come from. And as shown above, you will need to hit 10,000 views per country before you can earn. While this may sound easy, it can be quite tricky to hit.
You will need to keep sharing your links regularly to reach the threshold. The problem is that, as I've explained before, the overall experience this site offers for viewers isn't very pleasant. In fact, I would consider their links spam.
One possible scenario that will happen if you keep sharing these links, especially on social media platforms, is that your account will be reported for promoting spam links. This will result in your account getting banned or suspended. This will significantly affect the number of views you can get and will, in turn, affect your overall earnings.
As for the rate it offers, it's actually not that great. If you compare the rates to what you can earn from, say, YouTube, it will be significantly lower. Plus, YouTube offers a significantly better viewing experience, and people trust links that will lead to a YouTube video so that it won't harm your reputation.
That's why overall, I would say the site has a very low earning potential because it will take a long time before you will be able to hit the target to earn. It also doesn't help that the links will take you to a very spammy page because people will not trust the links you will share in the future.
Can you use it on mobile?
DoodStream doesn't have a mobile app you can download, but you can access the site from a mobile device using a mobile web browser. The site is mobile-friendly, so you will be able to navigate it easily.
You can also upload videos from your mobile device conveniently. So, if you are really intent on joining this platform, you can just use your mobile device to upload videos and share the links.
Who can join DoodStream?
DoodStream is available worldwide. You'll be able to register as a member regardless of where you live. You just have to be at least 18 years of age to join.
To register as a member, you just have to fill out the sign-up form. Then, during your first login, the site will send you a one-time password (OTP) via email. Just copy the code and type it in the OTP field to log in. Once you've done that, you can now start uploading videos.
Can you get support?
If you have any questions about the site or your account, you can check out DoodStream's HelpDesk page. It discusses most of the basic topics you need to know about the site.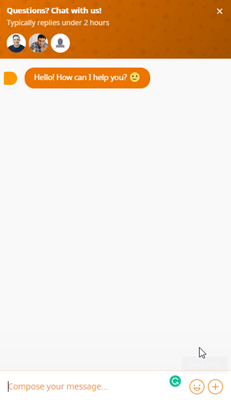 If you can't find the answers you are looking for, you can use the chat window (refer to the photo above) to get in touch with their support team. You can also email them at support@doodstream.com for any inquiries you might have about the site or your account.
Overall, I would say the site does offer decent support for its members since it offers a couple of convenient ways to request assistance.
Final Verdict
DoodStream is a video hosting platform that will allow you to earn money by getting people to view the videos you upload. It has a couple of advantages, but it also has some drawbacks you need to consider.
Let me finish this review by summarizing its pros and cons to give you an overview of what the site offers. Then, you can decide if this site is really worth it or not.

Pros:
Offers payment via PayPal
The site is mobile-friendly

Cons:
Limited earning opportunities offered
The links you will share are very spammy
Low rewards
In my opinion, DoodStream is not a site worth joining. What really discouraged me from using this site is the fact that the actual links you will be sharing contain spam ads. I tend to stay away from sites that promote spammy links because it is just unethical to promote them.
You'll just be wasting other people's time, and in turn, you will be wasting yours. There are better and more ethical ways to earn extra cash online.
That's why if you are looking to earn extra cash, I would suggest you check out the top survey and GPT sites in your country instead. The sites on this list all have good earning potential and you don't have to do any unethical things to earn decent money.
If you have any comments, questions, or have any experience with DoodStream yourself, I would love to hear from you in a comment below.