Earning extra cash online has certainly become a viable option in the past few years. With so many online rewards sites available today, earning won't be the main problem you will face. Instead, choosing the right site to join will become your primary concern.
That's why it's important to do proper research before joining any site. EarnDoing is one of these online rewards sites that promises to pay you for completing activities on their website. But is it a scam or is it a legit site that offers real opportunities for you to earn?
Let me address this concern right away so we can move forward and discuss other details of the site. No, EarnDoing.com is not a scam. It is indeed a legit online rewards site that will pay you for completing offers and other activities.
Now, does it offer good opportunities for you to earn? Well, that is a whole different story altogether. This EarnDoing.com review will reveal all the details so you can get a clear picture of how good or bad this site is. That way, you can better decide if it is a site worth joining or not.
What is EarnDoing.com and what does it offer?
EarnDoing.com is kind of a unique site. It's almost like a Paid-To-Click (PTC) site because you can earn by viewing ads, but at the same time, there aren't really a lot of ads to view and there are a few features that you would usually find on PTC sites that are not present on the site.
So, it's almost like a Get-Paid-To (GPT) site really since most of the earning opportunities available are what you would usually find on GPT sites. So, for the purposes of this review, we'll just call EarnDoing.com a GPT site.
Now, to fully understand the earning potential of this site, we have to examine the earning opportunities it offers. So, here's how you can earn from EarnDoing.
Option 1 – Paid offers
The reason why EarnDoing is mostly a GPT site is because of this. The most number of offers available on the site is in their paid offers section. So, essentially, this will be your main method of earning on this site.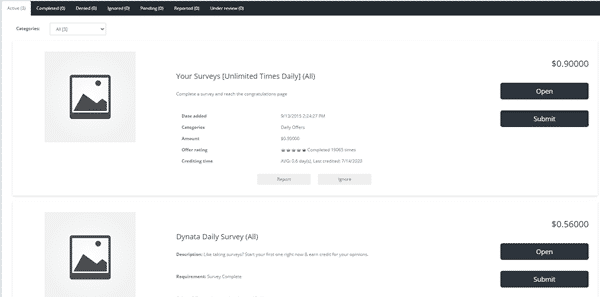 If you are not familiar with paid offers, they are basically just small tasks you can do to earn rewards. These tasks will usually ask you to answer a survey, register to a site, play a game, answer a quiz, watch a video or even download an app.
Each offer will have a set of instructions you need to follow. Once you complete the offer, you will receive the reward promised (you will see the reward right away before you even start working on it).
As you can see in the photo above, the unique thing about how EarnDoing.com presents its offers is, it classifies the offers according to the devices you can work on it.
If you are looking for offers you can do on a desktop, you can just go to the Desktop section. If you prefer offers for mobile devices, you can just choose the appropriate mobile device you are using.
It's a much more streamlined way of presenting offers, which not a lot of sites do. It's a small thing but it certainly adds to the user-friendliness of the site.
Option 2 – Paid ads
As I've mentioned earlier, you can also earn from this site by simply viewing ads. You won't see as many paid ads compared to a full-fledged PTC site, but it has a decent number available on a regular basis.

To earn rewards from paid ads, you just have to go to the PTC section of their dashboard. You will then see something similar to the photo above. You can either view ads one by one or view them in succession.
To view ads one by one, just click any ad listed. It will then open a new window displaying the ad. You typically have to wait around 5 to 10 seconds for the ad to completely load. You will also see a loading bar on the upper left-hand corner telling you how much has been loaded.
Once the ad is completely loaded, you have to solve a captcha to finish the process. When you successfully solve the captcha, you will receive the reward and you can close the window.
If you want to view all the ads in succession, just click the "Start Surfing" button (refer to the image above). You will then have to undergo the same process as when you view the ads one by one. You still have to solve a captcha to complete the viewing.
But once you solve the captcha, instead of the process ending, it will automatically load the next ad. You can continue doing this until there aren't any ads left to view.
In my opinion, this is the more convenient way of viewing ads. You don't have to keep going back to the ad list to view the next ad.
However, as with most PTC options, this will not pay you a lot. So you have to be really patient to earn like this.
Option 3 – Offerwalls
Offerwalls are basically just an extension of their paid offers. There are just different advertisers (offerwalls) with all kinds of offers you can complete to earn.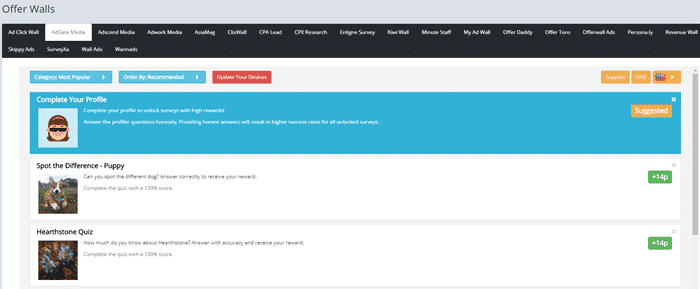 It's more or less the same process. When you click on an offer from an offerwall, it will take you to the site hosting the offer. So, don't be alarmed if you get taken to a different website when completing an offer from an offerwall.
You just have to complete the offer like you normally would. Once you've completed the offer, you will then receive the reward for it.
Option 4 – Facebook likes
One unique earning opportunity EarnDoing offers is Facebook likes. You get to earn by simply liking certain Facebook fanpages. You earn 0.05 points for each fanpage you like. It's not that much, but it's very easy to do.
You do have to connect your Facebook account to the site to start earning from this opportunity. To connect your Facebook account, just click the login button in their Facebook likes section. It will ask you to input your Facebook login details.
Once you are done with linking your Facebook account, EarnDoing will then start posting links to fanpages you can like.
Option 5 – Referral program
Just like most online rewards sites, you can also earn by inviting other people to join the site. Simply share your invite link with them and when they sign up to EarnDoing using your referral link, they will become your direct referral.
You will then receive a 10% commission for whatever they will earn on the site, which will be shouldered by EarnDoing. It's not much, but it can add up to a decent amount if you are able to recruit a lot of people.
You can boost your earnings from this by renting referrals at the cost of $0.25 for every 30 days. You can use your account balance to pay for it. However, it's not necessarily a good idea to do because there is no guarantee the referrals you will rent will be very active on the site.
So, you might not be able to earn back what you've spent renting them. I'm not saying you won't earn from renting referrals. All I'm saying is, you need to be careful when renting referrals because it can result to loss of earnings.
One more thing, you can also invite people to join the site by embedding an invite banner on your website. So, if you've got a blog or website, this can be a way to invite people passively.
How do you get paid?
Points are EarnDoing's virtual currency. It can then be exchanged for cash. Their exchange rate is: 1 Point = $0.001.
Once you've earned $1, you can request a payout via PayPal. Take note that there will be a 2% fee which must be paid before the payment is sent. They will deduct this fee when you request payment.

However, before you can request for payment, you need to verify your account. As shown in the photo above, you need to submit a clear photo of a document/passport/ID to confirm your identity to complete the verification process.
So, if you want to receive your payout, you need to do that. And, if you are not comfortable with this, then this site is not for you.
I do, however, like the fact that they have a low payout threshold. That means you will be able to request for a payout rather quickly. If you are interested in more sites with a low payout threshold, I recommend you check out the fastest paying sites as well.
How much money can you make?
It is important to determine the earning potential of a site because in my opinion, this is the most important factor to consider before joining. And to determine a site's earning potential, we have to take a look at how much money you can make.
In EarnDoing.com's case, there really isn't any issue about the availability of earning opportunities since there's an ample number of available opportunities at any given time. So, the main factor that would affect its earning potential is how well they pay.
They hold weekly contests to give you a chance to earn more from them if you ever become one of the winners. The contests they hold are Most Direct Referrals, Most Offer Wall Credits, Most CPA Offer Credits.
The 1st place prize is worth 5000 points ($5). It's a nice goal to reach but you can't really count on it as a stable source of earnings from this site. So, the best barometer of their earning potential is the rewards you will receive for completing an offer/activity.
Unfortunately, the rewards you earn per offer/activity you do on EarnDoings.com aren't really that good. For example, completing an offer from their offerwalls will only earn you around 1000 points at most. Most are even only worth around 100 to 500 points (around $0.5).
So, you will need to complete a lot of offers just to earn a significant amount. Plus, you have to factor in the 2% fee that will be deducted to the total amount you will earn. That's why I would say the earning potential of EarnDoing.com is not that good.
But if you are patient and wait for the right offers, you can sometimes find some great paying ones. But not any special offers you cannot find on other GPT sites.
Can you use it on mobile?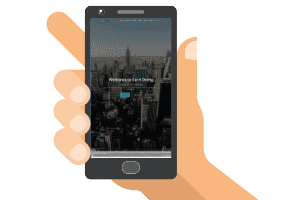 EarnDoing doesn't have a mobile app you can install on your mobile device. So, if you want to work on offers from a mobile device, you will have to use a mobile web browser. Unfortunately, they don't make it easy for you.
The mobile version of their site is, well, not very mobile-friendly. The website is not mobile-responsive. This means you will have to zoom in to click on links and read the content. It's a bit strange, in my opinion, because they have several mobile offers.
To complete these mobile offers, you will naturally need a mobile device. So, they should have made it easier for you to navigate through their site by ensuring their site is mobile-friendly.
That's why if you need to complete mobile offers, you have to power through navigating their site.
Who can join EarnDoing.com?
As with most GPT sites, EarnDoing.com is available globally. You will be able to join their platform regardless of where you live.
Keep in mind though that only one account per household is allowed and you need to be over 13 years of age to join. So, if there are other people in your household that are interested in joining, you have to decide amongst yourselves who should join.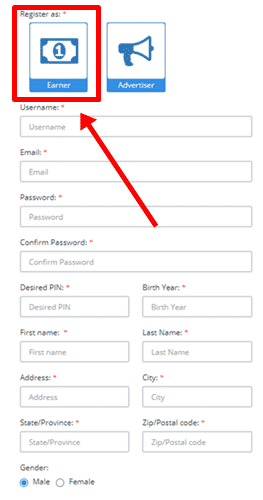 To sign up as a member, just fill out their sign-up form. You then have to make sure you select the Earner when you submit the form (refer to the photo above). Once you've submitted the form, they will send you an email containing the confirmation link.
Simply click the link to activate your registration. Once you've done that, you can then log in to the site and start earning.
Can you get support?
EarnDoing has one thing going for them though and that is how they provide support for their members. If you have any questions about their site or your account, you can check their FAQ page for answers.
Plus, you can also check their forums. It contains lots of useful tips on how to work the site. If you can't find the answer you are looking for, you can always send their support team an inquiry through their contact page.
Overall, I would say they got this part right. They provide good support for their members.
Final Verdict
EarnDoing.com is a legit GPT site that does pay you for completing offers and other activities.
It has a couple of good characteristics but it also has major drawbacks that you can't ignore. So let's finish this review by summing up the pros and cons so you can get a better overview before deciding if you should join or not.

Pros:
Low payout threshold
Payment via PayPal is available
Offers good support for its members
Cons:

Low rewards
Processing fee for withdrawal of earnings
Site is not mobile-friendly
If you take a look at the pros, you would get the impression that it is a pretty good site to join. But upon closer inspection, you can't really consider it one of your best options, in my opinion.
The low rewards simply affects the earning potential of the site a lot. Plus, the fact that their site is not mobile-friendly makes it a bit more inconvenient to work on from a mobile device. And being able to work from a mobile device conveniently can help alleviate the low rewards issue of the site since you can just earn anytime and anywhere.
That being said, it can still serve as a decent secondary site to join if you want to join as many sites as possible. But if you are looking for primary sites to join, I would suggest check out the top GPT sites instead.
The sites on this list all have good earning potential and most (if not all) of them won't require you to verify your identity to withdraw your earnings. Plus, you will also be able to find a site you can join regardless of where you live.
If you have any comments, questions, or have any experiences with EarnDoing.com yourself, I would love to hear from you in a comment below.