Do you use Uber or Lyft a lot? If you do, did you know there's an app called Freebird that claims you can turn the miles from your Uber or Lyft rides into rewards?
It's certainly an interesting claim, and I would not fault you for becoming interested. But before you hit the download button, I suggest you read this Freebird app review first.
It will not only check whether the app is truly legit or just another scam, but it will also give you the lowdown on everything the app has to offer so you can decide if this app is really a good fit for you or not.
What is Freebird and what does it offer?
Freebird is a cashback app that will reward you for taking Uber or Lyft rides. It is indeed a legit app since it will really send back a portion of what you paid for your Uber or Lyft ride.
Here's a short video explaining what the app is all about.
So essentially, Freebird is a niche cashback app that caters to ride-sharing users. And to truly understand how this app works, we have to take a closer look at the earning opportunities it offers. This will also give you a snapshot of how well you can earn from the app.
So, here's how to earn from Freebird:
Option 1 – Cashback from ride-sharing
The main way to earn from Freebird is to go about your normal ride-sharing activities. But, the one thing you need to ensure is, you link your ride-sharing account to Freebird so that it can track your activity and award you the appropriate cashback reward.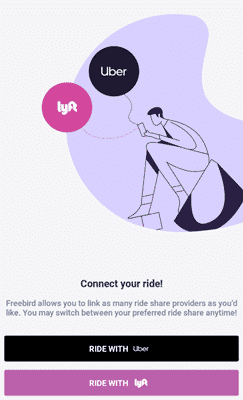 First, you need to link your Uber or Lyft (or both) account to the app. Then, the next step is very important. In order for Freebird to track your ride, you have to book the ride using Freebird. So, what you need to do is search for the destination you want to go to on Freebird.
Then, press the "Set pickup with Uber/Lyft" button. It will then take you to the separate app to complete the request. Once you've arrived at the destination and completed your ride, you will receive the reward promised.
And speaking of rewards, there are two types of rides you can book on Freebird: cashback ride and points-only ride.
As the name suggests, cashback rides are the rides that will allow you to earn cash while points-only ride will only earn you points (I will explain later what you can do with the points you've earned).
When you book a ride, you will immediately know what kind of ride you can book because it will display the reward you will receive once you've set your destination.
Option 2 – Cashback from bars and restaurants
Another way to earn from Freebird is to avail of cashback offers from bars and restaurants. Sometimes, when you book a ride to a restaurant and bar, you will notice that this bar or restaurant is one of the participating bars and restaurants that offer cash rewards.
To avail of these cash rewards, you just have to link your credit or debit card. Then, you have to use it to pay for the bill. Once you've done that, you'll be eligible to receive the cash reward from the participating restaurant or bar.
The cash reward can take up to 5 days to show up in your account though. So, don't worry if it doesn't show up in your account balance right away. After 5 days, if it still doesn't appear, then you can contact their support team (I will discuss later how you can do this).
Option 3 – Referral program
Lastly, you can also earn additional rewards by inviting other people to use the app. All you have to do is share your invite link with them and when they sign up as a member using your invite code, they will become your referral.
However, before you can earn from your referral, they must complete a ride using Freebird first. When they've done that, you will both receive $5 each. So, make sure to remind them to input your invite code when they login to the app.
Recommended: Check Out the Top Cashback Sites
How do you get paid?
As explained earlier, you will either earn points or cash for booking rides. And you will be linking your card to your Freebird account. However, Freebird will only accept US debit cards at this time.
So, you must have a US debit card you can link to your Freebird account to cash out. When you've linked a US debit card to your Freebird account, you will then be able to cash out once you've earned at least $30.
It's a pretty high payout threshold, in my opinion, but I do like the fact that they do direct bank transfers.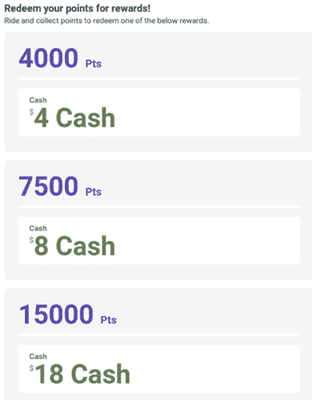 As for the points you've earned, you can exchange them for cash (refer to the photo above). The minimum amount you can exchange is $4 and that will be worth 4,000 points. When you've exchanged your points, the cash amount will now be added to your cash balance.
Direct bank transfer is the only payment method Freebird offers, which, in my opinion, is actually a convenient payment method. However, their threshold is a bit high, so it will take some time before you can withdraw your earnings.
If you prefer sites that will allow you to withdraw your earnings quickly, I recommend you check out the fastest paying sites instead.
How much money can you make?
The amount you can earn from Freebird will mostly depend on how often you avail of Uber or Lyft services. If you often use these ride-sharing services, then you stand to benefit a lot from this app.
Unfortunately, I can't really tell you exactly how much you will receive per ride you successfully complete since they don't really elaborate much on their cashback rates. But let's just say that the reward is usually proportional to the distance taken. So, the farther your destination is, the higher the reward you will receive.
Overall, I would say the earning potential of this app will be pretty good if you use Uber or Lyft on a regular basis. But if you only use it once or twice a month, it will take you several months before you will be able to cash out.
Can you use it on a desktop?
To put it bluntly, there's really no point using your desktop or laptop to book rides. The whole point of Freebird is to provide convenience through their service. So, to answer the question above, no, you can't.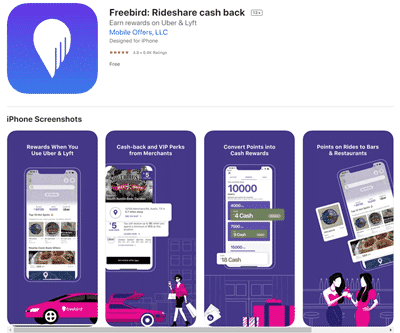 Freebird is a mobile-only platform. Their app is compatible with both Android and iOS devices. So, you shouldn't experience any compatibility issues with their app.
As for their app, it is very user-friendly. You will easily get used to how it works. It's also not spammy. You won't encounter any annoying pop-up ads.
Who can join Freebird?
As mentioned earlier, Freebird only accepts US debit cards. So, it goes without saying that Freebird is only available in the US. If you live somewhere else, then this app is not for you.
To register, you will first have to download and install the app on your mobile device. Then, you'll have to provide your email address and a few other information. Once you've done that, you have to input the confirmation code to complete the registration process.
When you've confirmed your email address, you can now log in to the app and start booking rides. But I do suggest you link the necessary accounts first before doing anything else.
Can you get support?
If you have any questions about the app or your account, you can first refer to their FAQ section. It is accessible through the app by pressing the menu option in the upper left-hand corner and hitting the "How It Works" link.
It discusses most of the topics you need to know about the app. Now, if you can't find the answers you are looking for, you can send in your inquiry through their support section.
You can post your question by pressing the "+" button in the upper right-hand corner of their support page. Then, you just have to wait for their response.
Overall, I would say the app has a decent support system in place for their members since they offer a convenient way for you to communicate with their support team.
Final Verdict
Freebird is a legit cashback app that has a few interesting features to offer, but it also has some limitations you need to consider.
To wrap this up, let me summarize its pros and cons to give you an overview of what the app has to offer. Then, you can decide if it is really worth using or not.

Pros:
Offers a unique way to earn
Offers a convenient payment method
Their app is user-friendly

Cons:
Limited earning opportunities offered
High payout threshold
Doesn't offer payment via PayPal
Freebird, in my opinion, is a great niche app. If you book Uber or Lyft rides on a regular basis, using this app will allow you to save a considerable amount of money. But if you don't really use Uber or Lyft, then this app will be relatively useless for you.
So, I would only recommend you use this app if you belong to that category of regular Uber or Lyft user. Otherwise, I would recommend you check out the top survey and GPT sites in your country instead. The sites on this list all have good earning potential and you will definitely find a site or app you can join regardless of where you live.
If you have any comments, questions, or have any experiences with Freebird yourself, I would love to hear from you in a comment below.