FunTap is an app that claims it can make playing games more exciting since it will allow you to earn money at the same time. It's certainly an interesting claim, so I decided to put the app to the test and joined to see exactly what it offers.
Now, let's address the elephant in the room. Is FunTap a scam or is it legit? This is a very important question, so let me answer it right away. No, FunTap is not a scam. It is indeed a legit app that will really reward you for playing games.
The question is, is it worth using or not? This is what this FunTap review will address. It will give you a real inside look at what the app has to offer so you will know exactly what to expect and can figure out if this app is a good fit for you or not.
What is FunTap and what does it offer?
As mentioned above, FunTap is a GPT (Get-Paid-To) app that will reward you for playing their featured mobile games. It's pretty similar to PlaySpot, which is another app that will pay you for playing mobile games.
The first thing we need to examine with this app is the earning opportunity it offers. That way, you will gain a better understanding of how the app works and you can also get an idea of how well you can earn from it.
I have, therefore, made a video that gives you an inside look and shows exactly how you can earn from FunTap. You can also read all the details below the video.
The earning opportunity – Playing featured mobile games
There's only one way to earn from FunTap and that is by playing the mobile games it features. When you log in to the app, that's what you will immediately see.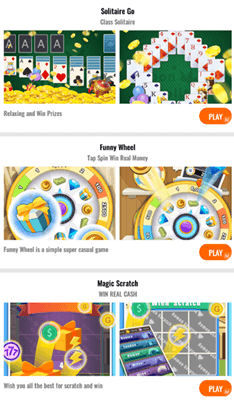 As you can see in the photo above, FunTap has a decent number of mobile games you can choose from. If you see a game you like to play, just tap it and it will take you to the game's app page. Just download and install the game.
Once it is installed, go back to FunTap and look for the game you installed and tap it again to start playing. This is very important. When you play a game, don't open the game directly from your device. You have to go through FunTap first so that it can track your progress and you can get rewarded.
As for the reward system, FunTap is a bit different than other apps that offer the same kind of opportunity. Usually, apps that will reward you for playing mobile games will hand out rewards for every minute you play the game. But with FunTap, it's a bit different. You will receive rewards when a video ad will pop up.
You can't really tell when the ad will pop up because it will appear randomly. It can get quite annoying to keep closing the video ads to be honest. But there's nothing you can do. You have to wait for the ads to finish so you can receive your rewards.
At some point when you are playing the game, the reward you will receive will get lower and lower. This is not surprising really because most apps that offer this kind of earning opportunity are designed this way.
This is to incentivize the members to keep trying different games and not just stick to one game they like. After all, the way these apps earn money is by getting people to download and install various mobile games.
So, don't play a game too much if you want to maximize your earnings from FunTap. If you notice that the rewards are getting low, then it's time to switch to a different mobile game.
Recommended: Check Out the Top Sites To Earn Money by Playing Games Online
How do you get paid?
As explained earlier, you will receive a certain number of coins every time you watch video ads while playing their featured games. But what can you do with these coins? Well, you can exchange them for various rewards.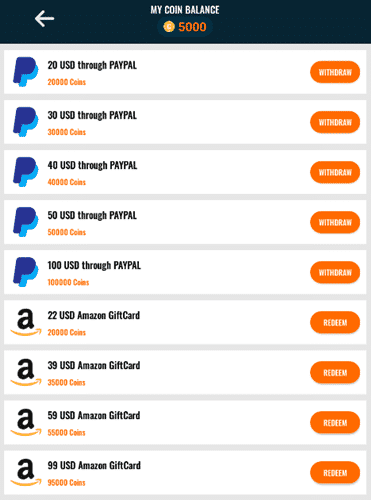 As you can see in the photo above, there are various rewards you can redeem. You can choose to convert your coins to cash and withdraw via PayPal or you can also redeem various gift cards.
For PayPal withdrawals, you will need to earn 20,000 coins which will be equivalent to $20. For gift cards, you will still need 20,000 coins but the value will be $22. So, you get better value if you redeem gift cards instead.
Their payout threshold is actually quite high compared to other apps that offer the same kind of earning opportunity. So, you will need to be very patient with this app.
But I do like the fact that you can get paid via PayPal because it is one of the most convenient payment methods available today, in my opinion. If you are interested in more sites that pay via PayPal, I would suggest you also check out the top sites that pay via PayPal.
How much money can you make?
The amount you can earn from FunTap will mostly depend on how much time you will invest in it. It goes without saying that the more time you invest, the more coins you will earn.
Now, as for the coins you will actually be earning from each video ad you watch, it will range around 4 to 7 coins at the beginning. And as I've mentioned earlier, it will gradually be reduced until you won't receive any more coins.
That, in my opinion, is a very low reward rate. It will take you months to reach their high payout threshold. That's why I would say FunTap's earning potential is pretty bad.
Can you use it on a desktop?
FunTap is a mobile-only platform. That means you will really need to use a mobile device. And considering the earning opportunity it offers, you won't really need to use a desktop or laptop for it.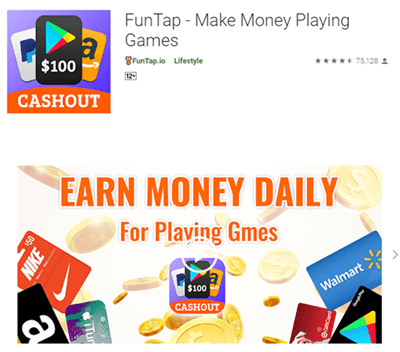 As for their app, it can only be downloaded from the Android app store. That means it is not compatible with iOS devices. So, if you are an iOS user, then this app is not for you.
Their app is relatively easy to use. You won't have a hard time getting used to how to navigate it. The only thing as mentioned, is that you will have to deal with plenty of pop-up video ads while you are using the app. So, it can get quite annoying especially when you are in the middle of having fun playing the game.
Who can join FunTap?
FunTap is available globally. So, you can register as a member regardless of where you live. Actually, register is the wrong term since there won't really be any registration process involved. All you have to do is download and install the app.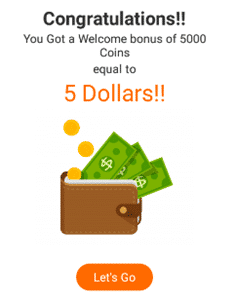 Once you've installed the app, you can start playing immediately. And during the first time you open the app, you will receive a notification saying you've received 5,000 coins as a welcome bonus, which is what I received when I was testing the app. That's a decent head start, in my opinion.
However, there's one thing you have to keep in mind with this app. Since you don't have to register, that means the account will only be valid for one device. If you install FunTap on a different mobile device, that will count as a different app.
Also, if you happen to uninstall the app, you will lose all the coins you've previously earned. This is one major drawback of apps that don't require any registration.
Can you get support?
The app doesn't have a support section or even a FAQ page. So, if you have any questions about the app or if you encounter any issues, you have no way of getting in touch with their support team. Their app page and even their website don't contain any contact information.
So their support is essentially non-existent. You can't get any assistance if you encounter any problems with the app. That's a pretty bad thing, in my opinion. An app should always offer help to its members.
Final Verdict
FunTap is a GPT app that will reward you for playing mobile games. It's a straightforward app that has a few drawbacks you need to keep in mind.
Let me finish this review by summarizing its pros and cons to give you a better overview of what the app has to offer. Then you can decide if you should really use it or not.
Pros:
Offers payment via PayPal
Cons:
Limited earning opportunities offered
Very low rewards
Doesn't provide support for members
The only good thing I can say about FunTap is that it offers a convenient payment method (PayPal). Apart from that, I don't really see any reason why you should use it, to be honest. Sure, it has a decent number of mobile games you can play, but there are other apps that can do that.
The nail in the coffin really for me is that the app doesn't provide support for its members. That's a big red flag for me. Whenever I encounter an app or site that doesn't offer support, I always avoid it. That's because assistance from the customer support department can be invaluable because sooner or later you will likely need it.
If the app or site isn't willing to provide that, then I would view them as not being serious about providing the best possible user experience for their members. That's why I won't recommend you use FunTap. There are plenty of better options out there.
And speaking of better options, I would recommend you check out the top survey and GPT sites in your country instead. The sites on this list all have good earning potential and all of them offer some semblance of support for their members at the very least.
If you have any comments, questions, or have any experiences with FunTap yourself, I would love to hear from you in a comment below.