GCLoot is a Get-Paid-To (GPT) site that promises to reward you with in-game items and gift cards. So, if you are looking for an online rewards site you can join, then you must be thinking if this site is a good site to join.
Before we tackle that topic, first we have to verify if this site is legit or if this is just another scam. This is a very important aspect you should know immediately. So, let me address this issue right away.
Yes, GCLoot is a legit site that will reward you with in-game items and other stuff for doing the activities found on their website. That being said, this doesn't exactly tell you if a site is worth joining or not.
To figure that out, this GCLoot review will examine everything the site has to offer so you can decide if you should go ahead and sign up for this site or not.
What is GCLoot and what does it offer?
As mentioned above, GCLoot is a site designed with gamers in mind.
The company behind is the same company that owns GrabPoints which shows it definitely is a legit site so you do not have to worry about whether you will get paid or not.
As you can probably tell by the rewards you will get, this site will be more beneficial if you play video games frequently. But if this is not you, will you still be able to benefit from it?
To answer that question, we have to examine the earning opportunities the site has to offer. This way, you can understand how to earn from this site and get a clear understanding of how well you can earn from it.
I made a video that will give you an inside look and shows exactly how you can earn from GCLoot. You can also read all the details below the video.
Option 1 – Paid offers
What makes a GPT site a GPT site are paid offers. These are basically short tasks you can do to earn rewards.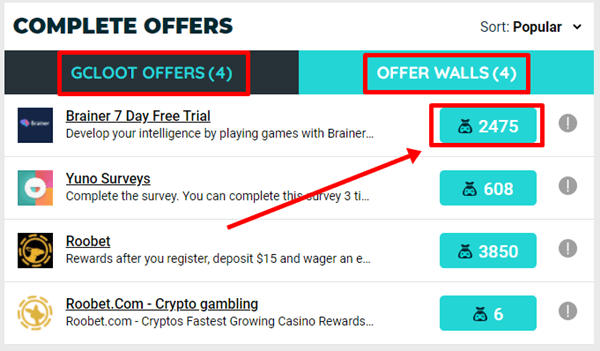 On GCLoot, there are two types of paid offers you can do. One is their paid offers.
As you can see in the photo above, most of their own paid offers will ask you to register to another online rewards site. Then, they will ask you to complete offers on those sites.
So, make sure to take note of what the offer will ask you to do and make sure to follow them down to the letter.
The other type of paid offers you will find are the ones on the offerwalls available on their site. If you don't know what an offerwall is, it is basically an in-app/site advertising platform that promotes specific websites or mobile apps through paid offers.
So, expect that the offers on their offerwalls will ask you to go to a certain website or download a mobile app. One thing I noticed about their offerwalls is, they don't have that many available. Normally, on other GPT sites, you can find around 10 or more offerwalls available.
But with GCLoot, they only have 4 (refer to the photo above). That means you won't have access to a lot of offers, which can directly impact the site's earning potential. Ideally, you will want a site that offers plenty of offerwalls so you won't run out of things to do to earn rewards.
Now, completing the paid offers for both types is basically the same. Every offer, as mentioned, will have a certain set of instructions you need to follow to earn the reward.
Once you've completed it, you should be able to get the reward promised, which is shown immediately before you even start working on the offer (the reward you will get is the one shown on the blue button).
One more thing you need to be aware of it that the reward will usually not be credited right away after you complete the offer.
It usually takes a few hours or even days before it will show up in your GCLoot account balance. This is because the site that offered the reward will have to verify everything before they will send the reward.
Option 2 – Paid surveys
Another way you can earn rewards is by answering paid surveys. This opportunity is typically found on survey sites, but it is also being offered on many GPT sites.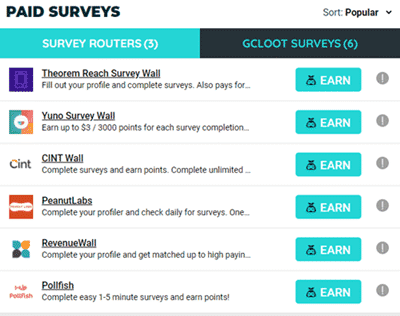 As you can see in the photo above, GCLoot really doesn't have paid surveys of their own. Instead, they only act as a survey router to give you access to surveys offered by other sites.
It's not a bad thing, in my opinion. You do get access to more surveys compared to if you were only answering surveys from a survey site.
However, in my experience, the reward you will earn from surveys from survey routers will be slightly less than what you will earn from surveys you will answer as a member of the actual survey site.
Now, to complete a survey on GCLoot, you will have to get through a qualifying process first. You will have to answer a set of screening questions. If you qualify, you will then get to answer the actual survey. If you don't qualify, you simply move on to the next survey site their router offers.
Once you complete the survey, you will receive the reward. But again, just like their paid offers, it can take a while before the reward will be credited to your account.
Option 3 – Watch videos
You can also earn additional rewards by watching videos. But let me just tell you right away, don't expect to earn a lot from this type of earning opportunity. Watching videos typically isn't the most rewarding opportunity on any GPT site.

The reason for this is, it doesn't really take a lot of effort to complete. But it does take up some time. So technically, this isn't the most efficient way to earn.
As shown in the photo above, you can earn 7 points for every 3 videos with ads you watch. The videos are hosted by HideoutTV. Take note, you can only earn if the video you watched has ads and not all videos on HideoutTV have ads. So, it may take some time before you can earn 7 points.
Plus, this opportunity is only available in select countries. They don't really tell you which countries it is available, but you will know if it isn't available where you live because it won't load any video when you start watching.
Again, as I've said, this isn't the most rewarding earning opportunity. So, I suggest you only do this if you don't have anything else to do on the site.
Option 4 – Referral program
You can also boost your earnings by inviting other people to join their site. This is called a referral program, which is very common on any online rewards site.
To participate in their referral program, simply share your invite link with the people you want to invite. Once they sign up to the site using your link, they will become your referral.

But as you can see in the photo above, their referral program works a bit different from most of the other GPT sites that have a referral program. The reward you will get for getting referrals will vary depending on the country where your referral lives in.
They have categorized their referrals into 3 tiers. You can see the tier list on their referral page. For tier 1 referrals, you will earn 250 Points. For tier 2 referrals, 150 points. And for tier 3 referrals, you will only earn 25 points.
You will only receive this bonus if your referral earns at least 1000 points on the site. So, there's really no point inviting people who are not interested in working on the site.
In my opinion, their referral program will only be appealing if you know a lot of people who live in the tier 1 and 2 countries.
So, it really isn't very inviting especially if you live in a tier 3 country. You will only be earning a few points, which makes it not worthwhile.
And overall, the referral program just has quite low rewards compared to many other GPT sites.
How do you get paid?
GCLoot uses a points system for their rewards. That means you will earn points for every activity you complete on the site.
You can then convert the points into any reward listed in their rewards catalogue (refer to the photo below).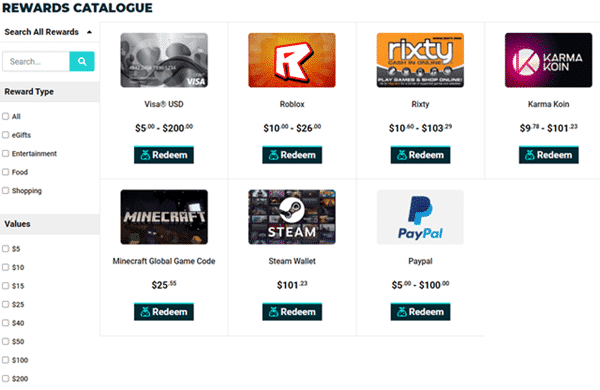 You can choose to convert your points to cash and withdraw it via PayPal. You will only need to earn 5150 points, which is equivalent to $5. It's a low threshold, which is good because it won't be that hard to reach.
You can also choose to convert your points into a prepaid Visa card. You will only need to earn 5000 points to redeem $5. You also have the choice to redeem gaming platform currency but they cost more.
One thing I noticed about the point conversion of their rewards is, it isn't fixed. Some rewards will cost more points even though they are worth the same amount. So, their reward system is a bit confusing, in my opinion.
But I do like the fact they offer PayPal as a payment option and that they have a low payout threshold. If you are interested in more sites with a low payout threshold, I recommend you also check out the fastest paying sites.
How much money can you make?
One thing I can say about GCLoot is, for a GPT site, it doesn't have a lot of earning opportunities.
It has fewer offerwalls which means you have fewer paid offers to work with. And as I've explained earlier, fewer offers means fewer rewards.
Their offers also don't reward that well. You can find offers with high rewards from time to time, but normally, the reward you will earn from offers will range around 10 to 100 points.
Their surveys pay much better, but it can take some time to qualify for the surveys, in my experience.
But compared to many other similar sites, the surveys you end up qualifying for pay quite decently. So, it can be worth being a bit patient and take the time to find the surveys you qualify for.
But even though they have a low payout threshold, it can take a bit of patience to reach it.
Overall I would say GCLoot has a decent earning potential but it definitely could be better.
Can you use it on mobile?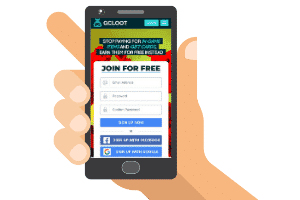 GCLoot doesn't have a mobile app you can download, but you can still access their site from a mobile device by using a mobile web browser.
Fortunately, their site is optimized for mobile use. So, you won't have a hard time navigating through the site or reading the content.
This can prove useful especially if you are completing offers that will involve downloading a mobile app.
It also allows you to earn conveniently even when you are not in front of a computer. This can help you with reaching the threshold quicker since you can earn anytime or anywhere (as long as your mobile device has internet connection, of course).
Who can join GCLoot?
GCLoot is available globally. You will be able to sign up as a member regardless of where you live. You have to be at least 18 years of age to register. If you are 13 years old or older but you are still under 18, you will need a parent's consent to join.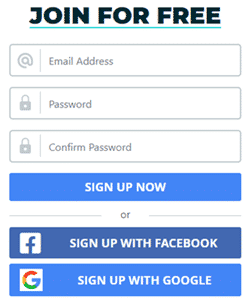 To register as a member, you just have to fill out their sign-up form. Alternatively, you can also sign up using your Facebook or Google account.
I used the latter and it was a very straightforward process. Once you are done registering, you will be logged in to the site and you can start earning.
Take note though that some of the opportunities on the site are not available in all countries.
Can you get support?
If you have any questions about the site, you can first check their FAQ page. It is very comprehensive and discusses most of the topics you need to know and common issues you might encounter on the site.
If you can't find the answers on their FAQ page, you can always send in your inquiry through their contact form. They use a ticketing system, so you'll be able to keep track of the support tickets you will file.
Overall, I would say they at least have the support system covered, which is good because you won't be left hanging if you experience any problems with the site.
Final Verdict
GCLoot is a legit GPT site that will reward you for completing offers, surveys and a few more. It has its advantages but it also has drawbacks you need to take into consideration before you join.
So, let me finish this review with a summary of its pros and cons to give you a better overview of what the site is all about. That way, you can better decide if you should really join this site or not.

Pros:
Offers payment via PayPal
Low payout threshold
Available globally

Cons:
Limited earning opportunities offered for a GPT site
Some opportunities are not available in all countries
Fairly low rewards for some offers
GCLoot is not a bad GPT site, in my opinion. But it's not a good GPT site either. For a GPT site, it doesn't have that many offers, which is usually the strength of a GPT site. So, you won't be able to earn as much reward as you would hope for.
It does offer a very convenient payment method (PayPal) and it has a low payout threshold. That being said, I would only recommend you join this site if you need to join a lot of GPT sites.
For sites with better earning potential, I would instead suggest you check out the top survey and GPT sites in your country. The sites on this list all have good earning potential and you will be able to find a site you can join regardless of where you live.
If you have any comments, questions, or have any experiences with GCLoot yourself, I would love to hear from you in a comment below.