GReward is an app that claims you can earn money by playing games. It sounds like a simple and fun way to earn extra cash, right?
However, I would recommend you not to hit the install button until you read this GReward app review first.
I'm always looking for new ways to earn money online and this GReward app fits the bill. So, I decided to test this app to see if it is really worth using or not.
I will share everything I have learned about this app so that you'll know exactly what to expect from it before joining. That way, you can properly decide if it is an app that is really worth using or not.
What is GReward and what does it offer?
GReward is a Get-Paid-To (GPT) app that will reward you for playing mobile games and participating in the other earning opportunities it offers. It is indeed a legit app since you will really get paid by doing the earning opportunities found inside the app.
But the question is, is it worth using?
Well, to answer this question, you must first understand how it works so you can properly gauge how much time and effort you need to invest in order to earn. And the best way to do this is to first examine the earning opportunities offered by GReward.
I have, therefore, made a video that gives you an inside look and shows exactly how you can earn from GReward. You can also read all the details below the video.
Recommended: Check Out the Top GPT Sites
Option 1 – Paid offers
The primary way to earn from GReward is to work on its paid offers. If you've been a member of GPT apps or sites before, then this method of earning will be very familiar. If this is your first time hearing about this kind of opportunity, then let me explain to you how it works.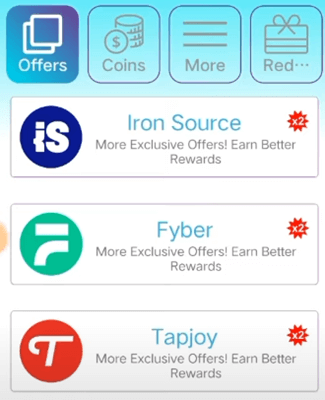 Paid offers are really just short tasks you can do to earn rewards. These offers are usually found on offerwalls. When you log in to the GReward app, you will immediately see all the offerwalls you can work on.
And by the way, offerwalls are just in-site/app advertising platforms designed to promote specific websites and apps. They promote these sites and apps through paid offers.
So, when you log in to the app, you just have to pick which offerwall you want to work on to see all its paid offers.
When I was testing the app, I only encountered around five offerwalls. That's a far cry compared to more popular GPT sites and apps where you can usually find around 10 to 20 offerwalls at any given time.
That being said, every offerwall found in GReward does have a decent number of paid offers available, so you will still not run out of things you can do to earn rewards. And during my testing, most (if not all) of the offers asked you to play a mobile game.
Every paid offer will tell you how much you will earn for completing it, so you can easily prioritize which offer to work on. I do have to tell you that these offers can take a bit of time to complete because you will usually have to reach a certain level while playing to receive the reward.
That's why if you want to earn from this app, you must be prepared to invest a bit of time. Once you complete an offer, you'll earn a certain number of coins. Later, I will discuss what you can do with the coins you've earned.
Option 2 – Watching videos
Another way to earn rewards from GReward is by watching videos. These videos are actually just video ads and will usually be around 30 to 50 seconds long.

To start watching videos, you just have to log in to the app and scroll past the offers until you see something similar to the photo above. Then, to start watching the video, just press that, and it will immediately play it.
To earn the reward, you'll have to wait for the video to finish. Once it has finished, if there are more videos you can watch, it will just continuously play them.
For every video you finish watching, you'll earn 100 coins. While it may sound like a lot, it actually isn't. Later on, I will explain why, but based on my experience, this kind of earning opportunity isn't really a very efficient one. But on the bright side, it takes little effort.
Option 3 – Referral program
Lastly, you can earn more rewards through GReward's referral program. If you don't know, a referral program is an earning opportunity to promote the site or app.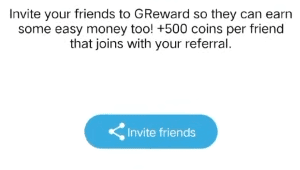 The idea is that you invite people to use GReward by sharing your invite code. When they install the app and go through the sign-up process, they have to input your code. Once they do that, you'll earn 500 coins. For their part, they will also receive 100 coins as a bonus for providing your code.
It's an easy way to earn additional rewards. Their referral program also has a couple of one-time bonuses. You see, if you make a video promoting the app and post it publicly on social media or YouTube, you will receive $5 when the video reaches 20 likes, and you get 10 referrals.
When the video has 500 likes, and you manage to get 200 referrals, you'll receive an additional $100 as a bonus. When you are eligible for the bonus, you can email them at info@greward.net to receive the reward.
As mentioned, you can only receive the bonus once. The $5 bonus is easier to achieve, while the $100 bonus takes a little bit more time and a bit of work to hit.
Recommended: Check Out the Top GPT Sites
How do you get paid?
As explained above, you'll earn coins every time you complete an earning opportunity offered by GReward. But what can you do with the coins you've earned? Well, you have three options. First, you can convert the coins to cash via PayPal.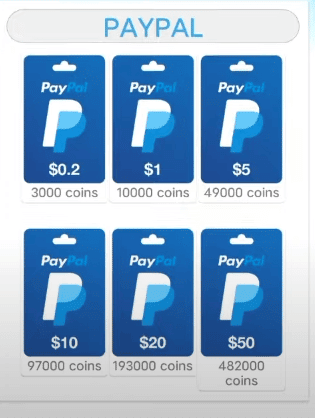 Once you've earned at least 3,000 coins, you can make a PayPal withdrawal worth $0.2. This is a very low threshold, but it's also not a practical one, in my opinion. I personally wait a bit longer and earn more so I can withdraw a higher amount from apps and sites like this.
As shown in the photo above, if you've earned 49,000 coins, you'll be able to make a $5 PayPal withdrawal. That would be the ideal amount to aim for, in my opinion.
Aside from this option, you can also convert your coins to various gift cards. However, the type of gift card you can redeem will depend on the country you live. When I was testing, the only option available was Tango gift cards. The coin conversion is pretty much similar to the PayPal withdrawal. You'll need to earn 49,000 coins to redeem a $5 gift card.
Lastly, you can also choose to convert your coins to mobile credit. Again, the choices for mobile credit will depend on your country, so it's pretty hard to declare the exact amount of coins you will need to redeem this kind of reward. But those are your options in terms of cashing out.
The payment system of GReward is relatively straightforward, and I like that it offers PayPal as a payment method since it is one of the most convenient payment methods available today.
If you are interested in more sites that offer a convenient payment method, I would recommend you check out the top sites that pay via PayPal.
How much money can you make?
As mentioned above, GReward has a decent number of earning opportunities available at any given time. So, the amount you can earn will mostly depend on how well the app pays.
This, in my opinion, is where the app is lacking. Sure, you'll find offers that will reward you with around 10,000 to 15,000 coins which can sound like a lot. But to put it into perspective, that will only be around $1 to $1.5, which isn't a lot.
And these offers will usually take a couple of hours to complete. That's why I would say the earning potential of this app is relatively low, mainly because of the low rewards it offers. The time-to-money ratio is also quite low.
It will take a lot of time before you can earn a significant amount from this app.
Can you use it on a desktop?
GReward is a mobile-only platform, so you'll need your mobile device if you want to earn from it. It also makes sense because most (if not all) of the earning opportunities, especially the paid offers, will ask you to download another mobile app/game.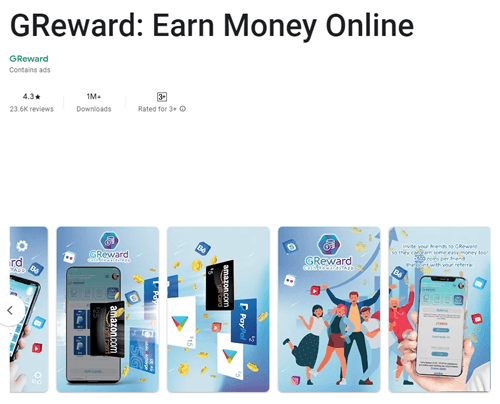 As for the app, it can only be downloaded from the Android app store. It doesn't have an iOS version at the time of writing this review. So, if you are an iOS user, then this app is not for you. I would instead suggest you check out the best money-making app for iOS.
The app is relatively easy to use. You'll get used to navigating it in no time. It's also not spammy. Aside from the video ads you have to watch to earn small rewards, you will not encounter any additional pop-up ads, which is a good thing. It can get quite annoying to keep closing pop-up ads.
Who can join GReward?
The app's website doesn't exactly tell you which countries it is available in. But from what I can see, this app is available more or less worldwide. If you want to find out if it is available in your country, you can go to the Android app store and search for it.
If it is listed among the search results, then that means you'll be able to use it. If it isn't, then it is not available in your country.
To sign up, you must first download and install the app. Then, when you open it for the first time, you just have to go through the registration process. Once you are done with that, you can now log in to the app and start earning.
Can you get support?
If you have any questions about the app or your account, you can check out the FAQ page first. It is accessible from both the app's website as well as inside the app. The FAQ page discusses some of the basic topics, but it's not as useful as you would hope.
So, if you have any questions or encounter an issue while using the app, you'll have to get in touch with their support team. You can do so by using the contact form on the website or the app. You can also just email them directly at support@greward.net.
Overall, I would say the app has a decent support system in place for its members since it offers a couple of ways for you to communicate with their support team.
Final Verdict
GReward is a legit GPT app that will reward you for completing offers and other earning opportunities. It has a couple of good features, but it also has a few limitations you need to consider.
Let me conclude this review with a summary of its pros and cons to give you an overview of what the app offers. Then, you can decide if you should go for it or not.

Pros:
Offers payment via PayPal
Has a decent number of earning opportunities

Cons:
Low rewards
Only available for Android devices
GReward is not a bad GPT app, in my opinion. However, it doesn't really offer any reason for you to use it. In other words, there's nothing special about it. That's why you are better off joining more popular GPT sites and apps because those apps pay better, and you can earn more efficiently.
I would only recommend you use this app if you really need an additional app to earn from. Otherwise, I recommend you check out the top survey and GPT sites in your country instead. The sites on this list all have good earning potential, so you don't have to spend a lot of time earning a decent amount.
If you have any comments, questions, or have any experience with GReward yourself, I would love to hear from you in a comment below.