Growfitter is a fitness app that claims to reward you for staying healthy.
But the question is, is this app legit or just a scam?
If you continue reading this Growfitter app review, you'll find out the answer to that question and more.
I have tested the app to see how it works and how well it compares to other apps that offer the same earning opportunity. And I do have to say that there are a lot of apps that offer the same thing, so it's in your best interest to find out if this one is better than the others.
In this review, I will give you an inside look so you will know exactly what to expect from the app. Then you can make an informed decision on whether this app is really worth it or not.
So let's go ahead and examine Growfitter, shall we?
What is Growfitter, and what does it offer?
Growfitter is a fitness app that will reward you for exercising. It is indeed a legit app because you will really receive rewards for fitness activities like walking, running, and cycling. However, this doesn't necessarily mean that Growfitter is worth your time.
To figure out if you should use this app, you must first understand how it works so you can get a clear picture of how much time and effort is required to earn from it. And the best way to do that is to examine the earning opportunities it offers.
So here's how to earn from Growfitter.
Option 1 – Fitness Challenges
One way to earn rewards from Growfitter is by completing fitness challenges. All you have to do is log in to the app and go to the "Challenges" section to see all the fitness challenges you can participate in.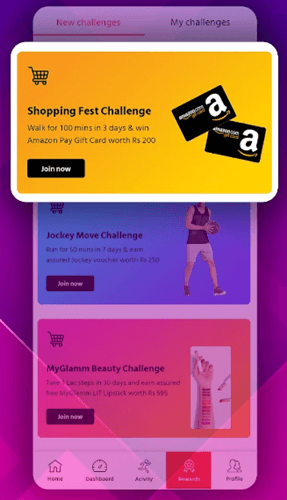 The way these challenges work is if you want to earn the reward offered, you have to meet the requirements of the challenge. For example, in the photo shown above, you have to walk for at least 100 minutes within three days.
So all you have to do is allow Growfitter to track how long you've walked within a 3-day period. If you are able to hit the target, you will receive the reward offered.
There aren't a lot of challenges available, so if you ever see one, I suggest you participate in the challenge if you want to maximize your earnings from this app.
Option 2 – Fitness Activities
You can also earn rewards from fitness activities like running, walking, cycling, and answering health quizzes. The way this opportunity works is that you'll first have to set your goal according to the reward you want to receive for doing the fitness activity.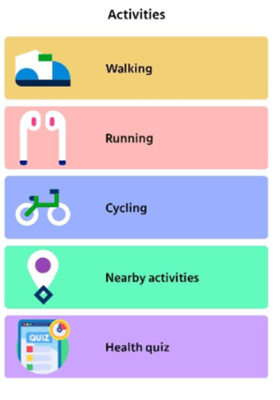 You have the option to receive short-term, medium-term, and long-term rewards. You need to choose according to the level of your commitment. Then, just go to the "Activity" section and choose the fitness activity you want to do.
Once you've done that, you will see the milestone you need to hit (which will be in the form of active days) to earn the reward. All you have to do is complete the activity every day to get what is called a "Growfitter Active Days". Once you've reached the required number of active days, you will be able to claim the reward.
Later, I will discuss the type of reward you can claim. Once you've claimed the reward, you can just start back from scratch and go through the same process all over again. Take note that you can also change the term of the reward you can receive (short, medium, or long).
Option 3 – Referral Program
Lastly, you can also earn rewards by inviting people to join the app. This is called a referral program, and it is very common in most online reward apps or sites. The idea behind this opportunity is to invite people to join the app by sharing your invite code with them.
Then, just remind them to input the code during registration. Once they've done that, they will automatically become your referral. You will then earn 10 Growfitter Points, and your referral will also receive 10 points. But when your referral completes his or her first activity, you will receive an additional 10 points as a reward.
It's a decent way to earn rewards, and I like the fact that you will immediately receive a reward when they sign up. In the next section, I will discuss what you can do with the points you've earned.
Recommended: Check Out the Best Walk and Earn Apps
How do you get paid?
Growfitter has a different set of rewards for each earning opportunity, which makes it a bit confusing, in my opinion.
As mentioned earlier, challenges offer specific rewards as well as fitness activities. With challenges, you will usually receive gift cards for Amazon or fitness products.
For fitness activities, the rewards you will earn will depend on the type of reward you choose. The short-term rewards will be easier to earn, but they aren't worth much in terms of monetary value. While the long-term rewards are more challenging since they can take weeks or months to earn, they are also the rewards that offer the highest monetary value.
For this opportunity, you can expect to receive movie tickets, flight ticket vouchers, protein shakers, fitness merchandise, and gadgets like headphones, Bluetooth speakers, fitness bands, AirPods, iPhones, or even an international hotel booking.
The rewards that will be offered will vary, though, so don't expect to see the same rewards every time you complete a fitness activity.
For the referral points you've earned, you can redeem various gift cards for Uber, Starbucks, H&M, Apple, Amazon, and many other premium brands. The points required to redeem a reward will depend on the type of reward you want to redeem.
Now if you are wondering if Growfitter also offers cash rewards, then let me tell you right now that they don't. So if you are looking to earn cash, then this app is not for you. Instead, I suggest you check out the top sites that pay via PayPal if you want to earn cash.
How much money can you make?
As explained above, technically speaking, you won't be able to earn money from this app since it doesn't offer any cash rewards. But as for the monetary value of the rewards you can earn, that will really depend on the earning opportunities you manage to complete.
But from what I can tell, the only rewards that are worth a significant amount are those that belong to the medium-term or long-term rewards for fitness activities. The rewards for challenges won't be a lot unless the challenge is really hard.
From what I've observed, the value of the reward you will receive will always depend on how much time and effort is required to earn the reward. You can aim for long-term rewards since these are the rewards that offer the highest monetary value.
Overall, I would say the time-to-money ratio of this app, though, isn't that great. But again, with fitness apps like Growfitter, the real value you can get will be staying healthy and in good physical condition. That, in my opinion, is what these apps are really designed to do.
If you are looking to earn, you are better off working on other types of apps or online rewards sites.
Can you use it on a desktop?
While you will be able to log in to the website from your computer, you can't really do anything aside from checking the status of the rewards you claimed. If you want to earn from Growfitter, you'll have to download the app.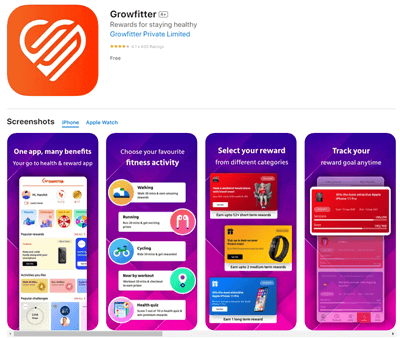 The app is available for download on both Android and iOS devices. It is also relatively easy to use, so you shouldn't encounter any issues when using it.
The one thing I noticed, though, is that the website tends to display ads which are quite surprising, in my opinion. Normally, with fitness apps like this, you don't really encounter any ads, especially on the website.
It's a small thing, but it can affect the overall user experience Growfitter offers. It also makes their site look a bit spammy, in my opinion.
Who can join Growfitter?
Growfitter is only available in a few countries (refer to the photo below).

As you can see in the photo above, Growfitter will allow you to register as a member if you live in the US, India, Singapore, or UAE. However, most of the rewards offered are really only for people who live in India.
Their website also says that it is India's biggest incentivized wellness platform, and there's no evidence that people from outside India are using it. So I would say Growfitter is only suitable for people who live in India.
If you are eligible to join, you just have to fill out the registration form and provide your mobile number. Once you've submitted the form, the app will send you a one-time password via SMS. Just input the code to complete your registration.
Can you get support?
The site doesn't really have a help page or even a FAQ page you can check out if you have any questions about the app or your account. The app doesn't have one too, so if you require assistance, you'll have to get in touch with their support team first.
You can do so by using the contact form provided by the site or the app. You can also just email their support department directly at info@growfitter.com.
Overall, I would say Growfitter does provide the minimum required support, but I do wish their site would have a Help page or at least a FAQ page to decrease the instances of having to get in touch with support.
Final Verdict
Growfitter is a legit fitness app that will reward you for doing fitness activities. It has a couple of decent features, but it also has a lot of disadvantages you need to be aware of.
Let me wrap up this review by summarizing its pros and cons to give you an overview of what Growfitter has to offer. Then you can decide if it is really a good fit for you or not.

Pros:
Offers an interesting way to earn rewards
The app is relatively user-friendly

Cons:
Doesn't offer cash rewards
It can take some time and effort to earn from this app
In my opinion, Growfitter is a decent app to help you stay motivated to keep on exercising. Just keep in mind that the app doesn't offer any cash rewards. There are some great rewards, though, but you have to invest a lot of time and effort to earn them.
You have to be committed to doing the work if you really want to earn cool rewards from this app. If you are looking for more apps like this, I suggest you check out the best walk and earn apps as well.
But if your goal is to earn extra cash, I suggest you check out the top survey and GPT sites in your country instead. The sites and apps on this list all have good earning potential, and most (if not all) of them offer cash rewards as well.
Plus, you will definitely find a site or app you can join regardless of where you live.
If you have any comments, questions, or have any experience with Growfitter yourself, I would love to hear from you in a comment below.