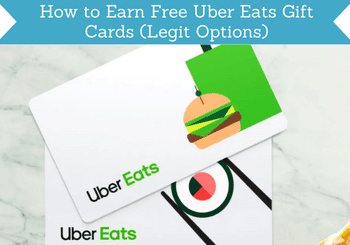 Over the years, I have tested hundreds of methods to earn rewards online. One reward that can help save you money is Uber Eats gift cards.
If you frequently use this app to order something to eat, I highly recommend you keep reading this guide.
It will show you how to earn free Uber Eats gift cards, so you can save money when you order food from the app.
All the options I will be including on this list are legit and free to join. I will include a brief summary for each option so you can easily identify which one suits you best.
Disclosure: Some articles on this website contain affiliate/sponsored links. Click for more info.
How to earn Uber Eats gift cards?
To earn free Uber Eats gift cards, all you have to do is join a Get-Paid-To (GPT) site or app. Once you become a member, all you have to do is complete simple tasks to earn rewards.
The tasks you need to do will usually take only a few minutes. Typically, you will only have to answer surveys, complete offers, watch videos, play games, and sign up for websites.
Then, once you complete the task, you will receive a reward. When you've earned enough, you can redeem an Uber Eats gift card. The amount you can redeem will depend on the rewards you've earned. Normally, the gift cards will be in increments of $5 or $10.
How many Uber Eats gift cards can you earn?
Before we talk about the actual options you can choose from, let me make it clear that this is not a hack or a trick where you can magically get hundreds of dollars worth of Uber Eats gift cards without putting in any effort.
You will need to invest a bit of time and effort to earn enough rewards to redeem a gift card for Uber Eats. If you see a site or an app claiming you can easily and quickly earn hundreds of dollars worth of gift cards, it is most likely a scam, and you should stay away from it.
You can't really earn that kind of amount in just a few clicks. As I've explained above, the realistic method of earning gift cards for Uber Eats is by completing simple tasks. Now, these tasks won't offer very high rewards.
Usually, you can earn around $1 to $10 per task. But if you complete a lot of these tasks over time, you will be able to earn a significant amount. That's what you should expect from this opportunity.
5 Ways to earn free Uber Eats gift cards
Now that you know what to expect from this kind of opportunity, we can discuss the actual options you can choose from. Take note that this list is not a prioritized list, so you can just pick which one you prefer.
But if you want to maximize your earnings, I highly recommend you join multiple sites/apps so you get access to more earning opportunities. I will keep updating this list if I find more sites in the future that are truly worth it. So, make sure to bookmark this page and check on it from time to time for new opportunities.