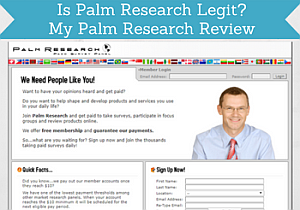 When first visiting Palm Research survey panel's website, my thought was that it looked very old-fashioned. But an outdated design does not mean that a site cannot be good, so I still decided to join and test it, as I always find it interesting to test new survey sites.
After having been a member for a while now, I will in this Palm Research review share my experiences with you, and let you know if it is a legit site that is worth the time, or if you a better off spending your time on other survey sites.
What is Palm Research Panel and what does the site offer?
Palm Research is a consumer research company that has its base in California. There is not much information about the company on its own website, but according to the BBB (Better Busienss Bureau) it has existed since 2007.
It is a very simple website that does not have many ways of earning, but that also makes it easy to navigate on it and use. You can mainly earn by doing paid surveys, but there are a few different kinds of surveys, and also one other opportunity to earn. The ways you can earn on Palm Research are:
Daily surveys:
The daily surveys is what Palm Research claims is a great way to make money. You will supposedly get 3 of these daily surveys offered every day, and they will pay you between $0.70-$1 per survey for a pretty short survey. The idea is nice, but the thing is that you might be offered 3 of these every day, but there is no guarantee that you will actually be able to take them. How often you will be able to take them depends on where in the world you live.
I have however found that most of the surveys I have been offered are not a Palm Research survey, but just a link to a different survey site. And in general, I am mostly not able to take the surveys. It is very normal not to qualify for surveys, and I am used to that from many other survey sites, and that is a part of doing paid surveys. But on Palm Research, I am more or less never able to take the daily surveys, so I am not impressed with this option.
Open surveys:
Other than the daily surveys, Palm Research also offers a section with open surveys, or what the site itself calls AdHoc surveys. In this section, you can find other surveys. Palm Research says that there is no limit to how many of these surveys a day you can take. However, how many you will be offered depends a lot on where in the world you live. Personally, I have very rarely been offered any surveys in this section, so is not really a great opportunity to be allowed to take as many of these a day as I want, when there more or less never are any. This might however be different in the country you live in.
Clinical trials:
In the member area, you can also find a section with clinical trials. There is no information on Palm Research about what this kind of surveys are. Usually clinical trial surveys are about medical conditions or medicine, and can give quite high rewards. But as there is no information on the website about it, and as I have never seen any surveys available in this section, I cannot be sure what this option is about, and what the potential rewards are.
Refer new members:
The last way to make money on Palm Research is by referring new members. As a member, you will get a link that you can share with other people. If a person joins through your link, you will get a 10% commission of all their earnings. This is paid by Palm Research, and it does not affect what the person you invited will get paid.
Personally, I think it is great when survey sites have referral programs. 10% is however a bit low compared to some other sites. Also, you only earn yourself, if the site actually has good opportunities for the people that joins. So Palm Research does not have the best referral program in my opinion, and it will not be something that will give you a lot of extra earnings unless you know A LOT of people you can invite and that will be active after joining.
How do you get paid?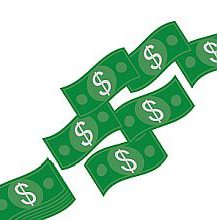 Above you can see what earning methods Palm Research is offering. In my opinion it is not impressive, and there are many survey sites with better opportunities. But Palm Research can still give some opportunities for earning, and it is important to not only know how you can earn, but also how you can then get those earnings out.
Palm Research only offers one method of payment and that is through PayPal. That is my favorite way of payment from survey sites, so I like that it has this option.
You have to earn $10 before you can get a payout, and once you have reached this threshold, the payment will automatically be processed at the end of the month. That is why you have to register with your PayPal email address when you first join. There is however quite a long wait from you reach the threshold until you actually get the money. The payouts are processed in the end of every month. If you are above the $10 threshold, your payout will be processed, but you will not receive the money until 45 days later. That is a long wait, and most survey sites offer PayPal payment within days or even within hours in some cases. Palm Research says it is to avoid fraud, but I find it strange that it has to take 45 days for them, when so many other survey sites can do it in a few hours or days.
One great thing about Palm Research when it pays out is however that they pay all costs related to PayPal. So if you earn $10, you will also get $10 out, as you do not have to pay any fees to PayPal.
How much money can you make?
Your earning chances depend a lot on where in the world you live. Palm Research says that surveys on average take 6-12 minutes per survey and most pay $0.70-$1. This is decent for a survey site, and if there are enough opportunities, it quickly adds up. In my experience, the opportunities on Palm Research is just not very great, and there are not as many opportunities and chances of bonuses etc. as there are on my favorite survey sites.
So you should not expect to make a lot of money on Palm Research.
Can you use it on mobile?
Palm Research does not have an app, but you can in theory use it on your mobile phone by just opening the website in your browser.
The site is however not mobile friendly designed, and it is not a very good user experience to use it on your phone. Even on a computer, the design of the website is not very exciting and quite boring and dry to look at. On a phone the experience becomes even worse. So it is only something worth doing, if you are really dedicated to doing Palm Research surveys on the go. If not, it is better to wait until you are at a computer or join survey sites with an app.
Is Palm Research a safe site?
In general, Palm Research seems like a legit site, but there is one thing that worries me about the security of the site. Member websites, where you have to login, should have what is called SSL (secure sockets layer). Shortly explained, it is what makes a website safer and makes it safe to login and exchange information with a certain website. By now, most websites should have it, and websites where you can login or where you can do shopping should definitely have it for security reasons.
It is easy to see if a website has it. In the top of the browser, where the address of the website is, there are either a small green padlock for the sites that have it, and nothing for the sites that do not. Survey sites where you login, give some information about yourself, and where you have your PayPal info should definitely have it, and the updated and serious sites like for example PrizeRebel and SwagBucks of course have ssl. You can see how to spot if a site has ssl on the image.
Not having ssl does not mean that Palm Research is completely unsafe, but it is a sign that it is not a site that it up-to-date, and that does not follow the newest standards. You can not only see this on the lack of ssl, but also on the whole overall design of the site. The out-of-date design I can however live with, but I think it is a bit worrying that the site does not yet have ssl.
Who can join?
You can join from a long list of countries. As there are a lot, I am not going to mention them all here. But if you want to join Palm Research, there is a good chance you can. The picture below shows some of the countries that the website itself shows, when you first come to the site. There are however more countries that can join than the ones on the picture.
Even though you can join from so many countries, there can be big difference in how many opportunities you will get depending on the country you live in.
Is there a joining bonus?
Joining bonuses on survey sites can be a great way to get a good start and get some easy earnings from the beginning. That is why many survey sites offer a joining bonus once you have completed your profile on the site.
That is however not the case for Palm Research. You do have to fill out a profile so it is easier for the site to match you with surveys, but you do not get any bonus for this. In general, I do not have a problem with a survey site not giving a joining bonus, if it is a great site in other areas. But a joining bonus can be a nice extra touch. However, Palm Research does not give a bonus, so if you only like joining sites that do, this is not a site for you.
Conclusion
I have mixed feelings about Palm Research. It has some potential, but there are also many cons. Let's sum up the pros and cons to get a better overview:

Pros:
Easy to use
Decent rewards in relation to time spent
Payout through PayPal and pays the fees for this

Cons:
Very old-fashioned design
Not very many opportunities
Does not have ssl
Takes 45 days to pay out
I have to say that the cons of Palm Research outweighs the pros for me. The main issues for me is that it does not offer very many opportunities, it seems outdated, does not have a secure website, and on top of that, the processing time for payout is very long.
So overall I would say that Palm Research might have some potential in some countries. But there are many sites that give better opportunities, and that are a lot more interesting to use.
If you have any questions or comments, or have any experiences with Palm Research yourself, I would ove to hear from you in a comment below.
Palm Research
Money/time ratio

Frequency

Usability

Credibility
Summary
Palm Research might have some potential in some countries and has some good aspect. But it is not a site with big opportunities. Also it in general seems outdated, and is not a site where I would recommend to spend a lot of time.