There are many free ways to earn some extra cash online, but it can be hard to figure out which sites you should join so you do not waste your time or get scammed.
One platform that claims to offer you an easy way to earn money online and ease financial stress is called KashKick.
But is KashKick legit and really a great way to earn, or is it one of the scam sites to stay away from?
This is an important question to ask because you need to make sure you join a legit site that does pay you for your time.
And let me just reveal right away that KashKick is a legit Get-Paid-To (GPT) site. However, I have also had some not-so-great experiences with it, so there are some important details you NEED to be aware of before joining.
In this KashKick review, you will get all the details and find out exactly what it offers and get an inside look so you know exactly what to expect and can decide if you should go ahead and sign up as a member or not.
What is KashKick, and what does it offer?
As mentioned above, KashKick is a GPT site that will pay you for taking offers and answering surveys. If you are not familiar with GPT sites, they are basically sites that will allow you to earn rewards by doing small tasks.
What makes it a more advantageous site to earn rewards from is that it typically has plenty of earning opportunities you can do regularly compared to a survey site.
Now, to get a clear picture of how well you can earn from this site, we have to take a closer look at the earning opportunities it offers.
For that, I have made a video that gives you an inside look and shows exactly how you can earn from KashKick. You can also read all the details below the video.
Recommended: See the Highest Paying Survey Sites
Option 1 – Paid offers
What makes a GPT site a GPT site is the paid offers you can do. These paid offers are basically small tasks you can do to earn rewards.

Most of the time, paid offers will ask you to play a game, answer a quiz, sign up for a certain site, or download an app. Every paid offer will have a certain set of conditions you need to meet to earn the reward.
However, on KashKick, it is not quite how it works. It just has one section where it displays all its offers.
Most of them are things you need to sign up for, as you can see in the image above.
It can also be a subscription to an online yoga platform, Hulu, and more. These are basically offers KashKick gets paid to promote, and they then share the commission with you, and that is why you can get paid to sign up for these offers.
But make sure you read the conditions carefully because you have to pay for some of the offers, and for others, it will continue into a paid subscription after the free trial ends.
So you just need to make sure you know what you agree to.
Overall, KashKick has a decent number of offers but not as many as many other GPT sites.
Option 2 – Get paid to play games
You can find quite a lot of games you can get paid to play on KashKick. They are basically the same as paid offers but just focused on games, and KashKick has a separate section where you can find these.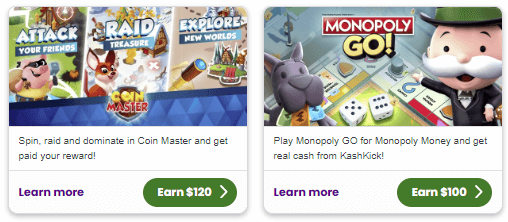 As you can see in the image above, some of the games can give quite good rewards. But be aware that getting the full reward will take a lot of effort and time.
So make sure to read the full conditions before you start the game. In some cases, you might even have to spend money playing the game to be able to reach the levels you need to get the full reward.
Option 3 – Paid surveys
The other earning opportunity offered on KashKick is their paid surveys.
They have a decent number of paid surveys you can do. They have divided them into 3 different categories.

When I first tested it, it did not have these categories, but I like that they have introduced them, as it makes it easier to find the right surveys for you.
Just be aware that even though you can now filter it and, for example, choose only the short surveys, there is no guarantee you will qualify for all surveys.
And you cannot see what you get for the survey before you start it, which is a bit strange and something that could be improved, in my opinion.
But, in my experience, some of the surveys give decent rewards for your time compared, while others give quite low rewards.
So, you just need to choose the surveys carefully and prioritize your time. And overall, I am not super impressed with the survey opportunities on KashKick.
Option 4 – Referral program
Most online rewards sites have a referral program in place that will reward you for inviting people to join their site. KashKick is no different.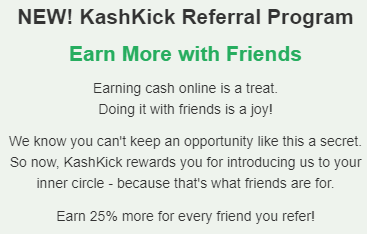 You can invite people to join the site by sharing your invite link with them. Once they click the link and sign up for the site, they will become your referral.
You can then earn 25% of the rewards they will earn from completing sponsored surveys. So, for example, if your referral completed a survey worth $1, you will receive $0.25, which will be shouldered by KashKick.
So it can still be a nice bonus to get since you don't really have to do anything to earn since it is a form of passive income.
Of course, it will all depend on whether your referral keeps answering surveys.
Recommended: See the Highest Paying Survey Sites
How do you get paid?
KashKick doesn't use a point system as many GPT sites do. So, everything you will earn on the site will be in $, so you can easily see right away what you will get for each survey and offer, which is definitely a plus.
It will then be credited to your KashKick account balance. Once you've earned $10, you will then be able to request payment via PayPal.
Payments are made on a regular biweekly basis. So, for example, if you reach the threshold in the third week of the month, it won't be processed until the end of the month.
So, it takes a bit of patience to receive your earnings.
If you are interested in more sites that have a low payout threshold, I suggest you check out the fastest paying sites.
Also, just be aware that there are some cases when KashKick might not pay you – or that is at least what I have experienced. But I will explain more about this below.
How much money can you make?
With GPT sites, the amount of money you can make will mostly depend on how often you work on the site. The more time you spend on it, the more you can earn.
However, earning potential is a different matter. To say a site has good earning potential, we have to consider the availability of earning opportunities as well as the time-to-money ratio.
In terms of availability, KashKick has a decent number of surveys and offers. So you can earn rewards regularly.
As for the time-to-money ratio, this is where it varies a lot from survey to survey and from offer to offer.
Some surveys and paid offers won't reward you with a lot, and you can see examples of this in the image earlier in this article.
However, I have also seen surveys that give quite good value for your time.
But overall, the earning potential of KashKick is decent but not great. And I have actually experienced not getting paid and have to accept that I have lost quite a bit of money, as I will explain next.
How I Almost lost $130 on KashKick!
I have already mentioned a few times that I have had some bad experiences with KashKick, and I want to share a bit more about my story here so you can see what to be aware of before joining.
When I first joined and tested it, I could see that it definitely was legit, and it did pay.
So, I started earning on the platform and also inviting others. However, then suddenly, one day, I noticed I could not get paid.
I had not received any email warnings or anything but had just been blocked. At that time, I had $130 I had not cashed out.
I, of course, immediately reached out to their support. And I also got a reply that said they would look into this as it seemed there had been some fraud.
If you have read any info here on my website, you will know that I always make sure to use survey sites honestly, so this accusation was very unexpected, and I sent them all the proof I could that this was not true.
However, I then just never heard back from the support again. And I tried contacting them 3 more times but still did not get a reply.
At that point, I accepted that I would lose my earnings there. However, a few months later, I decided to try again, and this time I got a hold of the owner – this helped, and I fairly quickly got my money.
This does not mean that there will always be problems getting paid by KashKick, as I know it often does pay without problems. But it means that if you ever should run into problems, then you can not always expect to get any help from them, and it seems to depend on who you end up getting in touch with from their support.
So if you still decide to use KashKick, I would suggest you do not accumulate too much before cashing out just to be on the safe side.
Can you use it on mobile?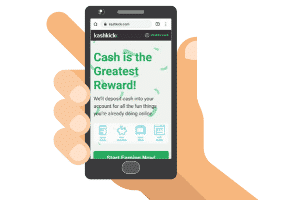 It is possible to use KashKick.com on a mobile device.
It doesn't have a mobile app you can download, but you will be able to access it from a mobile device using a mobile web browser.
And fortunately, their site is mobile-friendly. So, you don't need to zoom in just to read all the content clearly. This makes it easier to use and will help you earn rewards conveniently anytime and anywhere.
You just need to make sure your mobile device has a stable internet connection when working on the site.
Who can join KashKick?
KashKick is only available in the US.
So, if you don't live here, then this site is not for you. You also have to be at least 18 years of age to join the site.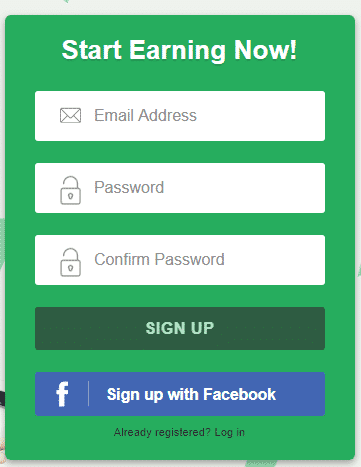 To sign up as a member, you just need to fill out the registration form and then complete your profile.
Once you've finished the registration process, you will get a $1 sign-up bonus. So you'll get a good head start.
One thing you need to remember when you become a member of KashKick is that you need to make sure your account remains active.
Because if you haven't logged in and you haven't earned any rewards for a span of 60 days, your account will be terminated, and you will forfeit all your earnings.
This is kind of a short period and not very user-friendly, so you risk losing your earnings like that. But as you can see in general from this review, the user does not really seem to be something KashKick focuses on.
Can you get support?
When I was looking around their site, the first thing that caught my attention was there wasn't really any FAQ or Knowledge Base page. Apart from the basic instructions you get from their site, you won't actually learn anything more about how to work the site.
A Knowledge Base or FAQ page can be a great help if you have some questions. However, they provide several other ways for you to get in contact with them.
If you are a member, you can send a message inside the platform. If you are not a member, you can get in touch with their support via email: [email protected].
Whether you are a member or not, you can also go to their Facebook page and chat with the support there or send them a message.
However, I have had very mixed experiences with their support. When I first tested it and contacted their support, I got fairly quick replies.
But as you can see from my story I shared earlier in this review, that has not always been the case.
Final Verdict
KashKick is a GPT site that does pay you for completing paid offers and answering surveys. It has a couple of good features to offer and some big drawbacks as well.
So let's end this review by summarizing its pros and cons to help you decide if you should become a member or not.

Pros:
Payment via PayPal is available
Fast to register and get your joining bonus
Decent rewards for your time

Cons:
Some surveys have low rewards
Lacks good FAQ section
KashKick has a couple of good features to offer.
However, at times, the support can be poor, in my experience, and you just need to be aware of this.
It has a decent number of surveys and pays out via PayPal, which is great. And it can be a decent way to earn some extra cash.
But I would suggest you also check out the top GPT sites to get even more opportunities. The sites on this list have good earning potential and are all very reliable.
Plus, you will be able to find a site you can join regardless of where you live.
How to join Kashkick?
If you want to join, just click the button below, and you will be taken to the signup page. It will take you 1 minute get started.
If you have any comments, questions, or have any experiences with KashKick yourself, I would love to hear from you in a comment below.