Are you saving up for your kid's future? There's a site called KidStart that claims their goal is to help parents get this great feeling every time they shop.
It sounds like a good opportunity especially if you love to shop, right? Well, before you hit the sign-up button, there are a few things you must know first.
The most important piece of information you need to know about this site is if it even is legit or if it is a scam. So, let me address this concern right away. Yes, KidStart is a legit shopping club site that will reward you for availing of their cashback offers.
Now, the question is, is it worth joining or not? To answer that question, we have to consider several things. This KidStart review will show you the full details so you know exactly what it offers and what to expect so you can decide if this is a good fit for you or not.
So, let's go ahead and dive right in, shall we?
What is KidStart and what does it offer?
While KidStart says it is a shopping club, the proper term for this kind of site is really a cashback site. That's because in order to earn from KidStart, you have to actually spend some money. And that's how cashback sites work.
Now, to fully understand how KidStart works, we have to take a closer look at the earning opportunities it offers. This will also give you an idea of how well you can earn from this site. So, here's how to earn from KidStart.
Option 1 – Cashback offers
The bulk of the rewards you will earn from KidStart will come from their cashback offers. If you've been a member of other cashback sites before, then this opportunity works pretty much the same way as the cashback offers found on other sites.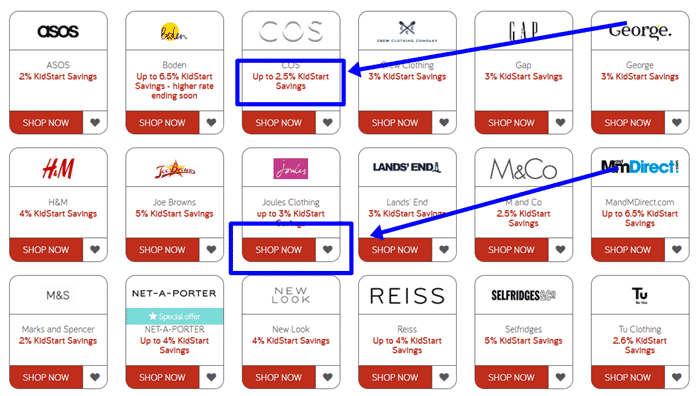 To avail of their cashback offers, just log in to the site and select a category you want to shop from. In the photo shown above, I selected the "Menswear" category and it displayed all the shops I can shop from for men's clothing.
To view the full details of the cashback offer of the shop, just click the link that says "Up to % of Savings". You will then be taken to the information page that contains the details on what offers are available (they call their offers savings), which transactions are eligible, and how transactions are tracked by KidStart.
To avail of an offer, just click which "Shop Now" button of the store you want to shop from. It will then open a new browser window that will take you to the online store.
Simply complete a purchase like you normally would. Once the purchase is done and you follow all the instructions for the offer (like which products have cashback rewards), you will be eligible to receive the cashback reward.
For some retailers, the cashback reward will be credited to your account within a couple of days. Just be aware that for some, it will take around 2 to 3 months to allow for returns. This is normal with any cashback site. So, don't be alarmed when that happens.
The important thing to remember with their cashback offers is, you have to click the Shop Now button for the store so that KidStart can track your purchase.
However, for some retailers, you won't need to go through the site because KidStart can track your purchase by simply using your credit or debit card. But you have to register the credit or debit card you will be using for the purchase on KidStart.
You can do this by going to the "Registered Card" tab on their dashboard and registering your credit or debit cards. Take note that only Visa and Mastercard will be accepted and it will take 48 hours for their system to recognize your card once it is registered.
Option 2 – Voucher codes
Technically speaking, this isn't an earning opportunity but a way to save money instead.
When you log in to the KidStart dashboard, you can check out their vouchers section to see if there are vouchers you can use for certain retailers you want to shop from.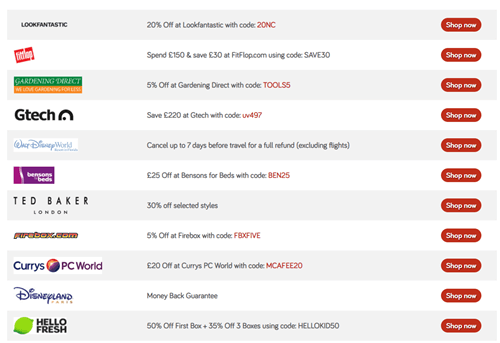 Simply apply the voucher code during check out to avail of the savings/discount. They typically have around 10 voucher codes available at any given time. During my testing, there were 10 vouchers codes available for specific retailers but you might also sometimes have fewer or more.
Option 3 – Referral program
Lastly, you can earn additional rewards by inviting other people to join the site. All you have to do is to share your invite link with the person you want to invite.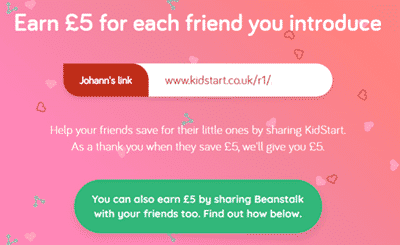 Once they register using your link, they will become your referral. But before you can earn the reward which is £5, your referral must earn at least £5. In other words, your referral must also avail of cashback offers.
So, make sure to invite people that are really interested in this kind of earning. Otherwise, you'll both be wasting your time.
Recommended: Check Out the Top Cashback Sites
How do you get paid?
Here's where KidStart becomes a more unique cashback site. It doesn't offer the same payment options as most of the cashback sites you can find online today.

All of your earnings from KidStart will be saved into your Kiddybank (which is just their term for your account balance). But before you can actually withdraw your earnings, you have to set up the recipient of your earnings (refer to photo above).
You don't actually need to have a child to withdraw your earnings. You can just set it under your name if you want. What matters is you have to set up a recipient. You can even set a recipient for a certain school or even a charity of your choice.
Once a recipient is set up, you will then have to link a savings account for that recipient. They accept an account for KidSave, Child Trust Fund or Junior ISA, or any UK bank or building society account.
When your Kiddybank has £10, KidStart will automatically transfer it to the linked savings account. So essentially, you will receive your rewards via direct bank transfer, which is a very convenient payment option in my opinion.
You can set up as many recipients as you want provided they use different linked savings account. Just take note that the amount will be distributed evenly. For example, if you have two recipients, KidStart will transfer £5 to each recipient. So, keep that in mind when setting up your recipients.
Overall, their payment system is relatively easy to understand. And I like the fact that you can withdraw your earnings conveniently. If you are looking for more sites that offer a convenient payment method, I recommend you check out the top sites that pay via direct bank transfer.
How much money can you earn?
As with all cashback sites, the amount you can earn will depend on 3 things: how often you shop, how many partner retailers are available, and how high their cashback rates are.
As for the latter, you can expect around 2% to 10% cashback rate, which is a pretty decent rate, in my opinion.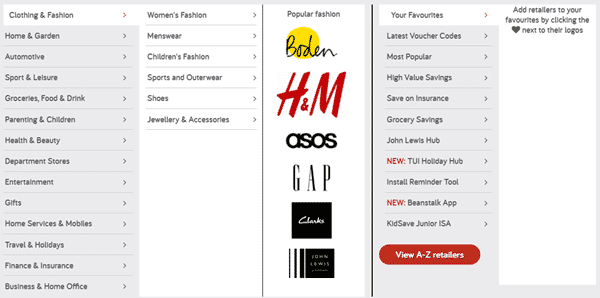 As for the number of partner retailers, they do have a lot of partner retailers (around 1,000 partner retailers) which, in my opinion, is what really makes a cashback site good. So, there's a good chance you'll find cashback offers that will be useful for you.
That's why I would say KidStart has a pretty decent earning potential since you will surely find cashback offers that you can avail of.
Can you use it on mobile?
KidStart has a mobile app you can download and it is called Beanstalk. This app offers pretty much the same thing as KidStart. You can also use your KidStart account to log in to this app. That's why I'm not sure why they used a different name for it.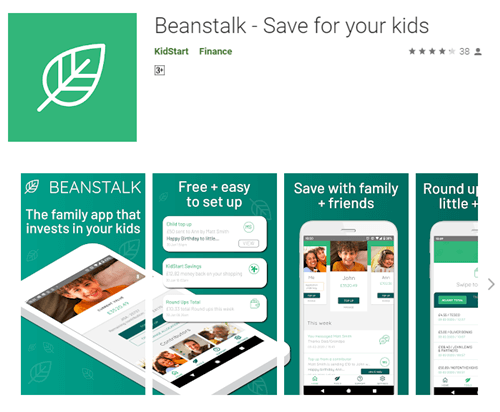 Beanstalk is available for both Android and iOS devices. The app is very easy to use, so you won't have a hard time getting used to how it works. This can come in quite handy if you love to shop online using your mobile device.
Who can join KidStart?
KidStart is only available for people who live in the UK. Also, you have to be at least 18 years of age to register as a member.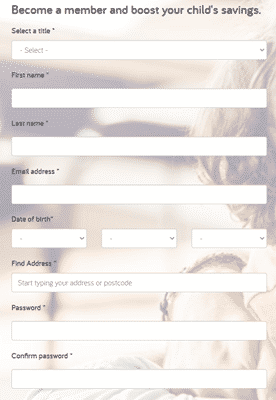 To become a member, simply fill out their registration form. Then, KidStart will send you an email to confirm your registration. Just click the confirmation link to complete the registration process.
You can then log in to the site but I would suggest you set up your recipients first before you avail of any of their cashback offers. I would also suggest you link the debit or credit cards you will be using when shopping. That way, when all is set, you won't have to worry about how to withdraw your earnings. You can simply focus on finding the best cashback offers.
Can you get support?
If you have any questions about the site or your account, you can refer to their FAQ page first. It discusses most of the important topics you need to know about the site.
If you can't find the answers you are looking for, you can contact their support team using the contact form on their website. They also have a special contact form for missing transactions and rewards, which is a good thing. It goes to show they are well coordinated.
That's why I would say they have a decent support system in place since they ensure you will be able to communicate with their support team with ease in case you need assistance.
Final Verdict
KidStart is a legit cashback site that will reward you for availing of their cashback offers. It has a few good features to offer but it also has some limitations you need to consider.
So, let me wrap up this review by summarizing its pros and cons. That way, you can get a clear overview of what the site has to offer so you can decide if this is really a good fit for you or not.

Pros:
They offer decent cashback rewards
They have a lot of partner retailers
Their site and app are both user-friendly

Cons:
Limited earning opportunities offered
Limited payment options offered
Cashback rewards can take some time to be credited to your account
Overall, I don't really see a lot of disadvantages when it comes to KidStart. It's a pretty decent cashback site in my opinion. It offers decent cashback rates and it has a lot of partner retailers, which is the hallmark of a good cashback site.
The only disadvantage I can see is the number of payment options they offer. While their payment options are definitely convenient, it would have been better if they offered other ways to withdraw your earnings and not just through bank transfer. But that's just me nitpicking.
So, if you shop online frequently, I would definitely recommend you join this site (as long as you are eligible to join, of course). But if you are looking to earn extra cash without spending any money, I would instead recommend you check out the top survey and GPT sites in your country.
The sites on this list all have good earning potential and you will not have to spend money to earn money. Plus, you will definitely find a site you can join regardless of where you live.
If you have any comments, questions, or have any experiences with KidStart yourself, I would love to hear from you in a comment below.