KnowledgePanel, as you can probably guess, is an online survey panel that promises to pay you for answering their surveys.
Online survey sites can be a good way to earn a bit of extra money provided you join a legit one. So, is KnowledgePanel legit to a scam to stay away from?
Let me get straight to the point and answer this question. Yes, KnowledgePanel is a legit survey site that will pay you for completing their surveys.
This doesn't mean though that this site is worth joining. This KnowledgePanel review will help you find the answer to that question.
After you read this article, you will know exactly what to expect and if it is the right option for you or not.
What is KnowledgePanel and what does it offer?
When you see the word "Panel" in the website name, you automatically think that it is a survey panel.
You are not wrong. KnowledgePanel is indeed an online survey site that offers surveys as a way for you to share your opinion about stuff and earn a small amount of money in exchange.
KnowledgePanel is operated by Ipsos, a market research company that also owns another survey site called Ipsos i-Say. For this reason, you will also often see it being called Ipsos Knowledge Panel.
To be able to gauge the potential of this survey site as a site you can earn from, we have to take a closer look at how you will be able to earn from it.
So, here's how you can earn from Ipsos KnowledgePanel.
The earning opportunity – KnowledgPanel surveys
As a member of KnowledgePanel, you will only be able to earn by completing their paid survey offers.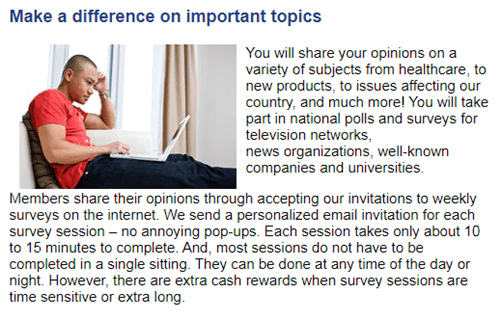 This is the only earning opportunity offered by the site. Whether that is good or not, we will find out and talk about it in a later section of this article.
The paid survey offers will usually take around 10 to 15 minutes to complete, which, in my experience, is fairly normal for a survey site.
They mention on their site that you will get survey invitations on a weekly basis, which is decent, in my opinion.
But, in my experience, this won't always be the case though. There will be times when you won't get any survey invite for one week and sometimes even longer.
You will receive an email notifying you that there is a survey available for you. You simply have to click the link included in the email to answer the survey.
Usually, you first have to answer some qualifying questions before you get to the actual survey.
They will have to first check if you really belong to the group the survey is targeting. If you qualify, you get to answer the actual survey. If you don't, then the process stops there.
Once you complete the survey, you will then receive a certain number of points as a reward (more about the rewards below).
The process of answering a survey on KnowledgePanel is pretty straightforward. The downside is, this is the only way you can earn on this site and you will not always have options.
How do you get paid?
For every survey you complete, you will receive 1000 points (as shown in the photo below).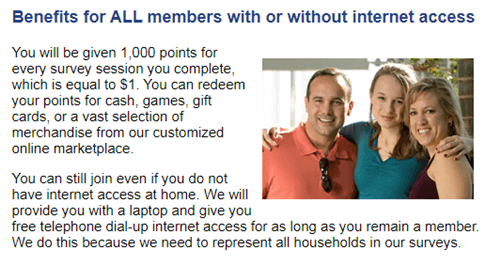 1000 points are equivalent to $1. But before you can request a payout from KnowledgePanel, you have to accumulate 25000 points. So, in reality, their payout threshold of $25 is actually quite high.
This means you have to complete at least 25 surveys before you can get your earnings out which is quite a lot compared to the fastest paying surveys sites.
It says in the photo above that you can redeem the points for cash or gift cards. However, they don't specifically mention on their site how you will be able to withdraw your earnings.
If it is anything like Ipsos i-Say, there should be an option to withdraw your earnings via PayPal or convert your points into gift cards or merchandise.
To do that, you can log in to their site, which can be done by clicking the "Already A Member" button on their homepage.
In my opinion, it would have been better if they clearly indicate on their website how you will be able to redeem rewards because this type of information can serve as motivation to join the site.
The way they present information on their site though feels like they don't really want you to become a member of their panel, which I will discuss later.
How much money can you make?
Naturally, the amount of money you can earn will purely depend on how often you get to complete a KnowledPanel survey.
And in order to complete a survey, you have to receive survey invitations. They do say that you will receive survey invites on a weekly basis. But there is no guarantee this will be the case and often it might only be 1-2 surveys per week.
Now if you take a look at the reward you will receive for completing a survey, you only get to receive $1 for each survey you complete, which means you have to do 24 other surveys before you can hope to withdraw your earnings.
They do offer a one-time $10 reward survey once you become a member of their panel. Think of it as a sign-up bonus. You have to answer the survey though to get the reward.
So, let's paint a picture here. Let's say for example you receive one survey invitation per week. Each survey will reward you with $1. You will need at least 15 weeks (provided you answered the one-time $10 reward survey) to get to the payout threshold.
In my opinion, that's quite a long time. And since there is only one way for you to earn on this site, you will really have to wait a long time before you can request payment compared to the fastest paying survey sites.
So, all in all, the earning potential of this site isn't really that good. That's not the only issue about this survey panel though. I will talk about another drawback of this site later.
Can you use it on mobile?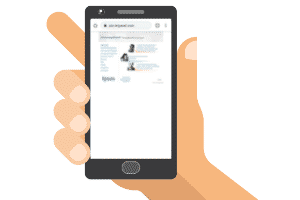 KnowledgePanel doesn't have a mobile app you can download on your mobile device so you can work on surveys even when you are not in front of a computer.
However, you will be able to access their site using a mobile web browser. Their site is also mobile-friendly, so you won't have a hard time navigating through their site.
And since you will receive survey invitations via email, you should be able to answer surveys on your mobile device if you can access your email on your mobile device.
Who can join KnowledgePanel?
Here's is where the main issue of this survey site comes into play. KnowledgePanel is only available to US residents who are at least 13 years of age or older.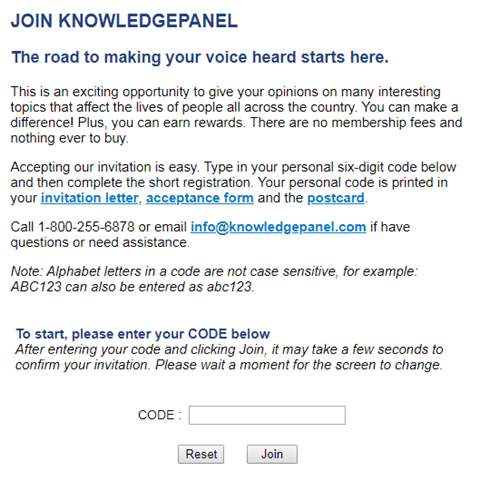 The problem is, the only way you can join their panel is if you provide an invitation code (as shown in the photo above). And if you were hoping there is a way to get an invitation code, then you will be disappointed.
There is really no way for you to get an invitation code unless it was sent to you by KnowledgePanel. As for how you can get an invitation code, they don't really have any information on their site about it.
So, there's really nothing you can do about joining their survey panel. If you get lucky enough to receive an invitation code from them via letter or postcard, then that's the time you can become a member of their panel.
The only good thing about this survey site though is, more than one member per household can join the panel. In fact, they encourage you to do just that.
If you are looking for other survey sites based in the US that aren't as exclusive as KnowledgePanel, I suggest you check out the top survey sites in the US instead.
Can you get support?
If you want to contact their support team, you can email them at this email address: info@knowledgepanel.com.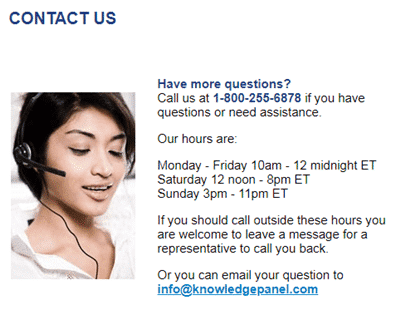 They do provide a number you can call if you ever need to speak to them immediately. Their FAQ section covers most of the basic topics about the site, which is good.
However, if you really want to make sure you resolve the issue you are facing on their site, I recommend you email or call them instead of just relying on their FAQ section.
Final Verdict
KnowledgePanel is a legit survey site that will pay you for completing their survey offers. It has some good qualities, but it does have its issues, which can't be ignored, in my opinion.
So let's finish this review with a summary of its pros and cons to help you decide if you should join or not.

Pros:
Compensation is relatively good
Any number of members of the household can join the site (as long as you receive an invitation code)

Cons:
Becoming a member of their panel is next to impossible
High payout threshold
There really isn't much to say about KnowledgePanel, in my opinion. It's earning potential isn't that great since there is only one way for you to earn. Plus, it has a high payout threshold.
It is also a very exclusive survey panel. So, registering is really a problem, unless you receive an invitation code from them.
If you somehow manage to do that, it can be a decent secondary site to earn from since it allows more than one member per household to register.
I would, however, recommend you check out the top survey sites in your country instead if you want to join a panel that isn't as exclusive as KnowledgePanel.
The survey sites on this list all have good earning potential and you won't have a hard time becoming a member. Plus, you will surely find a site that will fit your needs regardless of where you live.
If you have any comments, questions, or have any experiences with KnowledgePanel yourself, I would love to hear from you in a comment below.