There's a website called Long Game Savings that claims you just have to use their app to play games and get rewarded. Their app is called Long Game Rewards. So, if you are looking for ways to earn, you might be considering using this app.
But before you press the download button, I would suggest you read this Long Game Savings review first. This review will verify if their claim really is legit or if it is just another scam you need to stay away from.
It will show you everything the app has to offer so you will know exactly what to expect and can decide if it is a good fit for you or not. So, let's get this going, shall we?
What is Long Game Savings and what does it offer?
Long Game Savings is essentially a GPT (Get-Paid-To) app that will reward you for playing their featured games and completing the other earning opportunities it offers. It is indeed a legit platform since it really does what it claims to do.
Now, the question is, is it worth it or not? To answer that, we have to first take a closer look at the earning opportunities it offers. This will also give you an idea of the earning potential of Long Game Savings. So, here's how to earn from it.
Option 1 – Featured games
One way to earn rewards from Long Game Savings is to play their featured games. You just have to log in to the app and press the play button at the bottom. You will then see something similar to the photo below.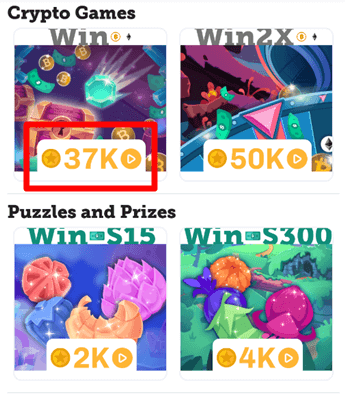 Just choose which game you want to play. You don't have to install any 3rd party app since these games are available in the app already.
Now, this is what you need to keep in mind with their featured games. Every action you take in the game you play will cost coins. So, it's more of a gambling game really.
You will notice in the photo shown above that there are numbers shown for each game. That will be the cost for every action you do in the game. Now, there are various games you can play and they reward different prizes.
Some games will only reward you with coins, while some games will reward you with cryptocurrency or savings cash (I will explain more about this later). The games that will let you earn crypto or savings cash will cost more.
As you probably already figured out, you will eventually run out of coins to play these games. So, what do you do then? Well, to earn more coins to play their games, you have to work on the other earning opportunities offered by the Long Game Rewards app.
You can also deposit a certain amount to any of their partner banks to earn coins. That's how their system works really. It is designed to get people to create an account for their partner banks. That's how they earn money and that's how they can afford to pay you.
The games you can play are mostly puzzle games and slot machine or spin the wheel games. So, it's not very complicated.
Just be aware that there's no guarantee you will win something every time you play. So, you have to be careful and not get too carried away when playing their games. You have to budget your coins.
There's really no perfect strategy to earn efficiently from this opportunity since it will all be based on luck. If you run out of coins, then you just have to work on the other opportunities (which I will discuss next) to earn more.
Option 2 – Trivia game
One of the ways you can earn coins for their games is to play their trivia games. They can be found in the same section as their featured games. It will be the first thing listed.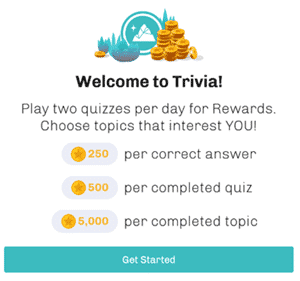 When you get to the trivia section, you can just press any game you want to play. Each correct answer will earn you a certain number of coins. You will receive bonus coins for getting a perfect score in the trivia game.
That's really where the grind is. You will mostly be spending your time on this part of the app since the games where you can actually earn won't take up a lot of time. You can come back to this section from time to time to see if there are available trivia games you can play.
Also, you will get a free daily game every day you log in to the app so you can earn more coins. This daily game will be a trivia game as well. Consider this as your head start for earning coins for the day.
Option 3 – Missions
Missions are an additional way to earn savings cash as well as coins. When you log in to the app, you can press the check button to see the missions you can do.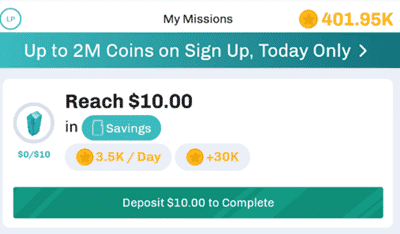 It can serve as a checklist of what you need to accomplish inside the app. For example, in the photo shown above, the mission I was given was to earn at least $10 in savings cash. If and when I hit that requirement, I will receive 30,000 coins right away and 3,500 coins daily as long as I log in to the app.
Think of it as a bonus for reaching the requirement. Missions aren't very common, so if there is an available mission, I suggest you try to complete it ASAP.
Option 4 – Weekly prize draw
You can also join their weekly prize draw to win cash. During my testing, the grand prize was $1,000,000. It's a huge amount to win, I admit. However, it's kind of hard. It will be like winning the lottery. Let me explain why.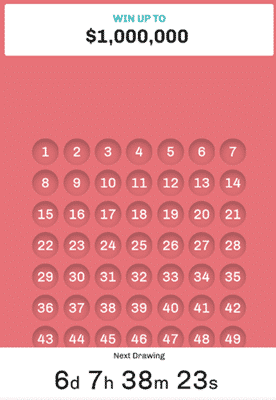 When you join their prize draw, you will be asked to pick 6 numbers and 1 bonus ball (refer to photo above). To win the grand prize, the numbers and bonus ball you picked should match the winning combination.
If you only get the 6 numbers and not the bonus ball, you will only win $100,000. If you get 5 plus the bonus ball, you will win $1,000 and so on and so forth (check the prize list for the corresponding prizes).
As you can see, it's like you are joining the lottery and it costs 20,000 coins per entry to join. So, it's not exactly cheap to join their prize draw.
However, if you like participating in lotteries, I would personally, recommend you just use a lottery in your local area instead.
Recommended: Check Out the Top GPT Sites
How do you get paid?
Now, let's talk about how you can get earnings out from the platform. I've mentioned earlier that you will be able to earn cash as well as cryptocurrency (specifically Ethereum and Bitcoin). Now, in order to withdraw your earnings, you will have to first create an account from one of their partner banks.
As of the writing of this review, it has 2 partner banks – Aspiration and Lili. Once you have an account from any of the two banks, you will now be able to withdraw your earnings.
For the savings cash you've earned, you can withdraw it to your Aspiration or Lili account once you've earned at least $10 from the app. For your cryptocurrency earnings, you will only need to earn at least $5 worth of Ethereum or Bitcoin to withdraw it to the cryptocurrency wallet you are using.
Their payment system is relatively simple and I like the fact that it has a relatively low payout threshold.
However, it is quite limited that you have to have an account with a specific bank to be able to withdraw and I have never experienced such a limitation before even though I have tested hundreds of websites and apps.
If you are interested in more sites that have a low payout threshold, I suggest you check out the fastest paying sites.
How much money can you make?
As you may already know, there's no guarantee you will be able to earn consistently from this app since everything will be based on luck. Most of the prizes you can win from their games will only be around $0.1 to $2 (except for the prize draw of course).
So, it takes a bit of time and patience to get to the threshold. That's why I would say the earning potential of Long Game Savings is a bit low.
Now, I would like to address something that you might possibly be thinking about. You might think that this is a gambling app since it is all based on luck. But actually, it isn't. Gambling will involve winning or losing money.
So, Long Game Savings really doesn't fall into that category because you won't exactly be losing any money. The money you put into their partner banks to earn coins to play their games won't be lost. You can withdraw them at any time.
What actually happens is, you will be incentivized for depositing your money into their partner banks. Now, if you are wondering if their partner banks are any good, that's a different story. These banks don't really offer any interest rates.
But since you will be earning from Long Game Savings, you can consider this as the interest you've earned from depositing money to their partner banks. So, in effect, you are only speeding up the interest collection. That's really what happens when you join Long Game Savings.
Personally, I do not really like this system and find it quite strange but that is just my opinion. Maybe you do not have a problem with it, and then it can be a way to earn a bit extra.
Can you use it on a desktop?
Long Game Savings is a mobile-only platform. So, you will really need a mobile device to earn from it. And as I've mentioned earlier, their app is called Long Game Rewards. So, if you are going to search for it on the app store, you have to use the app name.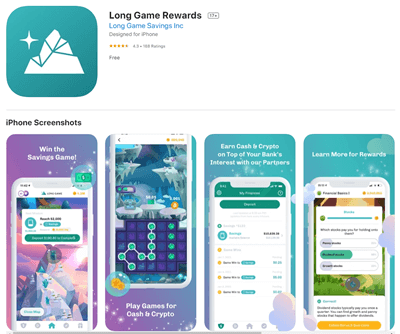 Their app is available for both Android and iOS devices. So, compatibility won't really be an issue. The app is also user-friendly. You will easily get used to how it works.
The fact that it is also only available for mobile makes it an ideal app to use when you are going to work, on a break, or you are just out and about.
Who can join Long Game Savings?
In order to join Long Game Savings, you have to be a resident of the United States and you have to be at least 18 years of age to join. So, if you live somewhere else, then this app is not for you.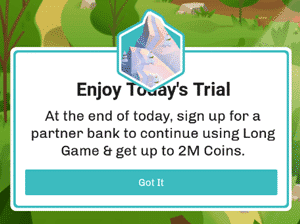 And as explained earlier, in order to sign up as a member, you have to have an existing account from any of their partner banks. Otherwise, you will only get the trial version that will last for one day.
The good thing about signing up for their partner banks is, you will receive a sign-up bonus. If you use Aspiration, you will receive 2,000,000 coins. For Lili, you will receive 1,000,000 coins. That's a good head start for earning cryptocurrency and savings cash in the app.
Can you get support?
If you have any questions about their app or your account, you will have to visit their website and check their Help section because their app doesn't have a Help & Support page. It discusses most of the important topics you need to know about their platform.
But if you can't find the answers you are looking for, you can submit a request to their support team. The link for their contact form can be found at the bottom of the Help page on their website.
Overall, I would say they have a decent support system in place for their members since they offer a way for you to communicate with their support team. But I do wish it was also accessible from their app so you wouldn't have to go back and forth from their app to their website. It makes for a more seamless user experience, in my opinion.
Final Verdict
Long Game Savings is a legit GPT app that will reward you for playing their featured games. It has a couple of good features but it also has certain limitations you need to consider.
Let me conclude this review by summarizing its pros and cons so you will get an overview of what it has to offer. Then, you can decide if it is really worth it or not.

Pros:
Has a relatively low payout threshold
Offers a fun way to earn

Cons:
Limited earning opportunities offered
Limited payment options offered
You have to sign up for specific banks to be able to earn
If you don't mind opening an account from one of their partner banks, then Long Game Saving can be a decent app to join. The games they feature are fun and easy to play. Just don't expect to earn a lot from it and you also won't get to earn a consistent amount from it.
In my opinion, it can serve as a decent app to use on your way to work or if you are on break from work. But if you are really looking for a stable way to earn extra cash, there are better options.
And speaking of better options, I would recommend you check out the top survey and GPT sites in your country. The sites and apps on this list all have good earning potential and you can register as a member without having to create an account at a specific bank or anything like that.
Plus, you will definitely find a site/app you can join regardless of where you live.
If you have any comments, questions, or have any experiences with Long Game Savings yourself, I would love to hear from you in a comment below.